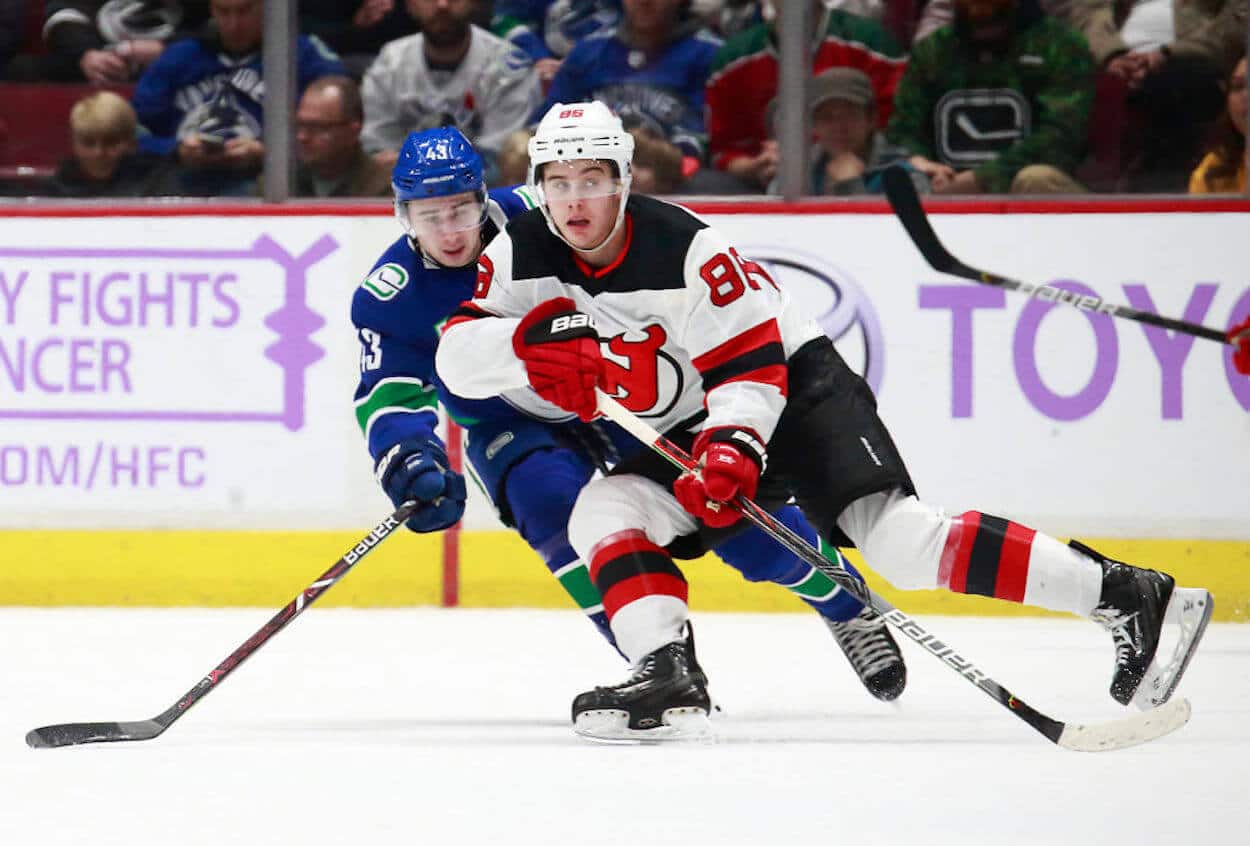 Jack Hughes Once Had His Braces 'Ripped Off His Face' In a Moment of Sibling Rivalry
Jack Hughes isn't much of a fighter at the NHL level, but that doesn't mean he hasn't been in a hockey scrap before.
At the risk of trotting out a cliche, hockey players are pretty tough. And while it's easy to limit that assumption to the physical guys playing in the bottom six, pretty much everyone who steps onto the ice is capable of dealing with whatever comes their way. Just ask Jack Hughes about that.
As a smaller and more skillful player, you might think that the New Jersey Devils forward was always somewhat protected on the ice. And while there may be some truth to that, Hughes found himself in at least one physical confrontation with his older brother, Quinn.
And if we take the Hughes family at their word, this was more than just a bit of pushing and shoving. Apparently, Jack had his braces ripped right off his face.
Sound unbelievable? Let's check it out.
An altercation between Jack Hughes and Quinn Hughes apparently got a bit heated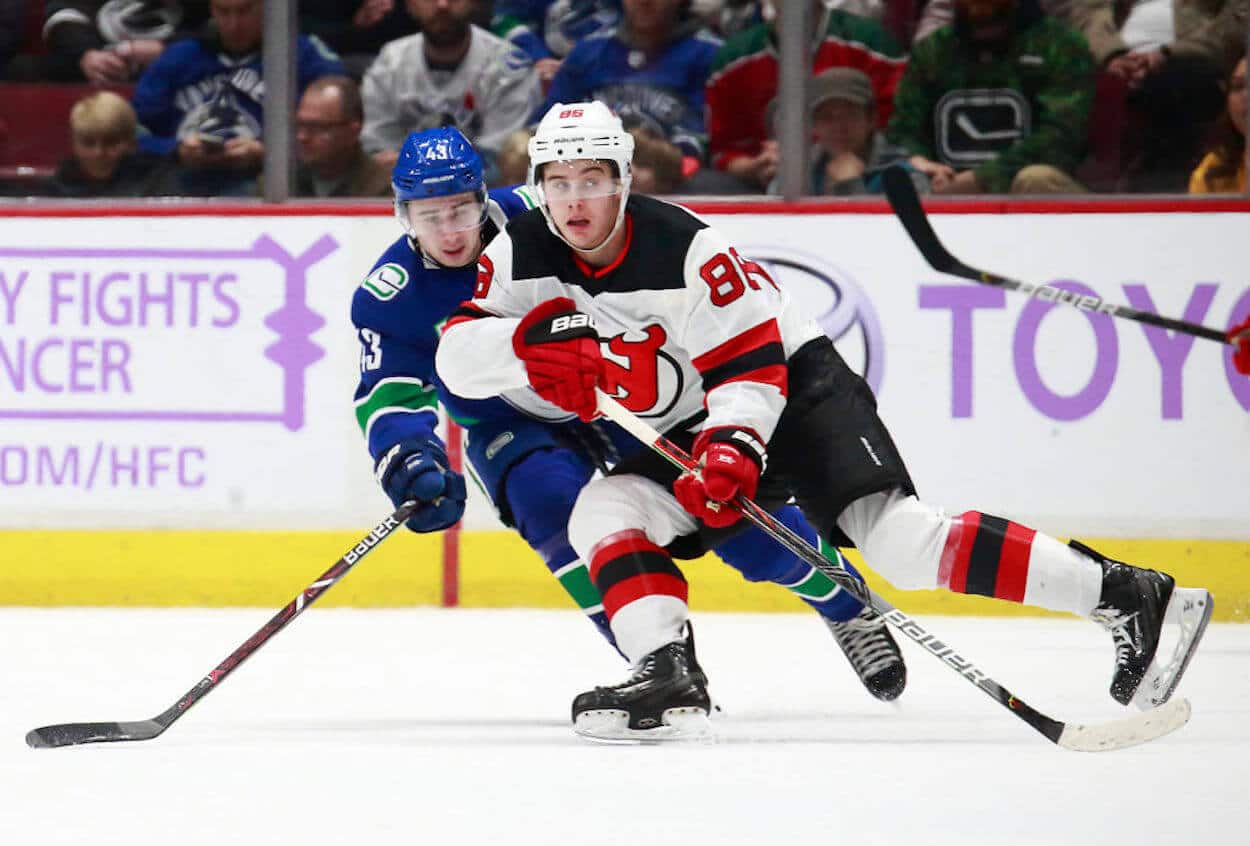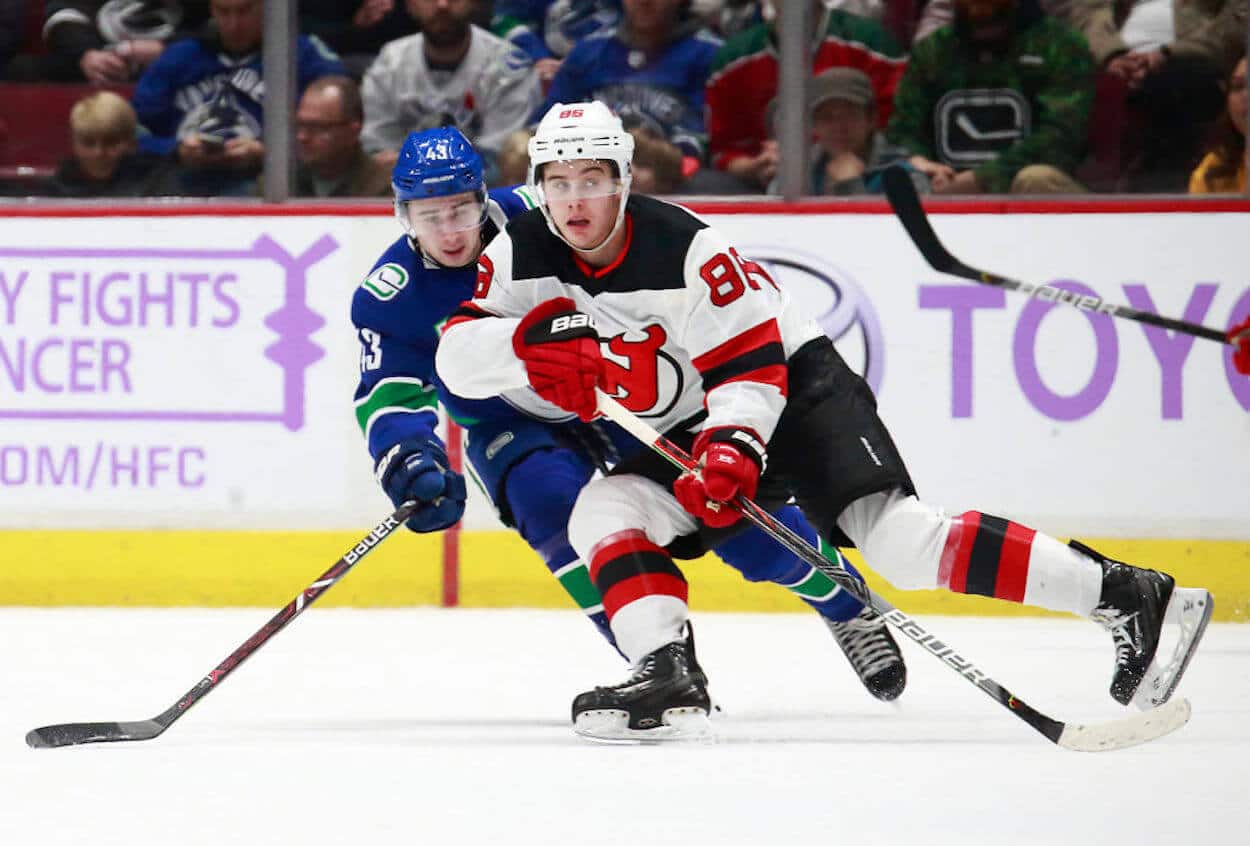 As anyone who isn't an only child can confirm, things will inevitably get a bit heated between siblings. The Hughes family, it seems, is well-acquainted with that reality.
In the final days of the 2022-23 NHL season, Luke Hughes joined his older brother, Jack, on the New Jersey Devils roster. That understandably prompted plenty of media coverage, and the two even did a joint interview with Steve Serby of the New York Post.
While that conversation covered all the standard beats — the pair was asked about the emotions of reuniting at the NHL level, the rivalry between the New Jersey Devils and the New York Rangers, and other topics — things took a dramatic turn when Luke was asked for an anecdote that summed up Jack's personality.
"Oh, that's a tough one," the defenseman said. "I think one that kinda sticks with me was we were on the outdoor rink [ODR in Toronto] and my brother Quinn and Jack got into a little tussle, and Quinn ripped Jack's braces off his face. That was one of those where he was so mad, but it was just really funny."
And despite there being some unanswered questions — How old were the Hughes boys at the time? How did Quinn get enough of a grip to rip Jack's braces off? Were there any dental complications? — the interview moved on. Some mysteries, it seems, will have to remain within the family.
Jack Hughes might not be fighting at the NHL level, but he's still a tough customer
Although Jack got into it with his brother on at least that one occasion, things are a bit different now. Not only are their on-ice encounters a bit more limited — Quinn plays in the Western Conference with the Vancouver Canucks — but the New Jersey Devils forward hasn't engaged in any fisticuffs at the NHL level.
That lack of fighting majors, however, doesn't mean he's a pushover. If anything, Hughes is showing a different sort of toughness these days.
Despite joining the Devils as the first overall pick in 2019, the center's NHL career hasn't been a fairy tale. His rookie year brought plenty of struggles — beyond adjusting to competing against the best hockey players on the planet, Hughes had to grapple with the challenges of going from relative anonymity to fame, fortune, and pressure — and, in a 2022 interview, the Orlando native even admitted that he hated that first season.
Oh yeah, and there was the small matter of a global pandemic that upended everyone's lives in addition to the NHL season.
Some players might have wilted under the pressure, but it didn't seem to affect Hughes. He improved season-by-season until exploding during the 2022-23 campaign. It took a while, but he finally looks like the star the Devils selected all those years ago.
Is that the sort of toughness that most hockey fans would think of? Probably not, but there's something to be said for dealing with a difficult situation and mounting pressure without being defeated.
And, based on the anecdote we heard about Jack Hughes' childhood, that ability to survive and thrive certainly makes sense.