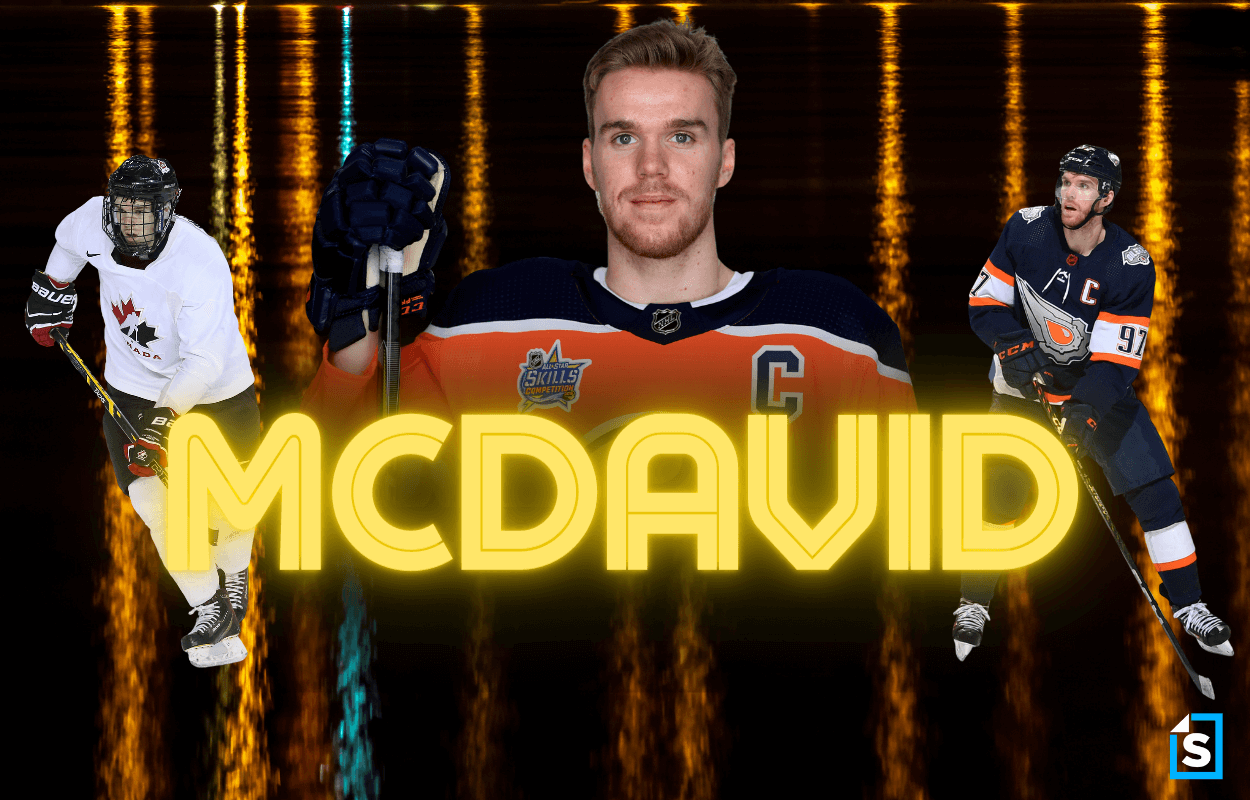 Connor McDavid: Biography, Career, Net Worth, Family, Top Stories for the NHL Star
Who is Connor McDavid? We've got you covered with anything and everything about the elite NHL talent.
As much as sports fans may love history, there's always an element of progression. As soon as one star – whether it's Tom Brady, Michael Jordan, or anyone else – begins to fade, someone needs to be crowned as the rightful heir to the throne. Among NHL players, Wayne Gretzky dominated the ice. While other stars, like Alex Ovechkin and Sidney Crosby, stepped onto the stage, no one exerted quite the same mastery of the ice game as the Great One. Then Connor McDavid arrived.
While there's still a long way to go before he can ascend into the NHL pantheon – for better or worse, he'll need at least one Stanley Cup – McDavid's star power is obvious. As an incredible scorer and the captain of the Edmonton Oilers, he's been tapped by fans and media alike as a generational talent. He didn't, after all, earn the nickname of "McJesus" for nothing.
That reality, however, has also created something of a 2-D image of the star. He's a guy who's good at hockey (but not other sports), and that's the entirety of the story. With that in mind, let's get to know Connor McDavid a bit more. Here's everything to know about the Oilers star, ranging from his hockey history to some perspective on the contents of his bank account.
Article Contents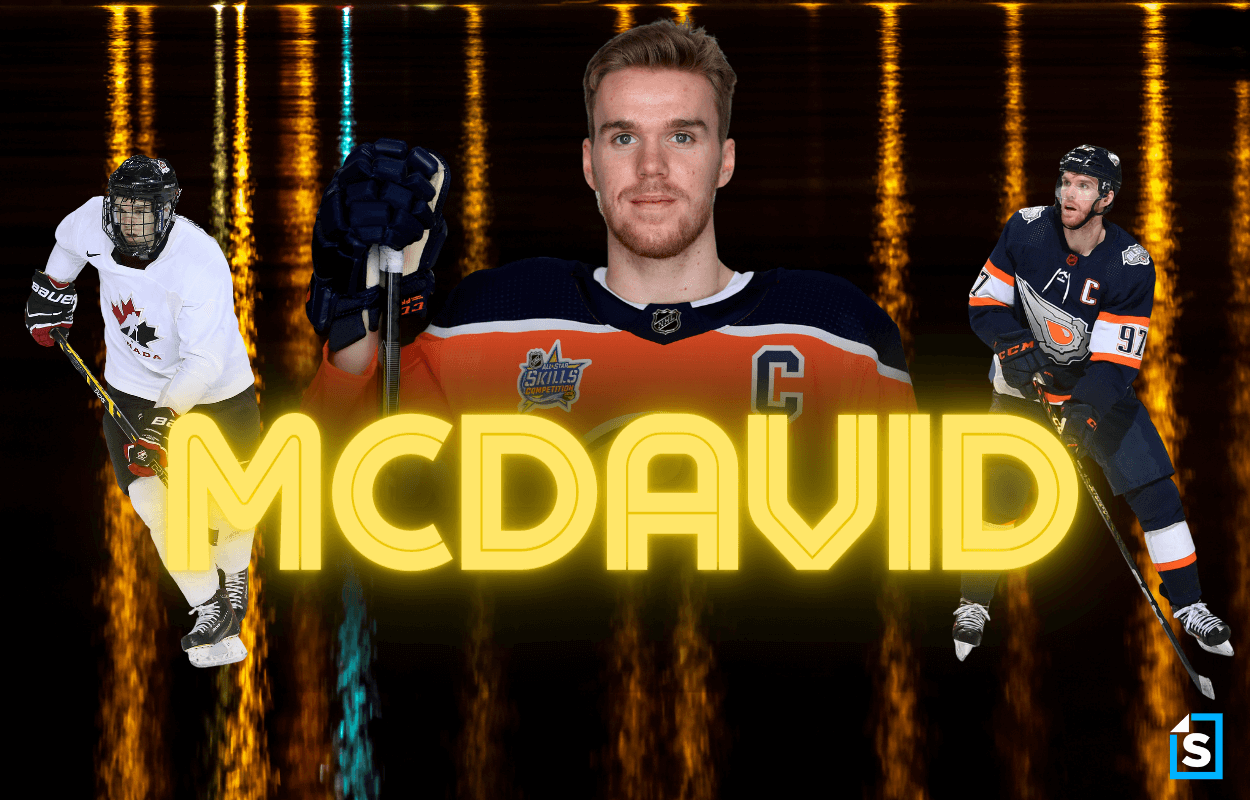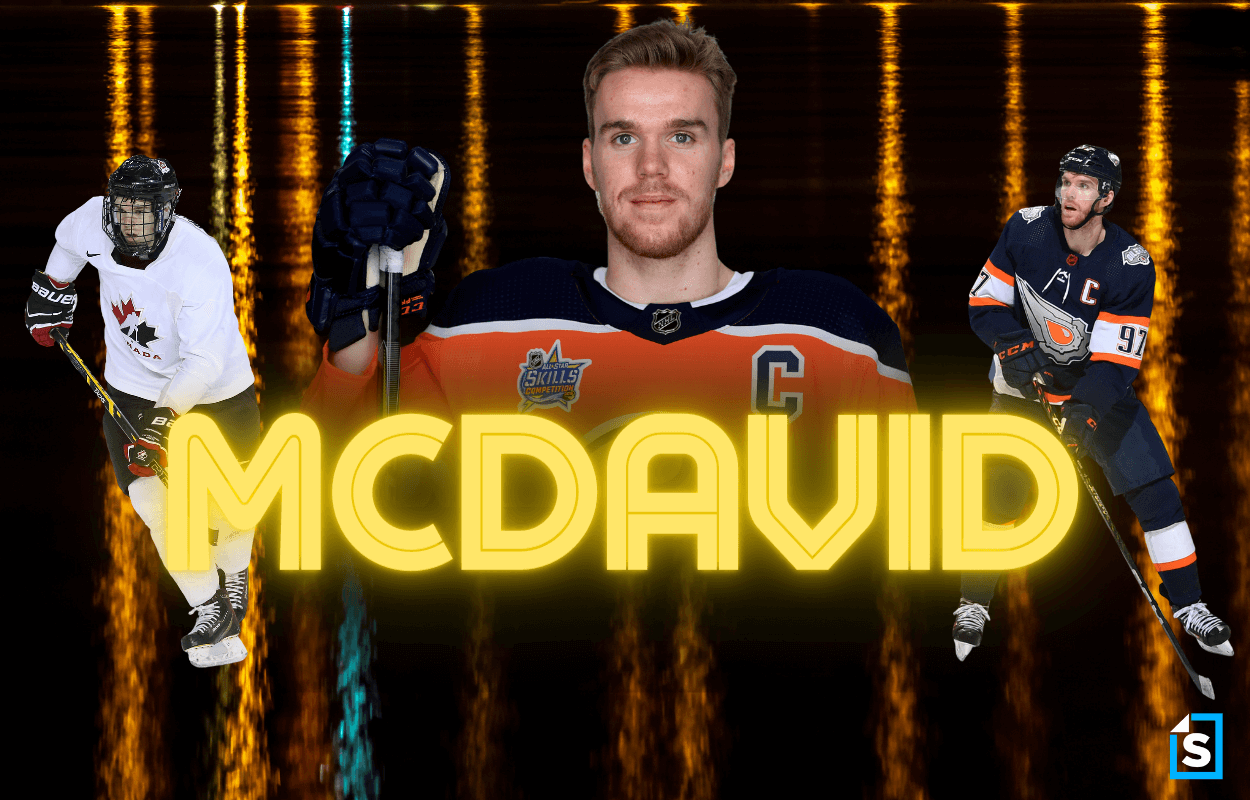 Quick facts
Early life and career
Major Junior career
Major Junior Stats
NHL Career
NHL Stats
NHL Honors
Canada Career
Canada Stats
Net worth/earnings
Nicknames
Media presence
FAQs
Quick Connor McDavid facts
Full name: Connor Andrew McDavid
Birthday: January 13, 1997
Birthplace: Richmond Hill, Ontario, Canada
Parents: Brian and Kelly McDavid 
Siblings: Cameron McDavid
Listed height: 6-foot-1
Listed weight: 193 pounds
Junior teams: Erie Otters (OHL)
Professional position: Center
Professional numbers: No.97 (Erie Otters, Edmonton Oilers, Canada), No.17 (Canada)
Junior playing career: 2012-2015
Professional playing career: 2015-present
Marital status: Single
Connor McDavid's early hockey career
When you think of someone falling in love with hockey, it's easy to imagine an idealistic scene featuring a frozen pond and the first few wobbly strides on the ice. Connor McDavid, however, did things a bit differently.
As Marty Klinkenberg wrote in the Toronto Globe and Mail, the future NHL star cut his teeth in an unfinished basement outside of Toronto. He'd strap on roller skates, drag a net to one end of the room, and get to work. His mother or grandmother would occasionally stand in as goalie, and the boy even managed to find an audience for his scoring exploits.
"He would be down here for hours," Connor's mother, Kelly McDavid, recalled. "Connor always had a great imagination. He would get his stuffed animals and set them up all around. When I asked what he was doing, he would tell me, 'Those are the fans.'"
From there, his progression came thick and fast. Allow Tim Rohan of the New York Times to explain.
At 4, he begged his parents, Brian and Kelly, to let him play hockey a year early, so they lied about his age.

At 5, he wore a nice shirt and tie to every one of his older brother's games, just like the players. He listened to the pregame speech in the locker room, sat in the stands next to his mother and explained, in precise detail, any moment she missed while chatting with the other mothers, as the other brothers were off lollygagging.

At 12, he dominated his father's Sunday pickup games, weaving through a forest of adults, ducking under arms, passing through legs, scoring for fun.

Tim Rohan
While that passage may seem to be an extremely zoomed-out view, it does capture the overarching theme of McDavid's career. He was always good at hockey, and no matter where he took the ice, he shined. The forward made waves in the Ontario Minor Hockey Association before making the leap to the Greater Toronto Hockey League. Even in that hotbed, the Richmond Hill native continued to shine, piling up both points and trophies.
Eventually, it came time to make a decision. McDavid clearly had professional-grade talent. Would he hone that game in the NCAA ranks or play Major Junior hockey?
Connor McDavid junior career
If you're serious about playing professional hockey, you'll eventually have to choose which path you'd like to take to the pros. Connor McDavid, like most Canadian prospects, decided to head to Major Juniors. In his case, that meant the Ontario Hockey League (OHL).
The forward applied for — and received — exceptional status, making him only the third 15-year-old allowed to enter the league. (The previous two were John Tavares and Aaron Ekblad, giving you an idea of the exclusivity of that company). McDavid, unsurprisingly, became the first overall pick of the 2012 OHL Priority Selection Draft, joining the Erie Otters.
Despite some growing pains – making the jump to the OHL isn't easy, and the Otters' struggles didn't help – the Ontario native still proved to be more than capable of making an impact during his first year of Major Junior hockey. He tallied 66 points (25 goals and 41 assists) in 63 games, setting a franchise record. That was enough to earn the Emms Family Award as the OHL rookie of the year, but McDavid fell short of the overall Canadian Hockey League title.
Bigger things, however, were on the horizon.
In his second OHL season, both McDavid and his team improved. The forward, with an extra year of experience under his belt, potted 99 points (28 goals and 78 assists) in 57 outings; the Otters also finished the regular season in second place. The club fell in the Western Conference Finals, but their star player added some more individual prizes – he took home the William Hanley Trophy (essentially the league's version of the Lady Byng), claimed the Bobby Smith Trophy as OHL Scholastic Player of the Year, and received CHL Scholastic Player of the Year honors – to a burgeoning resume.
The following campaign, McDavid was named the team captain and, despite playing even fewer games (47), set a new personal high with 120 points (44 goals and 76 assists). The Otters still fell short of the ultimate prize, falling to the Oshawa Generals in the finals, but the center wasn't wanting for silverware. He was named the OHL's most outstanding player (earning the Red Tilson Award), the CHL Player of the Year, and the CHL Top Draft Prospect; during the OHL playoffs, McDavid also earned the Wayne Gretzky 99 Award as postseason MVP.
With three years worth of evidence that he had both the skill and the character required to step into the spotlight, it was time for the great leap forward. Connor McDavid was ready for the NHL.
Connor McDavid junior stats
When a player has reached star status in the NHL, it's easy to look back at their junior stats in hindsight; an all-world player should, in theory, be shining as a teenager. With that being said, though, Connor McDavid's numbers still speak volumes about his talent.
| Season | Games | Goals | Assists | Points |
| --- | --- | --- | --- | --- |
| 2012-13 | 63 | 25 | 41 | 66 |
| 2013-14 | 57 | 28 | 71 | 99 |
| 2014-15 | 47 | 44 | 76 | 120 |
| | | | | |
Connor McDavid Edmonton Oilers career
After the 2014-15 OHL campaign, McDavid entered into the NHL draft. The Edmonton Oilers landed that year's first overall pick – for seemingly the 1,000th time in recent memory – and used it to bring the Ontario native west to Alberta.
Despite the center's talent, things didn't get off to the best start. His rookie season was blighted by a broken clavicle; in total, McDavid only played 45 games during his inaugural campaign. He still managed to record 48 points (16 goals and 32 assists) and earned third-place honors in the Calder Trophy (rookie of the year) race.
That campaign, however, confirmed McDavid's NHL potential. He assumed the Oilers' captaincy ahead of the 2016-17 season and, clearly unburdened by that responsibility, took his game to the next level. Not only did the center earn his first all-star nod, but he recorded 100 points (30 goals and 70 assists) in 82 games to push Edmonton into the postseason for the first time in a decade. When the dust settled, he received the Hart Trophy and the Ted Lindsay Award as the league's MVP and the players' pick for most outstanding player, respectively. The center also took home the Art Ross Trophy as the league's top scorer.
Connor McDavid had fully arrived.
From there, the hits just kept on coming. Ahead of the 2017-18 season, McDavid signed a massive, eight-year, $100 million contract extension. Like receiving the captaincy the year before, that could have heaped pressure on the young star's shoulders; if there was any extra weight, though, he didn't miss a beat. The Oilers struggled, but their top scorer posted 108 points (41 goals and 67 assists), earning his second-consecutive Art Ross Trophy. 
And while McDavid kept scoring, things weren't completely happy. While his points total continued to swell, with it reaching 116 (41 goals and 75 assists) during the 2018-19 campaign, but the Oilers continued to flounder. The season also ended on a sour note as the star crashed into the goal in the final game of the season, doing serious damage to his knee. Since his club hadn't made the postseason, McDavid took the offseason to recover without surgery.
Although the forward was back to relative normalcy the following season, there was another twist. The 2019-20 campaign was, of course, suspended due to the COVID-19 pandemic. McDavid finished the regular season with 97 points (34 goals and 63 assists), and the Oilers' year ended with a loss in the bubble's qualifying round.
After that unusual campaign, though, things weren't immediately positive. McDavid posted a 105-point season (33 goals and 72 assists), earning another Hart Trophy and Art Ross Trophy, but the Oilers stumbled. While the Western Conference club made the postseason, Edmonton crashed out at the first hurdle, losing four-straight games to the Winnipeg Jets.
When the 2021-22 campaign arrived, though, things were different. While fortunes initially seemed rather dim – after a hot start, Edmonton struggled and even made a mid-season coaching change – McDavid's greatness shone through. He finished the regular season with a career-high 123 points (44 goals and 79 assists), earning another Art Ross Trophy, but that wasn't the end of the story.
The star center helped Edmonton comeback from a 3-2 series deficit to defeat the LA Kings in the first round, then pushed his club past the Calgary Flames to reach the Western Conference Final. While the Colorado Avalanche proved to be too much for the Oilers to handle, it was still a step forward for McDavid and the club. He recorded 33 points (10 goals and 23 assists) in the postseason, proving he could step up when it really counted.
The 2022-23 season was even better for the Oilers' captain. McDavid tallied a hat trick in the season opener, and that proved to be a sign of what was to come. He notched his 40th goal of the campaign in January, scored his 800th career point in February, and broke the 50 goal plateau for the first time a week later. When the regular-season dust cleared, the center piled up an incredible 153 points (64 goals and 89 assists), as Edmonton finished second in the Pacific Division.
The playoffs, however, were a mixed bag. While McDavid did more than his share of the work, scoring 20 points in 12 games, the Oilers fell in the second round. Once again, the star center headed into the summer disappointed.
Connor McDavid NHL stats and honors
At this point in his career, Connor McDavid is yet to lift the ultimate prize and have his name inscribed on the Stanley Cup. While that may exclude him from the highest echelons of hockey greatness (at least for now), the forward's stats confirm that he's one of the ice game's biggest stars.
| Season | Games | Goals | Assists | Points |
| --- | --- | --- | --- | --- |
| 2015-16 | 45 | 16 | 32 | 48 |
| 2016-17 | 82 | 30 | 70 | 100 |
| 2017-18 | 82 | 41 | 67 | 108 |
| 2018-19 | 78 | 41 | 75 | 116 |
| 2019-20 | 64 | 34 | 63 | 97 |
| 2020-21 | 56 | 33 | 72 | 105 |
| 2021-22 | 80 | 44 | 79 | 123 |
| 2022-23 | 82 | 64 | 89 | 153 |
And, if that's not enough, consider his individual honors:
Four Art Ross Trophies (2017, 2018, 2021, 2022) as the NHL's leading scorer
Four-time NHL First Team All-Star (2017, 2018, 2019, 2021)
Three Ted Lindsay Awards (2017, 2018, 2021) as the Most Outstanding Player as voted by the players
Two Hart Memorial Trophies (2017, 2021) as the NHL MVP
One-time NHL Second Team All-Star (2022)
NHL All-Rookie Team member (2016)
Connor McDavid Canada career
As you might expect, given his NHL numbers, Connor McDavid is one of the top talents in modern hockey. Through that lens, it's not surprising that he's represented Canada on the international stage.
The Ontario native made his first Team Canada appearance in 2016 at the World U-17 Hockey Challenge, but that wasn't a happy debut. McDavid recorded nine points in five games, but Canada struggled during the tournament. His next international engagement, however, was a different story. Canada earned gold at the 2013 World U18 Championships, and McDavid not only led the field with 22 points but took home top forward and tournament MVP honors. After that, it was time to step up to the World Junior squad.
While McDavid's 2014 WJC debut wasn't the best, it was still impressive that he made the team as a 17-year-old. Redemption came in 2015, though, as the forward tallied 11 points; he left Toronto with a gold medal and tournament all-star honors.
After that, the center was ready to step up to the senior squad, and he did just that for the 2016 World Championships. McDavid posted nine points (one goal and eight assists) in 10 contests en route to another gold. 
Since then, though, international results have been a bit more disappointing. McDavid captained Team North America during the 2016 World Cup of Hockey, but that squad, which consisted of United States and Canada players aged 23 or under, finished in fifth. The 2018 World Championships ended with a fourth-place finish, although the forward recorded 17 points (five goals and 12 assists in 10 games).
McDavid was also slated to go to the 2022 Winter Olympics, but the NHL pulled the plug on their players' collective involvement. At this point, it remains to be seen whether he'll get the chance to appear on the biggest international stage.
Connor McDavid Canada stats
Although Connor McDavid doesn't quite have the international trophies of someone like Wayne Gretzky, the Richmond Hill native has more than shouldered his share of the load on the international level. Even if he's not always putting the puck in the back of the net, his point totals speak for themselves.
| Tournament | Games | Goals | Assists | Points |
| --- | --- | --- | --- | --- |
| 2013 U18 World Championships | 7 | 8 | 6 | 14 |
| 2014 World Junior Championships | 7 | 1 | 3 | 4 |
| 2015 World Junior Championships | 7 | 3 | 8 | 11 |
| 2016 World Championships | 10 | 1 | 8 | 9 |
| 2016 World Cup of Hockey (Team North America) | 3 | 0 | 3 | 3 |
| 2018 World Championships | 10 | 5 | 12 | 17 |
Connor McDavid net worth and career earnings
Thus far, we've established that Connor McDavid is pretty good at the whole playing hockey thing. And, even though NHL salaries still lag behind the other big-four sports leagues,  that means the center still has plenty of earning power. 
As the first overall pick of the 2015 draft, McDavid started off on a rather sizable salary, at least as far as NHL entry-level contracts go (those deals have a compensation ceiling that moves year-over-year). He took home $3,775,000 across three years, but don't worry. A major raise was on the way.
Before the puck dropped for the 2017-18 season, the center inked a massive eight-year, $100 million deal to stay with the Oilers. While he isn't actually earning much salary – I won't bore you with the intricacies of how NHL teams try to manipulate money to fit under the salary cap, but most of McDavid's cash comes as a signing bonus spread across the length of the deal – it's still a nice living. To make things even sweeter, the forward's stock has only continued to rise since he signed on the dotted line, meaning that he's essentially sitting on a blank check, whether he chooses to remain in Alberta or test free agency.
As you might expect, McDavid's high profile also means he's as good as gold to brands seeking an endorsement. He's got deals with CCM, BetMGM, Rogers, CIBC (one of Canada's major banks), Biosteel, and Adidas. In 2021, Forbes estimated that those business arrangements accounted for $4 million in annual earnings.
That all combines to give Connor McDavid a fortune that Celebrity Net Worth pegs at roughly $30 million. That total, however, will only continue to rise; he's only 26, and theoretically has his prime ahead of him.
Connor McDavid nicknames
As one of the NHL's biggest stars, Connor McDavid has received plenty of press and, in turn, has one widely known nickname: McJesus.
The logic behind that moniker is two-fold: the forward can perform miracles on the ice, and he's (theoretically) capable of raising the Oilers franchise from the dead. Players like P.K. Subban have even used the nickname during interviews (see below), confirming that the moniker has transcended fandom and reached the NHL's locker rooms. There are also some riffs on the same theme, like Connor McSavior or, more succinctly, McSavior.
That's not the entirety of his nicknames, though. Others, like The Chosen One or The Next One, posit him as the heir to Wayne Gretzky's throne atop the NHL mountain. Or, if you want to be a bit more recent/believe No. 99 has been surpassed, there's always "The Next Sidney Crosby."
Or, on a completely different note, you can follow in some Oilers' footsteps and call McDavid "The Crane." While he tried to maintain a healthy diet, the forward can't resist wetting his metaphorical beak when there's junk food around.
Connor McDavid media presence
While there are some exceptions to the rule, hockey players generally don't show a great deal of personality. The general rule of thumb is to keep your head down, work hard, and avoid rocking the boat. Connor McDavid, as one of the biggest stars in the modern game, sometimes toes the line of those rules.
The Oilers forward has appeared in some commercials, like the following BetMGM ad with Wayne Gretzky:
He did, however, show a bit more personality in a CCM ad:
And then there was the following Go Auto commercial, which, depending on your taste, was either a fine showcase of McDavid's deadpan humor or flat-out weird.
He also helped promote CIBC alongside his brother, Cameron. While there were some humorous moments during the ad – Connor was mistaken for his brother at one point, despite having the significantly higher profile – you could also argue that helping airport goers with their bags isn't the biggest show of personality.
McDavid does use social media – his Instagram has roughly one million followers, and his Twitter boasts a shade over 400,00 followers – but it's not exactly a window into his personal life. The forward's recent feeds mostly feature generic content, like promoting brands he's affiliated with or sharing images with his teammates. There were some high-quality (albeit promotion-related) photoshops during the good old days — like the forward sitting atop the CN Tower, ala Drake — but those don't make up the bulk of his content.
Connor McDavid FAQs
How tall is Connor McDavid? 
Connor McDavid is listed at 6-foot-1 on Hockey Reference.
How much does Connor McDavid weigh?
Connor McDavid's official weight is 193 pounds, according to Hockey Reference.
Where was Connor McDavid born?
Connor McDavid was born in Richmond Hill, Ontario, Canada.
How old is Connor McDavid?
Connor McDavid was born on January 13, 1997. He is currently 26 years old.
Did Connor McDavid go to college?
Connor McDavid didn't attend college. Instead, he played Major Junior hockey in the OHL. 
What team does Connor McDavid play for?
Connor McDavid currently plays for the Edmonton Oilers in the NHL.
What position does Connor McDavid play?
Connor McDavid plays center. 
What number is Connor McDavid?

Connor McDavid wears No. 97 for the Edmonton Oilers and has worn both No. 17 and 97 for Team Canada.

What is Connor McDavid's net worth?
According to Celebrity Net Worth, Connor McDavid's fortune clocks in at approximately $30 million.