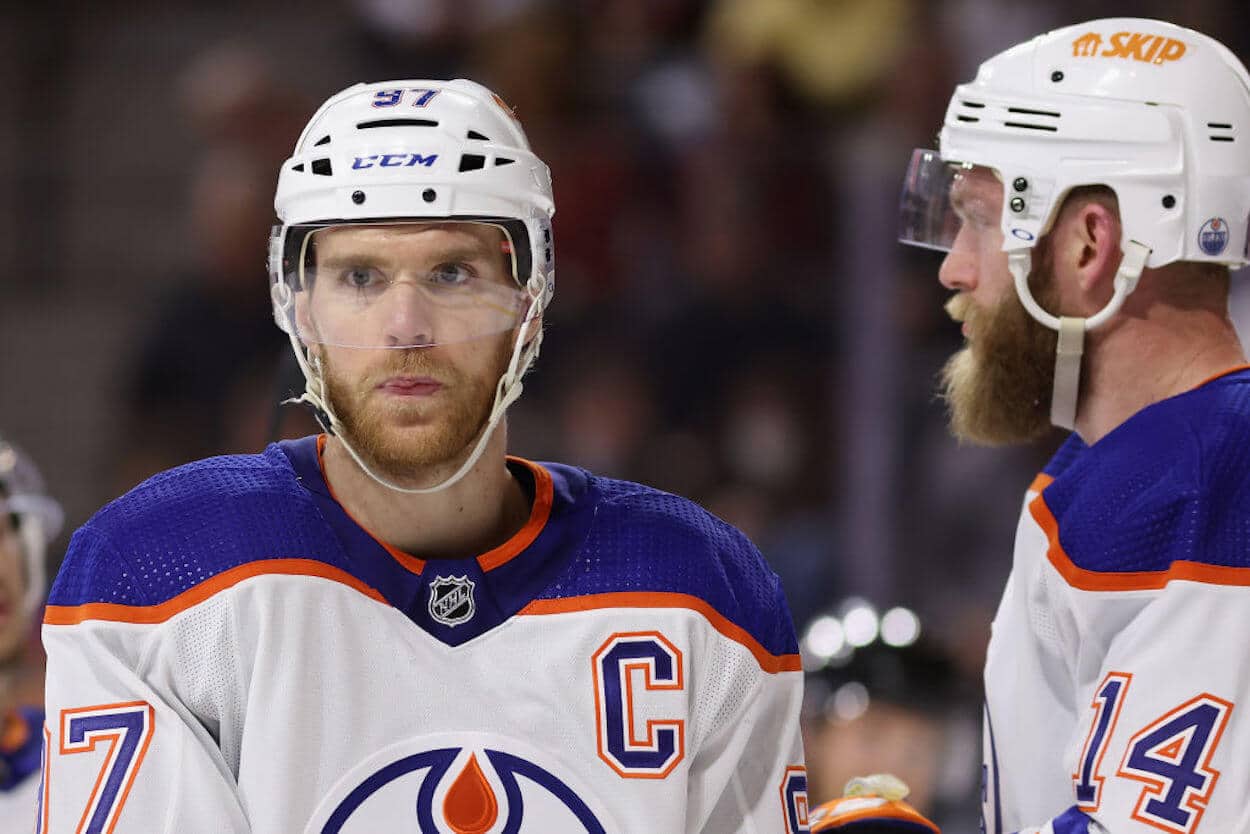 Connor McDavid Is Worth $30 Million, but He Earned a Largely Unknown Nickname By Stealing His Teammates' Snacks
You'd probably assume that Connor McDavid has a perfect diet, right? Well, some of his Edmonton Oilers teammates might beg to differ.
Among NHL players, nicknames can be rather boring. For the most part, slapping an "er" or a "y" onto the end of someone's last name — Kevin Hayes, for example, is creatively called Hayesy — is enough to get the job done. Connor McDavid, however, is an exception to that norm.
Thanks to his miraculous play and (theoretical) ability to resurrect the struggling Edmonton Oilers, the star forward is widely known as "McJesus." That isn't McDavid's only moniker, though. Apparently, some of his teammates dubbed him "The Crane."
And where does that title come from? The center, it seems, has the habit of picking at everyone else's food.
If you're eating junk food, you have to look out for Connor McDavid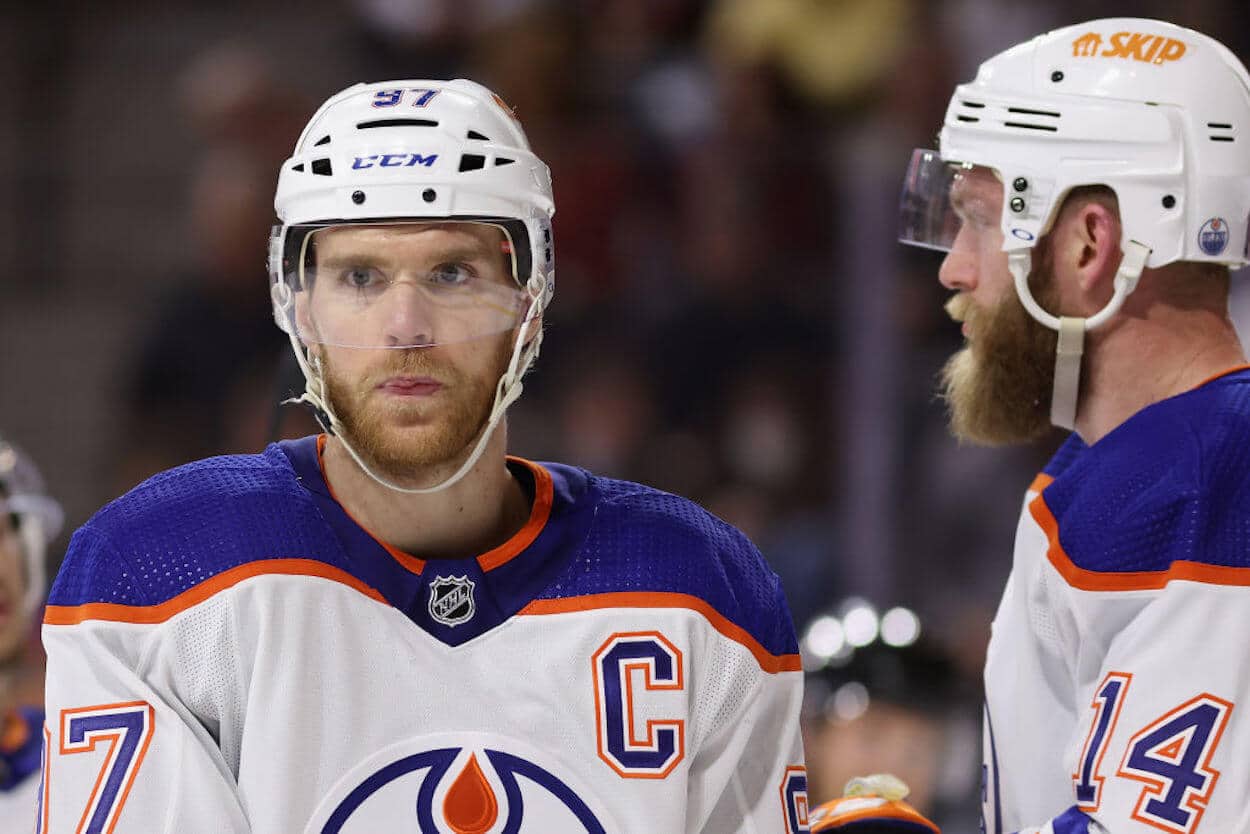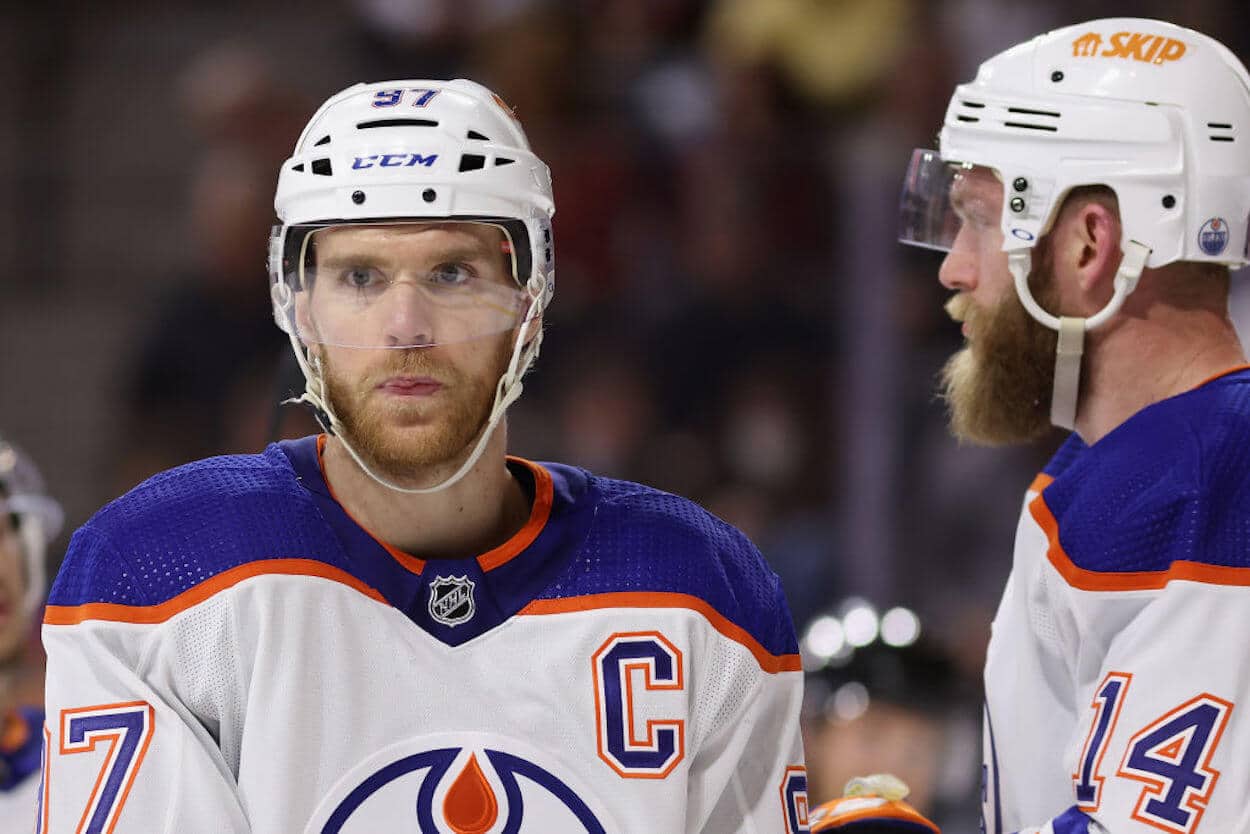 When you think of an NHL player's diet, you probably imagine lots of chicken breast, broccoli, and Gatorade. Connor McDavid, however, doesn't always stick to the healthiest choices.
In 2019, The Athletic collected stories about the Oilers' star from his teammates. If we take Drake Caggiula at his word, McDavid tries to walk the straight and narrow while make use of his peers' plates to indulge.
"Everyone portrays him eating all this healthy stuff, and he tries to portray that he eats super healthy. But we'll go to a restaurant, and someone will order a burger and fries, and he'll order some gluten-free meal – and then he's always looking over. 'Can I have a fry?' Then he's reaching over and grabbing a fry," Caggiula explained. "You order a Coke, and he'll order a water. Then he'll say, 'Can I have a sip of your Coke?' He's always digging into everyone's unhealthy stuff."
That habit even earned McDavid a nickname that hasn't entirely penetrated the public consciousness: The Crane.
We called him 'The Crane' because he's always craning over everybody and taking their food off their plate," Caggiula continued. "Every time we're on the plane, we'd have some junk food. He's reaching over trying to snag it. It was every flight, pretty much. I enjoy a nice glass of Coke on the plane and maybe a bag of Sour Patch Kids or something like that. He'd have some healthy PowerBar. Then, all of a sudden, all my candy would be gone because he'd be eating it. That's 'The Crane' for you."
Ryan Strome, who spent a single season in Edmonton, corroborated that report.
"I actually told my brother about it, and he goes, 'Oh, my God. He's been doing that since the beginning of time — even in juniors,'" he explained. "I've noticed that any time there's something even mildly unhealthy at the table, even if he didn't order it, he finds his way in there and scoops it up."
And while that sort of behavior makes sense in junior hockey — teenagers usually have an insatiable appetite and aren't really earning a salary — things are a bit different at the professional level. McDavid's fortune clocks in at approximately $30 million, according to Celebrity Net Worth; he's also playing on a $100 million contract and is one of the most famous stars in the NHL. If anyone has the money to buy junk food and the clout to eat it without facing too much criticism, it's the Oilers star.
For The Crane, though, picking at junk food is just par for the course. Sometimes you simply want a few fries or a bit of candy.
"I don't know," he told The Athletic. "I'm always snacking."
McDavid is following in Wayne Gretzky's footsteps in more ways than one
Based on their fantastic skill and the fact that they burst onto the scene with the Oilers, it's natural to draw some parallels between Connor McDavid and Wayne Gretzky. The inclusion of junk food in their diets apparently furthers those similarities.
As the Great One once explained, he got into the habit of eating a meal between school and his youth hockey games. When he reached the pros, however, the team sat down to eat much earlier in the afternoon. Not wanting to hit the ice hungry — or, perhaps even more importantly, throw off his routine — No. 99 turned to some alternative options.
"So, depending on what city we were in, if it was Chicago, there'd be pizza in the building. If it was Quebec City, there'd be hot dogs. Some cities, it was sandwiches," Gretzky explained. "And, in those days, we didn't have power bars, and we didn't have Gatorade or Powerade, you know, the energy drinks. And, for me, I drank Diet Coke. I found that to be the same sort of stimulation as an energy drink. And we had chocolate bars. We didn't have power bars. So, if I had a Snickers or any kind of chocolate bar, I found that gave me energy. And sometimes, it lasted throughout the game, and other times I'd be hungry after the first period or second period, and I'd have a half a sandwich or just something to give me that little bit of energy."
Is that the most ideal way to get into playing shape? Probably not, but if eating junk food works for Wayne Gretzky and Connor McDavid, there's something to be said for including a bit of candy and soda in your diet.