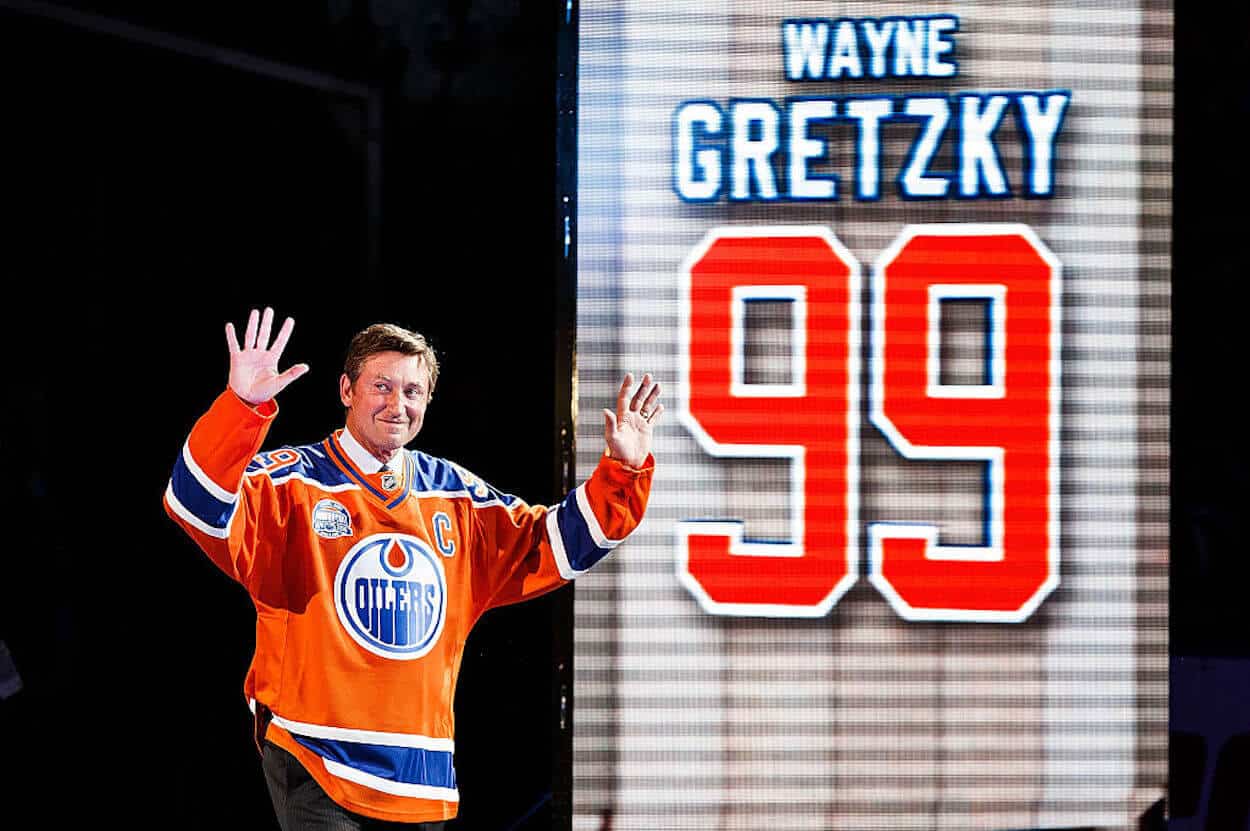 Wayne Gretzky's Legendary Scoring Was Powered by Junk Food and Diet Coke
Wayne Gretzky's scoring touch was out of this world. His pregame diet, however, sounds a bit less than ideal.
While there's room to argue that his era made things easier — goals in the 1980s don't seem the most mobile in hindsight — it's impossible to take issue with Wayne Gretzky's offensive numbers. The Great One had a knack for piling up the points; whether he was finding the back of the net himself or dishing out assists, he certainly knew how to make an impact on the ice.
And, like any other athlete, No. 99 had his own pregame routine to follow. Some of it was fairly standard, like putting on the right side of his equipment first, but Gretzky also put his unique twist on things. Consider his pregame meals.
While you'd probably expect a professional athlete to keep things clean before taking the ice, Wayne Gretzky did things a bit differently. In fact, he was known to chow down on the local junk food, plus candy and Diet Coke, as part of his preparation.
Sound unbelievable? Let's hear it from the man himself.
Wayne Gretzky required a pregame snack, which usually meant junk food
No matter the sport, professional athletes are creatures of habit. For Wayne Gretzky, that reality manifested in a couple of different ways.
"Well, listen, my dad was a big believer that part of being a good athlete was not just practice, and not just physically preparing, but to be mentally prepared, whether it be the proper rest the day before, the day of, proper nutrition, proper diet," the NHL legend told Graham Bensinger. "He really was a big believer that if you didn't have a proper meal the night before, that physically you couldn't be at your best. And so, I never changed my routine my entire career, my entire life. … I got dressed the same way all the time. I always got dressed on the right side, my right sock, my right shin pad, my right elbow pad, my right skate. Just, you know, you can say it's superstition, but it's partly routine, also."
On the diet front, however, some changes had to be made as his schedule changed.
When he was playing junior hockey, Gretzky would come home from school, have some steak and potatoes, then head to the rink. As a pro, though, there was a lot more downtime, which, in turn, meant there was time to get hungry between the team meal and the start of the game.
"You skate in the morning; you have a light skate to prepare for that night," No. 99 explained. "And generally, guys eat somewhere between 12:30 and 1:30 and then sort of rest or sleep or nap or whatever you do to get ready for the game. But I always found that, by 4:30, five o'clock, I was starving because my routine was I used to eat at 4:30, 5:00."
So what did the star turn to for a pregame boost? A protein bar? Some salad or fruit? Let's just say that things were a bit different back in the day.
So, depending on what city we were in, if it was Chicago, there'd be pizza in the building. If it was Quebec City, there'd be hot dogs. Some cities, it was sandwiches. And, in those days, we didn't have power bars, and we didn't have Gatorade or Powerade, you know, the energy drinks. And, for me, I drank Diet Coke. I found that to be the same sort of stimulation as an energy drink. And we had chocolate bars. We didn't have power bars. So, if I had a Snickers or any kind of chocolate bar, I found that gave me energy. And sometimes, it lasted throughout the game, and other times I'd be hungry after the first period or second period, and I'd have a half a sandwich or just something to give me that little bit of energy.

Wayne Gretzky
And while that doesn't sound like the optimal way to prepare for high-level performance, it certainly worked for the Great One. As every hockey fan knows, he lifted four Stanley Cups, piled up plenty of individual honors, and essentially rewrote the offensive record book.
As I (somewhat) mentioned at the top of the post, it's easy to wonder if Wayne Gretzky would have been as effective if he were playing against modern goalies. By that same token, though, perhaps modern sports science and nutrition could have made him that much more effective.