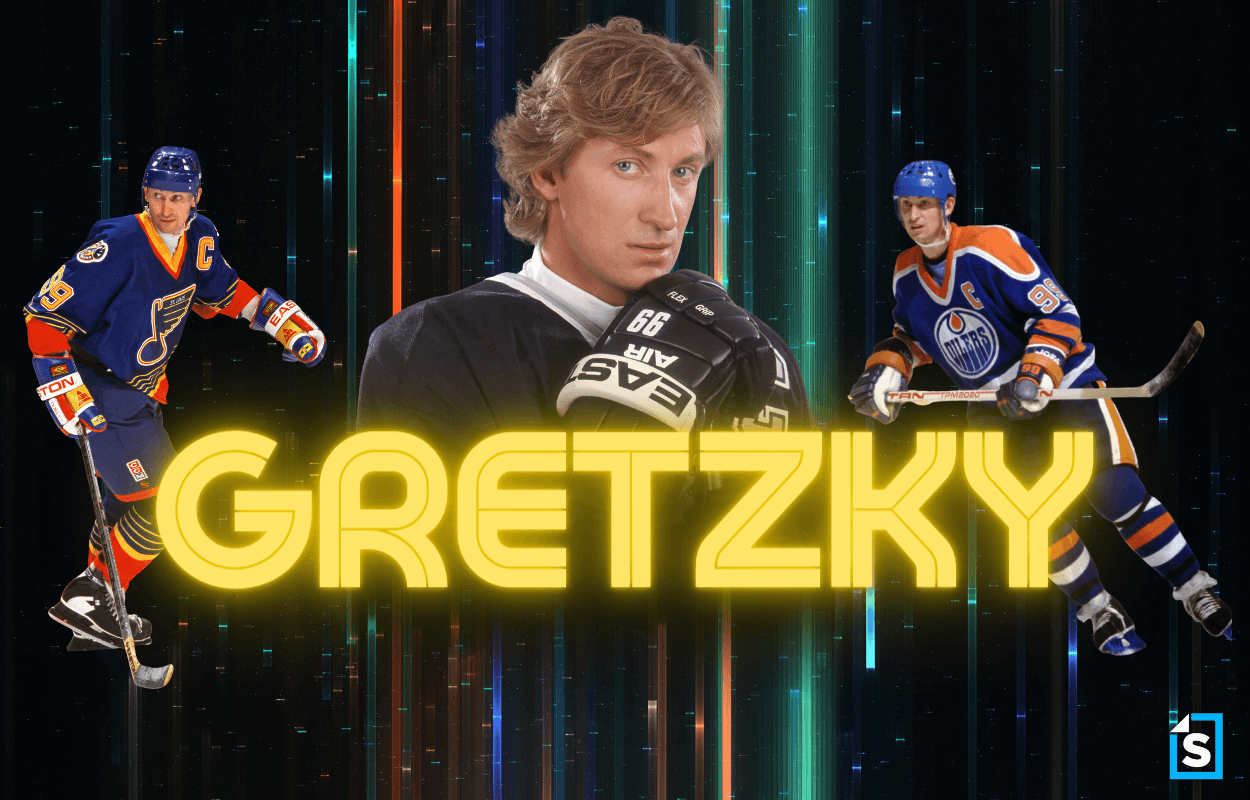 Wayne Gretzky: Biography, Career, Net Worth, Family, Top Stories for the NHL Legend
Who is Wayne Gretzky? We've got you covered with anything and everything about the living hockey legend.
While it's easy to get sucked into a GOAT debate and try to place one star ahead of another, every sport has its fair share of legendary names. Those from the NHL world don't always resonate with the wider audience — the metaphorical man on the street probably won't sing the praises of Gump Worsley or Ron Francis — but one player has undeniably moved beyond the ice to transcend sports boundaries: Wayne Gretzky.
Although he hasn't stepped on the ice since 1999, the Great One is an internationally known name. Even if you've only watched a handful of NHL games, you've probably come to grasp that he's pretty good at hockey. But that also means that most people only have a superficial picture of No. 99. 
With all that in mind, let's get to know Gretzky a bit more fully. Here's everything to know about the living legend, ranging from his hockey history and media work to some of the best stories from his time in the spotlight.
Article contents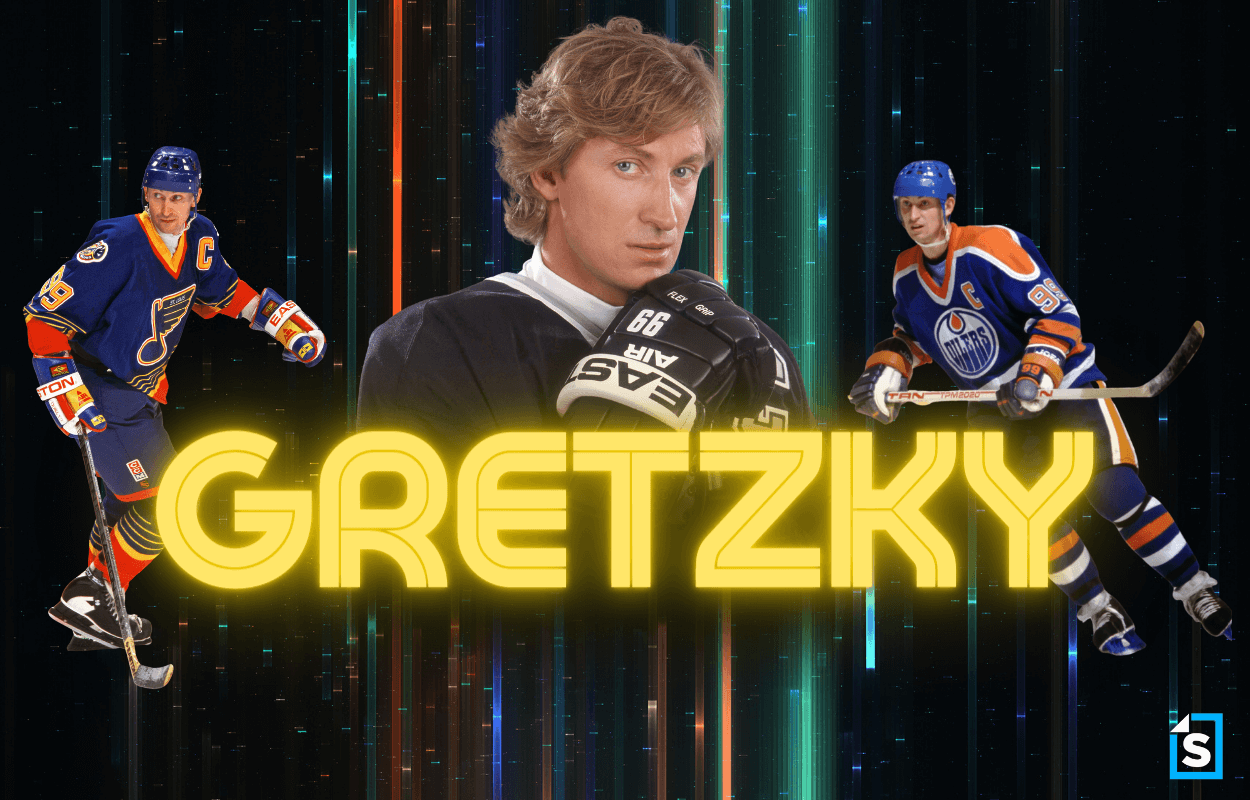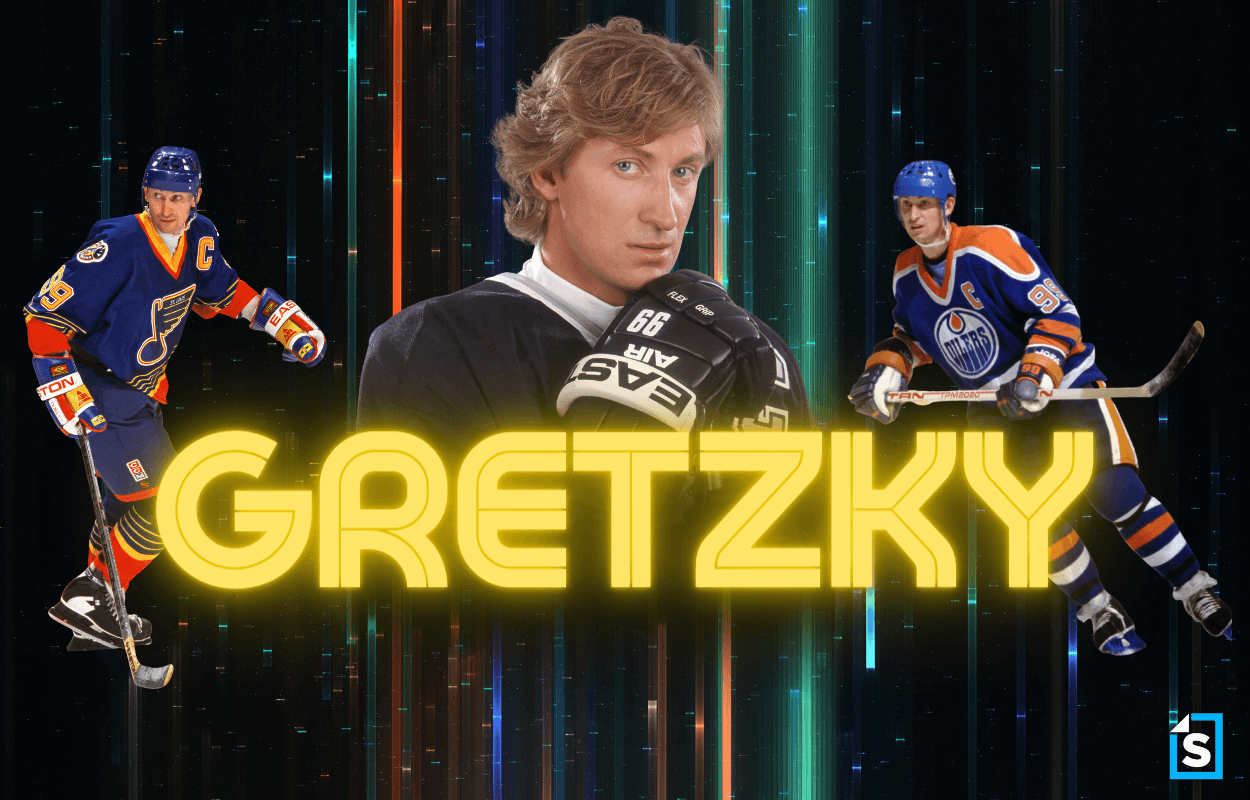 Quick facts
Early life 
Major Junior career
Going pro in the WHA
Joining the NHL and becoming the Great One
"The Trade": Gretzky joins the LA Kings
Time with the Rangers and Blues
NHL stats
NHL achievements
Canada career
Canada stats
NHL ownership and coaching
Coaching stats
Wife, kids, family
Net worth and career earnings
Nicknames
Media presence
FAQs
Quick Wayne Gretzky facts
Full name: Wayne Douglas Gretzky
Birthday: January 26, 1961
Birthplace: Brantford, Ontario, Canada
Parents:  Phyllis Gretzky (nee Hockin) and Walter Gretzky
Siblings: Kim Gretzky, Keith Gretzky, Glen Gretzky, Brent Gretzky
Listed height: 6-foot-0
Listed weight: 185 pounds
Junior teams: Peterborough Petes (OHL), Soo Greyhounds (OHL)
Professional position: Center
Professional numbers: No. 14 (Soo Greyhounds), No. 19 (Soo Greyhounds), No. 99 (Soo Greyhounds, Indianapolis Racers, Edmonton Oilers, Los Angeles Kings, New York Rangers, St. Louis Blues, Canada)
Professional playing career: 1978-99
Marital status: Married
Spouse: Janet Gretzky (nee Jones)
Children: Paulina Gretzky, Ty Gretzky, Trevor Gretzky, Tristan Gretzky, and Emma Gretzky
Wayne Gretzky's early life on the ice
In the world of sports, words like "prodigy" and "phenom" can be thrown around with reckless abandon. When we're talking about Wayne Gretzky, though, those labels are more than accurate.
The Great One first hit the ice at home, where his father, Walter, put him through his paces on a backyard rink known as "The Wally Coliseum." There, the boy honed his skating skills and picked up the lessons that would serve him so well over the years, like focusing on where the puck would end up rather than where it currently was.
Before long, Wayne's gifts became apparent. He started playing against older kids, and at age six, he hit the ice with 10-year-olds in local competition. Walter realized something special was happening, even if he didn't know how far it would go.
"You knew he was good at his age at what he was doing," Sportsnet quoted Walter as saying in a piece that ran after his death. "But to say that one day he'd do what he did, you couldn't say that. Nobody could."
And while there were plenty of successes — Wayne famously scored somewhere around 400 goals during a single season of youth hockey and earned his iconic nickname of "The Great One" at age 10 — things weren't always smooth sailing. The future legend, at the end of the day, was still a kid finding his way.
On one occasion, he didn't receive a trophy at an end-of-season banquet and burst into tears. His dad swooped in with some prophetic advice: "Wayne, keep practicing, and one day you're gonna have so many trophies we're not going to have room for them all."
The trophies did come, and Gretzky's talent became more and more apparent. He moved to Toronto to play hockey at a higher level and kept shining against better and better competition.
Then, it came time for Major Juniors.
Wayne Gretzky junior career
In 1977, Wayne Gretzky joined the Soo Greyhounds as the third overall pick of the OHL draft.
His first taste of Ontario Hockey League (OHL) action had actually come a year earlier. As a 15-year-old, the center was skating for the Seneca Nationals and was called up to the Peterborough Petes. He appeared in three games, recording three assists; the club's website notes that was the only time the Great One failed to score a goal for a team in his entire playing career.
When he returned to Major Junior Hockey, the Brantford native had no problem finding the back of the net. Despite his family's concerns about sending their son north — Sault Ste. Marie sits above Michigan, meaning the Greyhounds face rather demanding travel by teenage standards — Wayne joined the team. He posted 182 points (70 goals and 112 assists) in a single season.
Then another opportunity came calling.
Wayne Gretzky joins the WHA
While the NHL rules the roost when it comes to high-level hockey, another competitor competed for airtime in the 1970s. The World Hockey Association (WHA) tried to break into the market, poaching star players with big-time salaries and welcoming European talents to North America.
In 1978, the Indianapolis Racers made a different sort of splash by signing a 17-year-old Wayne Gretzky to a seven-year, $1.75 million contract. Things didn't hold together for long, though. The teenager played eight games for the club, scoring three goals and recording another three assists, but financial troubles forced the Racers' collective hand.
The young star was sold to the Edmonton Oilers, and Indianapolis folded shortly after.
Despite the change of location, Gretzky continued to shine. He played out the rest of the season with the Oilers, scoring 104 points (43 goals and 61 assists) in 72 contests; that was the third-highest total in the WHA and earned him the Lou Kaplan Trophy as the rookie of the year.
To make things even sweeter, the teenager signed a massive 10-year contract worth $3 million CAD, keeping him in Western Canada for the foreseeable future.
Despite that perceived sense of stability, another change was on the cards.
Wayne Gretzky joins the NHL and becomes the (all-time) Great One
In 1979, the NHL saw what it was up against and made a move. As part of what was technically labeled an expansion, four WHA teams joined the league. The Oilers were one of them, and in an attempt to avoid a legal dispute, the NHL allowed the club to keep Gretzky on the roster.
While some wondered how the teenage forward would adjust, Gretzky silenced those critics immediately. He took home the Hart Memorial Trophy as the league's MVP behind a 137-point (51 goals and 86 assists) campaign. That would be the high point of most players' careers, but the living legend was just getting started.
The following year, Gretzky eclipsed his own high-water mark with 164 points (55 goals and 109 assists). Then, during the 1981-82 season, he did the unthinkable and became the first (and still only) player to break the 200-point plateau. He scored 92 goals and set up 120 more, finishing the year with 212 points.
If that wasn't enough, he'd break his own record a few years later. 
With the league's scoring crown firmly under his belt and individual awards piling up — we'll list those all out later — Gretzky was only missing one feather in his metaphorical cap: the Stanley Cup. Thankfully for his all-time legacy, the forward wouldn't have to wait long. 
After falling short to the New York Islanders in the 1982 Stanley Cup Final, the Oilers were out for revenge. They cruised through the regular season with Gretzky and Paul Coffey pacing the team in scoring; Edmonton notched 446 goals that campaign, with the closest competition, the Islanders, clocking in with 357. Sure enough, those two teams would meet again in the postseason.
This time, there was a different result.
While the first game of the series was close — Edmonton notched a 1-0 victory — the rest of the bout was rather one-sided. The Islanders secured a 6-1 victory in Game 2, but once the teams traveled to Canada, it was the beginning of the end.
The Oilers rattled off three impressive wins (7-2, 7-2, 5-2), lifting Lord Stanley's chalice and ending New York's dynasty. A new team skated atop the NHL mountain, and it was (largely) there to stay.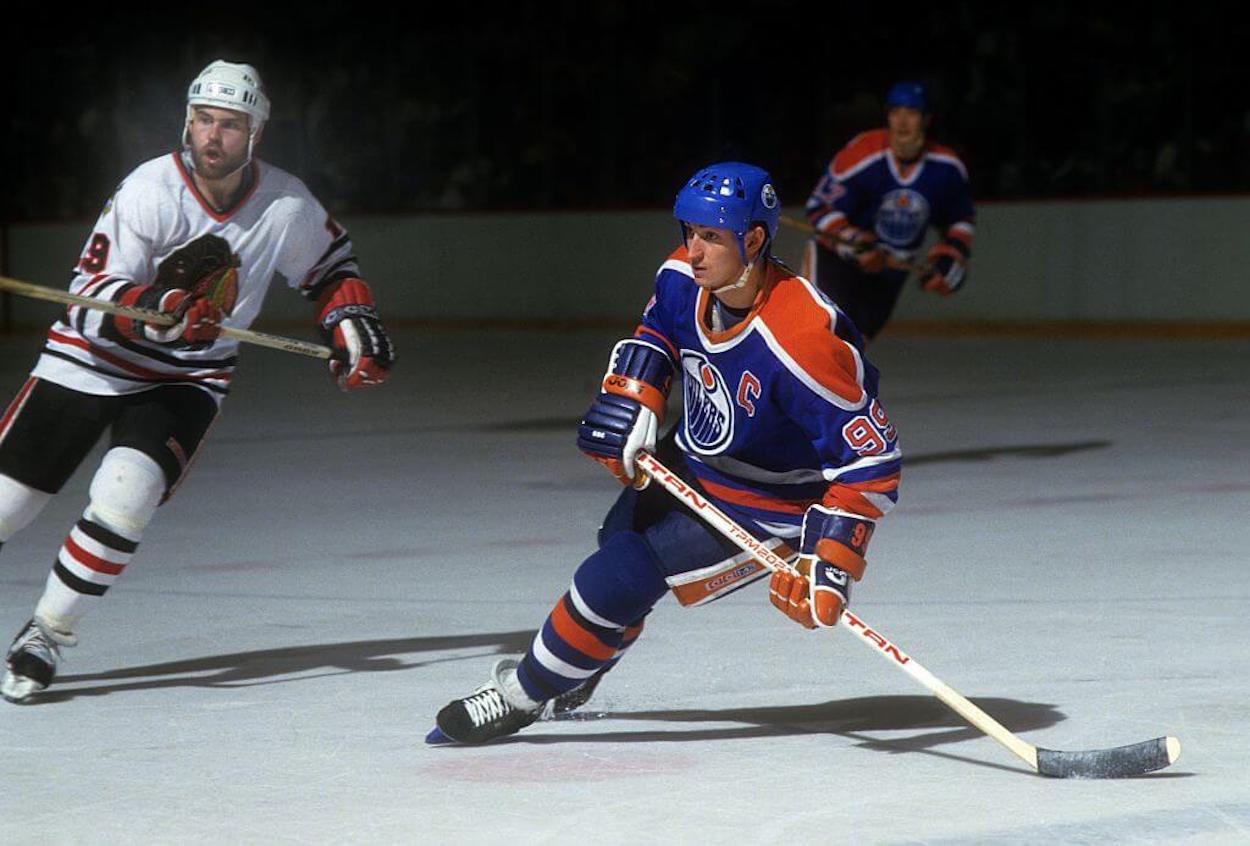 The following year, Gretzky and company cruised to a second title. Although they were upset by Lanny McDonald and his Calgary Flames during the 1985-86 season — the Great One posted a career-high and all-time-record 215 points that year, so don't accuse him of abdicating his responsibilities — the Oilers reclaimed their title during the 1986-87 campaign and retained it during the following go-round. The fourth cup run was especially dominant, as the club only lost two games during the entire postseason.
During that run, No. 99 did more than his fair share of the work. He consistently led the league in scoring, never finishing an NHL season in Edmonton with fewer than 137 points. The fairy tale, however, was about to come crashing down.
'The Trade': Wayne Gretzky joins the LA Kings
After that fourth Stanley Cup, Gretzky and his Edmonton Oilers were on top of the hockey world. Before the next season began, everything would change — and we're not talking about the Great One's underwear.
On Aug. 9, 1988, Wayne Gretzky joined the Los Angeles Kings via trade. It was a move that sent shockwaves throughout the sport; few could believe that the league's most talented player was moving from Canada to Hollywood.
So how did that deal come to fruition?
In 2012, Tal Pinchevsky broke things down for NHL.com. Bruce McNall had taken over the Kings from Dr. Jerry Buss and kept asking the Oilers about the previous owner's dream of acquiring Gretzky. While those were initially easy to rebuff, money eventually talked.
"Bruce McNall leaned over and said, 'I'll give you $15 million, plus some players.' At that time, $15 million was $18.5 million Canadian," Edmonton's then-owner, Peter Pocklington, told NHL.com. "I said, 'Let me think about it,' and called him a week later and said, 'I could live with that.'"
Pocklington briefly considered trying to cut a deal with Detroit — he thought Gretzky would appreciate a chance to join the Red Wings — but that never happened. Before long, Edmonton, Los Angeles, and the Great One were hashing out the finer details of the arrangement.  Gretzky, for example, wanted his on-ice protector, Marty McSorley, to join him in California.
Ultimately, Gretzky, McSorley, and Mike Krushelnyski joined the Kings. In return, Edmonton received Jimmy Carson, Martin Gelinas, three first-round draft picks, and the aforementioned $15 million.
On the ice, the Great One kept rolling.
In addition to putting hockey front and center in Los Angeles, he recorded 168 points during his first campaign with the Kings. While that wasn't enough to finish ahead of Edmonton in the standings, LA did manage to upset the Oilers in the first round of the postseason. 
While Canadians were initially angry, things eventually leveled out. Edmonton would lift another Stanley Cup in 1990, and Pocklington continues to insist that the trade ultimately benefited everyone.
"It opened up a whole new door for him [Gretzky] and his wife. It did great things for everybody," Pocklington explained. "It did great things for the Gretzkys; it did great things for the NHL."
Gretzky's time with the Rangers and Blues
Despite that early postseason run and the stars flocking to Kings games, Gretzky's Hollywood tenure wasn't completely happy. The star missed some time with a back injury, and the entire NHL played a lockout-shortened season in 1994-95. Los Angeles also experienced a change of ownership and financial issues. Eventually, its biggest star realized he'd had enough.
 The Great One wanted out. 
On Feb. 27, 1996, he got his wish. The St. Louis Blues were willing to meet the financial demands of the trade and sent three players and two draft picks to Hollywood for Gretzky. His move to the midwest, however, would only last 18 regular-season games. The star didn't exactly click with the club's hard-nosed coach, "Iron" Mike Keenan, and he had no interest in signing a contract extension.
That summer, the Great One hit free agency and headed to the Big Apple, becoming a New York Ranger.
While that move did help the Blueshirts make some noise in the Eastern Conference, it was clear that the Great One's best days were behind him. During his first season on Broadway, he recorded 90 points (23 goals and 67 assists) in 82 games. The following year, which proved to be his last, he notched a respectable 62 points in 70 appearances but only scored nine goals.
At the end of the 1998-99 season, Gretzky knew it was finally time to hang up his skates. He was honored (in questionable fashion) during his final appearance at Madison Square Garden and tallied a point as he assisted on the Rangers' only goal in a 2-1 loss to the Pittsburgh Penguins.
Wayne Gretzky professional stats
For some players, stats only tell part of the story. In Wayne Gretzky's case, the counting numbers are so mind-blowing that you simply have to marvel at his on-ice accomplishments. Consider the following table, remember that the forward was fueled by a less-than-ideal diet, and try to keep your jaw off the floor:
| Team | Year | Games Played | Goals | Assists | Points |
| --- | --- | --- | --- | --- | --- |
| Indianapolis Racers | 1978-79 | 8 | 3 | 3 | 6 |
| Edmonton Oilers | 1978-79 | 72 | 43 | 61 | 104 |
| Edmonton Oilers | 1979-80 | 79 | 51 | 86 | 137 |
| Edmonton Oilers | 1980-81 | 80 | 55 | 109 | 164 |
| Edmonton Oilers | 1981-82 | 80 | 92 | 120 | 212 |
| Edmonton Oilers | 1983-84 | 80 | 71 | 125 | 196 |
| Edmonton Oilers | 1984-85 | 74 | 87 | 118 | 215 |
| Edmonton Oilers | 1986-87 | 79 | 62 | 121 | 183 |
| Edmonton Oilers | 1987-88 | 64 | 40 | 109 | 149 |
| Los Angeles Kings | 1988-89 | 78 | 54 | 114 | 168 |
| Los Angeles Kings | 1989-90 | 73 | 40 | 102 | 142 |
| Los Angeles Kings | 1990-91 | 78 | 41 | 122 | 163 |
| Los Angeles Kings | 1991-92 | 74 | 31 | 90 | 121 |
| Los Angeles Kings | 1992-93 | 45 | 16 | 49 | 65 |
| Los Angeles Kings | 1993-94 | 81 | 38 | 92 | 130 |
| Los Angeles Kings | 1994-96 | 48 | 11 | 37 | 48 |
| Los Angeles Kings | 1995-96 | 62 | 15 | 66 | 81 |
| St. Louis Blues | 1995-96 | 18 | 8 | 13 | 21 |
| New York Rangers | 1996-97 | 82 | 25 | 72 | 97 |
| New York Rangers | 1997-98 | 82 | 23 | 67 | 90 |
| New York Rangers | 1998-99 | 70 | 9 | 53 | 62 |
| | | | | | |
Wayne Gretzky professional achievements
While championships are often the shorthand of all-time greatness, Wayne Gretzky did more than just lift the Stanley Cup four times. During his time on the ice, the Great One piled up an incredible haul of individual awards. His trophy case includes:
The Lou Kaplan Trophy (1979 WHA Rookie of the Year)
Nine Hart Trophies (NHL MVP for 1980, 1981, 1982, 1983, 1984, 1985, 1986, 1987, and 1989)
10 Art Ross Trophies (NHL scoring title for 1981, 1982, 1983, 1984, 1985, 1986, 1987, 1990, 1991, and 1994)
Two Conn Smythe Trophies (NHL postseason MVP for 1985 and 1988)
Five Lester B. Pearson Awards (NHL most outstanding player as voted by the players for 1982, 1983, 1984, 1985, and 1987)
Five Lady Byng Memorial Trophies (NHL award for sportsmanship and gentlemanly conduct for 1980, 1991, 1992, 1994, and 1999)
Four Lou Marsh Trophies (Canadian athlete of the year for 1982, 1983, 1985, and 1989)
Nine-time All-NHL First Team member (1981, 1982, 1983, 1984, 1985, 1986, 1987, and 1991)
Seven-time All-NHL Second Team member (1980, 1988, 1989, 1990, 1994, 1997, 1998)
Wayne Gretzky Canada career
As you might expect given Gretzky's prolific talent, Canada was more than happy to have him represent the country on the international stage. And while the tournaments may be a bit different than the ones we know today, the Great One stepped up.
The star forward made his international debut in 1978 when he suited up for Canada at World Juniors. Despite some concern about the 16-year-old's age — for perspective, Connor Bedard became only the seventh 16-year-old to play for Canada when he made his 2021 World Juniors debut — he recorded 17 points (eight goals and nine assists) in six games, leaving Montreal with a bronze medal. After that, he was ready for the senior squad.
That next step came in 1981 when the Canada Cup rolled around. No. 99 didn't miss a beat, tallying 12 points (five goals and seven assists) in seven games, but that wasn't enough to claim the top spot. Canada was thumped 7-1 by the Soviet Union in the final game.
That was followed by the 1982 World Championships, where, once again, Gretzky played well but fell short of a gold medal. That would finally change in 1984 when Canada claimed the top spot at the Canada Cup.
On the back of the success, No. 99 one-upped himself. At the 1987 Canada Cup, he put up 21 points (three goals and 18 assists) in nine games. Five of those helpers came in a single finals game against the Soviet Union as Canada knocked off the superpower in three games to clinch the title.
After that, Gretzky appeared in another Canada Cup — his team earned another gold — before making his Olympic debut in 1998. While that trip to Japan wasn't the happiest — the Great One only recorded four assists in six games and left without a medal — he had at least graced the highest international stage.
Wayne Gretzky Canada stats
As hockey's biggest star, Wayne Gretzky never had a problem stepping up on the international stage. Below are his stats from his appearances with the Canadian national team.
| Tournament | Games Played | Goals | Assists | Points |
| --- | --- | --- | --- | --- |
| 1978 World Juniors | 6 | 8 | 9 | 17 |
| 1981 Canada Cup | 7 | 5 | 7 | 12 |
| 1982 World Championships | 10 | 6 | 8 | 14 |
| 1984 Canada Cup | 8 | 5 | 7 | 12 |
| 1987 Canada Cup | 9 | 3 | 18 | 21 |
| 1991 Canada Cup | 7 | 4 | 8 | 12 |
| 1996 World Cup of Hockey | 8 | 3 | 4 | 7 |
| 1998 Olympics | 6 | 0 | 4 | 4 |
Wayne Gretzky as an NHL owner and coach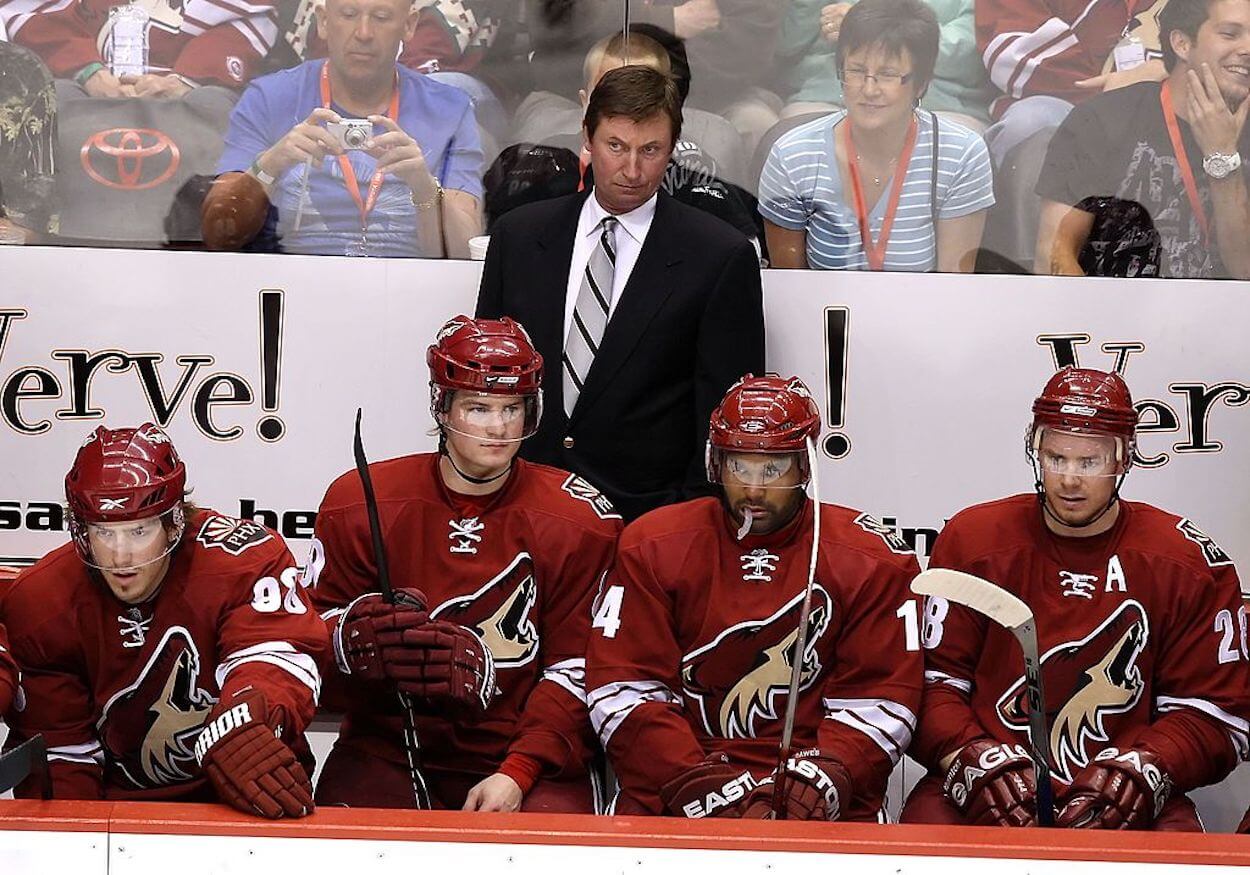 By the end of the 1990s, Wayne Gretzky had hung up his skates. The Great One wasn't going to leave hockey behind forever, though.
In 2000, the former forward was linked with a deal to become a part-owner, governor, and head of hockey operations for the Phoenix Coyotes. While it took some time to get the deal over the line — that's the story of the franchise — things finally got going. 
Then, in 2005, he took it a step further.
The Great One stepped behind the bench and became the team's head coach. Despite his talent (and willingness to talk a bit of trash), things didn't go well. He spent four full seasons calling the shots and never led his team to more than 38 wins. The Coyotes failed to reach the playoffs, and after they experienced some financial issues and a bankruptcy filing, the living legend left the organization for good.
Wayne Gretzky coaching stats
While Wayne Gretzky is the greatest player to ever hit the NHL ice, he couldn't lead his team to similar success on the bench. During four seasons coaching the Coyotes, he never steered his club into the postseason.
| Season | Games | Wins | Loses | Overtime Losses | Points |
| --- | --- | --- | --- | --- | --- |
| 2005-06 | 82 | 38 | 39 | 5 | 81 |
| 2006-07 | 82 | 31 | 46 | 5 | 67 |
| 2007-08 | 82 | 38 | 37 | 7 | 83 |
| 2008-09 | 82 | 36 | 39 | 7 | 79 |
Wayne Gretzky's wife, kids, and family
While there's some debate about how they linked up — it could have been on the set of Dance Fever or at a Lakers game — Wayne Gretzky and Janet Jones got married in 1988. In a retrospective of the Great One's career, Terry Jones of the Edmonton Sun referred to the nuptials as "The Royal Wedding" and recounted a lavish affair complete with "$250,000 of jewelry, most of it on one finger," a guest list that included plenty of hockey legends, and 3,000 fans waiting outside the church.
The pair have had five children: Paulina, Ty, Trevor, Tristan, and Emma. 
Paulina is most widely known, thanks to her acting career and marriage to golfer Dustin Johnson. Ty and Trevor also dabbled in sports — the former played hockey, while the latter preferred baseball and made it to the minors — but neither followed in their father's footsteps as a global star.
Wayne Gretzky net worth and career earnings
While modern NHL contracts pale in comparison to those in other leagues — averaging more than $10 million per year is still a big deal — the disparities were even more striking during Wayne Gretzky's day.
Despite that reality, the forward's talent translated into plenty of cash.
Details can be a bit fuzzy since No. 99 started out in the WHA and signed some personal services contracts rather than conventional sports deals, but we do know he commanded a sizable salary. He set plenty of salary milestones, including earning $2 million in a season before pushing as high as the $6.5 million mark.
While the star preferred to play things close to his chest — he was an NHL player, after all, and rocking the boat isn't part of the hockey playbook — he did speak about his salary on at least one occasion. When pressed about his contract during a 1990 CBC interview, Gretzky danced around the issue before suggesting that things would only continue to swell.
"If that's the going rate of a hockey player or an athlete … I'm not going to argue with it," he said. "It's gotten to the point where salaries have escalated so high, we don't know where they're going to end — if they're going to ever end." 
Playing hockey wasn't the entirety of the Great One's income, though.
As you might expect from his celebrity status, he's had plenty of endorsements — we'll get to some of those shortly — and dabbled in businesses ranging from his own restaurants to a vineyard and distillery. He's also gotten involved with other sports, owning race horses, a Major Junior hockey team, and part of the Canadian Football League's Toronto Argos. 
Between those ventures and the related profits (he sold the hockey team in the early 1990s, for example), Celebrity Net Worth estimates Gretzky's fortune at $250 million.
Wayne Getzky Nicknames
The Great One: This one is rather self-explanatory, as Gretzky was pretty good at the game of hockey. But do you know where the nickname originated from?
As he told Dan Patrick, No. 99 picked up the name as a 10-year-old star when John Herbert, a writer from the London Free Press, called Wayne "the Great One" based on his incredible talent. As he progressed through the ranks, scoring highlight-reel goals each step of the way, that moniker stuck. 
During an appearance on TNT's The Steam Room, though, Gretzky told Ernie Johnson and Charles Barkley that he had more nicknames than any other athlete. He also provided three examples:
Mr. Douglas: "In the locker room, I was called Mr. Douglas because I used to check in under my middle name in all the hotels," the living legend explained. "All my teammates thought it was funny, so they called me Mr. Douglas."
Mr. Waynederful: According to Gretzky, Mark Messier was fond of this play on No. 99's standard moniker. The forward, if we take him at his word, thought it was "a cool name."
The White Tornado: This one didn't stick, but Gretzky was known by this moniker during his earliest days on the ice. Thanks to his white gloves, skating ability, and inability to be contained by any defense, this title speaks for itself.
Doc: While this one is a bit more under the radar, it has the most colorful story of them all. As Gretzky recounted, he was on a flight when another passenger found themself in distress. The flight crew started looking for a doctor, and the NHL star hit the call button to offer his services. When asked about his credentials, No. 99 cited his honorary doctorate.
After recounting that tale to his golf buddies, they started calling him Doc.
So, which of those does Gretzky prefer? During his conversation with Dan Patrick, he said he'd rather keep things easy.
"I much prefer when people call me Wayne," he explained. "It's much simpler."
Wayne Gretzky media presence 
Given that he's probably the most famous hockey player of all time, Wayne Gretzky has made more than his fair share of media appearances over the years. 
On the commercial front, the Great One Wayne showed up in a variety of commercials. A Tim Horton's (think Canadian Dunkin' Donuts) advertisement recounted him getting an autograph from the eponymous NHL legend before growing into a star in his own right. 
In an old McDonald's advertisement, Gretzky and Mats Sundin played their own version of Michael Jordan and Larry Bird's famous game of HORSE.
More recently, the legend has appeared in Bet MGM ads alongside Connor McDavid, Edmonton's new superstar.
Beyond commercials, Gretzky plays a role in TNT's hockey coverage, appearing on the network's panel. On the pop-cultural front, he had a celebrity cameo in the music video for Nickleback's "Rockstar" and made an indirect appearance in an iconic scene from The Office.
Wayne Gretzky FAQs
Where was Wayne Gretzky born?
Wayne Gretzky was born in Brantford, Ontario, Canada, to parents Walter and Phyllis Gretzky.
How old is Wayne Gretzky?
Born on January 26, 1961, Wayne Gretzky is now 62 years old.
How tall is Wayne Gretzky?
Per his Hockey Reference profile, Wayne Gretzky was listed at 6-foot-0 (1.83 m) and 185 pounds (83 kg).
Where did Wayne Gretzky go to college?
Like many Canadian hockey prospects, Wayne Gretzky never attended college. He played Major Junior hockey with the Soo Greyhounds before turning pro.
When was Wayne Gretzky drafted?
Wayne Gretzky was never technically drafted. He signed a personal services contract with the Indianapolis Racers and was traded to the Edmonton Oilers. When the club entered the NHL, he was allowed to stay on the roster as a protected player.
What teams did Wayne Gretzky play for?
Wayne Gretzky played for the Peterborough Petes and the Soo Greyhounds in junior hockey, the Indianapolis Racers and the Edmonton Oilers in the WHA, and the Edmonton Oilers, Los Angeles Kings, St. Louis Blues, and New York Rangers in the NHL. He also suited up for Canada on the international stage.
How many Stanley Cups does Wayne Gretzky have?
As a member of the Edmonton Oilers dynasty, Gretzky lifted the Stanley Cup four times (1984, 1985, 1987, and 1988).
What position did Wayne Gretzky play?
While his scoring touch would have allowed him to thrive anywhere across the front line, Wayne Gretzky played center. 
What number was Wayne Gretzky?
Wayne Gretzky wore a No. 99 jersey dating back to his time in juniors. Both the Los Angeles Kings and Edmonton Oilers retired that number on a franchise level, and the entire NHL eventually followed suit.
When did Wayne Gretzky play?
Wayne Gretzky started his professional hockey career in 1979 and ultimately hung up his skates at the end of the 1998-99 campaign. He spent 10 seasons in Edmonton (1978-88), with Los Angeles coming in a close second with eight seasons (1988-96). He also spent part of the 1995-96 season with the St. Louis Blues and the final three seasons of his career (1996-99) in New York.
When did Wayne Gretzky retire?
Wayne Gretzky retired in April 1999. His final game was the Rangers' regular-season finale, which saw the Great One record an assist in a 2-1 loss to the Pittsburgh Penguins.
Is Wayne Gretzky married?
Wayne Gretzky has been married to Janet Gretzky (nee Jones) since 1988.
Does Wayne Gretzky have children?
Wayne Gretzky has five children: Paulina, Ty, Trevor, Tristan, and Emma.
Where does Wayne Gretzky live?
According to a 2021 story in The Athletic, Wayne Gretzky settled in St. Louis. That allowed him to spend more time with his mother-in-law, and the city's central location made it easier to see his family strewn around the country and work for Turner.
What is Wayne Gretzky's net worth?
Per Celebrity Net Worth, Wayne Gretzky's net worth is $250 million.