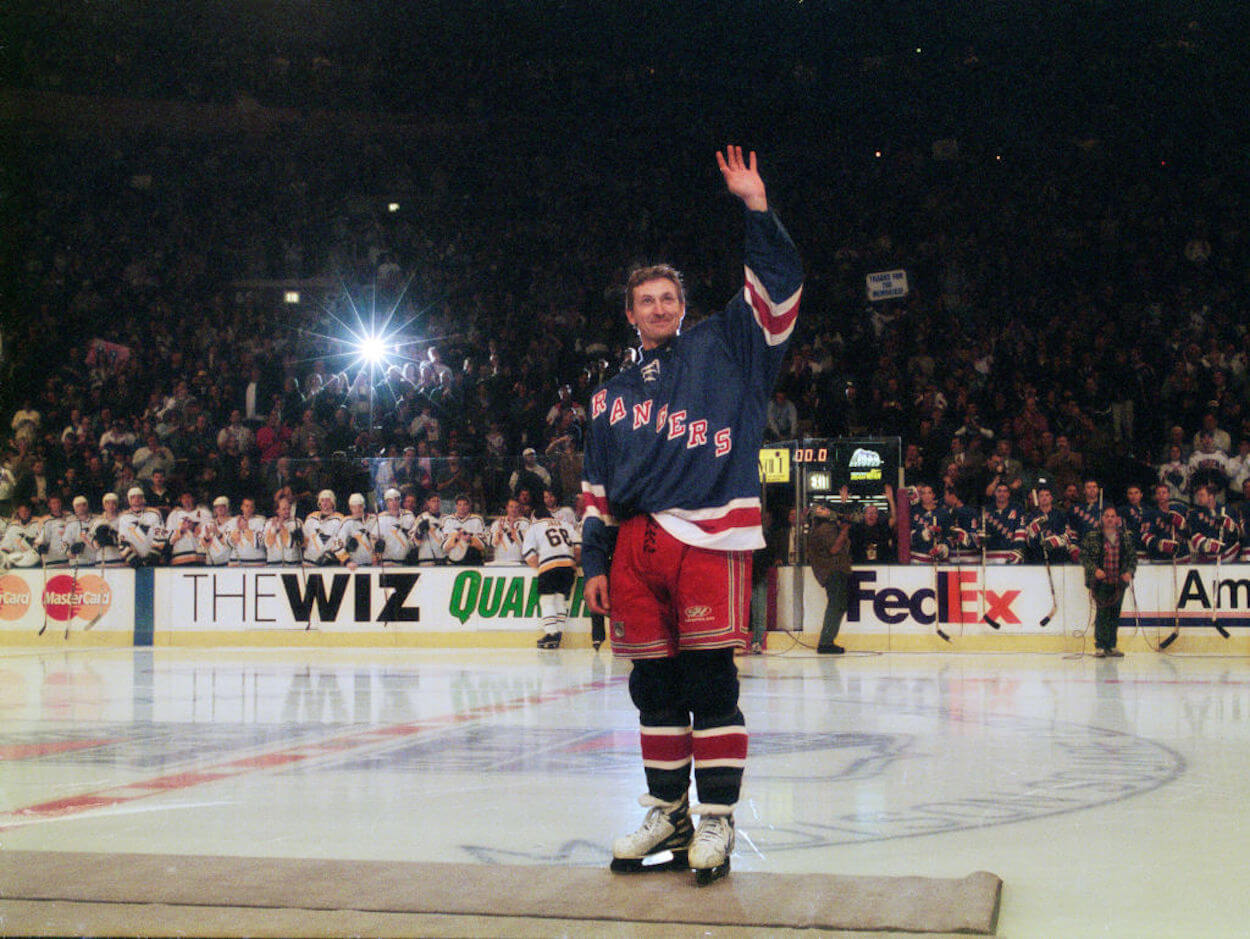 Wayne Gretzky Knew It Was Time to Retire When Opponents Started Respecting Him a Bit Too Much
In his prime, Wayne Gretzky was hard to hit. At the end of his career, he was avoiding physical contact for another reason.
Even in retirement, Wayne Gretzky looms large. If you're a hockey fan, you know all about the Great One and his incredible offensive accomplishments. Even if you never saw the living legend play, though, you probably have a sense of how special he was; someone who excels in their field isn't known as the Wayne Gretzky of X for nothing, after all.
If we take No. 99 at his word, though, there's such a thing as too much respect.
At the end of his playing career, Gretzky apparently started getting a bit of extra warning from the opposition that a hit was coming his way. While that might seem like a kindness, the Great One took it as a sign that he was over the hill.
Wayne Gretzky called it a career when the opposition started warning him about hits
There's a famous quote from legendary defenseman Denis Potvin that compares trying to hit Wayne Gretzky to wrapping your arms around fog. While that paints quite the image of an elusive attacker, there's apparently another reason why the forward avoided physical punishment, at least at the end of his career.
During a conversation with Conan O'Brien, the Oilers legend confirmed that he did absorb plenty of hits over the years. There was a point, though, when he started to receive a bit of special treatment.
"I got hit," No. 99 explained. "I didn't get hit as much as people probably wanted me to get hit, especially on the opposing teams, but listen. I knew it was time to retire when I was playing my last year, and people I was playing against, before they would hit me, they would scream my name and say, 'Hey, heads up,' or 'Wayne, get out of the way,' or 'Here we are.'"
At that point, O'Brien entered the conversation. "I don't want to be the guy who kills Wayne Gretzky," he quipped, putting himself in the skates of an opposing player.
And while that might seem a bit jarring — finishing your checks is a key part of what every hockey player learns — it does make sense. By the time he reached that final season with the New York Rangers, Wayne Gretzky had been in the NHL for more than two decades. He had won Stanley Cups, shattered offensive records, and made hockey a part of the Hollywood scene. If anyone was deserving of a bit of extra on-ice respect, it was him.
That respect for Gretzky manifested in some unique honors during his final game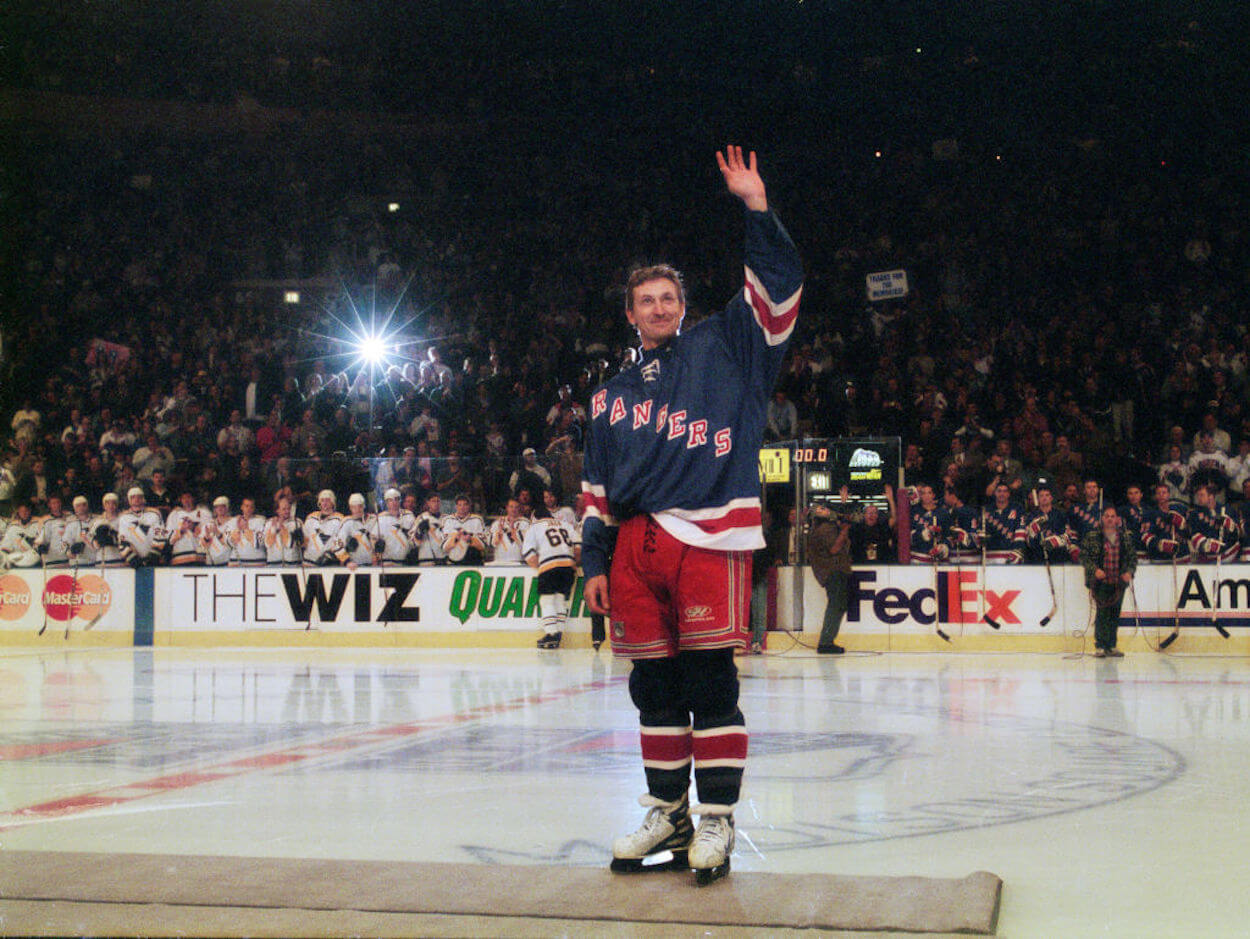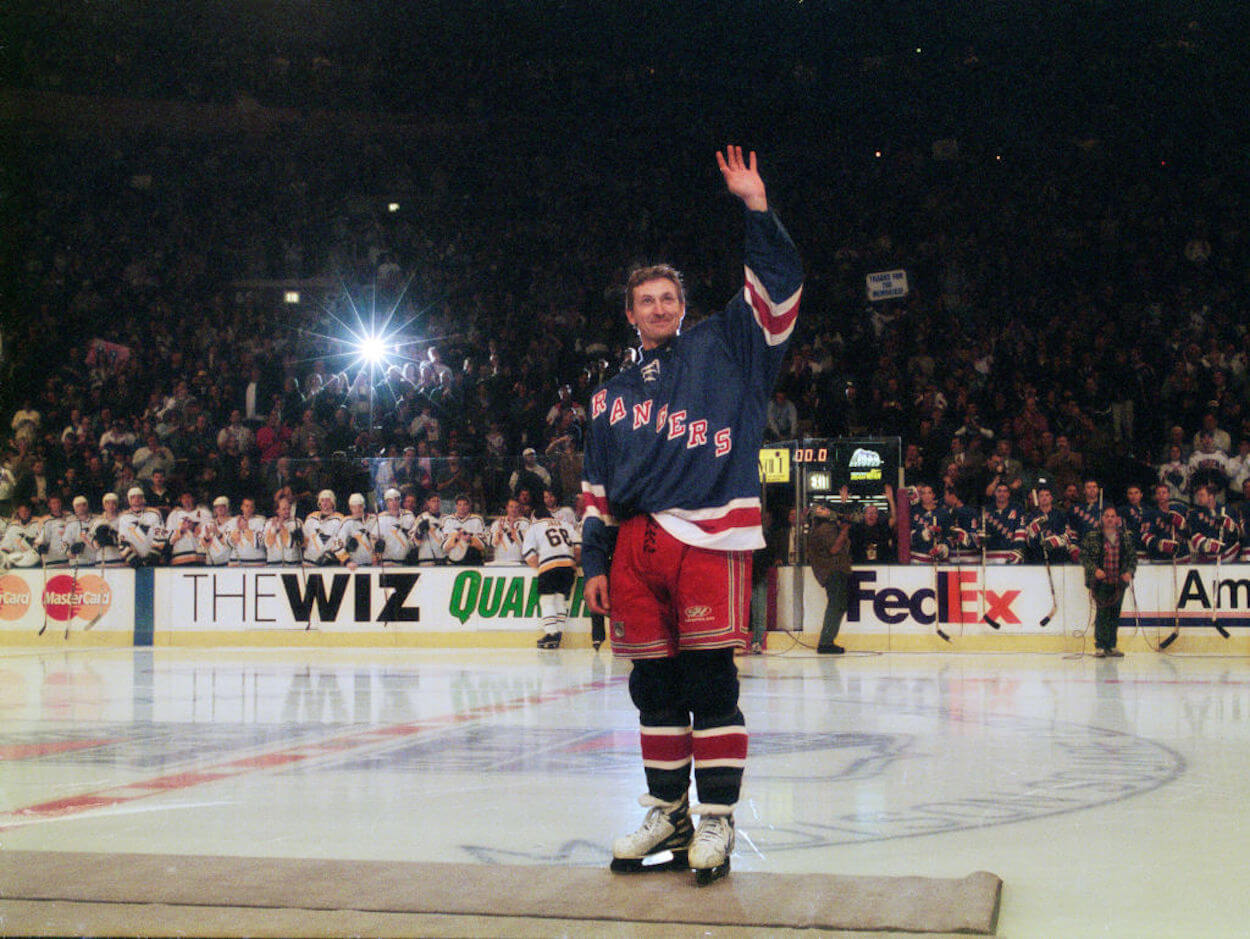 By and large, the pre-game national anthems are considered untouchable. Some teams may make minor tweaks — think the Flyers playing "God Bless America" on big occasions — but they're not going to do anything drastic and rock the boat. Wayne Gretzky, however, was so significant that he inspired some unique modifications ahead of his final game.
When the Rangers and the Pittsburgh Penguins took the ice, it seemed like Madison Square Garden had pulled out the stops with a big-time anthem singer. Bryan Adams appeared to sing "O Canada," but he had an ace up his sleeve. At the end of the song, he swapped the line, "O Canada, we stand on guard for thee," for "We're gonna miss you, Wayne Gretzky."
In a piece of top-notch camera work, the shot then panned to No. 99. Let's just say he didn't look incredibly comfortable.
Then, MSG's beloved John Amirante emerged from the tunnel to sing the American anthem. The look on Gretzky's face suggested that he feared the worst, and another modification would eventually arrive. At the end of the song, Amirante replaced "the land of the free" with "the land of Wayne Gretzky."
Again, Gretzky's expression spoke 1,000 words. If the fact that opponents were warning him about impending hits weren't enough, the national anthem modifications would have probably pushed him out of the public eye for at least a little bit.
With all of that being said, though, if anyone is deserving of some unorthodox shows of respect, it's certainly the Great One.