Wayne Gretzky's Highest-Scoring Season Is Even More Impressive Than Its 400-Point Total Suggests
When it comes to the NHL record book, most conversations around scoring begin and end with Wayne Gretzky. While you could make arguments about different eras — it's tough to watch the immobile goalies of the 1980s and not feel like anyone could have scored a goal — the Great One's numerical superiority speaks for itself. Whether you're looking at his 215-point 1985-86 campaign or the fact that he'd still be the league's all-time leading scorer based solely on assists, No. 99 rules the roost.
That dominance extends beyond the NHL, though. Consider that, at age 10, Gretzky scored an incredible 400 points during a season of youth hockey.
And, if that total isn't impressive enough, consider this forgotten detail: the future star wasn't even playing forward that year.
Wayne Gretzky tallied 400 points in youth hockey while playing as a defenseman
While the likes of Bobby Orr (and more modern players like Brett Burns and Erik Karlsson) have proven that defensemen can be offensive contributors, forwards are still the ones who are tasked with shouldering most of the scoring. During a single season of youth hockey, though, Wayne Gretzky shattered that stereotype.
During an appearance on The Dan Patrick Show (h/t the Chicago Sun-Times), Gretzky said that his highest-scoring season consisted of 400 goals. Not wanting to be perceived as a one-way player, though, he insisted that he played defense during that year.
While it would be easy to assume that the Great One simply meant he back-checked and otherwise fulfilled his defensive responsibilities, that's not the case. He was literally playing as a defenseman during that campaign.
"I was playing on a team of 10-year-olds," No. 99 recalled. "It was my fifth year on the team. So, the coach came to me and said, 'I'm gonna make you a defenseman,' and, of course, it crushed me. I remember thinking, 'Oh my god, this guy is ruining my life. I've got to be a defenseman."
While it seemed like there was a silver lining — the team had two defensive pairs and three forward lines, so Gretzky was going to get some extra ice time by playing on the back end — things got even more dramatic.
"The very first game we played, one of the four defensemen got hurt. Broke his leg and was out for the season," the NHL legend remembered. "So, basically, I played the whole game every game on defense."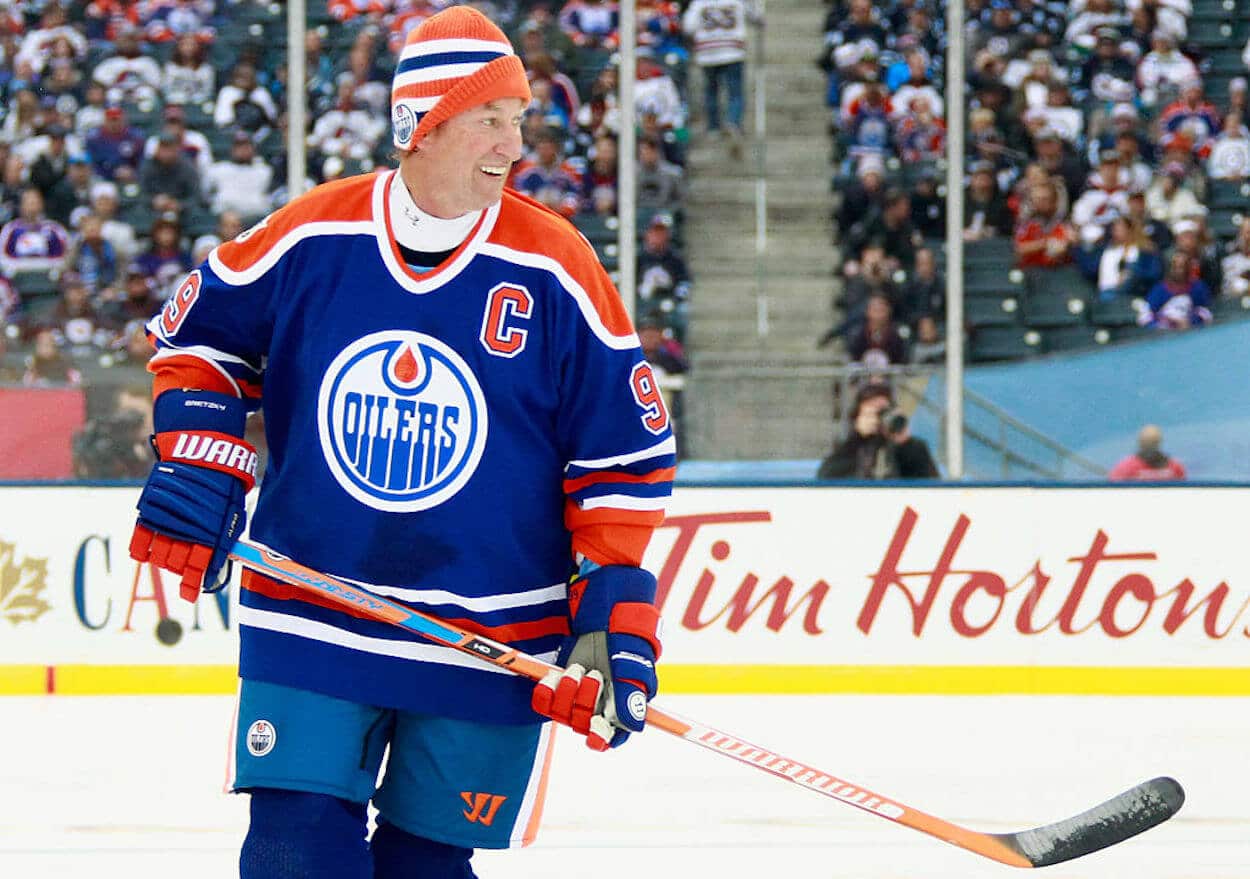 While you could argue that positions are somewhat insignificant at the youth level — 10-year-olds are past the "everyone converge on the puck" age bracket, but there's still some level of flexibility — I'd still assert that lining up as a defenseman, even nominally, makes Gretzky's performance that much more impressive. Not only did he have positional responsibilities (no matter how insignificant they may have been), but there was probably a bit of unfamiliarity. Even if the game is theoretically the same, forwards and defensemen have different roles and landmarks on the ice. The Great One, for all his talent, couldn't simply skate to the same spot that he always did.
Gretzky's ice time could have also been a gift and a curse. While playing the entire game allowed him to pile up points, there was almost definitely a fatigue factor. Even at age 10, staying on the ice without a single breather is a physical challenge.
Is that the most impressive campaign that Wayne Gretzky ever had? You can be the judge of that. Scoring 400 points while playing out of position, even at a youth level, is certainly quite the performance, though.