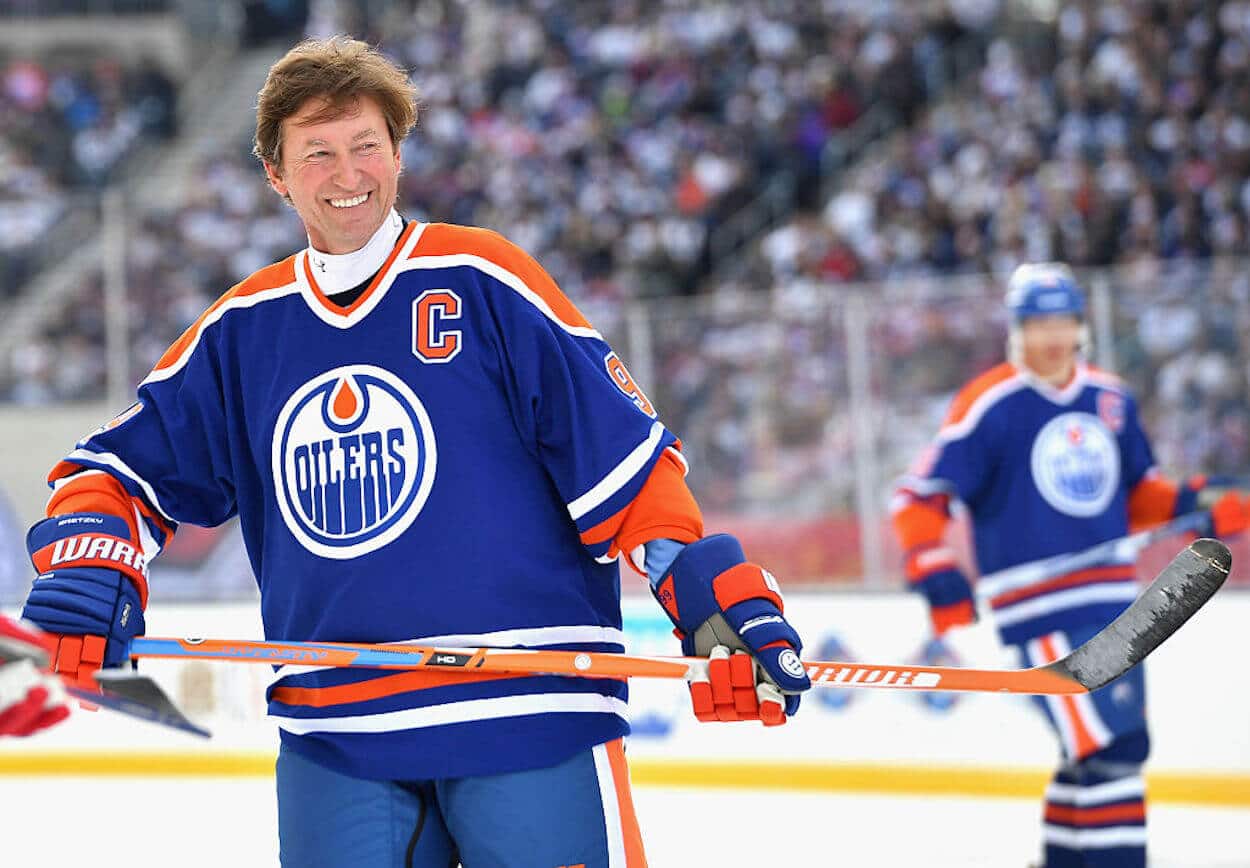 Wayne Gretzky's Forgotten First Nickname Was Actually Pretty Cool
While "The Great One" is a pretty awesome title, a young Wayne Gretzky also went by a more colorful nickname.
While NHL players aren't always widely known outside of the hockey world, Wayne Gretzky was a big-time exception to the rule. The famous forward was so much more than a talented scorer; he transcended the bounds of sport and became a true celebrity. You don't, after all, appear in a Nickelback video, get referenced in The Office, and have your name become synonymous with greatness by accident.
Based on that pop-cultural presence, even the most casual fan knows about Gretzky and his famous nickname, "The Great One." And while that moniker is pretty cool — it speaks for itself and highlights No. 99's sheer talent — his first nickname wasn't bad either.
Let's travel back to Gretzky's earliest days on the ice and check it out.
Wayne Gretzky was initially known as "The White Tornado"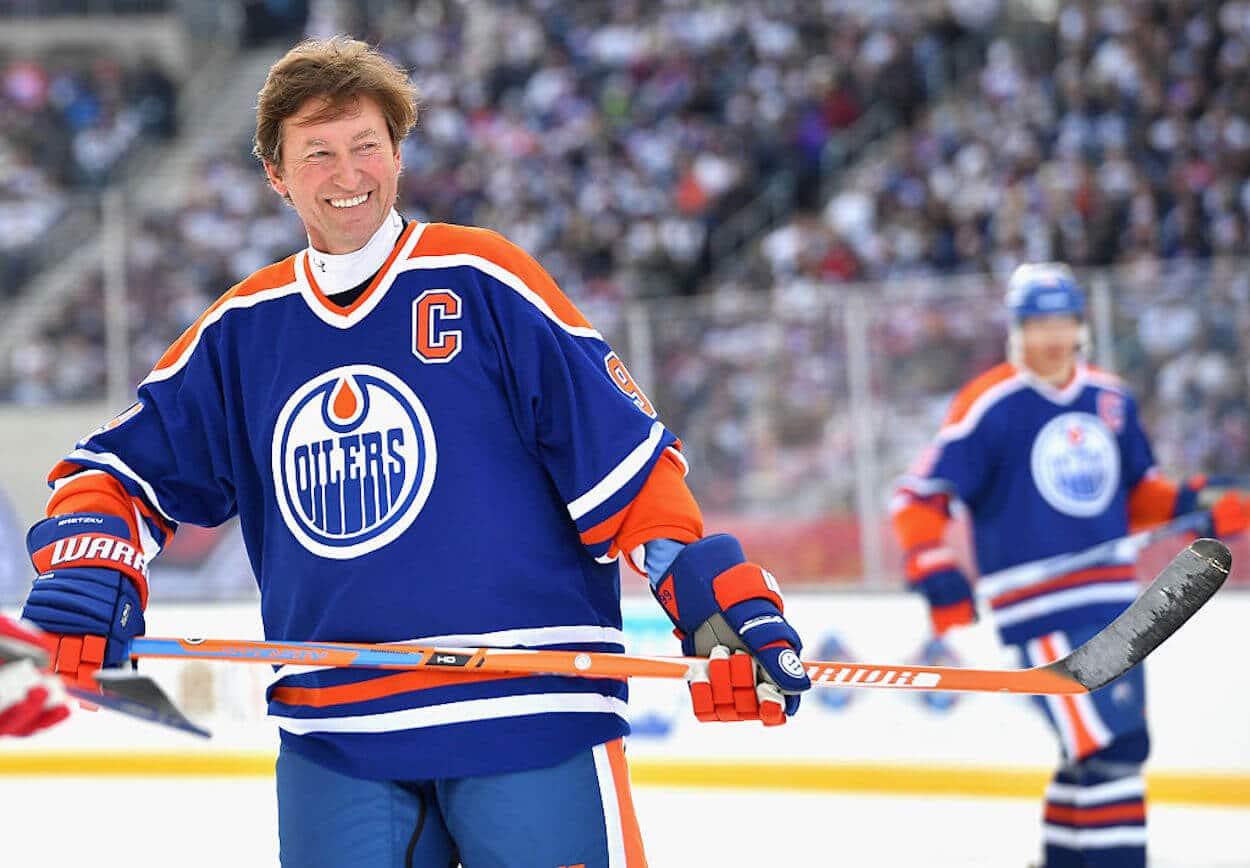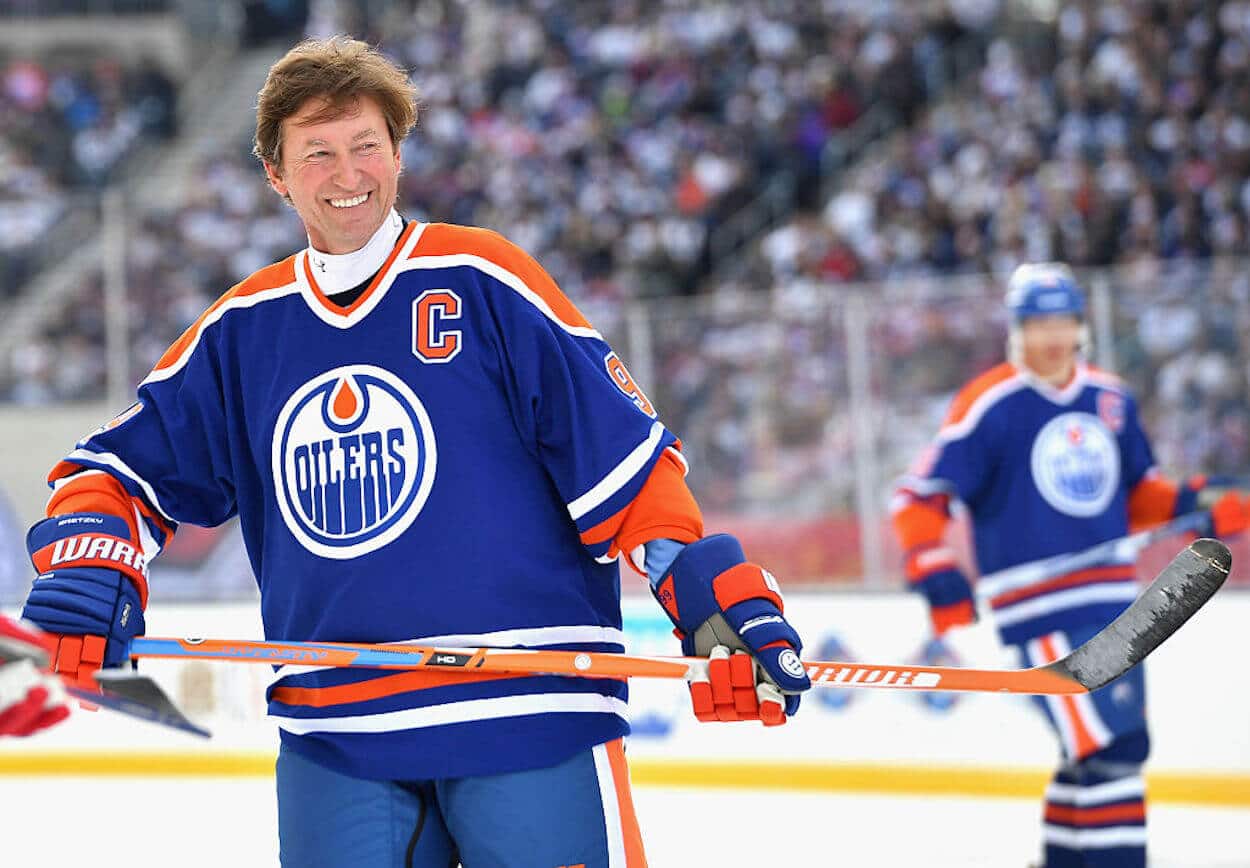 In the world of youth sports, almost every player ends up with a nickname. Those aren't always the greatest, but in Wayne Gretzky's case, things worked out pretty well.
In a 2016 Sports Illustrated piece, Collin Flemming took a look at Gretzky's book, 99: Stories of the Game. The scribe shared some photos highlighting different steps in the living legend's carer, watching him grow from a talented child to the star we know today.
And one of those photos from the forward's early days on the ice contained a detail about an early nickname. In a striking sartorial choice, Gretzky used to play wearing white gloves. Those, combined with his speed and quick hands, earned him a pretty sweet title.
"At age 11, Gretzky was running wild in his Pee Wee league in Brantford," Flemming recounted. "Nicknamed "The White Tornado" for his white gloves and speed, he scored 378 goals … in one season."
In 2019, those gloves actually went up for sale via Classic Auctions. The listing provided a bit more detail about the nickname in question.
First nicknamed "The White Tornado" for both his youthful speed along with the white gloves he donned, Wayne Gretzky exhibited his sheer dominance and goal-scoring prowess especially early, netting an unfathomable 378 goals in just a mere 85 contests for the Brantford Nadrofsky Steelers at age 11 in 1971-72. Representing his earliest days when he was quickly ascending the hockey ranks, ready to set the sporting world on fire, we have a pair of "White Tornado" gloves worn by a young Wayne Gretzky in the 1974 Quebec Pee-Wee tournament and photo-matched to his time with Brantford, with the impeccable provenance of hailing directly from Bill Cornish, Wayne's legal guardian at the time. Light beige Cooper models with intact tie-strings, white colouring is present over the thumbs and finger joints as well as the wrist and index finger padding, with a glossy yellow decal with solid black "9" positioned over the left glove's wrist guard.

Classic Auctions
And while that nickname didn't stick, it's pretty cool, especially by hockey standards. When most nicknames are minor variations of the person's last name — think Rick Nash becoming "Nasher" or Alex Ovechkin being called "Ovie" — "The White Tornado" sounds like something out of a comic book in the best possible way. Is it a little bit cheesy and/or childish? Sure, but that's better than being boring any day of the week.
Wayne Gretzky wasn't a stranger to having colorful nicknames
As I mentioned above, Wayne Gretzky is most widely known as "The Great One." That reality, however, doesn't mean he hasn't picked up some other nicknames over the years.
During an appearance on The Steam Room, the NHL legend explained a few of them. Many of his Oilers teammates, for example liked to call him Mr. Douglas, since that was the alias Gretz would use to check into hotel rooms. Douglas, for context, is his middle name.
And then there's "Doc." While it may seem like a rather benign nickname, it actually has a less-than-ideal origin story.
As Gretzky told it, he was once on a flight and noticed that the flight attendant seemed a bit stressed. When he asked if something was wrong, she shared that a passenger elsewhere on the plane was struggling with a bit of anxiety. She also mentioned that she was looking for a doctor on board.
In that moment, the NHL legend made a fateful decision and reached for the ceiling.
"So I hit the call button because I'm an honorary doctor," he explained. "I go, 'Ding.' She goes, 'Really?' And I go, 'Yeah, I'm an honorary doctor.' She goes, 'That's not funny,' and I said, 'Well, my goodness, I wouldn't have said it if I thought the guy was really in trouble."
And while that's certainly an iffy move on Gretzky's part, it did earn him a nickname. After he shared the story with his golf buddies, they started calling him "Doc."
On second thought, maybe that context makes "The White Tornado" an even better nickname. If nothing else, it didn't have a problematic origin story.