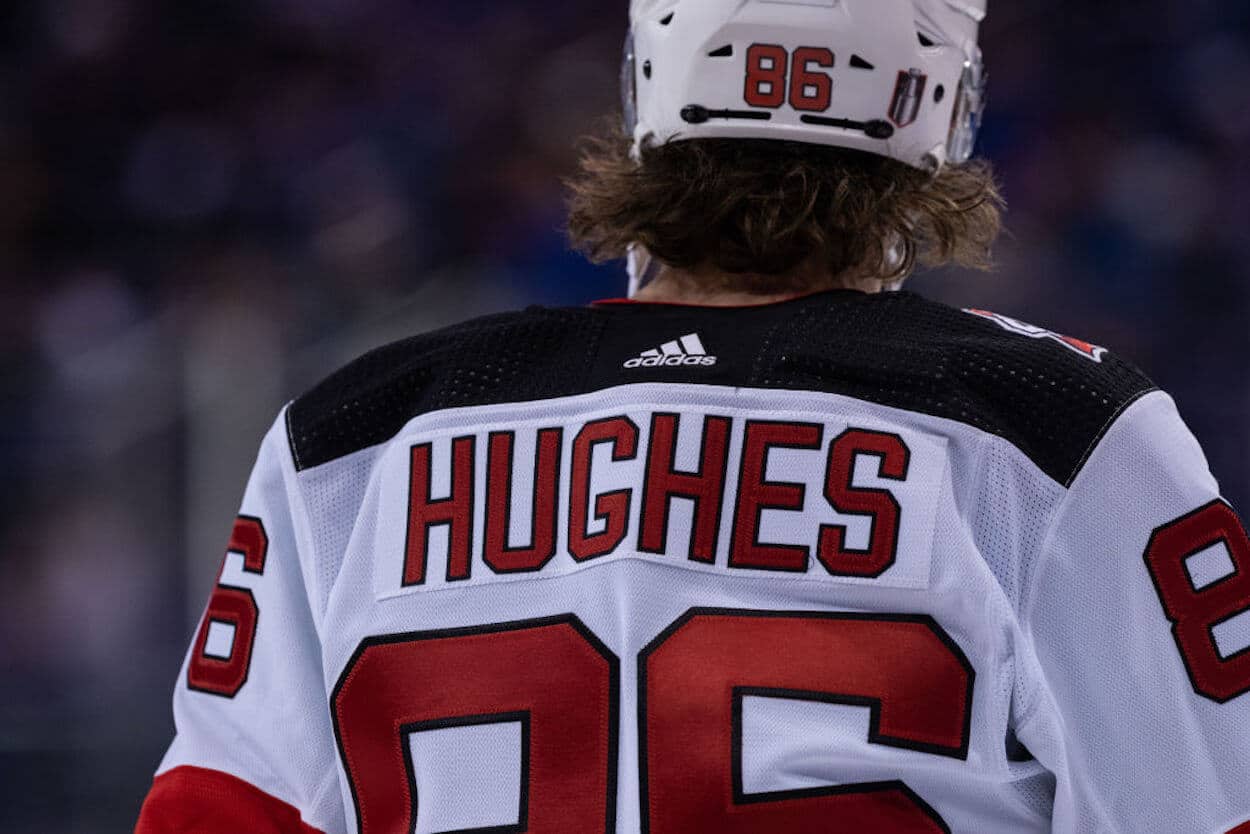 Jack Hughes Contract: The Forward Already Looks Like a Big-Time Bargain for the Devils
Did the New Jersey Devils take a risk by inking Jack Hughes to a big-time extension? Yes, and they're now reaping the rewards.
While the numbers may be a bit smaller — a $100 million contract is still a big deal — NHL players and executives face similar financial challenges to the other major sports. The former group wants to maximize both their dollar amount and their security; the latter are trying to maintain flexibility and, most importantly, stay under the salary cap. Those goals can seem like polar opposites, but sometimes there's a win-win deal that makes everyone happy. Consider the Jack Hughes contract extension as a perfect example of that.
The deal might have seemed like a gamble when everyone put pen to paper, but after the first regular season, everything seems to be working out. Hughes received a sizable raise and some long-term security, while the Devils seem to have gotten a comparative bargain.
Let's break it all down.
The New Jersey Devils secured a Jack Hughes contract extension while his value was (comparatively) low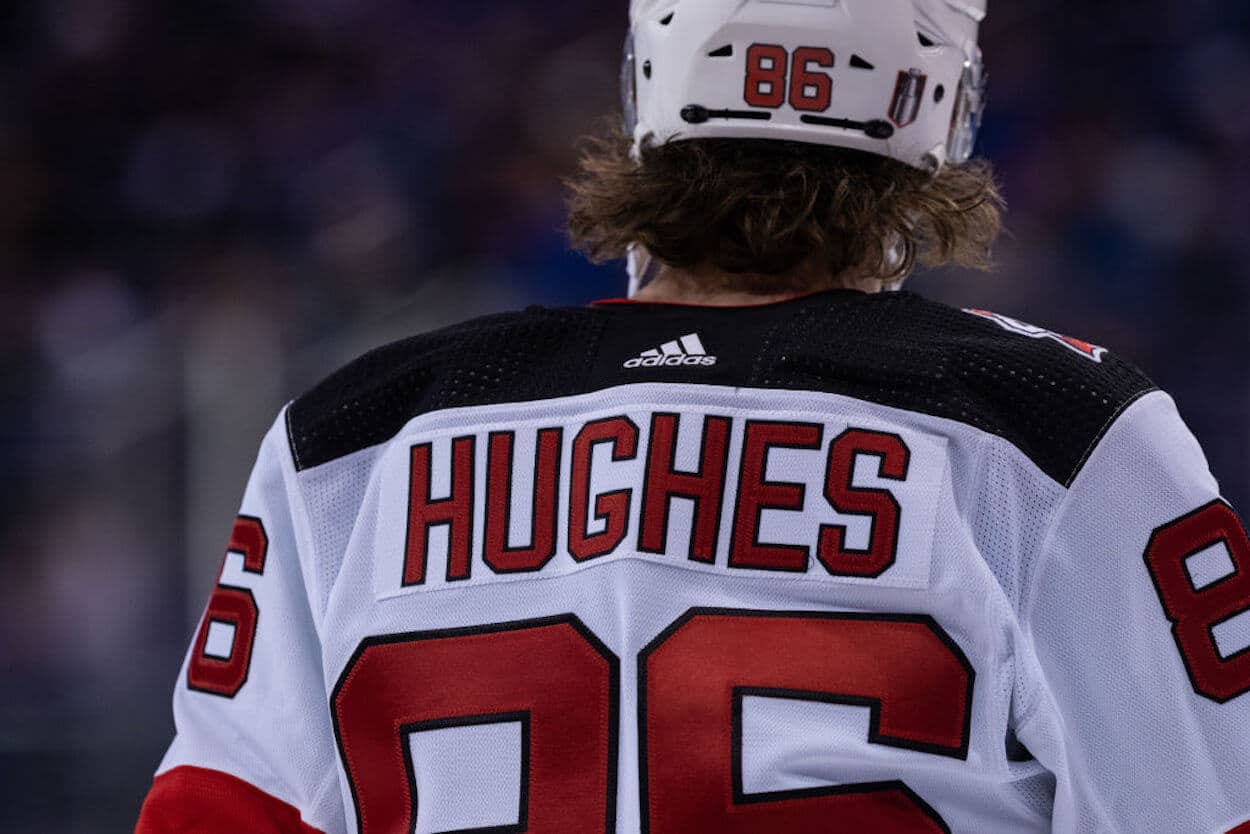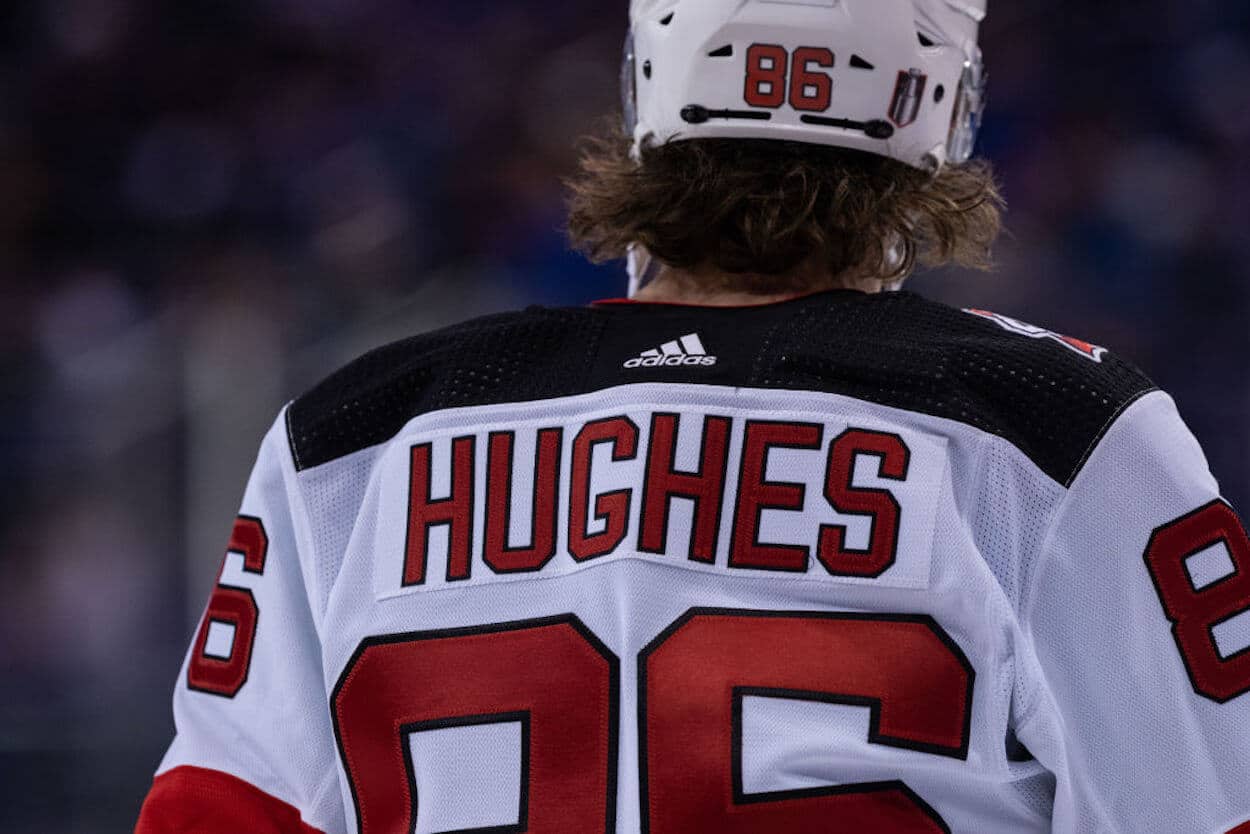 Any time a team and a player head to the negotiating table, it's a bit of a gamble. For the New Jersey Devils, however, rolling the dice on Jack Hughes paid off.
Although the forward was the first overall pick of the 2019 NHL Draft, he didn't exactly light the league on fire. The young American struggled during his rookie year, only potting 21 points, and only improved by 10 points the following campaign. Fifty-two points across 117 appearances isn't that impressive, especially for a theoretical star player, but New Jersey's brass didn't seem to be too concerned.
In November 2021, the Devils and Hughes agreed to a long-term contract extension. That may have seemed like a gamble at the time, but it quickly paid off. Whether by coincidence or due to some other factors — perhaps the new deal took some of the pressure off — the center took a major leap forward. He recorded 56 points in 49 contests, setting a new career-high while playing fewer games than ever before.
And when the contract officially kicked in at the start of the 2022-23 campaign, things got even better. Hughes poured in a franchise-record 99 points, propelling the Devils into the postseason.
Jack Hughes contract: Breaking down the forward's term and salary
Thus far, we've established that the Devils secured a Jack Hughes contract extension, and the forward has made good on his side of the deal. Now, let's get down to the brass tacks.
Hughes is currently on an eight-year contract worth $64 million. That breaks down evenly for salary cap purposes — the forward carries a hit of $8 million per season — but his real salary was slightly skewed. Spotrac reports that the young American took home $7 million in salary and a $2 million signing bonus during the 2022-23 season. He'll then earn $8.5 million for three years and spend a season at $8 million before dropping down to $7.5 million for the 2027-28 campaign. The deal will wrap up with two seasons of $7 million salary before Hughes (theoretically) hits free agency in the summer of 2031.
And, as if that term and salary weren't enough, the young forward also has a modified no-trade clause for the final four years of the contract. Within that window, he's allowed to provide a ten-team list of places he cannot be traded to.
At this point, the Devils' faith in Hughes seems to be paying off
Whenever you're (metaphorically) buying low, there's a risk that your investment could crumble; there's never a guarantee that a struggling player will turn it around. The Devils' faith in Jack Hughes, however, has certainly been rewarded.
As mentioned above, the young forward finally emerged as a legitimate star during the first year of his contract extension. Not only did he set new career highs in goals, assists, points, and games played, but Hughes did so as part of a young team that qualified for the playoffs. In theory, the Devils will continue to improve, and the American will be at the heart of their progress.
And, to make things even sweeter for New Jersey, the Hughes contract extension is looking like quite the bargain. While $8 million may be a massive sum of money to most people, it's comparative peanuts in professional sports. Even in the NHL, where contracts are quite a bit smaller, it's still rather affordable for a 99-point player.
Based on Sportrac's records, Hughes was tied for the 59th-highest salary in the league during the 2022-23 campaign, despite being tied for the 12th-highest points total. Talk about value for money.
Is there still time for things to go wrong? Of course. Hughes could get hurt or, if he continues to improve, become disillusioned with his contract. Conversely, the Devils' 2022-23 success could be a one-off rather than the start of something bigger.
At this point, those possibilities are all unknowable. Right now, though, it is safe to say that the Devils pulled off quite the savvy move by inking Jack Hughes' contract extension when they did.