How Many NCAA Men's Basketball Championships Have the UCLA Bruins Won?
In the world of college basketball, plenty of programs have made a name for themselves during the NCAA Tournament. Coach K and his Duke Blue Devils, for example, didn't make it to March this year but have been a powerhouse since the late 1980s. During the 1960s, however, John Wooden and his UCLA Bruins ruled the roost.
With the current Bruins squad making an unexpected run to the Final Four, there's no better time to look back through the history books and remember the program's glory days. So how many times has UCLA claimed a men's basketball national championship?
UCLA won 10 championships under John Wooden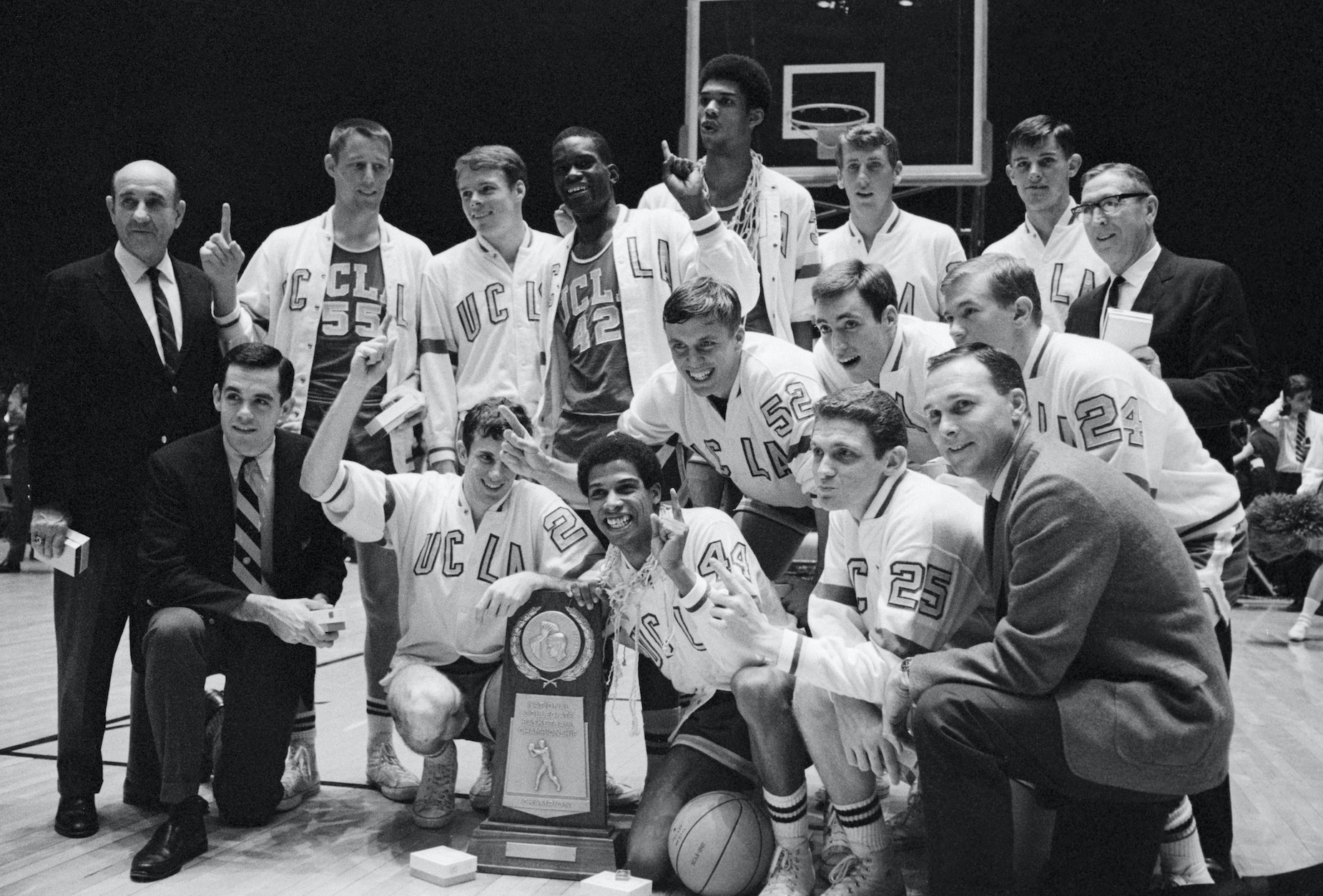 RELATED: Why Bob Knight Wasn't a Fan of Legendary UCLA Coach John Wooden
While we're talking about the UCLA Bruins, it's impossible to discuss the program's historical success without focusing on one man: the legendary John Wooden.
After cutting his teeth at Indiana State, Wooden took over the UCLA Bruins men's basketball program in 1948. While the head coach quickly turned his team into winners, it would take some time for the Wizard of Westwood to perform his greatest trick.
During the 1961-62 campaign, UCLA reached the Final Four for the first time in school history. While they fell in the National Semifinal, that run convinced Wooden that his team was capable of making it over the hump. In 1964, they did just that, claiming UCLA's first men's basketball national championship.
That title began an unprecedented run of success. The Bruins defended their title in 1965 but failed to qualify for the NCAA Tournament in 1966. That setback, however, wouldn't derail things for long; starting in 1967, UCLA won the next seven national championships.
After falling in the National Semifinals in 1974, Wooden led UCLA to a 10th championship the following season. He then retired, riding off into the sunset as a living basketball legend.
Winning an 11th championship in 1995
RELATED: NCAA Tournament Calcutta Auctions Are a Pricey Alternative to Basketball Brackets
Once John Wooden left UCLA, the men's basketball program saw some continued success before understandably tailed off. The Bruins, however, did manage to win another NCAA title in 1995.
Led by Ed O'Bannon, that year's UCLA squad only lost one game all season—they technically lost a second to California, but the Golden Bears later forfeited the entire season —and entered the NCAA Tournament as a number one seed. Despite a second-round scare against Missouri, the Bruins cruised to the national title.
That championship was UCLA's 11th and the only one without John Wooden at the helm.
Can this year's UCLA Bruins make it 12 NCAA Championships?
RELATED: NCAA Tournament: What an All-Time March Madness Fantasy Starting Lineup Might Look Like
Entering the NCAA Tournament as an 11-seed and playing in the First Four usually isn't a recipe for success. That hasn't stopped this year's UCLA Bruins from making a run to the Final Four, though.
As you might expect, though, UCLA's Cinderella story is expected to end promptly. According to Yahoo Sports, the Bruins are heading into their matchup with Gonzaga as a 14-point underdog; facing the number one team in the nation without Chris Smith and Jalen Hill isn't exactly a recipe for success.
If UCLA does pull off an upset, however, it will probably be due to Johnny Juzang. The former Kentucky Wildcat took over the game against Michigan, scoring 28 of the Bruins' 51 points and single-handedly willed his team to victory. If he's not on his game against Gonzaga, even the ghost of John Wooden himself couldn't secure the win.
The UCLA Bruins entered the 2020-21 season with an impressive 11 NCAA men's basketball championships under their collective belt. While they're heavy underdogs in the Final Four, they're now two wins away from hanging banner number 12 in the Pauley Pavilion.