Kevin Garnett Once Forced Doc Rivers to Cancel a Boston Celtics Practice Because He Refused to Stop Working Out
If you're a veteran sports fan, you've probably heard plenty of cliches about the importance of practice. During his time with the Boston Celtics, though, it appears that Kevin Garnett took those statements a bit too far.
According to an old ESPN story, Doc Rivers banned the aging KG from practice in an attempt to give the forward some rest. Garnett wasn't having it, though, and devised a scheme to still get his work in. As you might expect, his coach wasn't happy and eventually sent the entire Celtics squad home.
Kevin Garnett joined the Boston Celtics with a reputation for taking his work seriously
Over the years, Celtics fans have had the privilege of seeing plenty of talented players don the iconic Kelly Green and White. While he may have played his best basketball elsewhere, Kevin Garnett still made quite an impact in Beantown.
KG, of course, entered the NBA directly from high school and joined the Minnesota Timberwolves as the fifth overall pick of the 1995 draft. The Big Ticket quickly lived up to his name and proved to be right at home in the professional ranks. While the club couldn't make it over the hump — that eventually played a role in the forward's departure from Minneapolis — Garnett earned plenty of individual accolades, including the 2004 NBA MVP crown. He could score, defend, and rebound with equal ease, making him a legitimate franchise player.
Beyond his raw talent, the big man also earned a reputation as a fearsome competitor. Garnett, for example, would prepare for games by headbutting the stanchion that supported the basket. He was also known to unleash some biting trash talk and, on one occasion, even tried going after Michael Jordan.
Doc Rivers had to cancel practice just to keep The Big Ticket from working out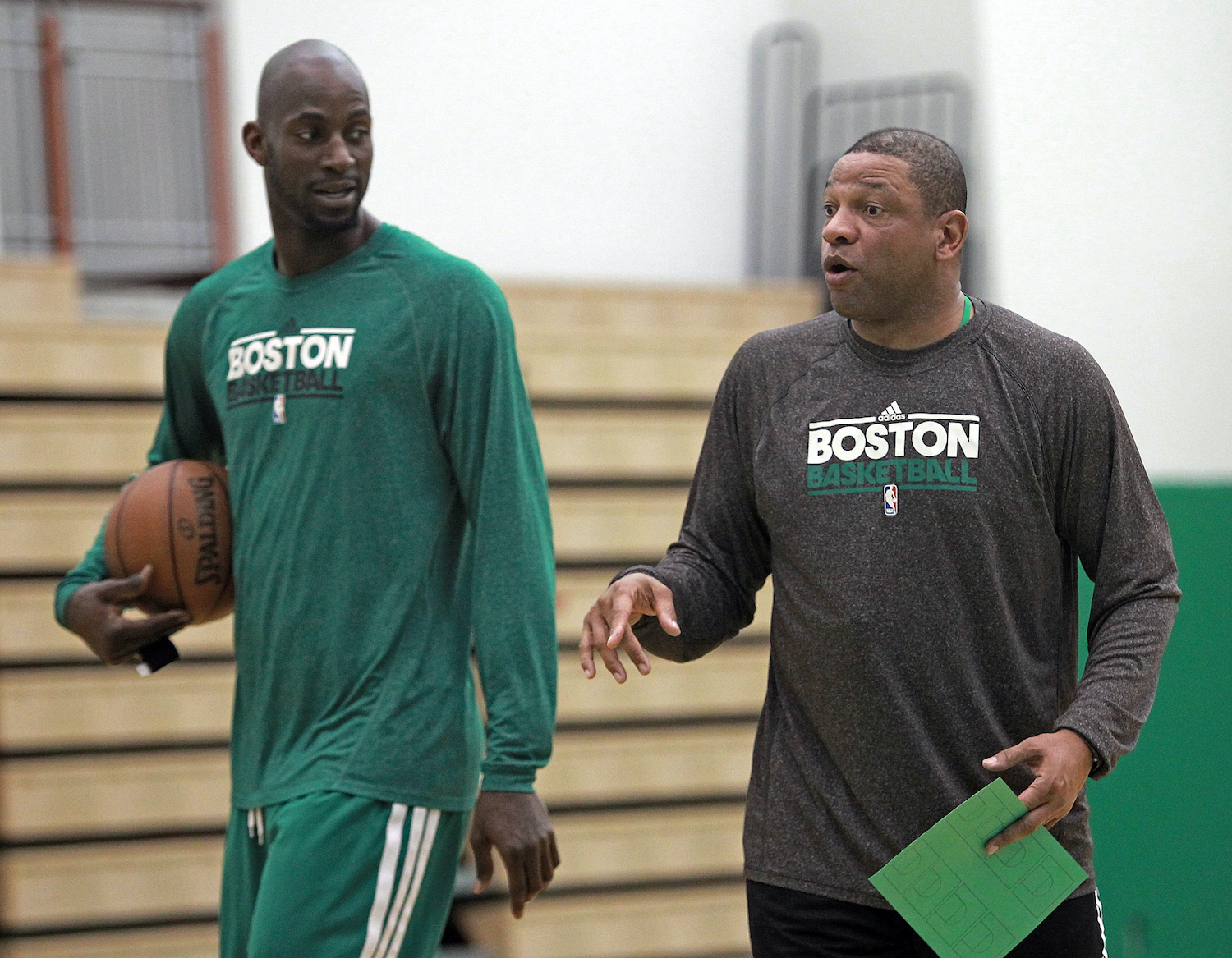 Since his reputation preceded him, Garnett was a known quantity by the time he joined the Celtics in July 2007. Despite that reality, head coach Doc Rivers still had the occasional issue with the forward.
"Kevin had this belief that if you were the leader, you couldn't miss one snap of practice," Rivers explained, according to ESPN's Jackie MacMullan. "But I had this belief that you are 30-whatever and I need you for the whole season."
That led to a conflict when the coach expected his star player to take a day off in 2009.
The Big Ticket wasn't one to slack off, though, and came up with a scheme. He decided that he was going to put himself through a workout even if he was confined to the sidelines.
Garnett, forbidden to take the floor by his own coach, had concocted his revenge: He would track the movements of power forward Leon Powe, the player who had replaced him in the lineup. As Powe pivoted, so did Garnett. As Powe leaped to grab a defensive rebound, Garnett launched himself to corral an imaginary ball. As Powe snapped an outlet pass, Garnett mimicked the motion, then sprinted up his slim sliver of sideline real estate as Powe filled the lane on the break. The players were mirror images: one on the court with a full complement of teammates, the other out of bounds, alone. Two men engaged in a bizarre basketball tango.

Jackie MacMullan writing for ESPN
Since that effort went against Rivers' plan, the head coach wasn't too pleased. Trying to appeal to Garnett's commitment to winning, Doc threatened to end the practice if his forward didn't knock it off.
KG, however, didn't stop, and Rivers eventually sent his Celtics home. For his part, Garnett reportedly started beating on his chest and yelling, "Let's work!" at his peers.
That wasn't Kevin Garnett's only bizarre moment in Boston
Garnett's unique leadership style wasn't limited to that canceled practice, though. On one occasion, he even refused to help a choking teammate just to prove a point.
As explained in a TBS Storyville video, KG and Rajon Rondo exchanged a few choice words during a game after the point guard committed a few turnovers. While the forward wasn't too pleased, he still attempted to give his teammate a cup of water during a time out. Rondo, however, wasn't having it and decide to get his own beverage.
That water went down the wrong pipe, though, and caused the guard to start choking. Rather than help, KG decided that was the perfect chance to emphasize his point.
"So I kinda look over to him, and he's motioning [to] his back. And I'm like, 'Nah, choke. Choke. … Nah, kill. Nah, nah, kill yourself. Die, Die!'" KG recalled. "As I'm saying this, the huddle's still going on. Everybody's looking at us. He was really choking, and I was like, 'When somebody say pass the ball, pass the ball.'"
Kevin Garnett, for better or worse, only knows how to do things at one speed. If he's playing, the big man wants to win.