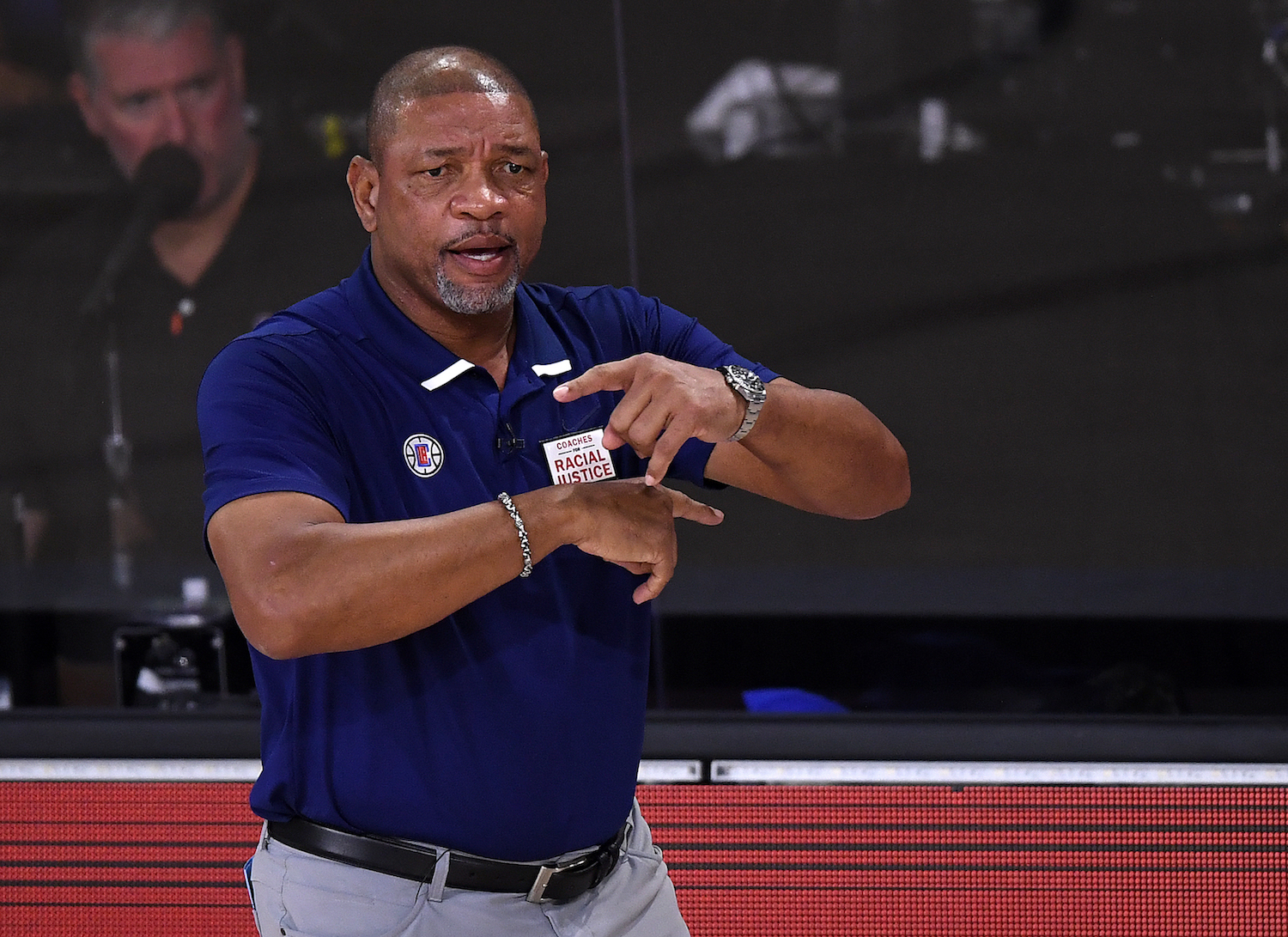 Doc Rivers' Long NBA Career Gives Him a Substantial Net Worth
Clippers head coach Doc Rivers has spent nearly 40 years in the NBA. Unsurprisingly, he's used that time to build up a substantial net worth.
Over time, certain names become part of the sports landscape. In the world of basketball, Doc Rivers is one of those iconic names. Between his time as a player and as a coach, it's almost impossible to imagine an NBA season without the Chicago native being involved in one way or another.
That lengthy career, however, has done more than make Doc Rivers a respected name in basketball circles. Thanks to his time on the hardwood, the current LA Clippers coach has also built up a substantial net worth.
Doc Rivers' playing career
These days, we've grown accustomed to Doc Rivers prowling the sidelines as a coach. During the early days of his career, however, he made a name for himself as a player.
Rivers played his high school ball just outside Chicago and earned McDonald's All-American honors before taking his talents to Marquette. The guard spent three seasons on the Golden Eagles varsity squad, averaging 13.9 points, 4.6 assists, and 2.3 steals per outing.
When the 1983 NBA draft rolled around, Rivers joined the Atlanta Hawks as the 31st overall pick. After eight seasons, he joined the Clippers and then the Knicks; after a season and a half in New York, Doc finished out his professional career in San Antonio.
Although he was never a game-breaking talent, Doc Rivers had a solid NBA career. He spent 13 seasons in the association, averaging 10.9 points, 5.7 assists, and 1.7 steals; he also made one All-Star appearance and earned the 1990 J. Walter Kennedy Citizenship Award.
Heading to the sidelines as a head coach
Once Doc Rivers retired, though, he didn't leave basketball behind. Instead, he swapped his sneakers for a suit and took up coaching.
Rivers' life on the sidelines began in 1999 when he signed on at the Orlando Magic head coach. Within a season, he had turned the team's fortunes around and claimed the NBA Coach of the Year. Doc led the club to three playoff appearances but, in 2003, lost his job after a slow start to the season.
He landed on his feet, however, and, after a year on the sidelines, took over the Boston Celtics. While he didn't get off to the best start in Beantown, the club eventually turned a corner. Boston, of course, won the 2008 NBA title and reached the championship round two seasons later.
In 2015, though, the Celtics traded Rivers to the Clippers. Although he hasn't been able to get his team over the hump, Doc has helped the franchise return to relevance; they might not have overtaken the Lakers, but they're far from the cellar-dwellers they once were.
Doc Rivers has turned that basketball career into a $50 million net worth
According to Basketball-Reference, Doc Rivers earned $8.4 million in salary during his playing career. While that's nothing to sneeze at, his net worth is now significantly larger.
Although we don't know exactly how much Rivers earns as the Clippers' head coach, it's safe to assume that he commands a sizable salary. In 2011, ESPN reported that Doc signed a five-year, $35 million extension with the Boston Celtics. When he signed his most recent deal with the LA Clippers, the LA Times reported that his previous contract was paying him $11 million per season.
Over the years, that salary has added up. According to CelebrityNetWorth, Rivers has a $50 million fortune; this fall, though, he'll be hoping to add another NBA championship ring to his portfolio.
Stats courtesy of Sports-Reference and Basketball-Reference