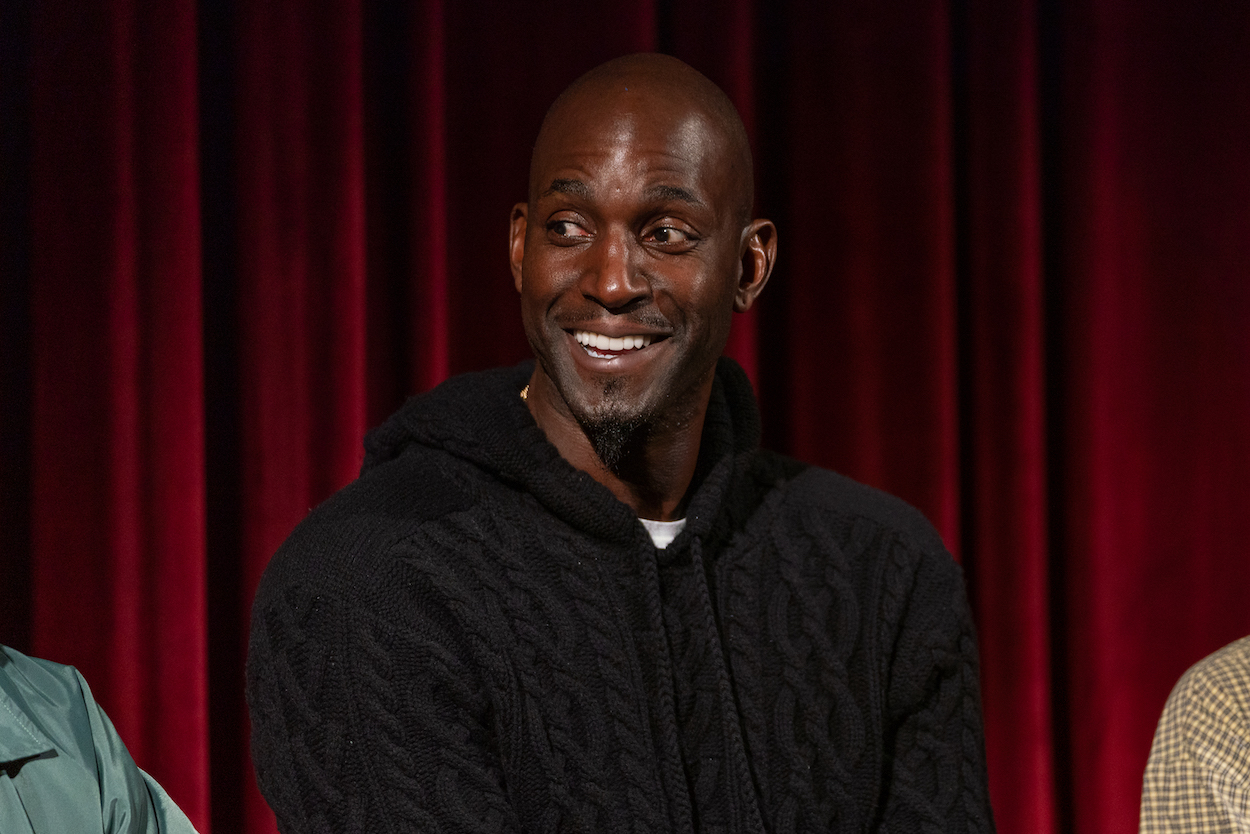 Kevin Garnett Tells Bizarre Story of His Grandmother Pulling a Shotgun on a College Recruiter Who Illegally Offered Him Cash
Kevin Garnett's grandmother once pulled a shotgun on a college recruiter, and he said the experience stuck with him forever.
Kevin Garnett went straight from high school to the NBA draft in 1995, but he received some enticing (and illegal) offers from college recruiters who attempted to bribe him into joining their program. The NBA Hall of Famer was offered cash under the table on multiple occasions, and one instance even instigated his grandmother to grab a shotgun.
Garnett told the bizarre story on the Dan Patrick Show this week, and it's as incredible as you might think.
Kevin Garnett skipped college for the NBA draft
Kobe Bryant is the most famous NBA player who went straight from high school to the league, but Garnett was actually the originator of the risky move.
Garnett was the best high school basketball prospect in the country back in the mid-1990s. As a senior at Farragut Career Academy in 1995, Garnett averaged an absurd 25.2 points, 17.9 rebounds, 6.7 assists, and 6.5 blocks per game. He was named National High School Player of the Year and Mr. Basketball for the state of Illinois in the same season.
The uber-talented teenager could've had his pick of the litter in terms of his college decision, but he decided to completely forgo the NCAA and enter the NBA draft in 1995 instead. That turned out to be a pretty good decision for Garnett, who went No. 5 overall to the Minnesota Timberwolves. Twenty-six years later, Garnett joined the NBA's elite in the Naismith Memorial Basketball Hall of Fame.
Garnett's grandmother once pulled a shotgun on a college recruiter
While he was still in high school, Garnett explored his college options before ultimately deciding to make the jump to the NBA. He could've gone anywhere he wanted as the most dominant high school recruit in his class, so recruiters pulled out all the stops when they got the chance to meet with him.
During a recent appearance on the Dan Patrick Show, Garnett revealed that he was offered money under the table on multiple occasions.
"I got offered a lot of cash [for] my mother and my family to have better opportunities," Garnett said. "To meet some of the most powerful people in the world, whatever that meant."
Garnett also told an insane story of one recruiting meeting that went south.
"I was staying with my grandmother at the time because recruiting was getting to the point where it was just obese. My mother thought it would be a better idea for me to change addresses," he said. "Life was running so fast at this time, but I had a certain recruiter come see me. And he offered me some cash in front of my grandma. And she went and got her shotgun."
Don't worry, Garnett's grandmother didn't pull the trigger. But that must've been the most stressful day on the job for that specific college recruiter.
Garnett will always remember the lesson his grandmother taught him that day
Garnett's grandmother didn't pull out a shotgun to threaten or hurt that poor recruiter. She did it to teach her grandson a lesson, and that lesson still sticks with Garnett today.
"She told me 'always set the tone with people that you can never be bought. If you can be bought once, you can be bought always.' That stuck with me forever," he said.