Kevin Garnett Passionately Details His Mental State During His Playing Days
Kevin Garnett went into another world when he was on the basketball court. He became someone else. His passion was unmatched. The 21-year NBA veteran and champion with the Boston Celtics was as intense a player as there was. The man simply known as KG recently revealed what was going through his mind during those tenacious playing days that led to his Naismith Memorial Basketball Hall of Fame induction.
Kevin Garnett was as intense as they come on the basketball court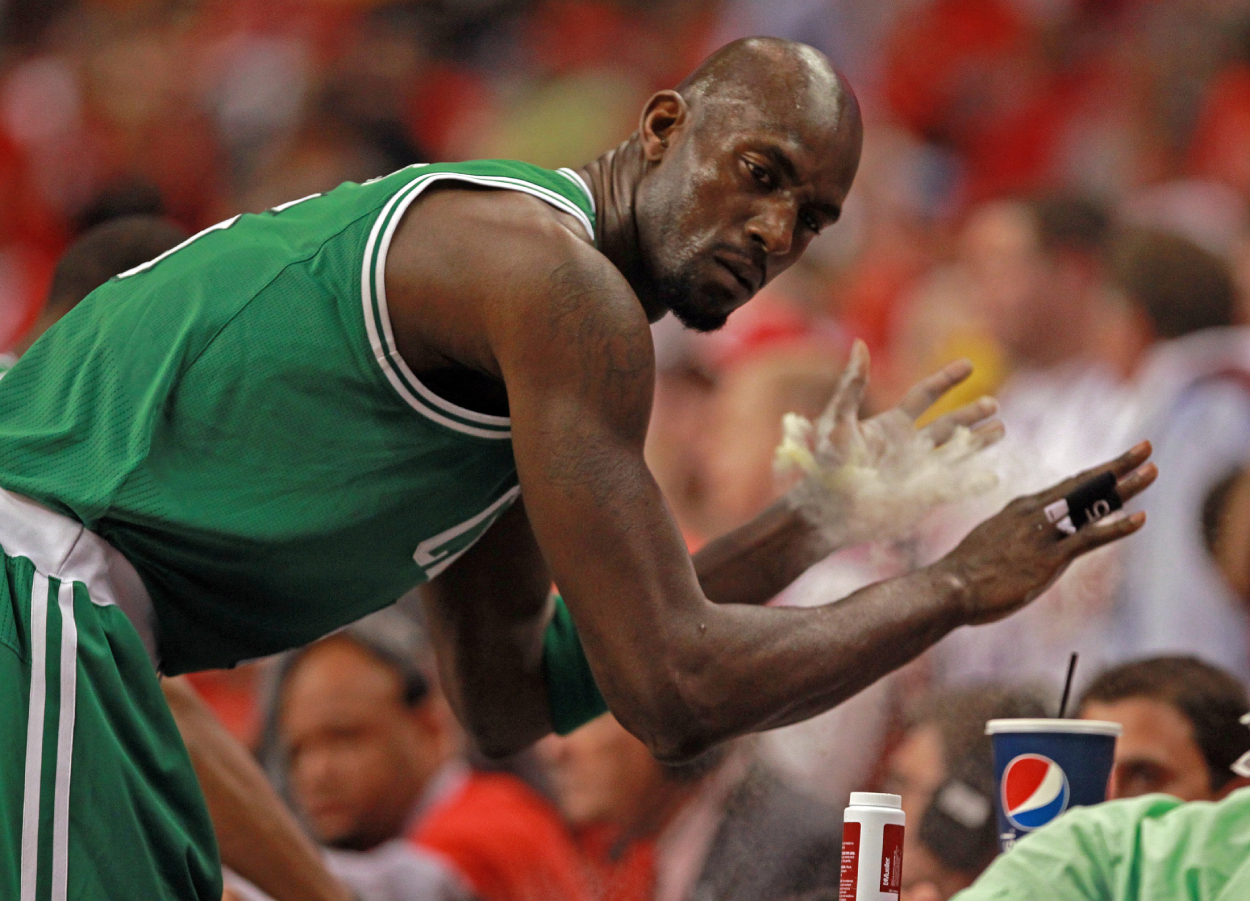 Garnett was a trash talker. He was also a screamer. He was motivated by winning, and he won at all costs.
Garnett didn't play for a true winner until he left the Minnesota Timberwolves, the team that selected him fifth overall in the 1995 NBA Draft. He spent the first 12 years of his career with the Timberwolves, making the Western Conference Finals one time.
The Wolves traded him to to the Celtics prior to the 2007-08 season, and he became an instant winner. The Celtics, who also added Ray Allen to the mix that year, defeated the Lakers in six games. Garnett and the Celtics made a return trip to the Finals two years later, where they fell to the Lakers in seven.
Through it all, Garnett remained passionate on the court. He hyped himself up before the game and that intensity lasted all 48 minutes.
"When you saw me bang my head on the back of the goal before the games, it was just about preparation," Garnett recently told GQ.
Kevin Garnett details what it was like mentally for him on the court
Much of Garnett's NBA game was mental. At 6-foot-11, 240 pounds, he had all the physical tools to succeed, but it was his mental preparation that helped set him apart. Nobody was more focused on the court. He was a human shot of adrenaline.
"You ever see 'Bones' Jones fight?" Garnett asked. "Before Jones fights, he does this weird thing where he goes…(Garnett slaps his chest several times) That's muscle activation. Sometimes the screaming would just be a release, man. I've got so much f****** energy that I had to just… Sometimes, drinking Gatorade, I'd spit it right up in the f****** air."
Then Garnett went into detail on how it was like playing basketball as Kevin Garnett.
"You know the feeling you get when you enter a dark room and you can't see anything?" he asked. "And now you're using your sense and your touch to kind of gingerly get through? Well, imagine running full speed through that dark, and then whatever you hit, you hit."
Garnett was fearless. He said you had to be to play at that level.
"To be a professional athlete, I truly believe you have to be a little — you've got to be a lot more willing to run through the rope," he said.
Garnett remains motivated today with his production company
Gone are the basketball shorts and the screaming after a blocked shot. That doesn't mean Garnett still isn't passionate and motivated. Not only is he motivated, but his production company, Content Cartel, is used to develop projects that help motivate others.
"I was totally a dreamer, as I am today," Garnett said when asked about his childhood. "But there wasn't a lot of places where I could go and get answers. I'm from the South, man. I don't know if you've ever been to South Carolina, but this is how much opportunity is in South Carolina (Garnett holds his index finger a centimeter from his thumb).
"And when you do get this much opportunity, what are you gonna do with it? Thinking outside the box and being different is probably one of the hardest things you can ever do, because people are gonna look at you like that, right?"
Garnett is one of a kind. He still hasn't changed. He's finding a way to spread the wealth, and he's still proving he's a winner.