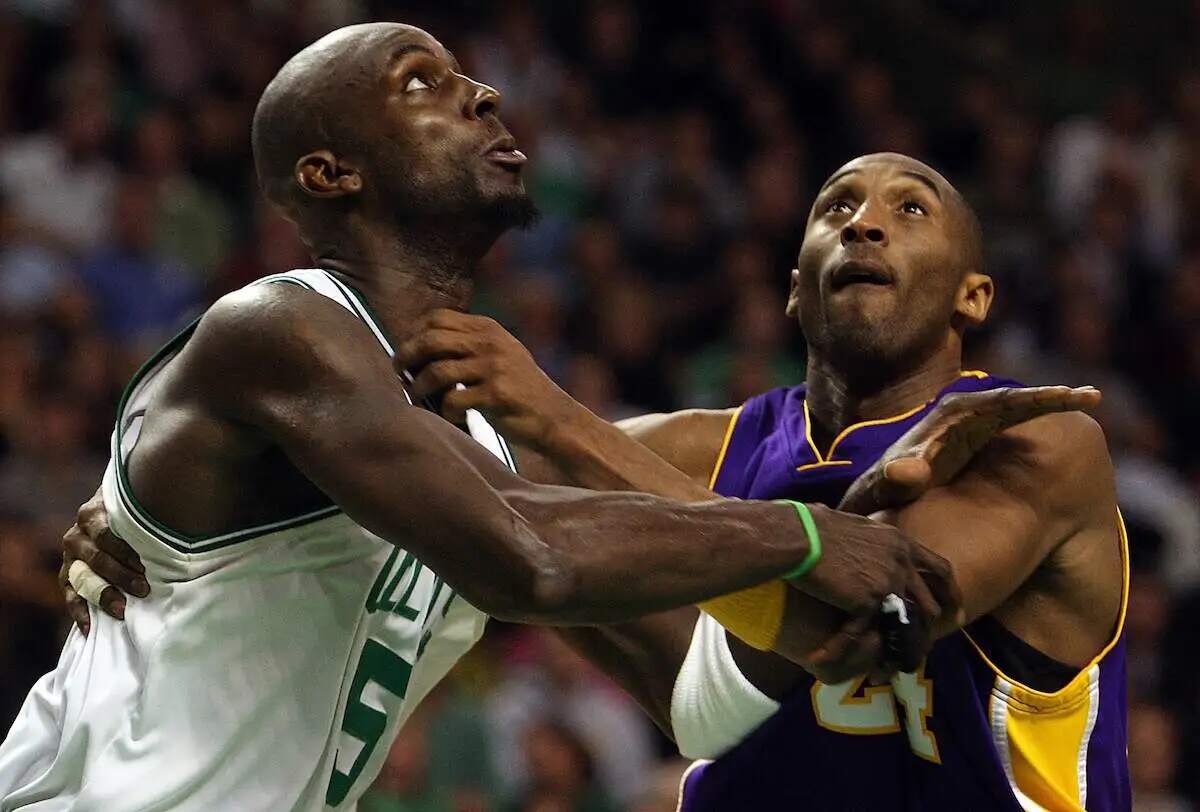 Kevin Garnett Addresses His Flaws, Kobe Bryant, and Reveals Why He Was an 'A-Hole' on the Court
NBA Hall of Famer Kevin Garnett speaks about his flaws, Kobe Bryant, and why he was an "a-hole" on the basketball court."
Kevin Garnett was one of the NBA's biggest trash-talkers. He was also one of the best players in the game during his time with the Minnesota Timberwolves and the Boston Celtics.
In an interview on The Daily Show With Trevor Noah, Kevin Garnett spoke about his relationship with Kobe Bryant. Garnett also addressed his flaws and why he was a self-proclaimed "a-hole" on the court.
Kevin Garnett's Hall of Fame career
Kevin Garnett played 21 seasons in the NBA after being drafted right out of Farragut Career Academy in Chicago. The Minnesota Timberwolves selected him with the fifth overall pick in the 1995 NBA draft. It took one season for the 6-foot-11 Garnett to ease into the league before exploding into the Hall-of-Fame player he turned out to be.
After starting in 47 of the 80 games he played and averaging 10.4 points per game as a rookie, Garnett burst onto the scene in his second year. Garnett bumped his scoring average up to 17 points and added eight rebounds per game, making the first of his NBA All-Star appearances.
Garnett spent the first 12 seasons with the Timberwolves before being traded to the Boston Celtics before the 2007-08 season. With Boston, Garnett earned his lone NBA title in 2008. Garnett spent six seasons in Boston, making up one-third of Boston's Big Three with Ray Allen and Paul Pierce.
Garnett was traded, along with Pierce, to the Brooklyn Nets during the 2014-15 season and then finished his career back in Minnesota. He averaged 17.8 points and 10 rebounds for this career. He was a 15-time NBA All-Star and led the league in rebounding for four straight years. Garnett was inducted into the Naismith Memorial Basketball Hall of Fame in 2020.
Kevin Garnett joined Kobe Bryant and Tim Duncan in the Hall of Fame
Kevin Garnett joined Tim Duncan and Kobe Bryant in what could be the greatest group ever to be inducted together into the Naismith Memorial Basketball Hall of Fame. Garnett and Bryant were certainly rivals on the court. Garnett, however, has nothing but love for Bryant, who was killed in a helicopter crash in January 2020. He told Trevor Noah:
"I think Kobe and I had a great balance of respect for each other. When you hit the floor as gladiators, you have a respect, but when it's within the lines, it's free game. It's all about advantage, and you're trying to look for that advantage every second of the game.

When you come off the court, it's a lot less intense, a lot more intimate. The conversations are long-running, and they're in-depth. When you're between the lines, there are no rules, only respect. If you don't have respect, then it goes another way."
Garnett said his relationship with the Lakers superstar started well before their NBA days. "I think Kobe and I had a great understanding of each other," he said.
"I met him when he was very young. We started up when we were very young. We had a great relationship, and we kept that throughout our time in the league, so it's only right that we go in the Hall together."
Garnett explained why he was an 'a-hole' on the court
Kevin Garnett's book, "KG from A-Z," is filled with stories about his life on and off the court. While interviewing Garnett in 2021 following the book's release, Noah asked KG about the times he would swat a basketball when a player attempted to shoot it after the whistle had blown.
"On this level, the only thing they need to see is the ball go through a couple of times or even one time," Garnett said. He was always looking to mess up the rhythm of his opponent.
"Reggie Miller, Michael Jordan, Charles Barkley, LeBron — guys who could beat you by just a blink of an eye — have that switch," Garnett said. "I used to be mindful of that switch. Part of it was being an a-hole, too. You know, poking the bear a little bit. But a lot of it was just to throw off rhythm. There more I could mess with you, and the more I saw it affected you, the more I would do it. It was effective."
Garnett also wrote in his book about dealing with Attention Deficit Disorder and dyslexia. He explained to Noah why he brought it up.
"I wanted to give people confidence," Garnett said. "I wanted to be able to say it's OK to have ailments. We're all human. Everyone's not perfect. We all have flaws. Growing up, I didn't necessarily know what was going on. I didn't know why things appeared the way they were and why I was processing the way I was. The message in having ADD or these deficits is to continue to push through. I never let any of this hold me back."
Stats courtesy of Basketball Reference