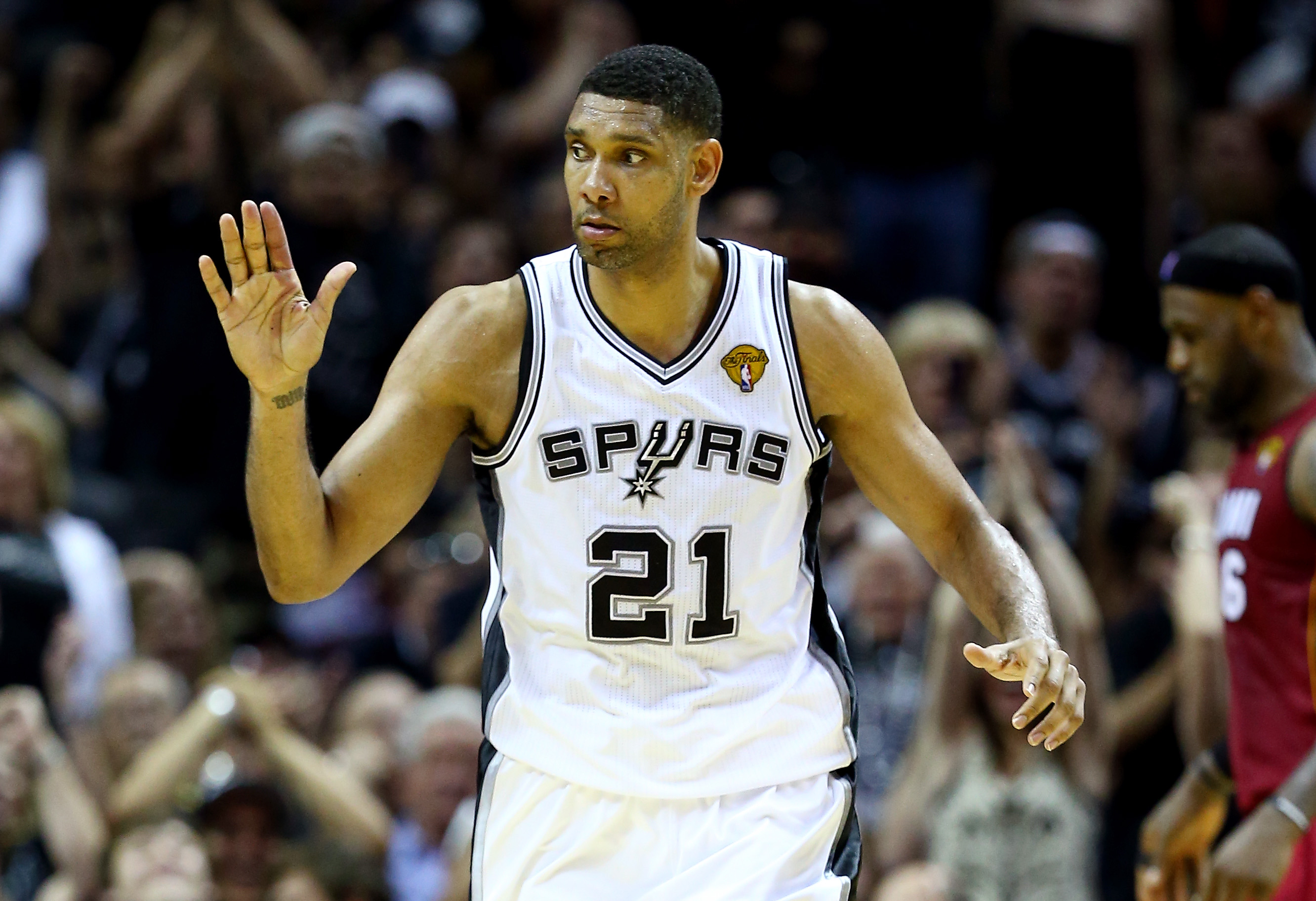 Tim Duncan Finally Revealed Why He Never Talked Trash to Kevin Garnett or Anyone Else
Tim Duncan is one of the most respected players of his generation. So why didn't the NBA champ ever use his respect to talk trash?
Tim Duncan enjoyed a long and successful career in the NBA, winning five titles in 19 seasons with the Spurs. When an athlete has that much success, he usually tends to be cocky and talk a lot of trash, but that wasn't the type of player Duncan was.
He was reserved whenever he was on the hardwood and rarely talked trash to opposing players. During his career, Duncan was one of the most low-key but high-profile NBA players. In a recent interview, Duncan revealed why he didn't talk trash on the crash.
Tim Duncan's Hall of Fame career
The Spurs had high expectations for Duncan from the start because they took the Wake Forest alum with the first overall pick in the 1997 draft — and their confidence in him paid off over the next two decades.
He played in nearly 1,400 regular-season games, averaging 19 points, 10.8 rebounds, and three assists per game for his career. He played in an additional 251 postseason games, and unlike many players, actually improved his stats compared to the regular season.
When the postseason came around, Duncan's scoring average went up to 20.6 points, he grabbed 11.4 rebounds, and dished out three assists on average.
That's a big reason why he helped the Spurs win five NBA championships. Duncan was voted into the Naismith Memorial Basketball Hall of Fame as a member of the Class of 2020.
Remaining calm and reserved on the court
Because of his reserved style of play, Duncan wasn't the flashiest or most exciting player, and some NBA fans even considered him to be boring. He wasn't the type of player who needed to show off his skills by throwing down a lot fo big dunks; he was happy just making a bank shot.
His low-key personality also largely kept him out of the headlines and away from the spotlight that the media can sometimes shine on professional athletes. That lack of media attention may have benefited Duncan, especially in the postseason when media coverage is normally turned up.
Duncan, who studied psychology in college, felt that being a silent assassin, of sorts, helped to "destroy people's psyches." When they tried to get inside his head with trash talk, he wouldn't respond and wouldn't let it get to him. He felt that opponents would "hate that." They want to get a response to their taunts.
Tim Duncan explains his lack of trash talk
Duncan was recently interviewed for The Ringer and among the topics discussed was why he didn't trash talk his opponents. Kevin Garnett is a good example of a player who would trash talk guys like Duncan, who says Garnett was testing his foes to see what kind of response they would give him.
Duncan reacted by smiling and telling Garnett "good job," and it frustrated him that Duncan wouldn't take the bait.
When asked why he didn't engage with Garnett, Duncan answered simply that that was "what he wanted. He wanted to get you outside yourself, he wanted to piss you off and kind of control the situation," which Duncan says he recognized and wanted to try to throw Garnett off his game. And that was the strategy Duncan says he used regardless of who he was playing.
Duncan went on to say that his lack of trash talk fit well with his game, because he "didn't need to trash talk" and he even admitted that he "wasn't good at it."
Duncan felt that by not engaging in the taunting with other players, he was "poking the bear" and getting under their skin. That would frustrate them, and give him an opportunity to "poke them again."