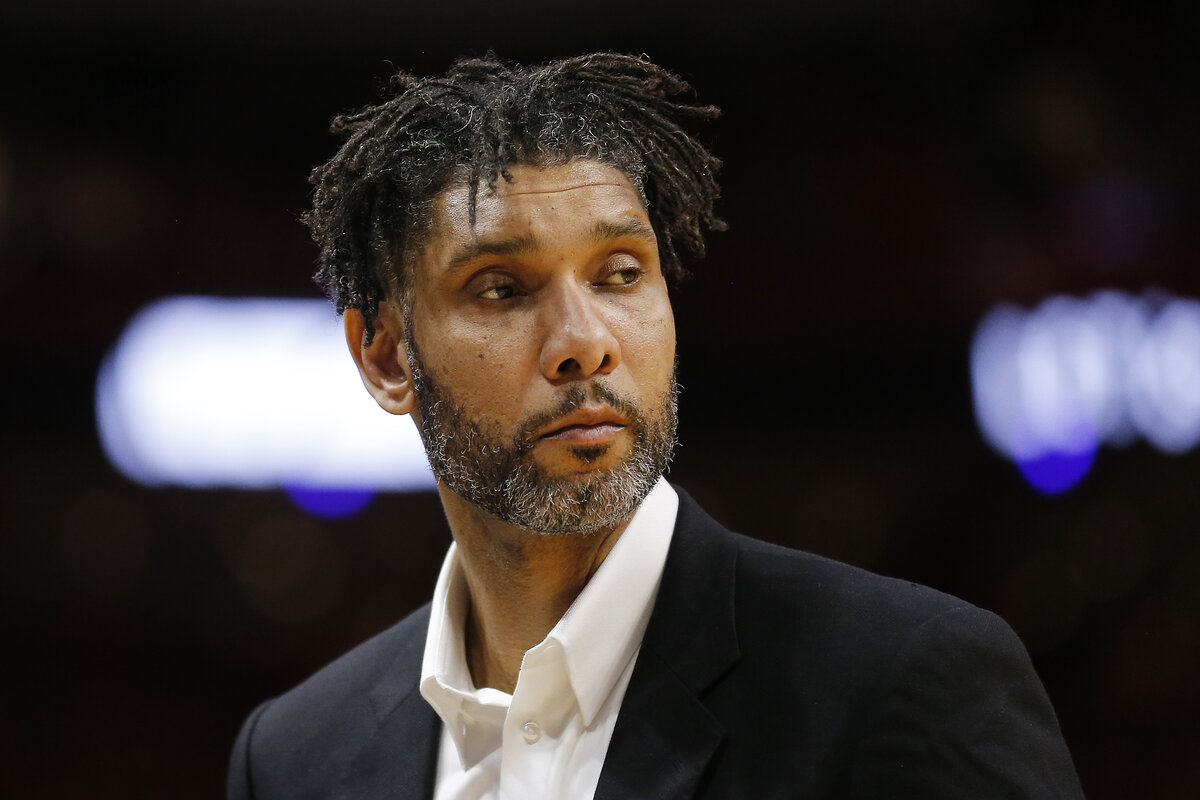 Spurs Legend Tim Duncan Has Spent His Post-Basketball Life Working on Kickboxing
Tim Duncan is arguably the greatest player in San Antonio Spurs history. The Hall of Fame big man has spent his post-basketball life training in kickboxing.
Tim Duncan and the San Antonio Spurs were a match made in heaven for nearly 20 years.
The No. 1 overall pick in 1997, Duncan quickly grew into a Spurs legend and one of the greatest big men in NBA history. Duncan's team-first playstyle set the basis for a culture that remains the gold standard under longtime Spurs head coach Gregg Popovich.
Duncan will tentatively enter the Naismith Memorial Basketball Hall of Fame later this year. Although his playing days are over, Duncan could have a future in kickboxing.
Tim Duncan is a San Antonio Spurs legend
Tim Duncan is both one of the greatest No. 1 overall picks in NBA history, and one of the most underappreciated.
An impactful big man who played his entire 19-season career with the San Antonio Spurs, Duncan averaged 19 points, 10.8 rebounds, three assists, and 2.2 blocks in 1,392 games and 1,389 starts.
A 15-time All-Star and All-NBA selection, Duncan won two MVP Awards and became the greatest player in Spurs history. Duncan, nicknamed 'The Big Fundamental,' hit 50.6% of his shots from 1997-2016.
San Antonio reached the postseason every year of Duncan's career, and he kept them alive year after year by averaging 20.6 points, 11.4 rebounds, three assists, and 2.3. blocks in 251 playoff games.
The Spurs won five titles in Duncan's 19 seasons.
Tim Duncan is interested in kickboxing
After retiring following the 2015-16 season, Tim Duncan spent last year on the San Antonio Spurs' coaching staff.
Don't expect Duncan to replace Gregg Popovich anytime soon, though. Duncan isn't working with the Spurs this year; Becky Hammon, the former WNBA star, is Popovich's lead assistant.
If Duncan pursues another post-basketball career, it may be one in kickboxing. Videos after Duncan's retirement caught him practicing his kickboxing with personal trainers.
It isn't unrealistic to think Duncan will eventually join an NBA coaching staff again. But if he opts for something new and unique, Duncan may choose to go into fighting.
Several professional athletes have pursued fighting careers
If Tim Duncan ever focuses on kickboxing, he'll be the latest professional athlete from one of the four major North American sports to become a fighter.
Former New York Knicks guard Nate Robinson is an amateur boxer. However, Robinson may want to reconsider after his performance against Jake Paul in November.
Ex-Carolina Panthers defensive lineman Greg Hardy is an MMA fighter. UFC legend Brock Lesnar originally tried playing with the Minnesota Vikings before he focused full-time on the octagon.
Former All-Star outfielder Jose Canseco also tried his hand at MMA and boxing.
For now, Duncan is still only 44 and has a bright future ahead of him. Spurs head coach Gregg Popovich said multiple times that he believes Duncan is "too smart" to focus full-time on coaching.
If Duncan doesn't want to become a coach, he can always test his kickboxing skills.
Like Sportscasting on Facebook. Follow us on Twitter @sportscasting19.