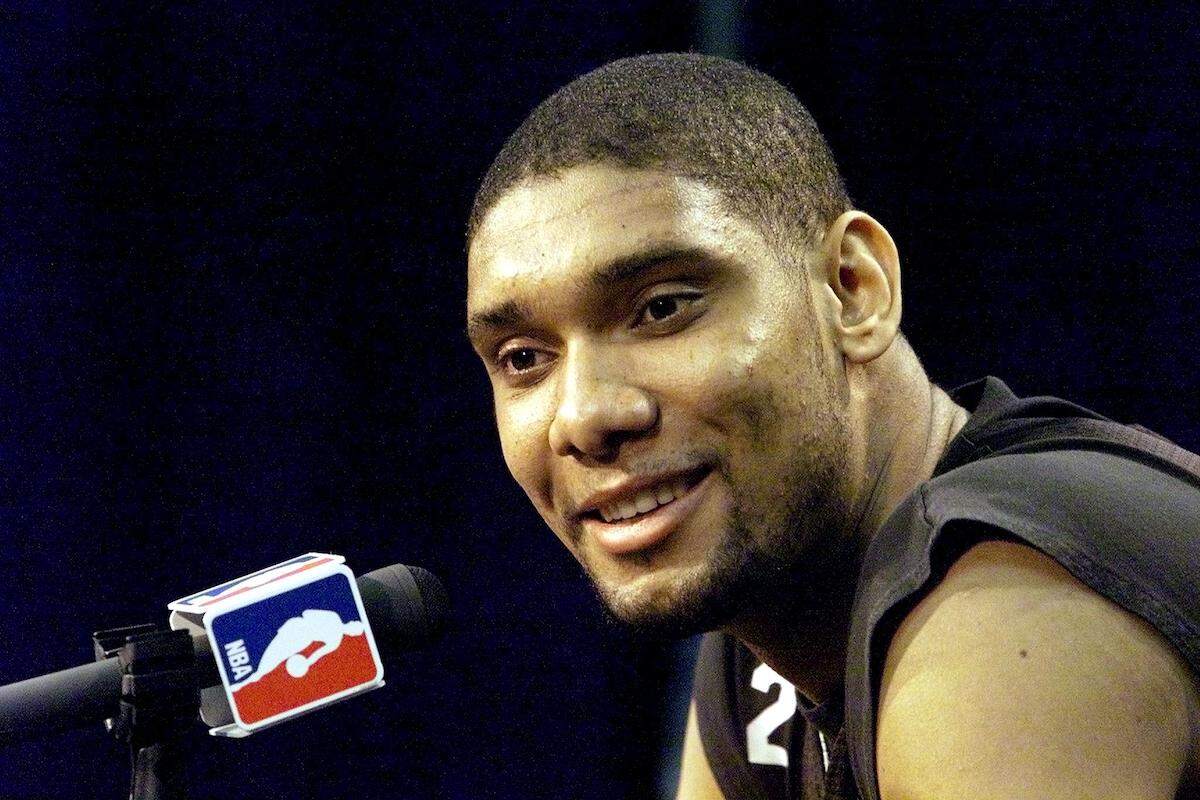 5-Time NBA Champion Tim Duncan Did Not Start Playing Basketball Until He Was 14 Years Old
For someone who did not start playing basketball until he was in high school, Tim Duncan turned out to be one of the NBA greats.
During his 19-year NBA career, Tim Duncan became one of the best ever to play in the NBA. However, basketball wasn't Duncan's first love. The Big Fundamental was a talented swimmer and didn't start playing basketball until he got to high school. The decision to stick with the sport paid off for the Hall of Famer.
Tim Duncan wanted to pursue swimming, not basketball
Born in the U.S. Virgin Islands, Duncan primarily focused on swimming as a kid. His 7-foot-5 wingspan likely would've propelled him to success in the sport. However, reports Fadeaway World, a hurricane destroyed the island's only Olympic swimming pool, so Duncan turned his focus toward basketball.
The young athlete had a successful high school basketball career, going on to attend Wake Forest University. As a senior, Duncan won the John Wooden Award, given to the most outstanding player in college basketball. He also earned USBWA College Player of the Year.
After completing his college career at Wake Forest, Duncan entered the 1997 NBA Draft. The San Antonio Spurs selected him with the No. 1 overall pick. When Duncan joined the Spurs, the team had one of the best frontcourts in the NBA with David Robinson and their rookie forward.
Duncan wasted no time when he entered the league. In his rookie season, he was named to the 1998 All-Star Team. At the end of the season, he averaged 21.1 points, 11.9 rebounds, 2.7 assists, and 2.5 blocks per game. Effective on both ends of the court, Duncan was named the Rookie of the Year and earned All-NBA and All-Defensive Team selections.
In his second season, Duncan averaged a double-double for the second time and helped lead the Spurs to win the 1999 NBA Championship.
Tim Duncan establishes himself as one of the NBA's best
Throughout his career, Duncan led the Spurs to five NBA championships (1999, 2003, 2005, 2007, 2014). He was named Finals MVP three times (1999, 2003, and 2005) and league MVP twice (2002 and 2003).
Duncan spent all 19 seasons with the Spurs and had one of the best careers in the organization's history. He finished his career averaging 19 points and 10.8 rebounds.
The father of three was inducted into the Naismith Memorial Basketball Hall of Fame in 2020 and joined the NBA 75th Anniversary Team in 2021. For someone who did not start playing basketball until he was in high school, Duncan turned out to be one of the NBA greats.
Stats courtesy of Basketball Reference