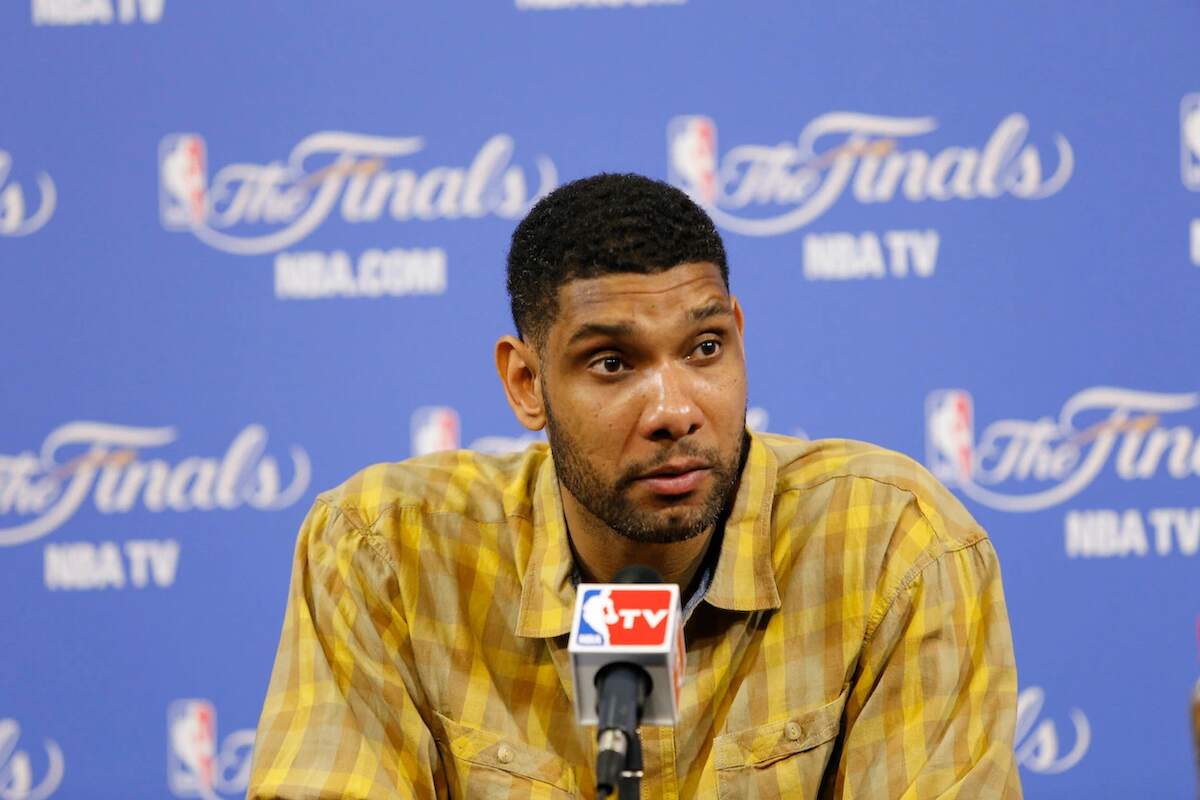 Tim Duncan Made Over $242 Million in the NBA, but He Always Dressed Like He Was 'Straight Out the Trailer Park'
San Antonio Spurs legend Tim Duncan is one of the richest NBA players of all time, but the money never changed his unique sense of style.
Tim Duncan is one of the richest former NBA players, but you wouldn't have known it from his unique fashion choices during his time in the league. Before every San Antonio Spurs game, you could find Duncan waltzing into the arena with baggy jeans and a boxy dress shirt that didn't fit him.
The NBA legend created his own style (even if it wasn't stylish at all), and he didn't care if anyone thought he looked "cool." It set him apart from other NBA superstars who spent their millions on expensive clothes and jewelry to look the part. And it's one reason why we still love Duncan and his oversized shirts to this day.
Tim Duncan made over $242 million in the NBA

Duncan isn't just one of the greatest power forwards to ever suit up in the NBA. He's also one of the richest, too. Throughout his 19-year career with the Spurs, the Big Fundamental racked up a mind-numbing $242,024,800 in cash earnings.
Duncan received his first major contract in 2003, signing a seven-year, $122 million deal to stay with San Antonio. Although $17 million per year is mediocre in today's NBA, Duncan's deal was one of the largest in the league at the time.
To this day, Duncan is one of the 20 highest-paid players in NBA history.
Tim Duncan had a unique sense of style
When he wasn't on the court dressed in his black and white Spurs threads, Duncan walked around looking like an awkward dad who only kept oversized hand-me-downs in his closet.
Duncan's patented off-court look was a pair of baggy jeans, an extra-large dress shirt or flannel that could be found on the clearance rack at your local Macy's, and plain, brown dress shoes. No hats, no gold chains around his neck, and basically no accessories of any kind.
Duncan's sense of fashion perfectly mirrored his game on the court. Simple, not flashy, but highly effective, and got the job done at the end of the day.
Robert Horry pokes fun at Duncan's anti-fashion
Robert Horry, Duncan's teammate on the Spurs for five seasons, appeared on Barstool Sports' Pardon My Take podcast and poked fun at the anti-fashion icon:
"You gotta think about Tim Duncan. This is a dude who at one time was top three money makers in the NBA, and he dressed like he was straight out the trailer park," Horry said on the podcast. "I'm like, 'Come on Tim!' I would mess with him all the time. I said, 'You can spend your money on clothes. You don't have to spend it on video games and cars. You can buy a suit.' Think about it. I don't even think this dude owns a suit, man.
We always talk about people who have every dime they ever made in the NBA. This dude probably has every dime because he damn sure didn't spend it on clothes. He didn't spend it on jewelry. He might've spent it on cars, but other than that, that dude has spent no money, especially on clothes. He probably has a closet probably about as big as a shoebox with three outfits in it. Terrible!
"I guarantee that's why he stopped coaching because that one black jacket that he had probably fell apart."
All contract figures courtesy of Spotrac