Stephen Jackson Almost Got Kicked off the Spurs for Playing Paintball With Tim Duncan
The 2002-03 San Antonio Spurs won an NBA championship behind Tim Duncan, Tony Parker, and Stephen Jackson. It propelled the Spurs to three titles in four years, cementing them as the dominant dynasty of the 2000s. The 2002-03 Spurs team had a special bond off the court, but that almost cost them one of their best players before the season even started. Jackson and Duncan defied Gregg Popovich's orders to play a friendly game of paintball during the NBA preseason. What happened next almost derailed the championship season before it even started.
Jackson and Duncan took the team paintballing after Pop said no
Stephen Jackson appeared on the "Ryen Russillo Show" in 2017 to tell the story of the team's disastrous paintballing trip in 2002. The Spurs wanted to go on a team bonding trip before the season started. Popovich allowed the trip, but on one condition: no paintball.
See, Tim Duncan had an affinity for paintball at this time. He had all the newest guns and protective gear. He was a paintball connoisseur at the age of 25, and Popovich knew it. Popovich forbid the team from going paintballing, so of course, they went anyway.
Why anyone would defy coach Pop's orders is beyond comprehension. He's one of the scariest coaches in the history of professional sports. But, alas, young men are going to do what young men do. As long as no one got hurt, Pop wouldn't even know they went, right?
Stephen Jackson made a grave mistake during the paintball game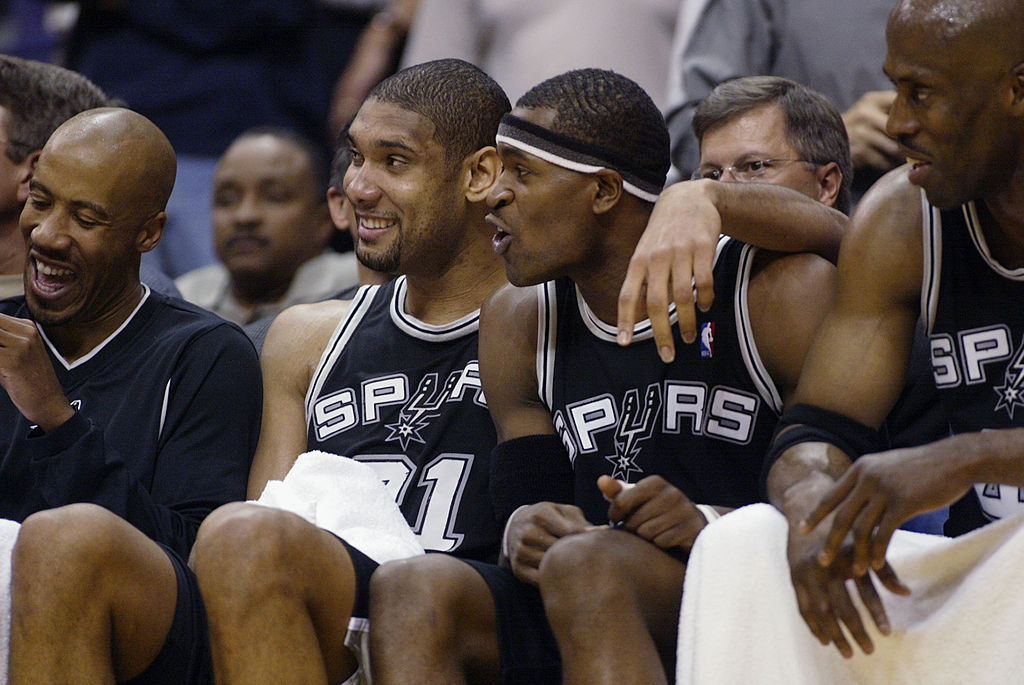 Stephen Jackson was on Tim Duncan's team for the paintball game. The objective was to capture the flag. Everything was going swimmingly until Jackson's competitive side came out. Duncan told him to push up for the flag, so he went all out.
Jackson sprinted to the opposing team's flag, dodging flying paintballs along the way. He eventually reached the flag, but he had to climb up a few steps to grab it. In the middle of the climb, Jackson's rental mask fogged up and blocked his vision. He reached for the flag blindly, but he missed and fell face-first right into step.
Jackson said his face was gushing with blood, but no one was around to help him. He put his mask back on and tried to find help, but everyone started shooting him with paintballs instead. Once everyone saw blood on Jackson's shirt, their collective heart sunk. The Spurs had practice tomorrow. What were they going to tell Pop?
Popovich finds out about the paintball trip
Jackson and Duncan got together after the paintball game to brainstorm excuses for Jackson's swollen mouth. Jackson said he doesn't remember what the team ended up with, but it didn't matter.
Popovich approached Jackson immediately after he saw him walk in to practice. He wanted the truth and he wanted it now. Then came unlikely hero Malik Rose. Rose walked in and saw Jackson's swollen face, and he burst out laughing. Incredibly, it made Popovich laugh along with him.
That's when Jackson decided to tell Pop the truth because he was in a giggly mood. Popovich saw he wasn't badly hurt and that Duncan was OK, so he let it slide. Jackson said he feared Pop would kick him off the team or at least suspend him, but Rose saved the day.
Popovich even showed some humor about the situation. He told Jackson afterward, "At least it was you and not Tim."