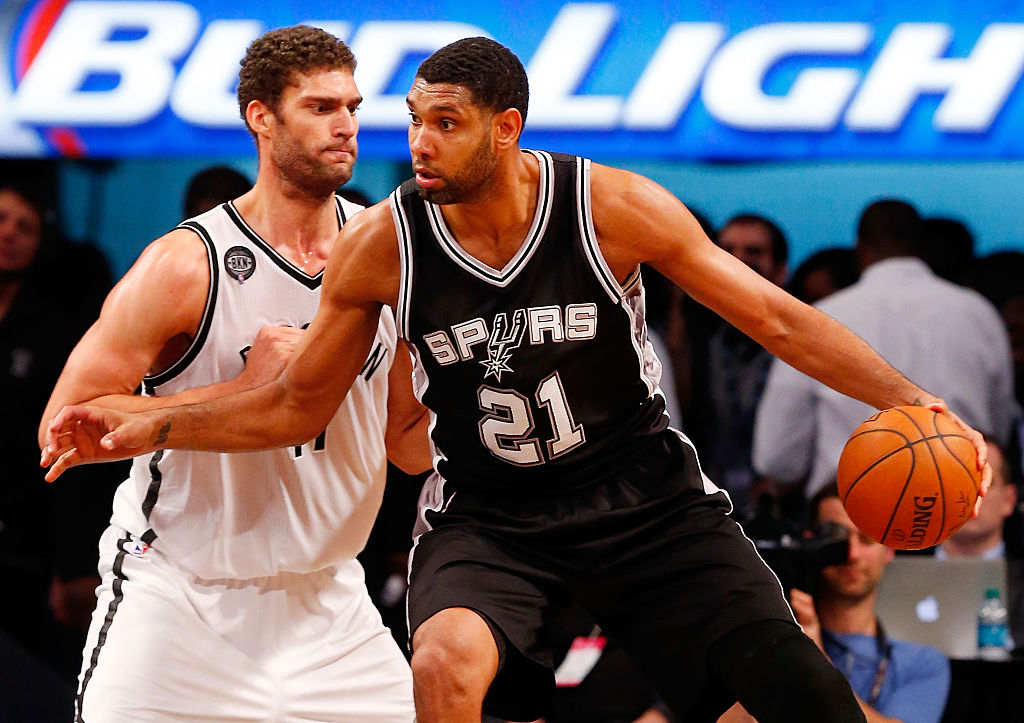 Tim Duncan Turned a Fear of Sharks Into a $242 Million NBA Career
When you think of former San Antonio Spurs big man Tim Duncan, certain words probably spring to mind. Maybe you associate him with winning; alternatively, you could remember his famous bank shot as either boring or fundamentally sound. In all likelihood, however, you probably wouldn't call him scared. Even Tim Duncan is human, though. In …
When you think of former San Antonio Spurs big man Tim Duncan, certain words probably spring to mind. Maybe you associate him with winning; alternatively, you could remember his famous bank shot as either boring or fundamentally sound. In all likelihood, however, you probably wouldn't call him scared.
Even Tim Duncan is human, though. In fact, his fear of sharks led directly to a $242 million basketball career.
Tim Duncan's start as a swimmer
Growing up in the U.S. Virgin Islands, Tim Duncan was literally surrounded by water. Unsurprisingly, he spent plenty of time swimming.
"I grew up swimming since I was about five," Duncan explained in an NBA video. "I was having fun with it, and I was really good at it at the time. I used to swim anywhere from 5,000 meters to 8,000 meters a day, six days a week. I expected at some point to be in the Olympics representing the Virgin Islands."
While most of Duncan's times and records have been lost to history, there's no reason to doubt that his famous work ethic would have translated into swimming success. Before he reached the Olympics, though, fate would intervene.
A life-changing fear of sharks
In the fall of 1989, however, Tim Duncan's swimming career was put on hold. Hurricane Hugo tore through the Caribbean, leaving a trail of destruction in its wake; on St. Croix, the local Olympic-sized swimming pool was destroyed.
Without a pool to practice in, Duncan's swims were moved to the ocean. While swimming through waves wasn't ideal, the teenager had a bigger problem: he was afraid of sharks. That reality led him to pick up a basketball, rather than hitting the beach.
Shortly after, Duncan's mother lost her battle with breast cancer. In that tragedy, everything came together. The teenager no longer wanted to swim and had promised his mom that he would earn a college degree; he eventually found solace on the basketball court and used his talents to live up to his vow.
Tim Duncan turned into an NBA great
While basketball wasn't Tim Duncan's first love, he eventually blossomed into an incredible talent. After outplaying Alonzo Morning as a 16-year-old, his fate as a future star was sealed.
Duncan headed to the mainland and played his college ball at Wake Forest. Although he couldn't help the Demon Deacons claim a national title, the big man did just about everything else. He averaged 16.4 points and 12.3 rebounds during his four collegiate seasons, took home the 1997 John Wooden Award as men's player of the year, and earned a psychology degree.
After graduation, Ducan entered the 1997 NBA draft, becoming the first overall pick. He proved to be a star from the start, every Rookie of the Month award before being named Rookie of the Year. That campaign, of course, would prove to be the start of a long and decorated career.
Ducan spent 19 seasons in the pros, averaging 19 points and 10.8 rebounds per game; he helped the Spurs win five titles, earned more than $242 million, and will officially enter the Basketball Hall of Fame in August. None of that would have happened, though, if not for a fear of sharks.