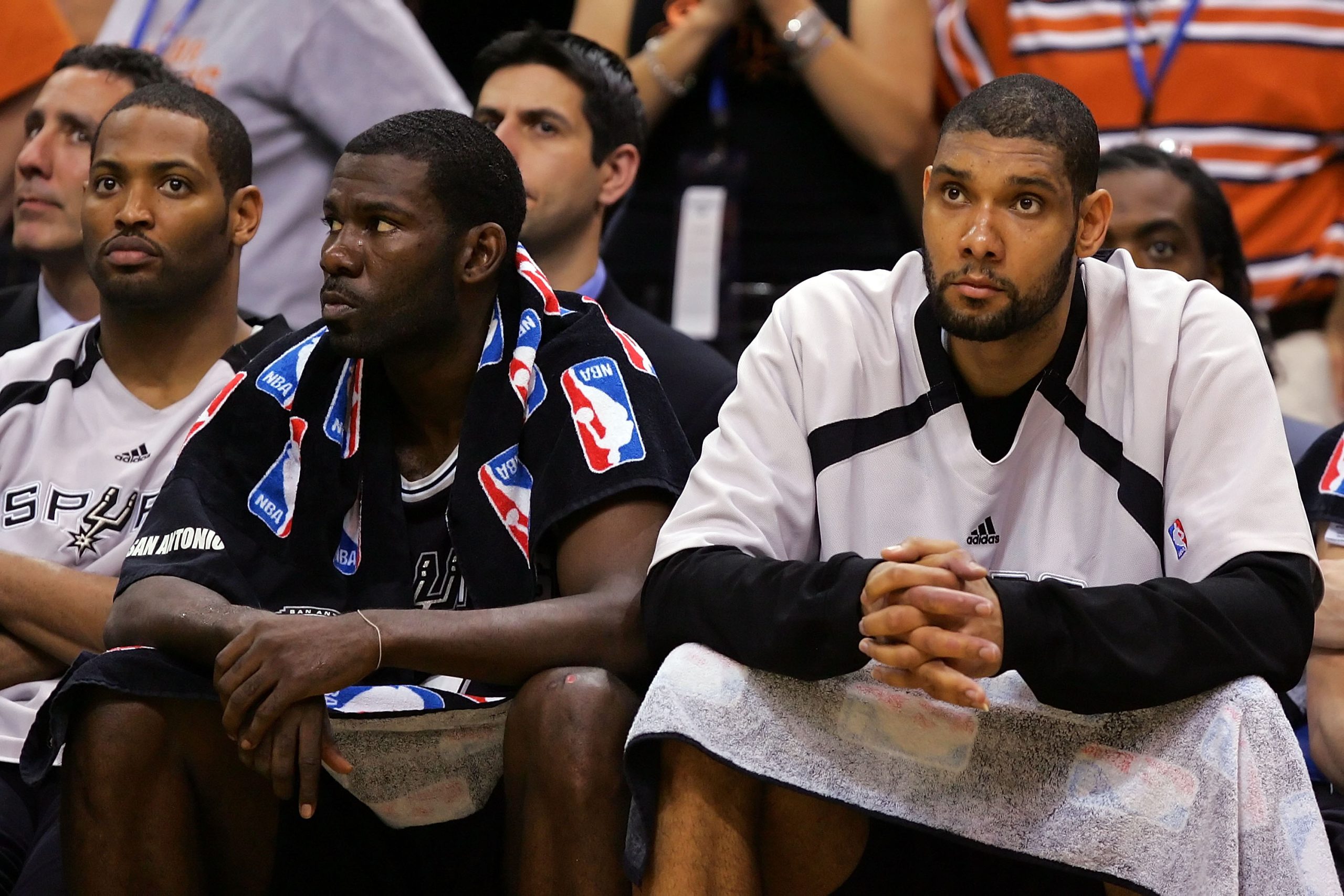 Tim Duncan Once Revealed What Life Would be Like if Drafted by a Big-Market Team Like the Knicks: 'It Would Have Been Torture'
Tim Duncan once revealed what it would've been like had he been drafted by a big-market team.
Tim Duncan was a perfect fit for the San Antonio Spurs. Maybe it was the other way around. In any case, it almost didn't work out that way. The Spurs/Duncan marriage was fate, generated by the luck of the draw in the 1997 NBA Draft Lottery. The quiet, mild-mannered Duncan settled in nicely in Texas for a successful 19-year NBA career.
Had things gone as planned, Duncan would have played in a big market. In a 2012 Sports Illustrated article, Duncan said, "It would have been torture" had he been drafted by a big-market team like the New York Knicks.
Tim Duncan was saved by the NBA Draft lottery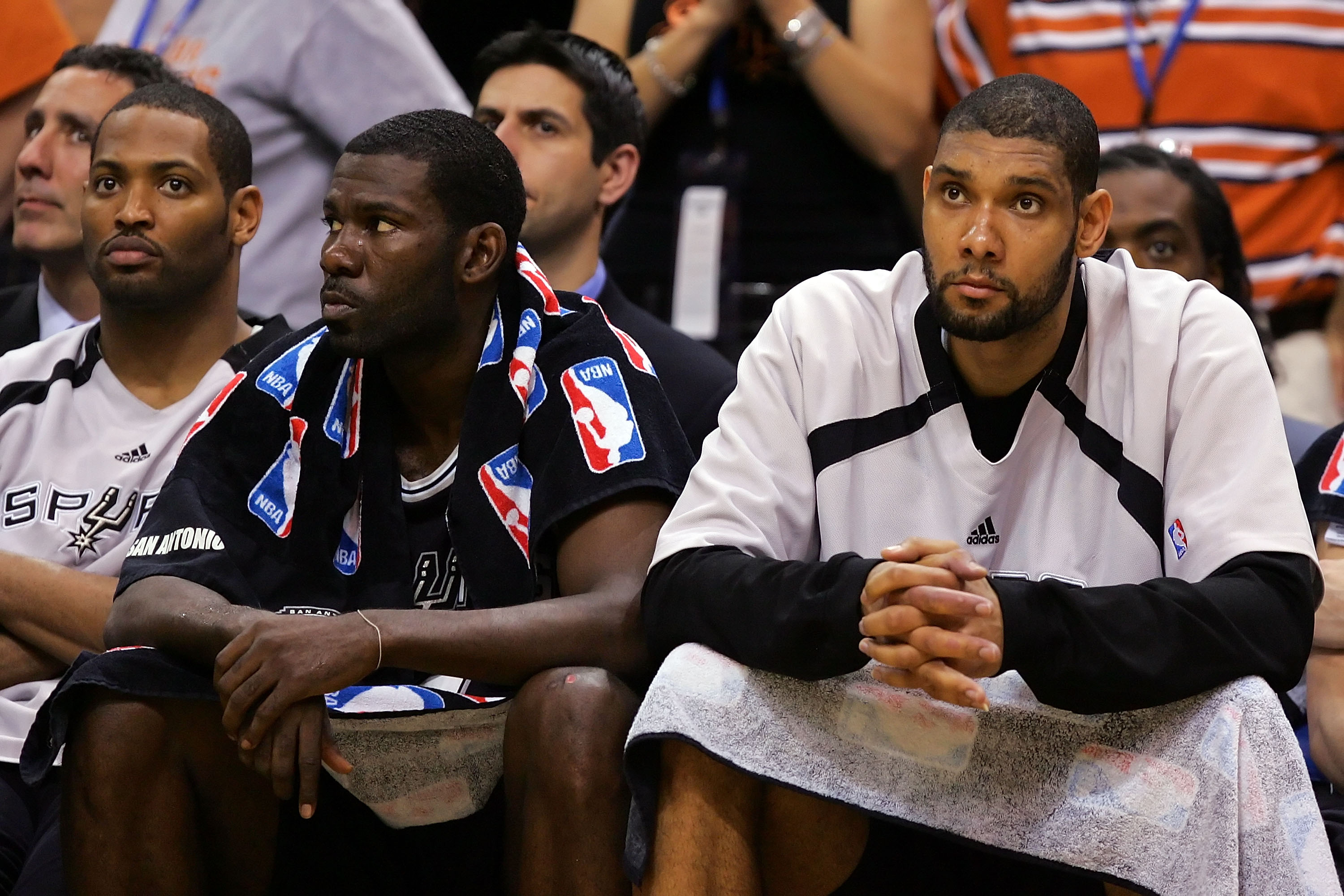 The Boston Celtics were sitting pretty in the 1997 NBA Draft. They had two chances to grab the No. 1 pick after one of the ugliest seasons in franchise history. The Celtics finished the 1996-97 season with a 15-67 record. They had a 36.3% chance of getting the first pick in the 1997 NBA Draft and its top prize — Duncan.
The balls didn't bounce as they should have. Not only did the Celtics not get the top pick. They didn't even get pick No. 2. Instead, the Celtics, under the new Rick Pitino regime, collected the third and sixth picks in the draft. Boston selected Chauncey Billups at No. 3 and added Ron Mercer with the sixth pick.
Meanwhile, Duncan found a new home in the small market of San Antonio. The situation was perfect for a couple of reasons. He remained out of the spotlight of a big-market team. He also teamed with former No. 1 overall pick David Robinson to form one of the NBA's best one-two punches.
The Spurs found themselves in the thick of the lottery that season because injuries limited Robinson to six games in the 1996-97 season. They finished 20-62.
Tim Duncan and San Antonio were the perfect match
Duncan was the clear-cut No. 1 pick heading into the 1997 NBA Draft. After a stellar career at Wake Forest, Duncan enjoyed 19 years in the NBA, 15 of them being all-star seasons. He was an unselfish player who never liked being in the spotlight. San Antonio proved to be the perfect landing spot.
In 2012, Sports Illustrated posed the following questions: What would have happened if Duncan had been drafted by the Knicks? Would he be the league's marquee name? Or would the spotlight have been too much?
Duncan gave an answer some of his teammates and coaches didn't agree with.
"It would have been torture," Duncan said. "I probably wouldn't have lasted there very long."
Spurs coach Gregg Popovich held a different belief.
"He'd have been great," he said.
Former teammate Steve Kerr said Duncan would be the same guy.
"He would have adapted," said Kerr. "The beat writers would have chased him around for a year and eventually given up."
Duncan became the quiet leader of some successful Spurs teams
Duncan won five NBA titles with the Spurs. He did it quietly in the public eye. Behind the scenes, however, he was a leader. Even then, he was still a quiet leader.
Such was the case in 2002, when Stephen Jackson, a young, fiery player then in his second year, was Duncan's teammate. Duncan was a four-year veteran, and he and Jackson couldn't have been any different. In one game, Popovich took out Jackson, who wasn't happy about being removed from the game. According to Sports Illustrated, Jackson sat down while unleashing profanity so loudly the fans could hear.
Duncan looked at Popovich, "I got him," he would say.
He'd go over and put his arm around Jackson. He calmed him down by talking to him and making plans to play paintball together. They became close friends through his leadership.
"I'm humbled to be able to say that Tim Duncan is a good friend of mine," Jackson said, according to Sports Illustrated.
Duncan did it all on and off the court, and it wasn't even torture in San Antonio.