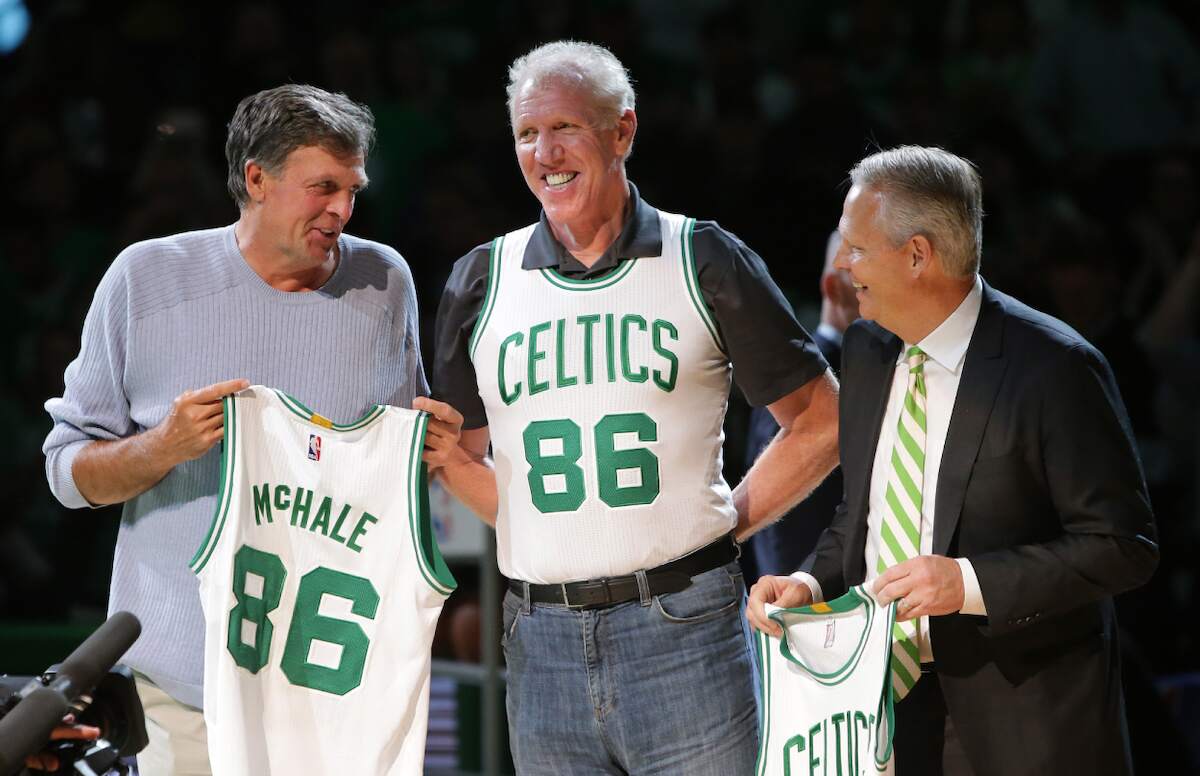 Bill Walton Still Lights Up Reflecting On His Championship With the Boston Celtics
Bill Walton still smiles when he talks about his time with the Boston Celtics.
He was no longer in a starting role. Injuries had ravaged his career. Bill Walton then found the perfect role with the Boston Celtics' 1986 championship team. By the looks of it, it might rank as one of his biggest memories in the NBA.
Walton was no longer the superstar he was at UCLA, nor was he the player who led the NBA in rebounds with the Portland Trail Blazers. He was a significant piece to the perfect puzzle during the 1985-86 season. More than 30 years later, he does nothing but smile when he talks about the first of his two seasons in Boston.
Bill Walton was a significant addition to the Boston Celtics
The Boston Celtics had been to two straight NBA Finals, winning in 1984 and losing in 1985. They needed a jolt to their bench and brought in Walton, who had missed three full seasons with foot injuries.
Walton's availability was always a question mark. Although he had played 67 games the previous year with the Los Angeles Clippers, that was the most action he'd seen in a season.
Boston didn't need the 6-foot-11 Walton to be a star. They had arguably the best starting five in NBA history. Four future Hall of Famers, Larry Bird, Kevin McHale, Robert Parish, and Dennis Johnson, led the way, along with Danny Ainge. Walton's main role was to give McHale and Parish a breather and provide a punch off the bench.
Walton played his role perfectly. He played in all but two of Boston's regular-season games, averaging 7.6 points and 6.8 rebounds. He played 19.3 minutes per game and was instrumental in the Celtics winning their third championship of the decade.
Bill Walton can't stop smiling when he speaks of the Boston Celtics
Walton acts like a proud father when speaking of his time as a player with the Celtics. He reminisced with former Boston Celtics player Brian Scalabrine in April 2020, and the smile could not be wiped from his face.
He spoke about being in the locker room at halftime of a potential series-clinching Game 6 against the Houston Rockets, leading 55-38. They knew it was over with two quarters still to play.
"Our fans would not ever let us quit," a giddy Walton told Scalabrine. "What remarkable human beings in that Celtics Nation. Here we go, Celtics, here we go. K.C. Jones, who would just be up there so calm, so poised, who had been there so many times. He just acted like we had done this before. We're gonna get this job done. The way he breathed life into us.
"And then Red (Auerbach), he'd be sitting back. He'd be there on the sideline, never really saying anything, but he'd have a cigar, taking big, giant drags. Exhaling and the green smoke that would come out with shamrocks and leprechauns. It was just absolutely spectacular. What a scene it was.
"The pressure of, OK, we've got 24 minutes — 24 minutes to history. There was never any doubt in our locker room that that wasn't going to get done."
Walton's thoughts on Larry Bird and whether the '86 Celtics team was the best ever
As Walton spoke about Celtics legends Jones and Auerbach, he also touched on Bird and how the Celtics star handled himself in the locker room of Game 6 at halftime.
"Larry did not want halftime," he said, "Larry did not want timeouts; Larry did not want days off between games. He wanted seven straight days of basketball. He was not into waiting around, and he certainly wasn't into waiting around for any of his teammates, not waiting around for the coach, not waiting around for the television schedule. Larry was ready to play and ready to deliver, and did he ever."
Bird said he would put that championship team up against any. Scalabrine asked Walton if he also felt that way.
"We had a great team, and we loved each other," Walton said. "We loved the way we played, and we knew we could get the job done. We'll take our chances. We'll take our chances anywhere against anybody, anytime. We had it all. We had size, strength, power, finesse, skill, discipline, talent.
"And at the end of the day, we had Red Auerbach, K.C. Jones, Larry Bird, Kevin McHale, and nobody else did."
All statistics courtesy of Basketball Reference.