Ray Allen Confusingly Blamed Danny Ainge for Alleged Celtics Beef with Rajon Rondo
The Boston Celtics' "Big Three" of Paul Pierce, Kevin Garnett, and Ray Allen seemed primed to win multiple championships, but multiple factors limited that famous trio to just one ring.
A right injury to KG in February 2009 led to increased durability issues and somewhat decreased effectiveness on the floor. LeBron James' decision to join the Miami Heat and from a "Big Three" in South Beach changed the power dynamic in the Eastern Conference. Then again, the Celtics also experienced issues from within.
Allen and Rajon Rondo came to be at odds at the turn of the 2010s. Ray-Ray ultimately irked all of his Celtics teammates by signing with the Heat in 2012, but the tension started with Rondo.
Curiously, Jesus Shuttlesworth blamed the Rondo beef on Danny Ainge and former head coach Doc Rivers and attempted to use an unsubstantiated trade rumor as proof.
Ray Allen and Rajon Rondo won together but ultimately developed some friction
Rajon Rondo was to the 2007-08 Boston Celtics what Mario Chalmers became for the "Big Three" Heat squads, at least symbolically.
Rondo eventually captured All-NBA honors several seasons later as one of the better two-way guards in basketball. However, on this particular team, he was a second-year point guard trying to find his plays among the holy triumvirate of Allen, Pierce, and Garnett.
Initially, Rondo did so quite swimmingly. He started at the point and gave the Celtics a slashing presence capable of getting into the lane and making plays for his teammates while harassing opposing guards. Allen even looked at the youngster as his pupil, of sorts. Boston hoisted the Larry O'Brien trophy and seemed primed for more success.
But in 2009, rumors swirled about Doc Rivers' purported discontent with Rondo. Additionally, whispers of a trade that could send both the C's point guard and Allen to Phoenix prompted Ray-Ray to confront the man he considered his little brother.
Allen suggested that Rondo speak to Rivers and then-Celtics general manager Danny Ainge to smooth things over. It made sense, considering the two played integral roles on a team still pretty fresh off a championship.
That encounter sowed the seeds of frustration. As Rondo became an All-Star, he lashed out more at Rivers and Allen, with the two allegedly getting into a boxing match. Persistent trade rumors certainly couldn't have helped matters.
Alas, with the team's foundation beginning to crumble and Boston suffering playoff defeat after playoff defeat, Allen bounced. He joined the rival Heat, then tried to finger-point as a means of explaining why the Celtics came unglued.
Allen holds Danny Ainge and Doc Rivers responsible for his feud with Rondo
The media wanted to know about Allen's rationale for signing with the rival Heat, and for fewer dollars, at that. When did the bad blood in Boston really start?
Allen said (h/t SB Nation) the struggle between him and Rondo began with the unsubstantiated 2009 trade rumor about the two stars going to the Suns. That trade, allegedly, would have sent Allen and Rondo to Phoenix in exchange for Amar'e Stoudemire, Leandro Barbosa, and a first-round draft pick.
According to Allen, all the chatter stemmed from the dislike festering between Ainge, Rivers, and Rondo. The problem is that said rumor is totally unsubstantiated. What's more, Ainge already said in 2009 (h/t Boston Herald) the team had zero intention of trading Rondo or any other "core player."
Let's go deeper for a second. Allen tried to explain that his focus remained on his individual approach to the game and on-court matters.
"I have a way of going about doing my job that, I want everyone to come and play their hardest and come in and do their job and I can't, I don't worry myself with things I can't control."

–Ray Allen (2012), via SB Nation
Interesting. Ray indicated he doesn't bother himself with things he can't control. That's a walking contradiction, considering he went out of his way to have a conversation with Rondo about an unconfirmed trade rumor.
If Allen truly didn't concern himself with the noise, he'd have taken everything with a grain of salt. Instead, years later, he chose to fall back on that rumor and the occasional head-butting between Rivers and Rondo.
Maybe the wishy-washiness of it all is the real reason the Celtics excluded Allen from their circle all these years later, though Jesus Shuttlesworth doesn't concern himself with much of it.
Allen and Rondo have since added to their respective legacies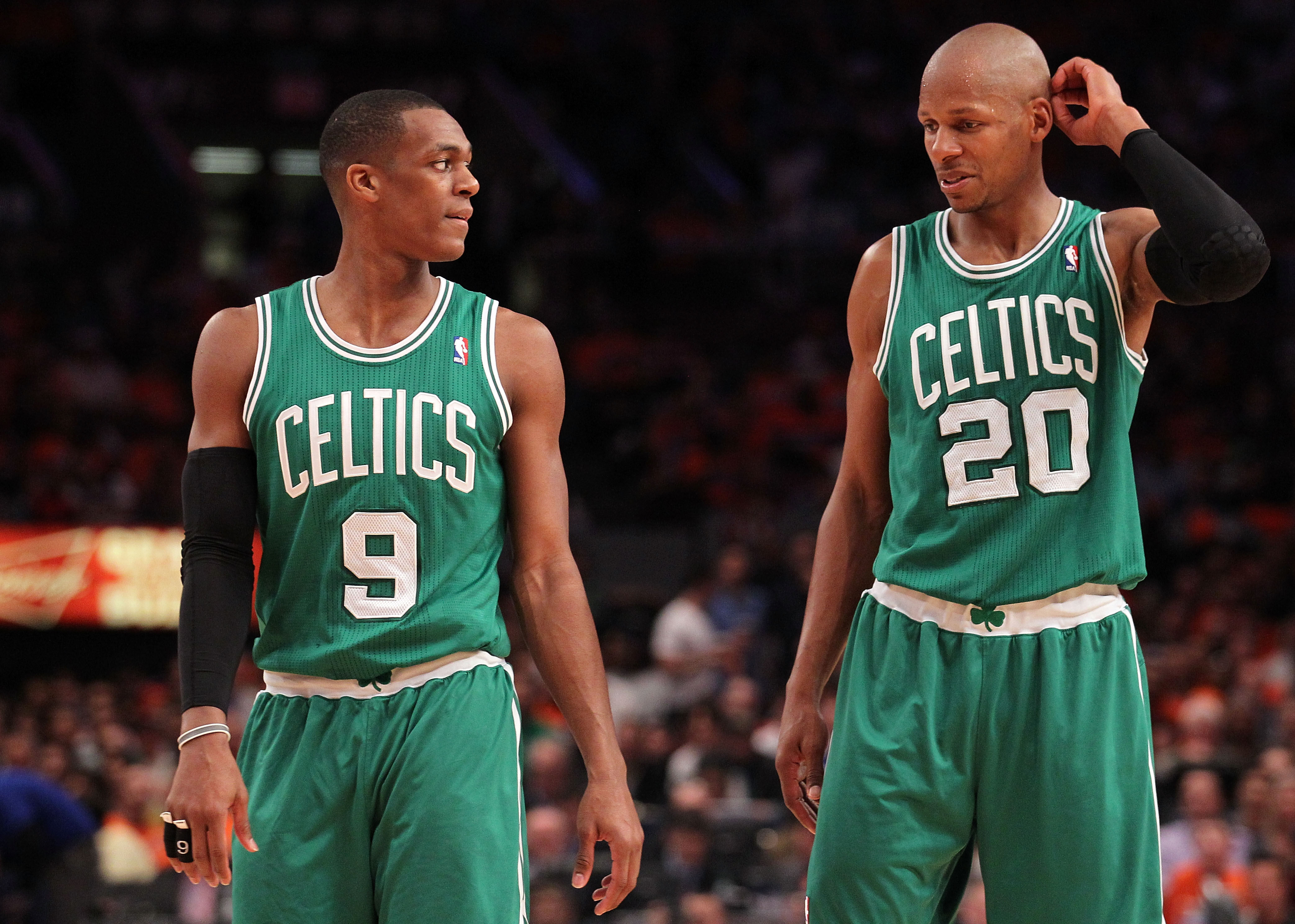 The harsh feelings might persist, but Ray Allen and Rajon Rondo have carried on and continued to add to their respective NBA legacies.
Allen made quite the impact in his first season with the Heat. His game-tying triple in Game 6 of the 2013 Finals is one of the most famous shots in league history and undoubtedly the most memorable of his career. The shot saved Miami's season and ultimately gave Ray-Ray a second championship.
Rondo bounced around the NBA after the Celtics traded him in 2014, but he, too, would win a second ring. Playoff Rondo gave the Los Angeles Lakers a vital secondary playmaker and helped LA to a title in the Orlando "bubble." He'll likely be hoping the Purple and Gold can turn things around and help deliver him a third ring next summer.