Ray Allen and Rajon Rondo Once Got Into a Boxing Match to Try to Settle Their Beef
After winning an NBA championship in Boston, Ray Allen later left and went to the Boston Celtics' rival, the Miami Heat. The move seemed to damage Allen's relationship with his former Celtics teammates. However, he had already had a beef with Rajon Rondo. The two actually had so much tension that they threw on the boxing gloves to relieve some of it at one point.
Ray Allen and Rajon Rondo won a championship with the Celtics
From 2007-08 through 2011-12, Ray Allen and Rajon Rondo played on the Boston Celtics together, and those were some absolutely great teams. Allen was one of the stars on the team as he averaged 16.7 points per game during his time there. Rondo, on the other hand, was a great facilitator for the team. Rondo averaged 11 points and 8.5 assists during his time in Boston from 2006-07 through 2014-15. He even averaged 11 assists per game or more three seasons in a row from 2010-11 through 2012-13.
The team won the NBA Finals in 2007-08. They then went back to the NBA Finals in 2009-10 and went to the Eastern Conference Finals in 2011-12. 
Do you know who beat them in the Eastern Conference Finals in 2011-12? The Miami Heat did in seven games. 
Allen joined the Heat and won another championship
In the 2012 offseason, Ray Allen decided to do what Kevin Durant did before Durant did it. He joined the team that had just beat him and his team in the conference finals. Despite the Celtics being very close with the Heat, taking them to seven games, Allen decided to go to Miami as he took a three-year deal worth $9.5 million, according to NBC Sports Boston. He ultimately turned down a two-year contract from the Celtics worth $12 million, which reportedly had a no-trade clause, NBC Sports Boston reported. 
This seemed to have bothered a lot of his former teammates on the Celtics. It still seems to bother them too. Rondo organized a vacation for the team that won the NBA Finals in 2008 to celebrate the 10-year anniversary. Allen ultimately did not get an invite, according to NBC Sports Boston. 
However, Rondo and Allen had beef before Allen left the Celtics. 
Boxing out their beef for a couple of rounds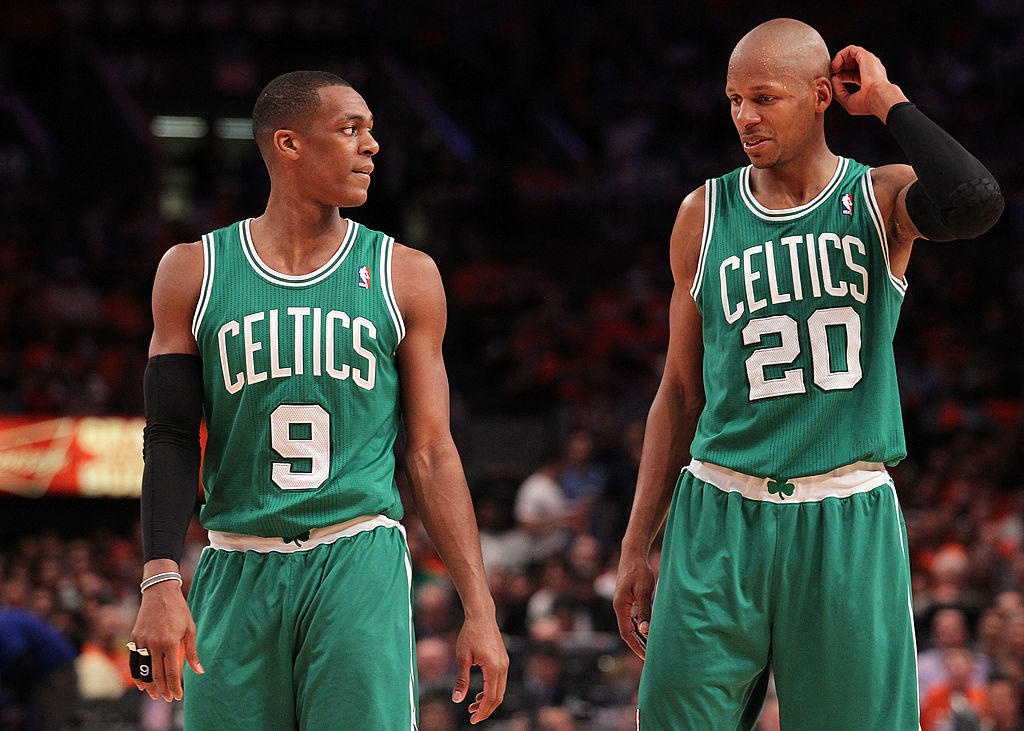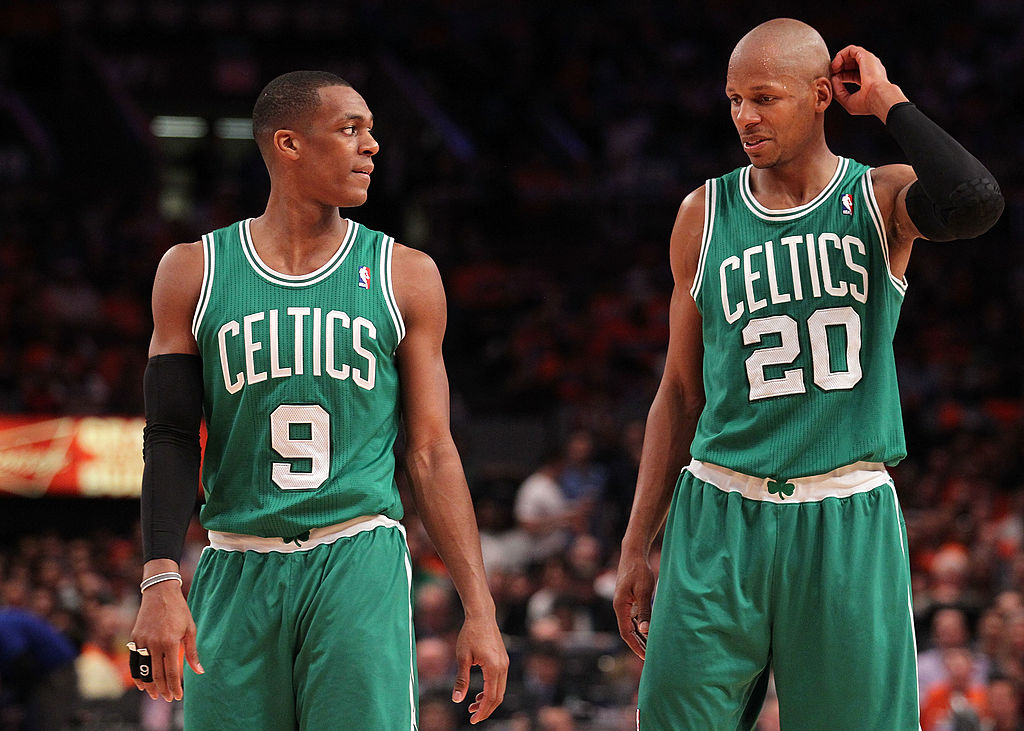 Kendrick Perkins recently talked on Sirius XM Radio and said that there were rumors in the 2008-09 season regarding the Celtics trading Rajon Rondo to New Orleans for Chris Paul. He then said that Kevin Garnett and Paul Pierce did not want the trade. However, Ray Allen was in favor of it.
"KG and Paul were like, 'nah, we ain't doing that.' As great as CP3 is, we just won a championship, we rockin' with [Rondo]. He's giving us everything that we need. But Ray was like, 'nah, let's do it,'" Perkins said, according to NBC Sports Boston.

Kendrick Perkins
Rondo was then not happy when he found out. 
"It was even to the point where we brought boxing gloves to the gym and they got on boxing gloves," Perkins said, according to Complex. "We made them box it out for like two rounds."
This was, however, not the first time that the Celtics had boxing matches. "We used to have fights all the time," Perkins said, according to Complex. 
The real question is, who won? Allen is six-foot-five, 205 pounds while Rondo is six-foot-one, 186 pounds, according to Basketball Reference. So, Allen had an advantage in terms of length and size. Rondo might have been quicker and more elusive, though.
It remains to be seen if Ray Allen will ever be able to repair his relationship with his former Celtics teammates. Because of added history, he would maybe have to do some extra work with Rondo.
Stats courtesy of Basketball Reference