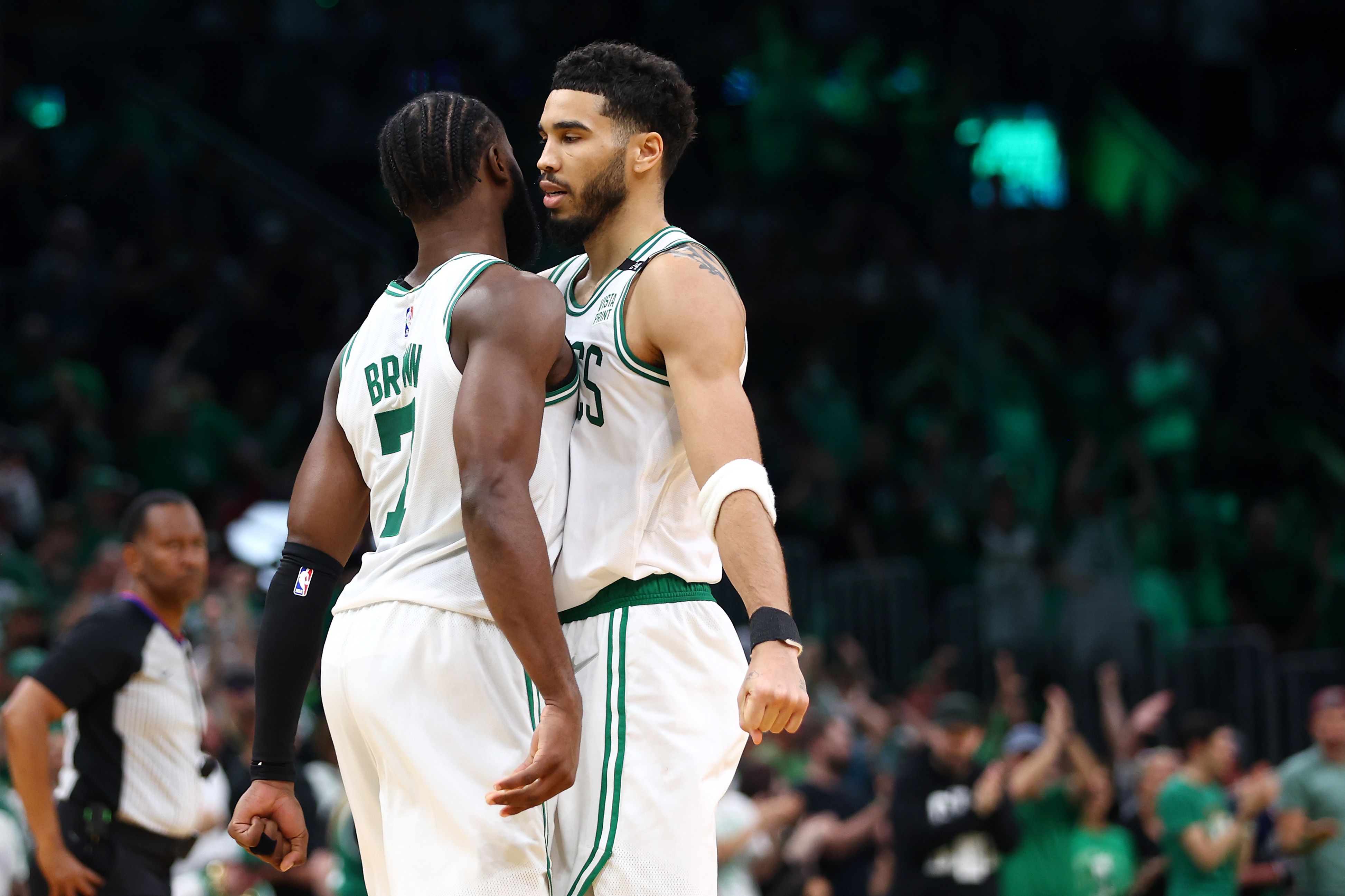 Boston Celtics: Jayson Tatum, Paul Pierce Weigh In on Jaylen Brown for Kevin Durant Trade Rumor
Jayson Tatum and Paul Pierce give their thoughts on the rumor of the Boston Celtics trading Jaylen Brown.
Everyone seems to have an opinion on the latest rumor involving the Boston Celtics. ESPN's Adrian Wojnarowski recently reported that the Celtics have been in talks with the Brooklyn Nets about a trade involving Jaylen Brown and Kevin Durant. While some brush the reports aside, others have given their opinion on the potential move.
Celtics star Jayson Tatum and former Boston star Paul Pierce are two of many who spoke about the report. Neither believes there's a whole lot of truth to it.
Boston Celtics star Jayson Tatum weighs in on the latest trade rumor involving Jaylen Brown
Tatum was in New York City on Tuesday night for the premiere of a Showtime documentary. Sure enough, members of the media surrounded him to get his thoughts on the trade rumor.
"I don't make anything of it," Tatum said, per Jared Schwartz of The New York Post. "I just play basketball."
Tatum was patient with the reporters but clearly uncomfortable answering the questions. He was asked what it was like to play with Durant.
"I played with him during the Olympics, obviously," he said. "He's a great player, but it's not my decision. I love our team. I love the guys that we got, and I don't know if that report is true or not.
"We got two new pieces, and I love our team. Like I said, I just go out there and play with my teammates. I don't put that hat on to make decisions.
"I don't believe everything I see on TV. I seen some s*** about me that was a lie. You never really know what is true and what's not true."
Paul Pierce was much quicker with his comments
Pierce also was asked about the trade rumor. He was much quicker with his answer than Tatum.
"We're talking about the Celtics?" he asked when approached about the trade rumor. "Nah, they're not going to do that. They're not doing it. It ain't happening."
The Brown-for-Durant rumor has been in the headlines all week. Even TNT basketball analyst Charles Barkley was asked about it this week on The Dan Patrick Show.
"I think everybody wants KD," Barkley said. "We can be sure of that. but it just depends on what you have to give up. I mean, if you're just giving up Jaylen Brown and some draft picks, you do that deal right away. Like I said, they gotta want more than that, or they don't know what the hell they're doing in Brooklyn."
The Nets' asking price appears to be sky-high. They reportedly want Brown, Marcus Smart, and draft picks for Durant. The Celtics, two wins from an NBA title last year, are not desperate to make a move, so that package is likely one they'll balk at.
Durant has requested a trade, limiting Brooklyn's leverage. Unless the asking price comes way down or the Celtics determine Brown won't remain with the team after his current deal expires in two years, Boston is likely to stand pat on this one.