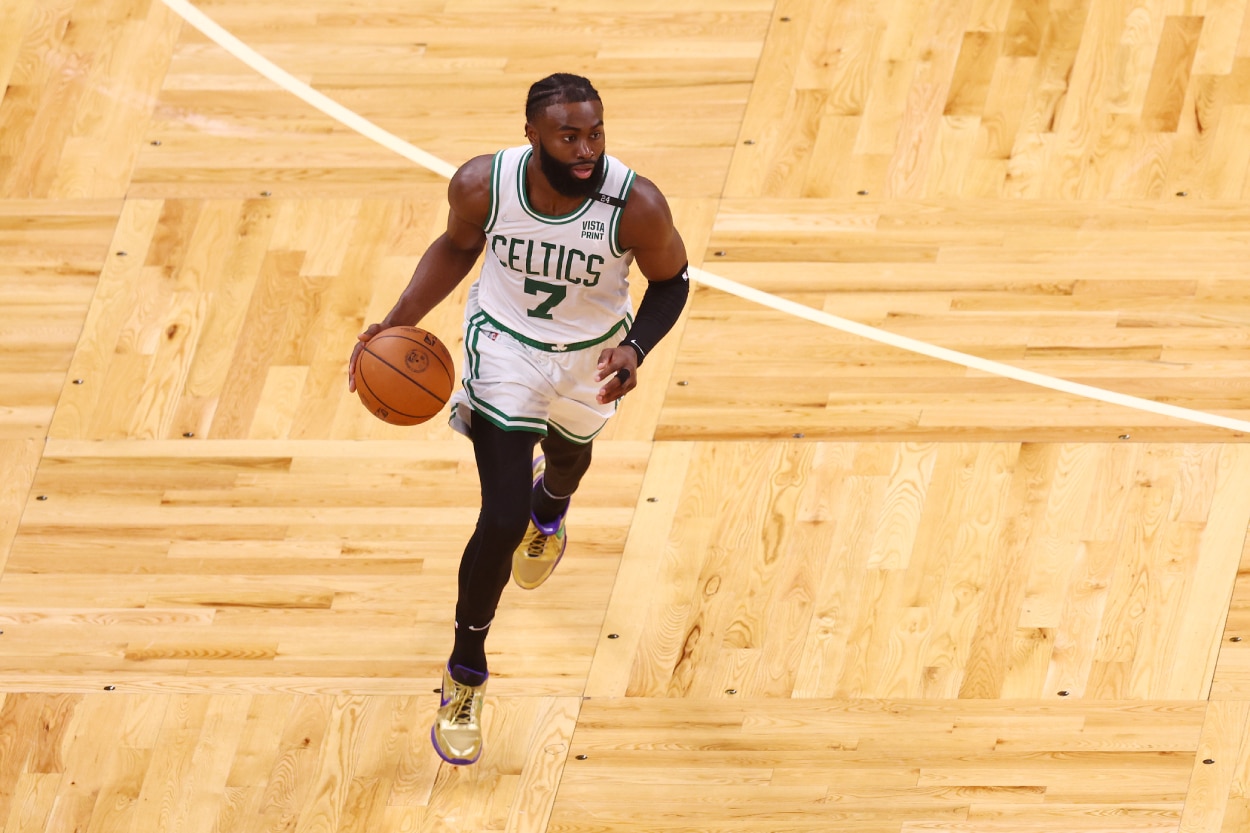 Jaylen Brown 'Wants His Own Identity' Says WEEI's Jermaine Wiggins, Who Was 'Chopping It Up' With the Boston Celtics Star This Weekend
A Boston radio host said he "chopped it up" this weekend with Jaylen Brown of the Boston Celtics and said Brown "wants his own identity."
Maybe Kevin Durant to the Boston Celtics isn't as incredibly far-fetched as we first thought. When Durant told the world he wanted a trade from the Brooklyn Nets, there were some whispers involving Boston star Jaylen Brown.
Former NFL tight end and current WEEI (Boston radio) host Jermaine Wiggins said he was "chopping it up" with Brown this past weekend. On The Greg Hill Show, Wiggins said Brown "wants his own identity, and he ain't getting that here." Wiggins' comments raised more than a few eyebrows and also raised the topic of a deal involving Brown as the centerpiece in exchange for Durant.
Jaylen Brown has two years remaining on his Boston Celtics deal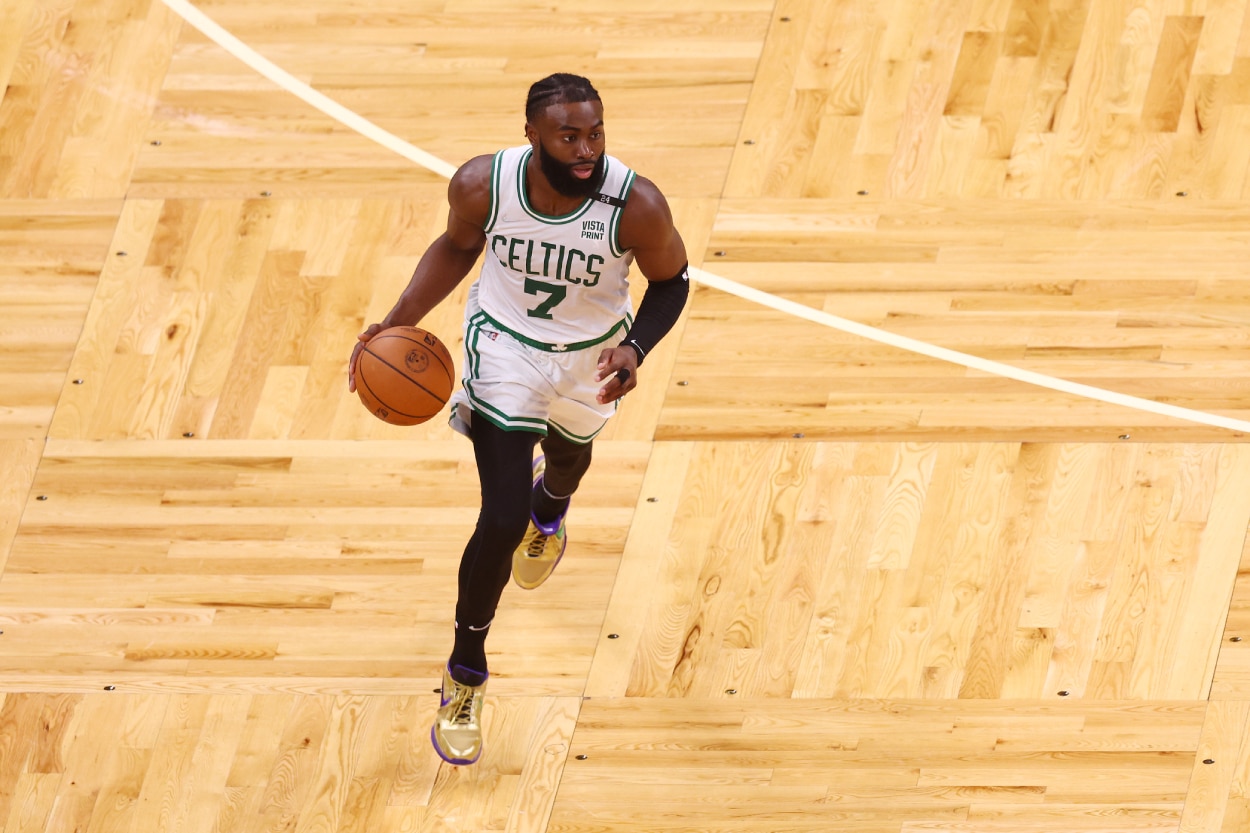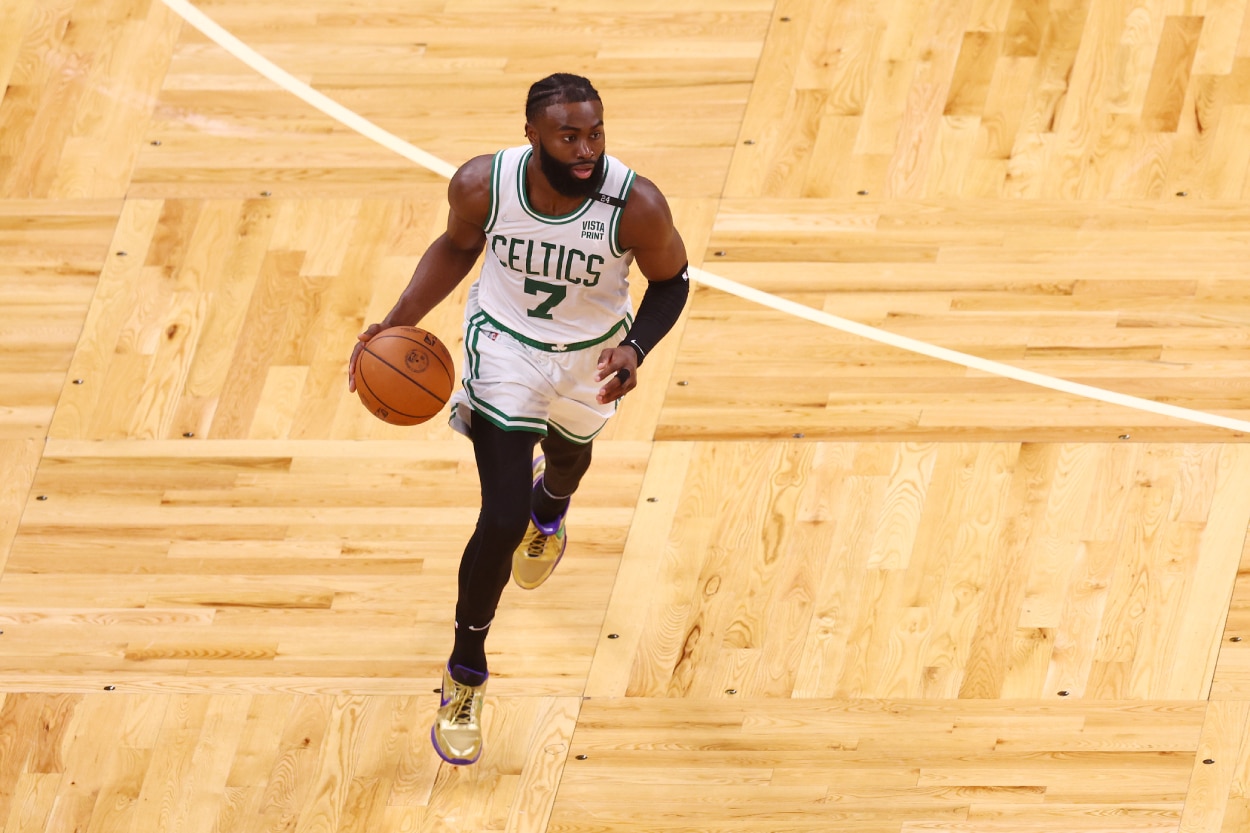 Brown probably doesn't get the notoriety he deserves with the Celtics. Yes, he had some serious turnover issues during the 2022 NBA Finals against the Golden State Warriors, but he's a big reason why they got there. Brown, however, plays in the shadow of Jayson Tatum.
In Boston, it's either Tatum, or it's Tatum and Brown. It's never Brown, even though Brown outplayed Tatum in the Finals, despite those turnovers.
Back when the Celtics struggled this season, Steve Bulpitt of Heavy.com reported that "Brown could be the one to acknowledge that the mix isn't right and seek a move." The Celtics turned things around and reached the championship round for the first time since 2010. Despite the late-season success, the report of Brown possibly seeking a move has to be of concern.
It was also noted on The Greg Hill Show that Brown recently "liked" a social media post that said he was disrespected in Boston.
Brown has two years remaining on his four-year, $106.3 million extension. If the Celtics get the impression Brown isn't overly thrilled by playing in the shadow of Tatum and might not be able to re-sign him, why wouldn't they explore a deal?
Wiggins gave the impression Brown might not be happy in Boston
There's no reason for Wiggins to lie about "chopping it up" with Brown this weekend. He didn't fully reveal what was said. In fact, he said he didn't want to be a "snitch." Wiggins did talk about a Brown-for-Durant deal, but that seemed more like his own words and not Brown's.
"I saw Jaylen Brown the other night," Wiggins said on air. "Him and I were in the same spot. Let's just say that."
He went on to say that the two were "chopping it up."
Wiggy was asked if the two of them chatted.
"Let's just say, we were in the same spot," he said. "I'm no snitch.
"All I'm saying is Jaylen Brown wants his own identity, and he ain't getting that here. If he goes to Brooklyn, he becomes the guy. That team is now built around him. Kyrie's not going to be there. It looks like Kyrie's going to head to the Lakers.
"You have Brown. You have Marcus Smart in Brooklyn. They re-sign (Nic) Claxton. They brought back Patty Mills. Now, Brooklyn has a team that they can build around — a young star in Jaylen Brown. Jaylen Brown gets out of the shadow of Jayson Tatum, and he can now run his own team. Perfect for everybody. You get KD, who can share the spotlight. We've seen him do it before."
If nothing else, Wiggins added a little spice to the Celtics' offseason.
Like Sportscasting on Facebook. Follow us on Twitter @sportscasting19 and subscribe to our YouTube channel.