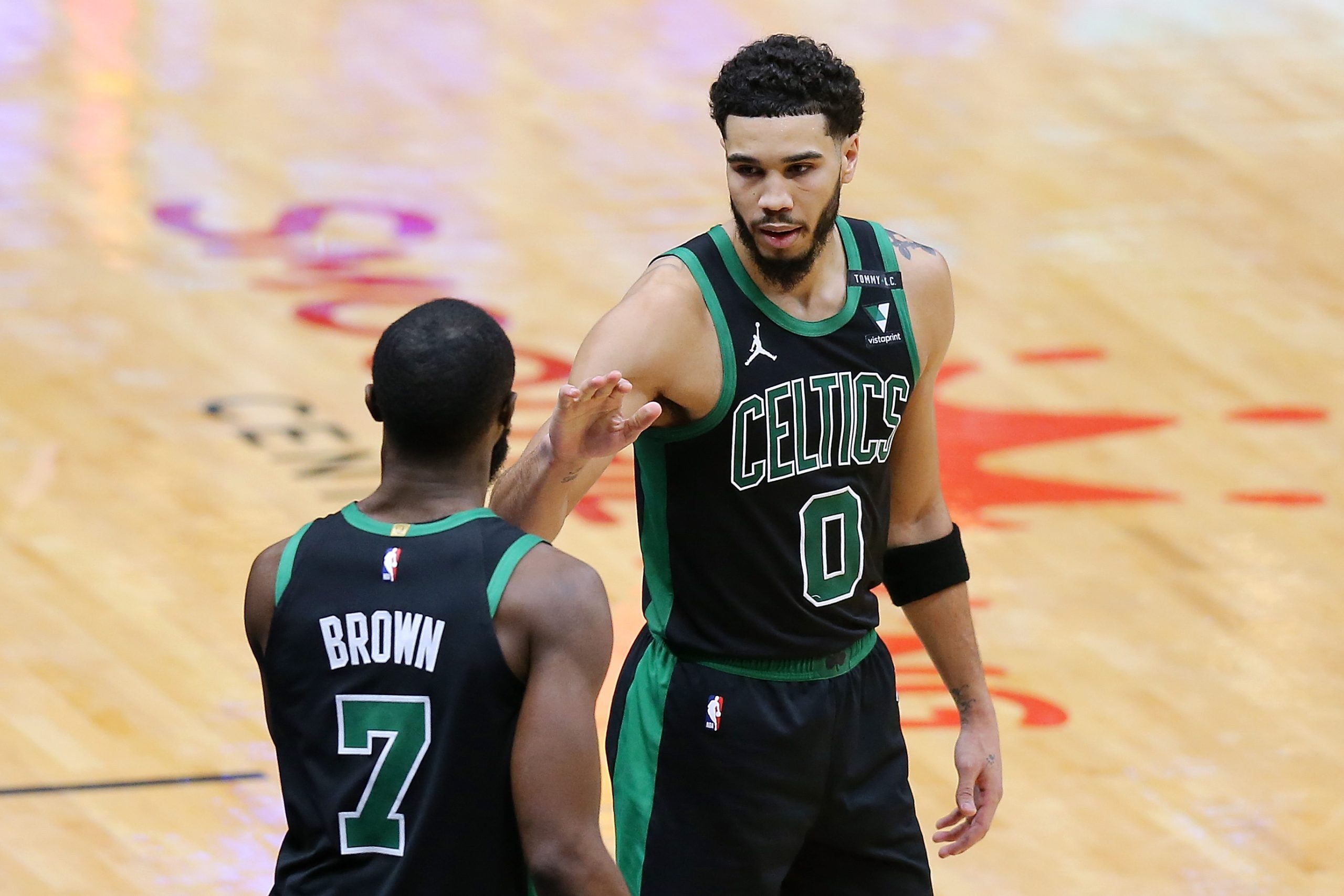 Jayson Tatum, Jaylen Brown Get Candid — and Not so Candid — About Their Relationship: 'Personally, I Don't Like JT'
Boston Celtics stars Jayson Tatum and Jaylen Brown got candid about their relationship.
The Boston Celtics have a pair of young, talented stars in Jayson Tatum and Jaylen Brown. The duo is the heart and soul of the team, but recently their relationship has taken center stage. Do they get along? Can they co-exist? The two recently cleared the air, hoping to put any distraction behind them before the NBA season opens.
Jayson Tatum and Jaylen Brown are the present and future of the Boston Celtics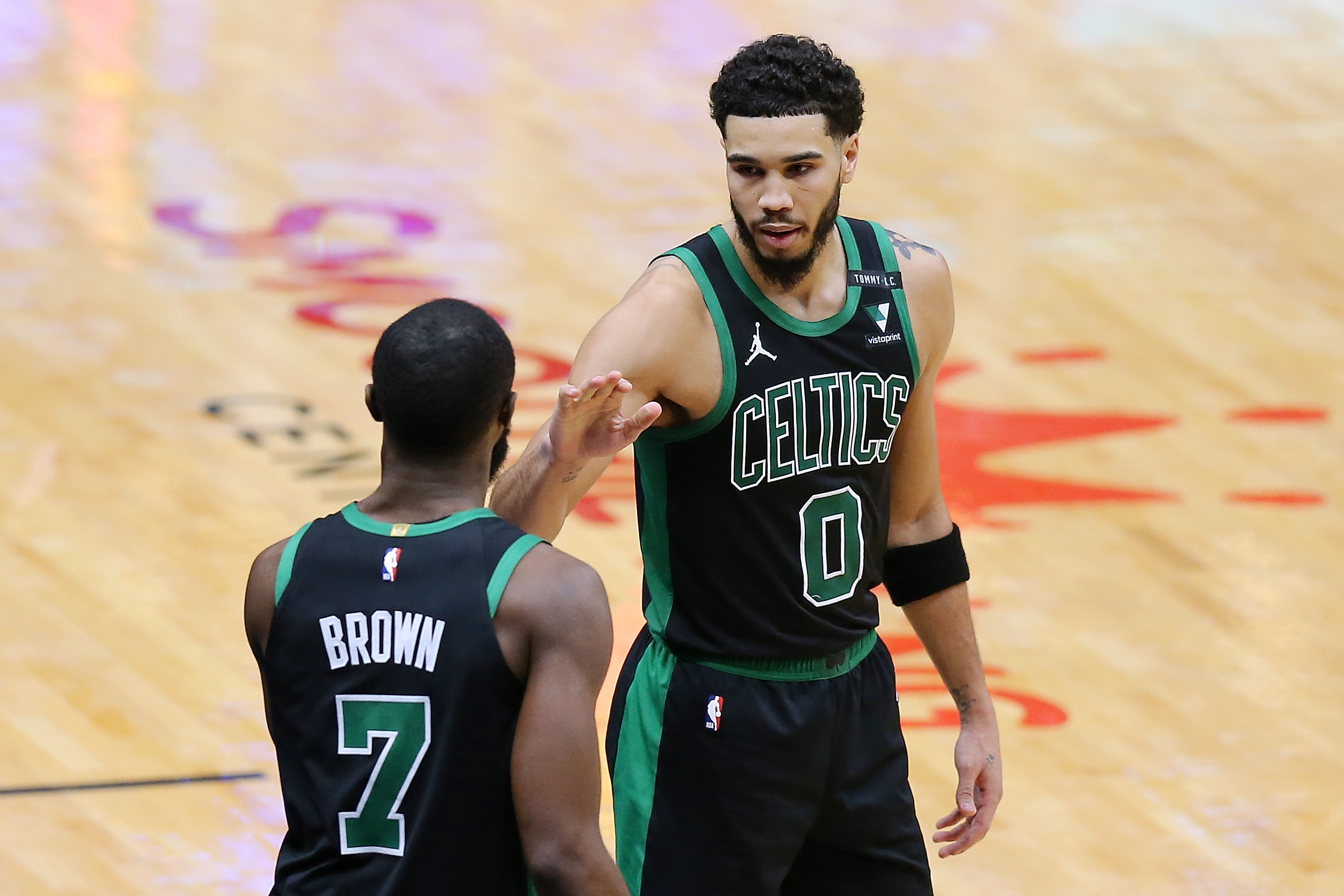 Both Tatum and Brown are young stars locked up with long-term deals with the Celtics. Maybe that's why the question keeps popping up about their relationship. Fans have seen some bickering between the two, but that comes with the territory. Teammates, coaches, families are going to have their moments when they don't get along. The same holds true for Tatum and Brown.
Tatum is considered the star. He's been in the league for four seasons and has been an NBA All-Star the last two seasons. He's 23. The former Duke star has improved in each of those four seasons, and last year he put up 26.4 points per game.
Brown is also a star but a slightly lesser version of Tatum. He made his first all-star appearance last season when he averaged 24.7 points and 6.0 rebounds.
Despite the individual success last year, the Celtics finished with a 36-36 record. The Brooklyn Nets ousted them in the first round of the playoffs. Frustrations ran high throughout the year in Boston.
While tensions mounted with the Celtics, the relationship between Jayson Tatum and Jaylen Brown was questioned
It was an ugly year all around for the Celtics. When things go bad, it's usually the stars who get the blame. In this case, Tatum and Brown took the heat. Many also believed the two didn't get along. There seemed to be an obsession with their relationship among Boston fans. The two sat down with Chris Forsberg of NBC Sports Boston to dispel that notion.
"I think that's a good way to put it — people have an obsession, and it's like they gotta have something to talk about," Tatum said. "The question of, 'Are they friends? Are they cool? Do they hang out? Do they not like each other?' It's just like, I don't wanna say it's weird but could you imagine being our age and being in the spotlight and having all these people want to know if you're friends with another 24-, 25-year-old? I mean, I guess people gotta have something to talk about."
Tatum insisted the two are close.
"I've known JB for seven or something years and, over time as he said, we've been through some stuff together," Tatum said. "We've been in the playoffs, been in the bubble, had some heated arguments, had some good times. And I think that's just part of spending time with each other. And, yeah, we close. Like, his family has watched my son. People are different, people have different interests but that's just part of coexisting with somebody."
Tatum and Brown even joked about the situation
When Brown first spoke about his relationship with Tatum, he couldn't help but joke about it.
"Personally, I don't like JT. Let's just get that out right now," he joked. "I'm just playing. That's my man, you know what I mean? It's weird to talk about it on camera. But that's my man."
 Brown set the record straight. He has zero problems with Tatum.
"Like if you need something, you can come to me whenever," Brown said. "We got to talk about something? We can pick up the phone. You know what I mean? That's how it is. I guess it is kind of weird sometimes for people (to wonder about their relationship). 
"If y'all want to hear it from me, that's my dog."
There you have it, Celtics fans. If Boston struggles again this season, find something else to question other than the relationship of the teams' two stars.