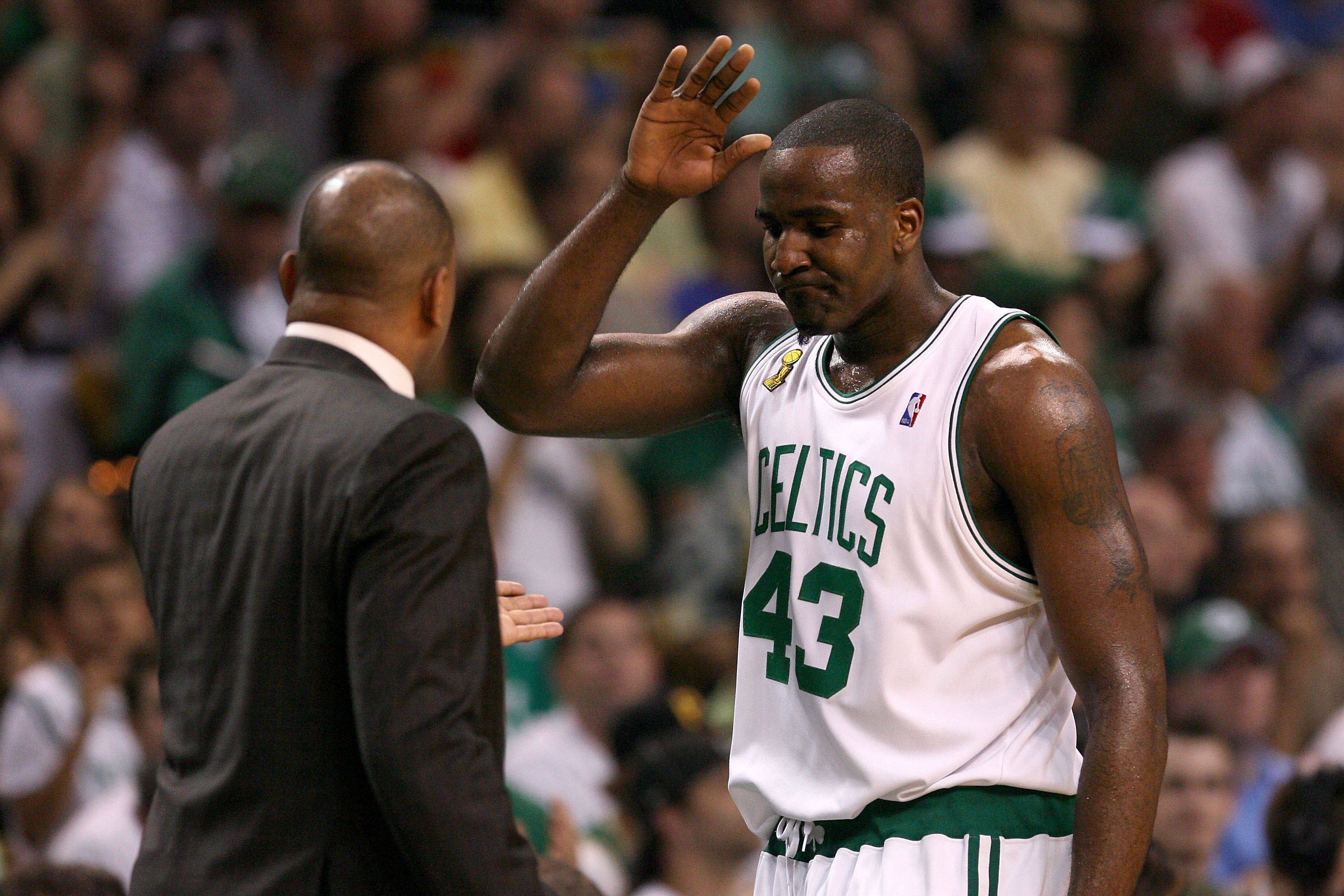 Kendrick Perkins Fires a Shot at the Celtics, Blasts Jayson Tatum and Jaylen Brown
Former Boston Celtics player and current basketball analyst Kendrick Perkins didn't hold back when asked about the recent Celtics' play.
Former Boston Celtics player and current basketball analyst Kendrick Perkins didn't hold back Wednesday night. Moments after yet another Celtics loss, Perkins blasted the highly disappointing team. Perkins pulled no punches when he singled out the team's two stars, Jayson Tatum and Jaylen Brown.
The Celtics are in a major slump
Frustration is growing among Boston Celtics fans, players, coaches, and front office folks. The team that is one season removed from an Eastern Conference Finals appearance has been a disaster this season. The Celtics are coming off their third straight loss after dropping a 127-112 decision to the Atlanta Hawks on Wednesday.
The Celtics are pressing and they're losing. A team with two young centerpieces in All-Stars Jayson Tatum and Jaylen Brown finds itself 15-17 and shows no signs of stopping the bleeding. The Celtics haven't won consecutive games in more than a month. They have three victories in their last 11 games.
Celtics GM Danny Ainge is as frustrated as anyone. "It's hard to explain," he said, according to NBA reporter Keith Smith. "The intensity level hasn't been there. I don't know how to explain it. Our team isn't playing well. They don't play hard all the time. I don't have an explanation. It's been frustrating for the players and the coaches."
Many of the Celtics' comments are concerning
Danny Ainge's recent comments are troubling. On a team that's anchored by a pair of young NBA All-stars in Jayson Tatum and Jaylen Brown, effort should be the last concern. Ainge, however, isn't the only member of the franchise that's mentioned a lack of effort. Veteran point guard Kemba Walker also mentioned the team wasn't playing as hard as it should.
"(We) just need to play harder," Walker said after an embarrassing loss to the Washington Wizards. "That's it. We're not playing hard. We're not playing as hard as we know we can. When you play hard, great things happen. And right now, it just hasn't been consistent, our play. So like I said, we're going to continue to watch film and learn from our mistakes and get better."
There's plenty of blame to go around. If effort is the big issue, Tatum and Brown are at the top of the blame list. Both were recently rewarded with significant extensions. Tatum (25.6 points, 6.9 rebounds) and Brown (25.4 points, 5.5 rebounds) have put up the numbers this season, but if it's effort that's being pointed out, they're not being the leaders they need to be.
Kendrick Perkins rips Tatum, Brown, and the Celtics
After the Boston Celtics' ugly loss to the Atlanta Hawks on Wednesday, former Celtics center Kendrick Perkins wasted no time ripping the team. Perkins was asked if this was rock bottom for Boston. "Yeah," Perkins said. "The only way they can go is up if they decide to go up," clearly referencing their lack of effort.
Perkins then pointed the finger at Boston's two stars, Jayson Tatum and Jaylen Brown. "Here's the problem I have. No heart and it starts with Jayson Tatum and Jaylen Brown. Tonight, all I saw out of Jaylen Brown and Jayson Tatum was bad body language, shooting up a whole lot of shots, complaining to the referees, not playing any type of defense." The Celtics watched Danilo Gallinari set a Hawks record with 10 3-pointers and score a season-high 38 points.
"I mean Gallinari went off for almost 40 points," Perkins continued. "Are you kidding me? That makes me want to go and get back on the treadmill and elliptical and get back in shape. If he's out there doing that, I know I can go out there and get at least 10 rebounds. This was the worst loss of the season just because of the effort. All the veterans, they had no fight whatsoever."
All stats courtesy of Basketball Reference.