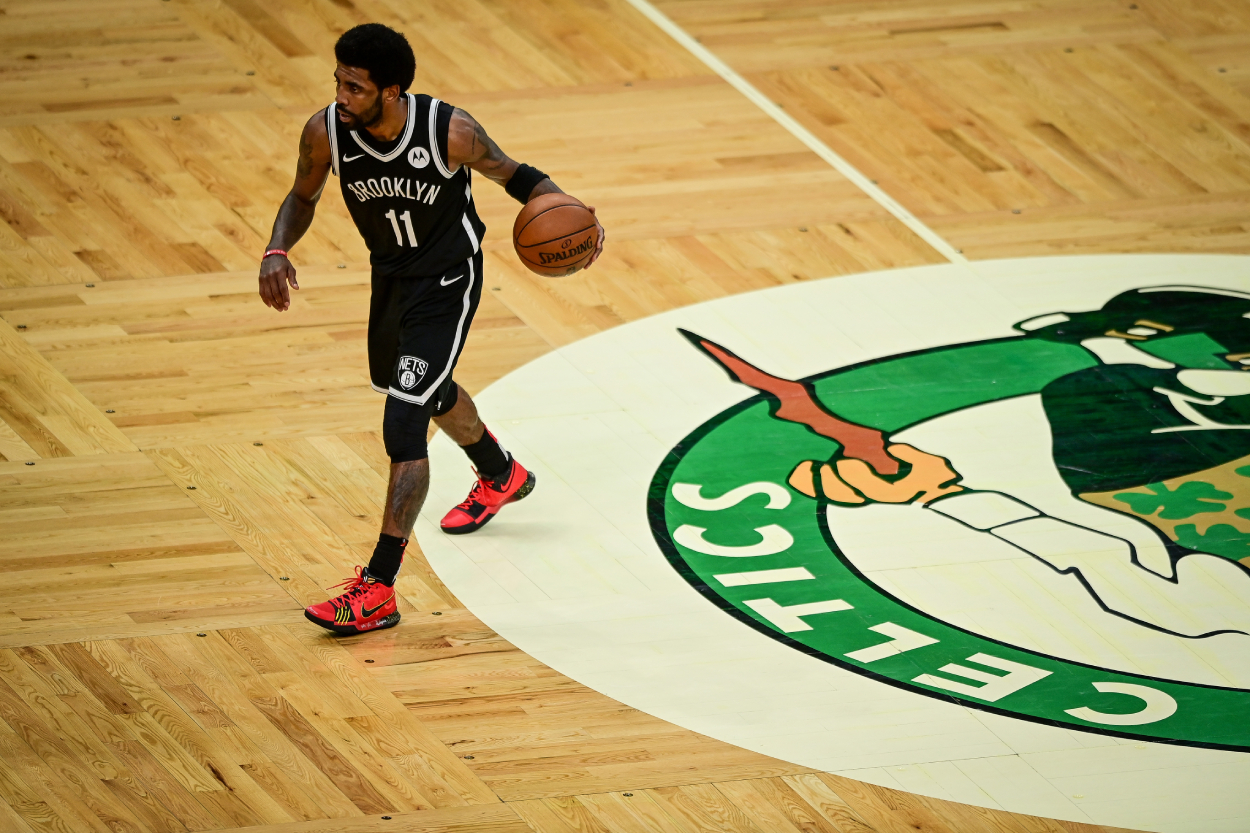 Kyrie Irving Stomps on Celtics Logo After Win, Gets Water Bottle Tossed at Him, and Kevin Durant Goes on Rant
Kyrie Irving and the Boston Celtics fans are not a good mix.
Kyrie Irving channeled his inner Terrell Owens on Sunday. After his Brooklyn Nets defeated the Boston Celtics, Irving walked over to midcourt during postgame celebrations and stomped on the Celtics logo. As he headed to the locker room, a water bottle whizzed past his head.
Kyrie Irving explodes for double-double against the Celtics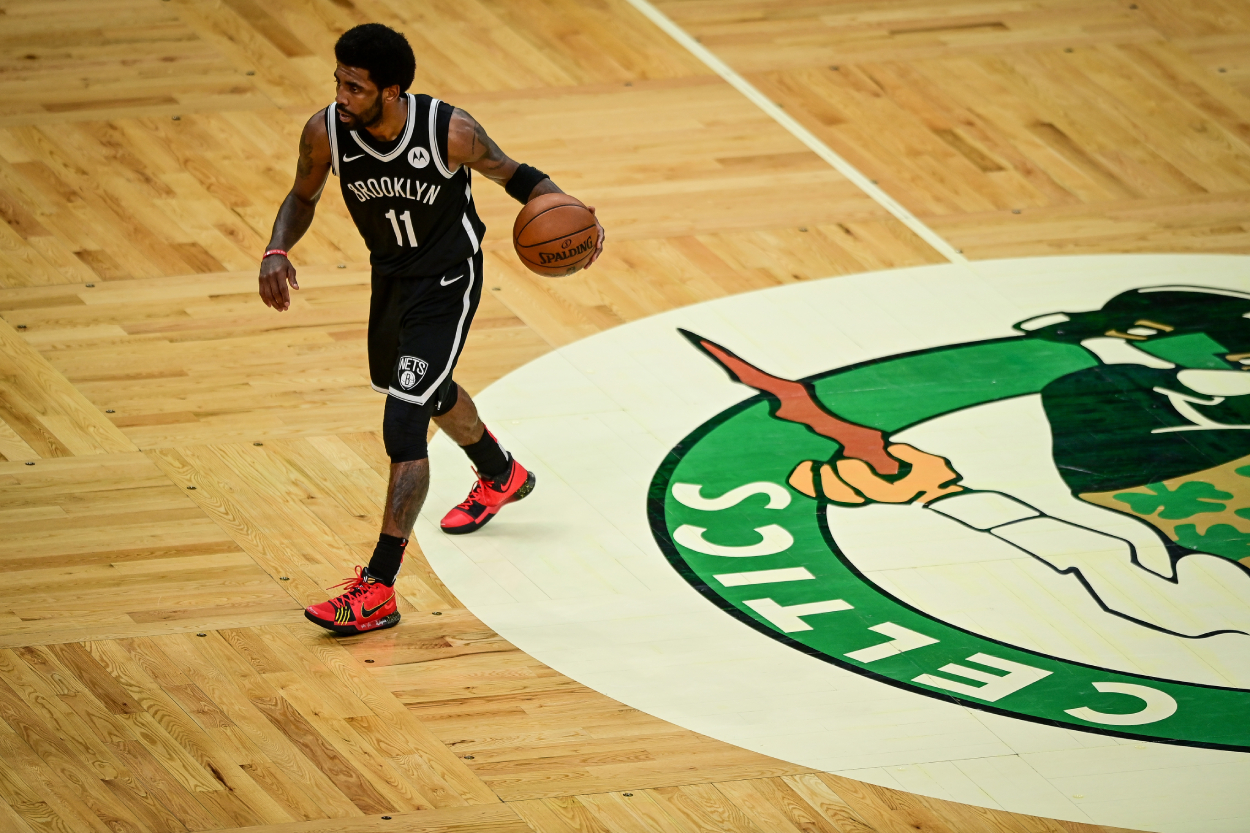 Irving's return to Boston had been highly anticipated after the Nets point guard hadn't played in front of Celtics fans since he left the team two years ago. A shoulder injury had prevented him from making an early trip to the TD Garden. The COVID-19 pandemic then prevented him from playing in front of fans. Friday was the first time he played in front of the fans who have no love for their former point guard.
He struggled in Friday's loss to Boston as the Nets trailed the best-of-seven series 2-1. Irving, however, bounced back with a huge game Sunday, racking up 39 points and 11 rebounds as Brooklyn cruised to a 141-126 win. Brooklyn holds a commanding 3-1 series lead.
Prior to Friday's game, Irving made waves. He understood the fans in Boston weren't overly fond of him and he expected them to lash out at him. He said he hoped the fans kept it to basketball.
"Hopefully, we can just keep it strictly basketball, you know there's no belligerence or any racism going on, subtle racism, and people yelling sh*t from the crowd," he said after Game 2. The comments didn't sit well with Boston fans.
Kyrie Irving's time in Boston was ugly and it's getting uglier
Irving never proved to be the leader the Celtics hoped he would be during his two years in Boston. He missed 37 regular-season games and the entire postseason in his first year. When he played in the playoffs in his final year, he was atrocious. Boston fans perceived him as a quitter and a liar. After promising to re-sign with the team during his first year, he bailed out after two seasons.
During Boston's first three losses to the Milwaukee Bucks in Round 2 of the playoffs, Irving had gone 19-of-62 from the floor. He was asked about his shooting woes and quipped, "who cares."
During Sunday's big win over the Celtics, Irving dominated. He quieted the crowd of 17,000. When the game was over, he shook hands with teammates. He made it a point to walk over to the Celtics logo and stomp on it before heading to the locker room.
Irving gets water bottle thrown at him, Kevin Durant flips out
As Irving headed to the locker room after Sunday's victory, a water bottle whizzed by his head as he approached the tunnel. The bottle appeared to come from the stands. It was a classless act by a fan. It was also considered racism by Irving.
"It's been that way in history in terms of entertainment and performers in sports for a long period of time," Irving said after the game. "Just underlying racism and treating people like they're in a human zoo. People just feel very entitled out here."
Irving's teammate, Kevin Durant, blasted the Celtic fans. "We're not animals," he said. "We're not in a circus. You coming to the game is not about you as a fan. Have some respect for the game. Have some respect for human beings. And have some respect for yourself. Your mother wouldn't be proud of throwing water bottles at players, and spitting at players, or throwing popcorn. Grow the f*ck up and enjoy the game."