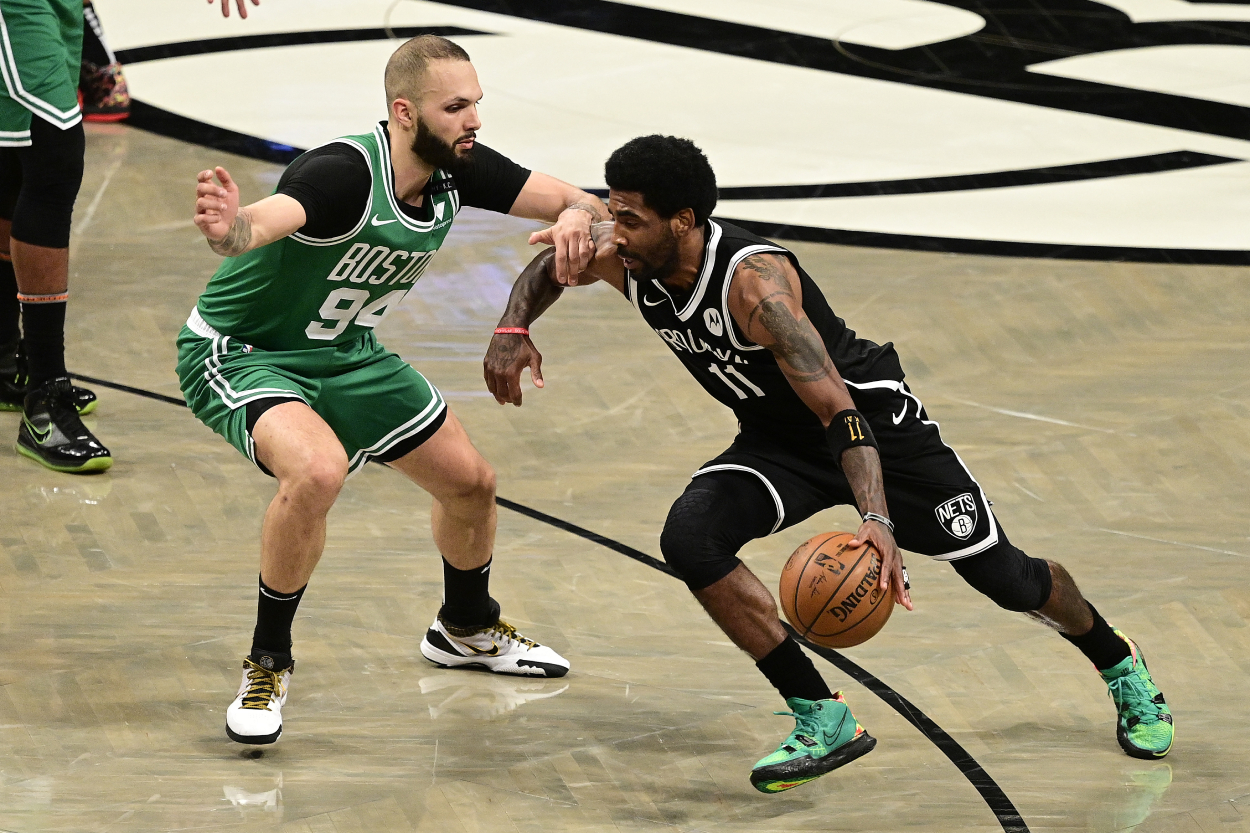 Kyrie Irving's Latest Comments Set Himself Up for an Even Rougher Return to Boston
Kyrie Irving just made things a lot more difficult for himself as far as dealing with Boston Celtics fans Friday night.
Boston Celtics fans were tough on Kyrie Irving when the Brooklyn Nets made their first trip to Boston with their new point guard during the 2019-20 season. They were chanting expletives at him during the game, and he wasn't even playing. In fact, he wasn't in the building.
He returns to TD Garden on Friday for the first time with fans in attendance since he left the Celtics. After his most recent comments, he's likely to be in for a rude awakening.
Kyrie Irving and the Boston Celtics weren't a great match
His statistics were pretty good, but Irving's time in Boston didn't go quite as planned. It began with a warm welcome at an event for season ticket holders where he promised to re-sign with the team if the fans wanted him back. The crowd roared with applause, greeting their new leader.
Two years later, he walked away.
In between that promise and his departure, he showed he wasn't the leader the Celtics brought him in to be. Boston had two young guns in Jayson Tatum and Jaylen Brown and brought in Irving to help guide them. On the court, he averaged 24.1 points and 6.1 assists for the Celtics but never proved to be the leader off it.
Injuries took their toll on Irving, who missed 37 regular-season games. He missed the entire playoff run in his first season. Celtics fans probably wished he missed the following postseason run, as well. After stealing Game 1 from the Milwaukee Bucks in the second round, the Celtics lost four straight. Irving was woeful in the Bucks series.
After a Game 4 loss, Irving had gone 19-of-62 from the floor in Boston's previous three games. He was asked about his shooting woes and began with, "Who cares." He elaborated with an un-leader-like response.
"You're being picked up full court, they are doing things to test you," he said, according to NESN. "The expectations on me are going to be sky-high. I try to utilize their aggression against them and still put my teammates in a great position while still being aggressive. I am trying to do it all."
Irving's recent comment will do nothing but light the fire under Boston Celtics fans
Celtics fans never got the chance to make their true feelings known about Irving's departure in person. He was injured when the Nets came to Boston in his first year with his new team. Then the pandemic prohibited fans from attending games. Boston fans are foaming at the mouth to lay into him.
Let's face it: The series is over.
Boston is down 2-0 and is without Brown for the series. But Celtics fans will still be behind their team and will be all over Irving. They've been waiting for this moment. Fans can be harsh. Boston fans will blast Irving all game, and he's already being asked about it. He did himself no favors with his most recent comments.
"Hopefully we can just keep it strictly basketball, you know there's no belligerence or any racism going on, subtle racism, and people yelling sh*t from the crowd," he told reporters after Game 2. "But even if it is, it's part of the nature of the game and I'm just going to focus on what we can control."
Reporters asked if he ever experienced racism in Boston before. "I'm not the only one that could attest to this," he said. "But it's just … you know … it is what it is. The whole world knows it."
Irving will catch a little break for Game 3
Boston and racism have been linked since the Bill Russell days, but Kevin Garnett said Boston fans are passionate and not racist. He said it's no different than any other city.
"The narrative of Boston before you get there is that it's a racist town, people speak their minds there," Garnett told The New York Daily News in 2019. "And all it is is no different from Miami or Southern Florida and you're a Hurricanes fan, or you're a Gator fan.
"If you're not a Boston Celtic fan, you won't get it. They root hard for their sports, they love all their sports teams, and if you're not a Patriots, Bruins fan, Red Sox, Celtic, you don't matter."
Irving will catch a small break Friday as the capacity for the game will only be at 25%. On Sunday, the Garden will be nearly full.
The Celtics fans will be tough on Irving. Even at 25%, they'll be loud. Bringing up the race card was a cheap shot by Irving, and those fans will let him hear it this weekend.