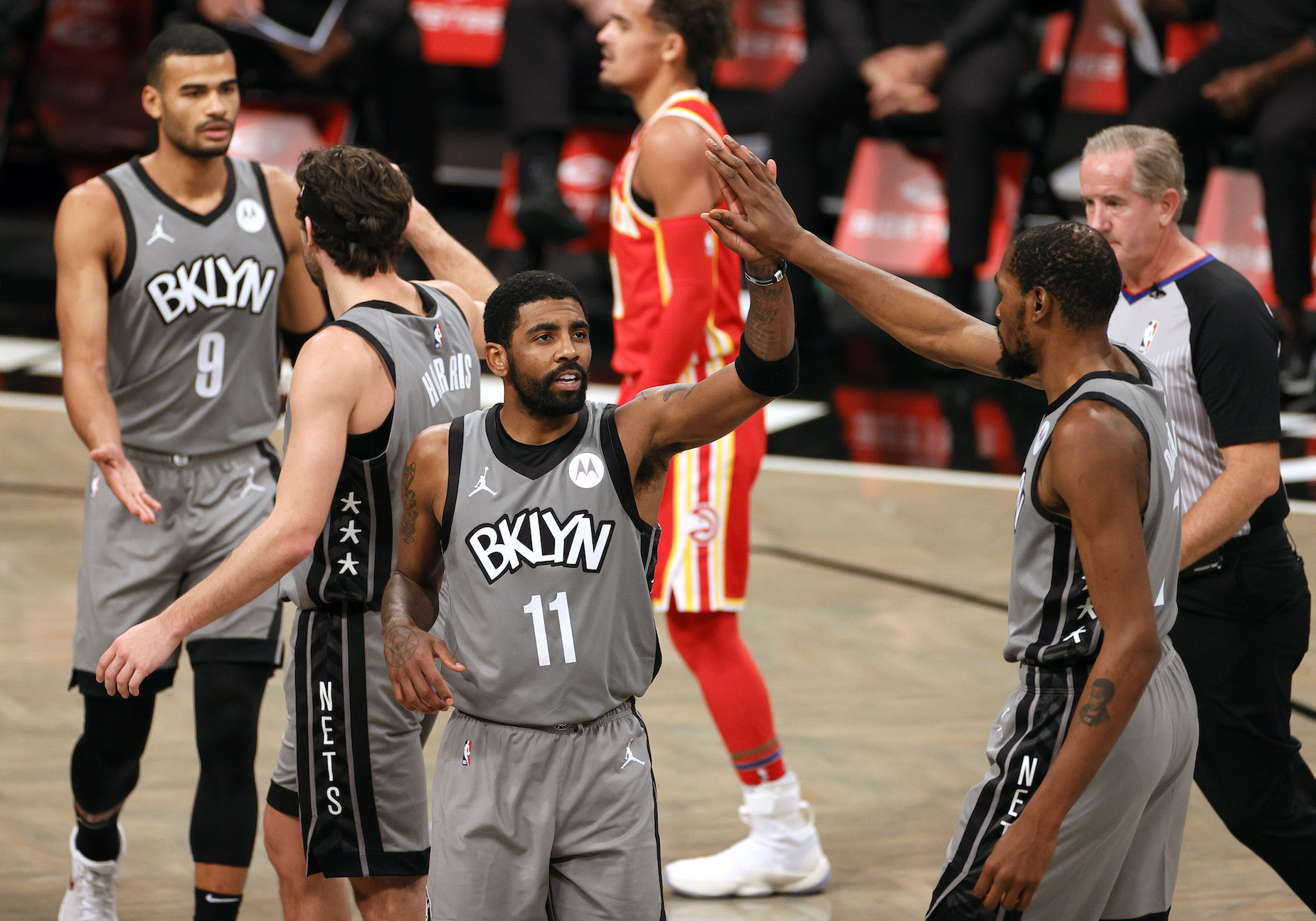 Kyrie Irving Wears Number 11 To Honor His Favorite Player Who Never Made It to the NBA
While Brooklyn Nets guard Kyrie Irving isn't the most popular man in the NBA, he wears number 11 for a pretty relatable reason.
Every player handles their jersey number differently. For some, it's a simple marriage of convenience; take whatever the equipment manager has available and run with it. In other cases, though, a number can take on a much larger meaning. Take, for example, Brooklyn Nets guard Kyrie Irving and his 11 jersey.
While he wore number 2 during his time with the Cleveland Cavaliers, Kyrie Irving switched to 11 during his time in Boston and still wears the same number in New York City. The guard made that change to honor his favorite basketball player, but that man might not be someone you'd expect.
Kyrie Irving is a talented, if controversial, NBA player
Based on his time in the NBA, it's safe to say that Kyrie Irving isn't everyone's cup of tea. When push comes to shove, though, the guard is clearly a talented player.
Irving played his college ball at Duke but had his only season on campus curtailed by a toe injury. That didn't hurt his professional prospects, though, and he joined the Cleveland Cavaliers as the first-overall pick of the 2011 NBA draft. Alongside LeBron James, the young guard looked like a star.
Things in Cleveland didn't end happily, though; Irving eventually tired of sharing the spotlight and requested a trade. While he got his wish and joined the Celtics, things didn't get much better. Between injuries and thinly veiled comments about attitude and leadership, Kyrie eventually left town again. In Brooklyn, the distractions have continued to surface.
Beyond those dreaded 'character concerns' though, Irving is undeniably a talented player. During his time in the association, he's averaging 22.6 points, 3.7 rebounds, and 5.7 assists per outing.
His father was also a pretty talented player
Kyrie Irving isn't the only basketball player in his family, though. His father, Drederick, was also more than capable of holding his own on the hardwood.
The elder Irving played his college basketball at Boston University, where he spent four years with the Terriers. While he only averaged a little over six points per game as a freshman, that was only the beginning; after that, he averaged 18, 18.8, and 19.9 points per outing. As explained by Jonathan Chang of BU Today, Irving's fingerprints are still all over the program's record books.
Drederick, however, never made it into the NBA. He did try out for the Boston Celtics but ultimately played his professional ball overseas. Kyrie, however, still appreciates his father's accomplishments.
Kyrie Irving wears 11 because of his favorite player: his father
Drederick Irving never made it to the NBA. Kyrie, however, didn't care about that.
"My mom passed away when I was young, so my dad had to raise my sister and I alone," Kyrie explained in a Nike commercial. "He was a great player, even tried out for Boston once, but he sacrificed his dream so I could live mine. He's the reason why I wear number 11."
In 2017, Irving gave his dad his first Celtics jersey. The guard took to Twitter, adding, "#11 for Mr. Miagi aka my favorite player aka my best friend. Love you Dad. always."
Based on his behavior, plenty of basketball fans don't care for Kyrie Irving. His reason for wearing number 11, however, is something that everyone can appreciate.
Stats courtesy of Sports-Reference and Basketball-Reference