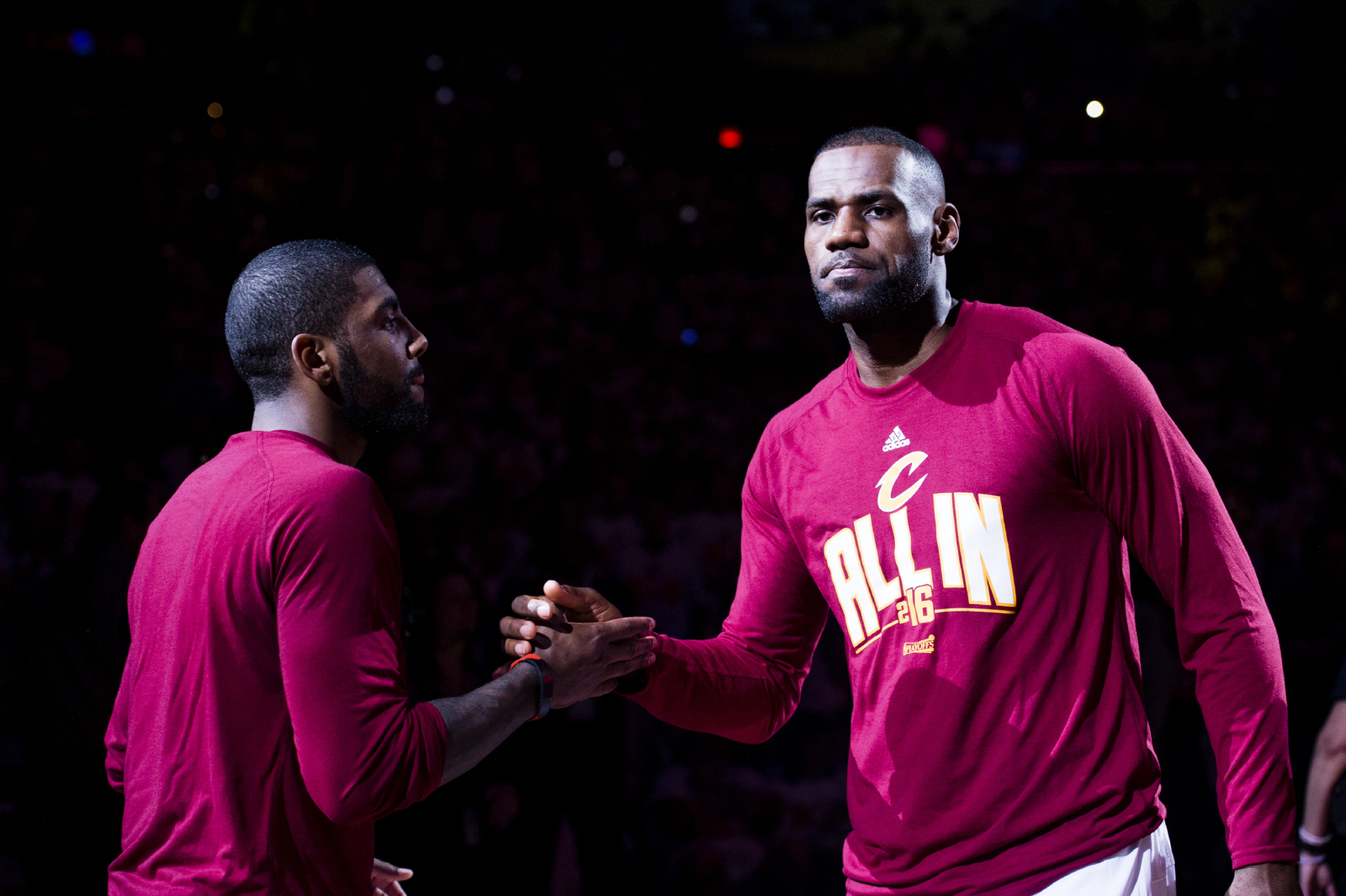 Kyrie Irving's Real Issue With LeBron James Might Have Recently Been Revealed
There has been a ton of speculation about the relationship between Kyrie Irving and LeBron James. Well, we maybe have some answers now.
LeBron James and Kyrie Irving had a ton of success in the three seasons they played together on the Cleveland Cavaliers. However, Irving ultimately left James in Cleveland, and James then went to the LA Lakers the next offseason. Since their split, though, there has been a ton of speculation about what went wrong between the two of them. Well, their former teammate Kendrick Perkins might have just given everyone the answer to that question.
LeBron James and Kyrie Irving won a championship on the Cleveland Cavaliers
LeBron James played on the Cleveland Cavaliers for the first seven seasons of his NBA career. He then went to the Miami Heat in 2010-11, which led to the Cavaliers ultimately selecting Irving with the No. 1 overall pick in the 2011 NBA draft.
Irving then played really well for the Cavaliers from 2011-12 through 2013-14 without James. He won the Rookie of the Year award in 2011-12 and earned an All-Star selection in the next two seasons after that. However, James returned to Cleveland in 2014-15, and the Cavs created a super team with James, Irving, and Kevin Love.
The three of them helped the Cavaliers become one of the best teams in the NBA that season. They even reached the NBA Finals. However, Love suffered an injury in the playoffs that year, and Irving then suffered an injury in Game 1 of the Finals. This led to the Cavaliers ultimately losing to the Golden State Warriors in six games.
The Cavaliers then reached the NBA Finals again in 2015-16, and this time Irving and Love played. Cleveland ultimately fell behind to the Warriors 3-1 in the series, but they came back and won in seven games. James, Irving, and Love led the Cavs back to the Finals in 2016-17, too. The Warriors added Kevin Durant that season, though, and the Cavs ultimately lost the series in five games. 
After that season, Irving reportedly requested a trade from the Cavaliers. The Cavs then sent him to the Boston Celtics. James and Love ultimately took the Cavaliers to the NBA Finals again in 2017-18, but James went to the LA Lakers after that season.
There has been speculation about their split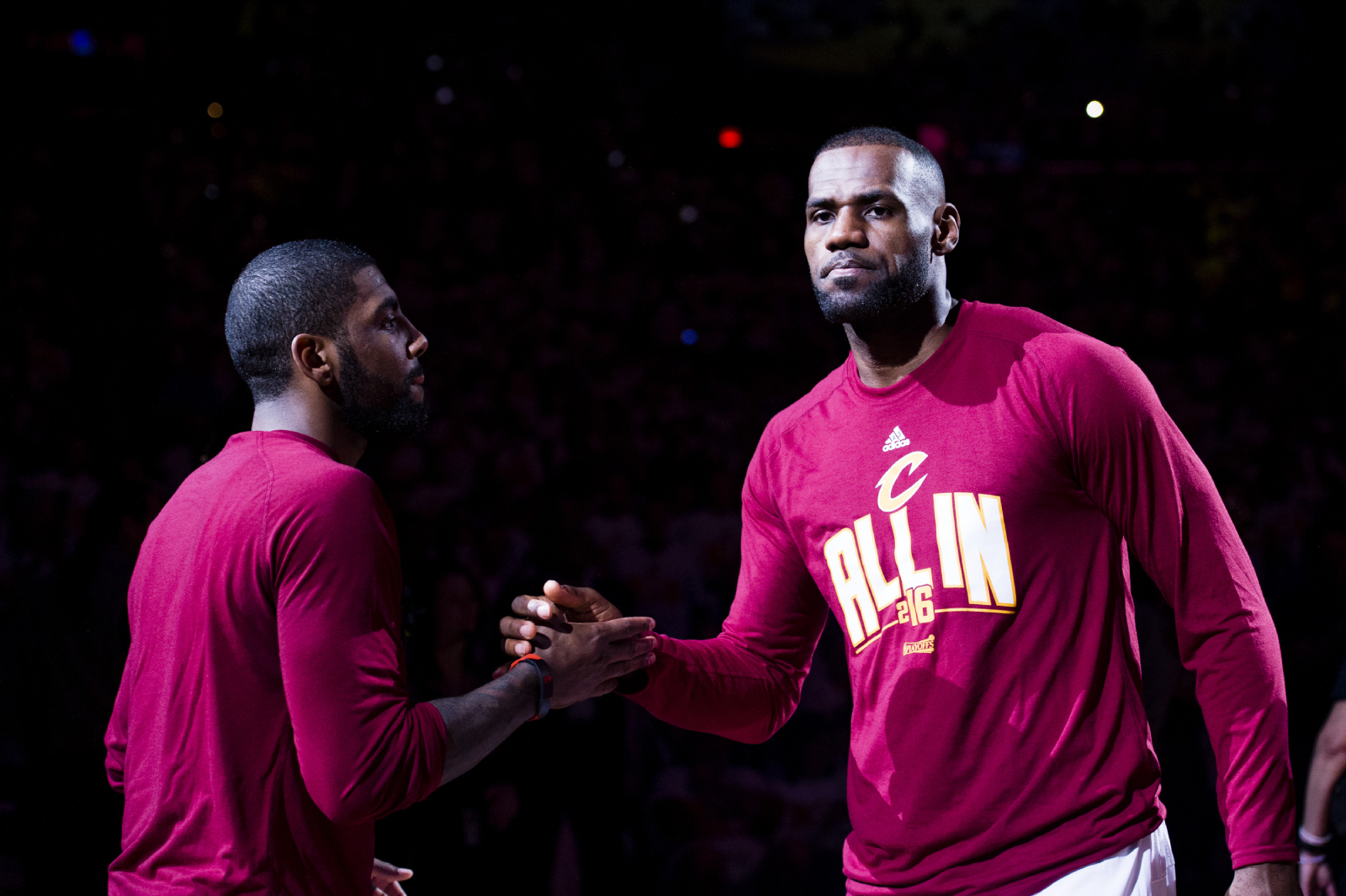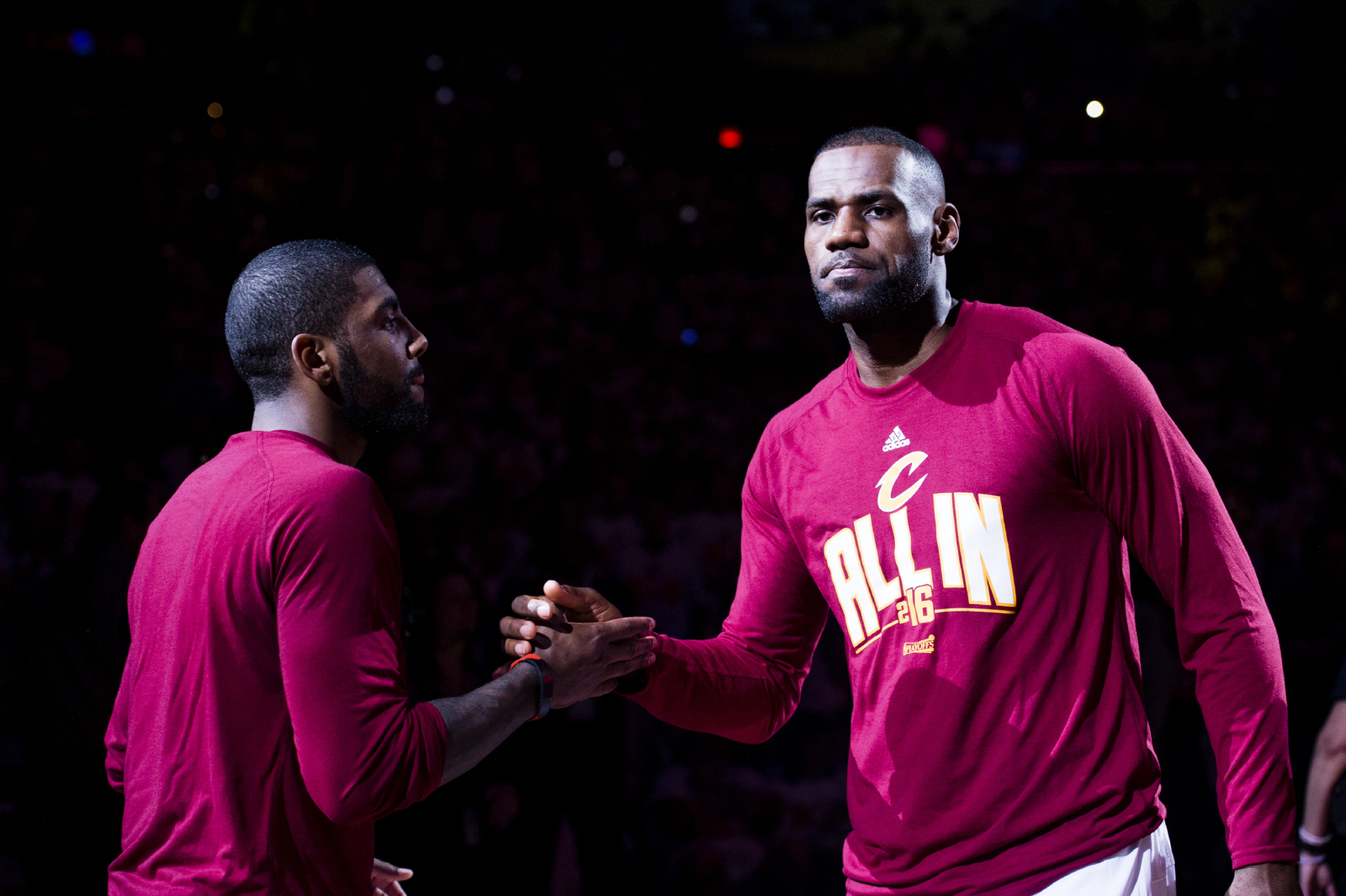 Many people have wondered if friction led to Irving leaving the Cavaliers. This belief gained some steam again recently, too.
During the 2020 NBA Finals, when LeBron James and the Lakers defeated the Miami Heat, Irving — who is now on the Brooklyn Nets — said this about his teammate Kevin Durant.
"One thing I've always been comfortable with, I felt like I was the best option on every team I played for down the stretch," Irving said, according to ESPN. "This is the first time in my career I've looked down and be like, 'That motherf***** can make that shot too.' And he'll probably do it a lot easier."
James has since recently said that those comments "hurt" him "a little bit," according to ESPN.
Kyrie Irving's real problem with LeBron James was potentially revealed
Kendrick Perkins played on the Cavaliers with James and Irving in 2014-15.
He recently appeared on The Ringer's the Real Ones and gave some insight into what happened between James and Irving.
"To me, it almost felt like a sense of jealousy was there on Kyrie's part," he said, according to the New York Post. "You have to realize, Kyrie was there, he was their guy before Bron got there, although Cleveland was in the lottery every damn year and Kyrie was the head of the snake and the No. 1 option. When LeBron came, all of a sudden you're a contender. Well, also LeBron gets special privileges. But who gives a damn? Every team I've been on, the No. 1 option or the franchise guys get special privileges. But a Robin is not going to get the same privileges of a Batman. It's just not going to happen."
The special privileges are what Irving's real issues appeared to be, according to Perkins.
"He was trying to measure up and be LeBron so bad instead of just basically following his lead," Perkins said, according to the New York Post. "All Bron was trying to do was show Kyrie the ropes and take him under his wing. It was so many times Bron deferred to Kyrie, like, 'Here man, just take over,' and was cool with it. … Not because he wasn't clutch, [but] because he knew what he had in Kyrie. Like, 'go ahead young fella, do your thing.' So it's hard for me to say what really went on, but I know from what I saw that Kyrie probably just got tired of Bron getting special privileges. But he's an iconic figure, what do you expect?"
Is this what Irving's problem really was? We may never know for sure, but Perkins probably gives as good of insight as any. It's a shame that Irving and James couldn't play together longer than just three seasons.
Stats courtesy of Basketball Reference