LeBron James Just Addressed When He Plans To Retire From Basketball
LeBron James has had one of the best NBA careers of all-time, as he has been playing at a high level in the league for almost two decades. James just finished his 17th NBA season, and capped it off by winning a title with the LA Lakers. So, given that James has been dominating for so long, and given that he turns 36 years old in December, how much longer can he keep this up? Well, recently, James addressed the question about when he plans to retire from basketball.
LeBron James has been dominating for 17 seasons
There was a ton of hype surrounding James when he entered the NBA out of high school. He has lived up to every bit of it and then some too. 
James began his career in his home state as the Cleveland Cavaliers selected him with the No. 1 overall pick in the 2003 NBA draft. After winning the 2003-04 Rookie of the Year award with the Cavaliers, he ended up leading that franchise to heights it had never seen before. He helped the team reach its first-ever NBA Finals appearance in 2006-07, and in 2008-09, James helped the Cavs win more games in one season than they ever had before.
In 2010, James then went to the Miami Heat, which is where he became a champion. He led the Heat to four consecutive NBA Finals appearances, and they ultimately won back-to-back titles in 2011-12 and 2012-13. 
James then returned to Cleveland in 2014 and went to four more consecutive NBA Finals with them, making it eight consecutive overall for him. James also ended up winning a title with the Cavaliers in 2016.
During the 2018 offseason, James left the Cavaliers again and took his talents to the LA Lakers. The Lakers had a down year during his first season, but in 2019-20, James — in his 17th NBA season — led the Lakers to a championship with his star teammate Anthony Davis.
For his career, James is a 16-time All-Star, four-time MVP, four-time NBA champion, and a four-time NBA Finals MVP. James has also led the NBA in points per game in one season and in assists per game in another season. His 34,241 career points are third all-time in NBA history, and his 9,346 career assists are eighth all-time.
LeBron James addressed when he plans to retire from basketball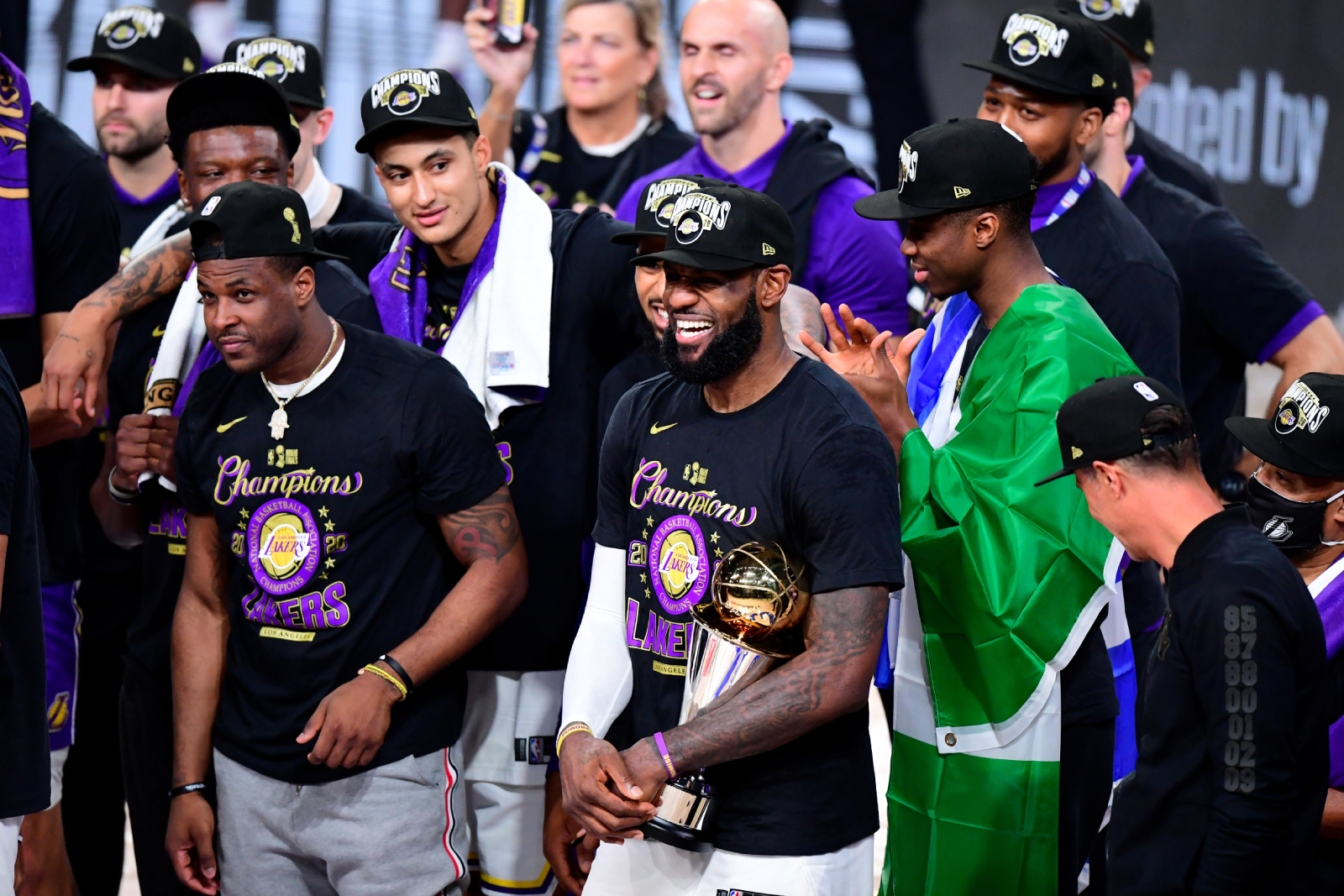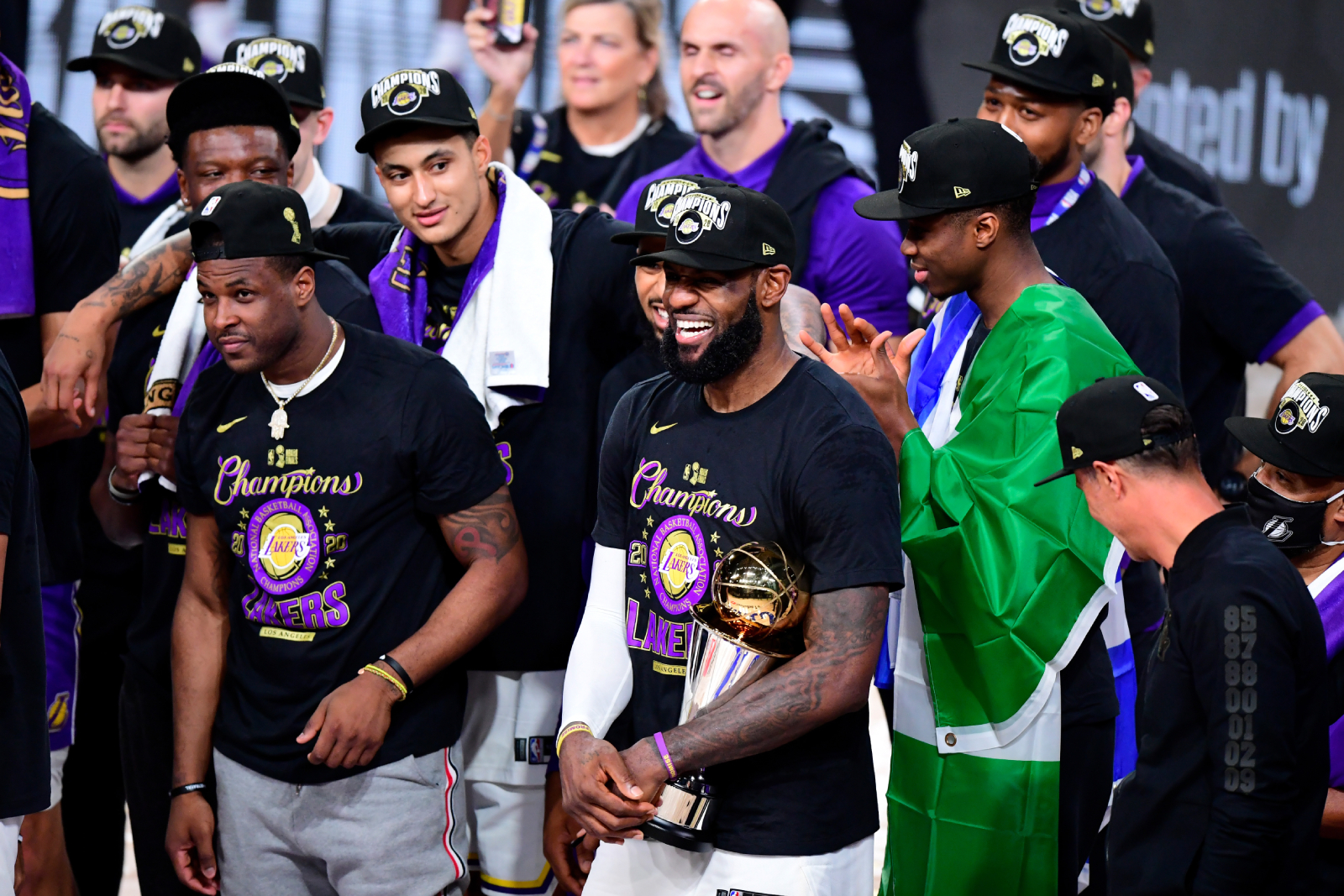 After winning his fourth championship, James joined NBATV's GameTime, and he addressed when he plans to call it quits.
"I don't know, I have not put a cap on it," James said. "I know I got a lot of years left, and what that looks like, how many years that looks like, I'm not sure. I know I can continue to play at a high level."
So, James clearly knows that he has a lot left in the tank. He also added this.
"A lot of it has to go into my family as well, having three kids, having a high school sophomore right now, a lot of that stuff plays a part. As far as the game — I know I can play the game for quite a while."
How much longer can LeBron James continue to play at a high level?
By just looking at James' production this past season, it appears that he can continue to play well for the foreseeable future.
In 2019-20, James averaged 25.3 points per game and 7.8 rebounds. He also led the NBA in assists for the first time in his career, as he averaged 10.2 dimes per game. James turned it up a notch in the playoffs too, which helped lead the Lakers to the championship. During the playoffs, James averaged 27.6 points per game, 10.8 rebounds, and 8.8 assists. 
James has arguably been the league's best player in every season that he has played in the league. That was especially the case during his 17th season. It is truly remarkable how long he has been able to sustain his excellence.
Given how effective he still is while on the court, and given that he knows that he still has a lot left, it appears that James is going to continue to dominate in the NBA for quite some time.
Stats courtesy of Basketball Reference