Lakers Owner Jeanie Buss Just Revealed How Much Longer She Wants LeBron James To Play
LeBron James and the LA Lakers are just four wins away from winning an NBA championship. Reaching the Finals is an extraordinary feat for James as he is not only in his 17th season, but it is also his ninth appearance in the Finals in 10 years. So, how much longer can he keep this up? Does James still have years of great basketball left? The number of years James has left is unclear, but Lakers owner Jeanie Buss just revealed how much longer she wants him to play.
LeBron James and the Lakers are in the NBA Finals
Things did not look great for LeBron James and the Lakers during James' first season in LA. The Lakers ultimately went 37-45, and James missed the playoffs for the first time since 2004-05. Overall, James dealt with injury that year as he only played in 55 games, but he also didn't have any help. The Lakers' next-best players behind James that year were Kyle Kuzma and Brandon Ingram.
However, this year, the Lakers have been incredible. James was an MVP contender all year as he averaged 25.3 points per game, 7.8 rebounds, and a league-leading 10.2 assists. He is also a part of one of the greatest duos of all-time as the Lakers also have Anthony Davis, who averaged 26.1 points per game and 9.3 rebounds. The two of them ultimately led the Lakers to a 52-19 record and the No. 1 record in the Western Conference.
Despite the long hiatus that the NBA took for COVID-19, the Lakers have still dominated in the playoffs since resuming play. James has averaged 26.7 points per game, 10.3 rebounds, and 8.9 assists in the postseason, while Davis has averaged 28.8 points per game and 9.3 rebounds. They ultimately helped the Lakers win each of their first three playoff series by five games as they defeated the Portland Trail Blazers, Houston Rockets, and Denver Nuggets, on their way to reaching the NBA Finals.
He left a strong impression on Jeanie Buss
Nine months into James' time with the Lakers, he and Lakers owner Jeanie Buss had dinner together. James ultimately left a strong impression on Buss too.
"We've had so many great Lakers that I've been around — Magic (Johnson), Shaq (O'Neal), Kobe, Pau Gasol — Hall of Famers," Buss said on Sept. 29 episode of The Athletic NBA Show, per The Atheltic. "(James is) such a strong presence. His leadership is really something so unique. He's fearless, and I really feed off of that. His strength empowers me, and I'm sure that's how the rest of the team feels." 
Buss also praised how James has embraced the legacy of the Lakers' franchise.
"He really has embraced the legacy of the Lakers, the history of the Lakers," Buss said, according to The Athletic. "When we sat down for dinner, he brought up some things where I was really surprised because he'd really done research on what my Dad (Jerry Buss) built and the innovations my Dad brought (to the NBA). He did a deep dive into Lakers history. … I just appreciated that LeBron could appreciate who my Dad was, and him bringing up his name really touched my heart."
Jeanie Buss revealed how much longer she wants LeBron James to play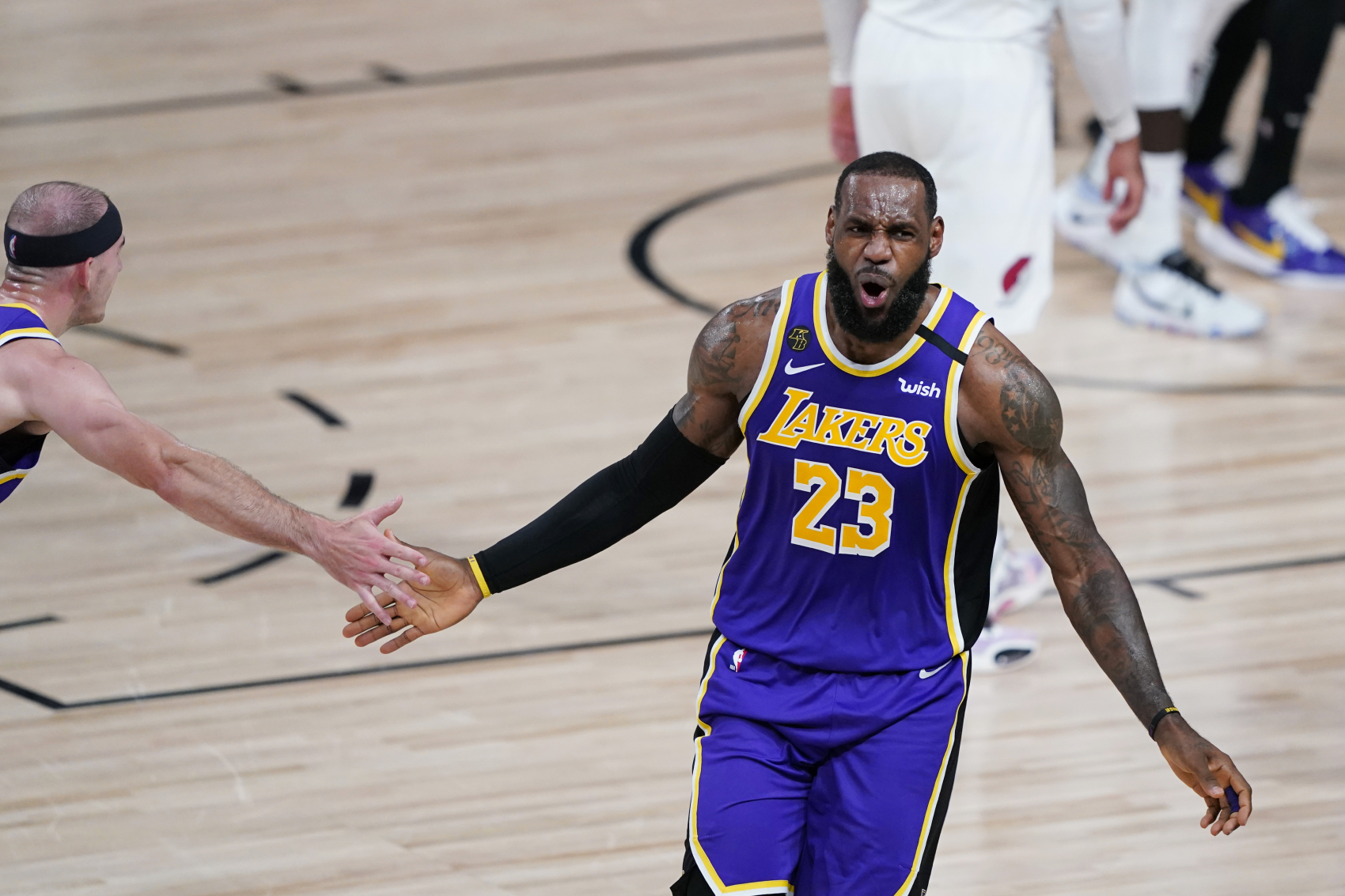 James is certainly near the end of his NBA career. Buss, however, wants him to play for much, much longer.
"I hope he plays for many, many more years. But whatever his term is with the Lakers, he has forever left his mark on this team and this organization and on me," Buss said, according to The Athletic.
No matter how much longer James plays with the Lakers, though, Buss admits that he is already a big part of the franchise's storied history.
"He is somebody that I treasure, and I will protect," Buss said, according to The Athletic. "I have just enjoyed watching him play and nurture along his teammates and bring out the best in them. He really is the most unique person in the league today. I couldn't be more proud that he's a Laker. He belongs as part of our history, and he's bringing this franchise back to where it should be."
LeBron James' future in the NBA, and with the Lakers, is unknown. One thing is for sure, though: James' legacy as one of the greatest of all-time is already cemented, and a championship this year will just add on to that.
Stats courtesy of Basketball Reference