Kendrick Perkins' Mother Was Tragically Murdered Before He Became a Basketball Star
Kendrick Perkins is one of the most well-known faces around the NBA. He not only helped multiple teams, like the Boston Celtics and Oklahoma City Thunder, have success during his career, but Perkins now talks about the league on ESPN. Life for Perkins was not always great, though. He dealt with a lot of hardship before becoming a basketball star. This includes losing his mother at a young age.
Kendrick Perkins is an NBA champion
In high school, Perkins was a top-ranked recruit, but he decided to skip college and go straight to the NBA. This led to him being picked 27th overall in the 2003 NBA draft.
Perkins then began his NBA career with the Boston Celtics, and he was a nice role player for some really good teams while he was there. The Celtics lost in the first round of the playoffs in 2003-04 and 2004-05 (Perkins only played in 10 games in 2003-04 too), and they then missed the playoffs in 2005-06 and 2006-07. 
However, in 2007-08, the Celtics, who were led by Kevin Garnett, Paul Pierce, and Ray Allen, won the NBA Finals. The Celtics then lost in the Eastern Conference Semifinals in 2008-09. They went back to the Finals, though, in 2009-10 before losing to the Los Angeles Lakers. The 2009-10 season was Perkins' best season statistically too. He averaged 10.1 points per game, 7.6 rebounds, and 1.7 blocks.
During the 2010-11 season, the Celtics traded Perkins to the Oklahoma City Thunder. He was a valuable role player for the Thunder too. Perkins helped them reach the NBA Finals in 2011-12 and the Western Conference Finals in both 2010-11 and 2013-14. 
Then in 2014-15, after the Thunder traded Perkins and the Utah Jazz then waived him, Perkins played in 17 regular-season games for the Cleveland Cavaliers. He also played in eight playoff games for them, and the Cavaliers went to the NBA Finals. 
Perkins then appeared in 37 games for the New Orleans Pelicans in 2015-16, and then one game with the Cavaliers in 2017-18. That was ultimately the last time he played in the NBA as he now works for ESPN.
Perkins' mother was murdered when he was five years old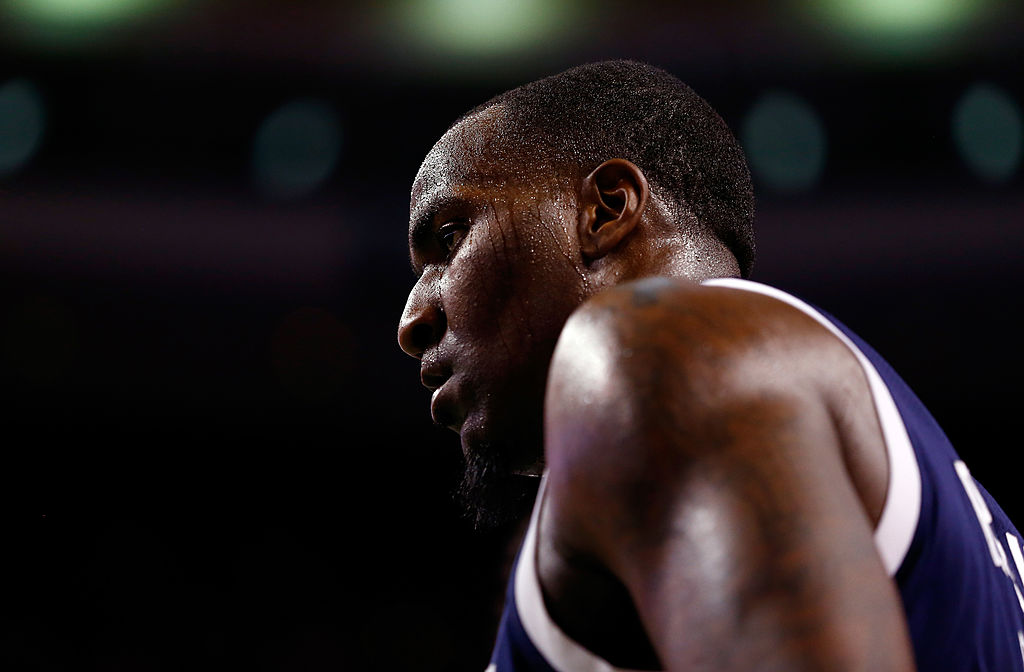 Perkins was born in 1984 to Kenneth Perkins and Ercell Minix. His dad had just been a college basketball star at Lamar University. However, he then went overseas for his professional career, according to The Oklahoman. Then a few years later, Perkins lost his mom too. 
Minix was later shot in the neck by her close friend, according to The Oklahoman. It occurred while she was working at a beauty salon. Minix and her friend had been arguing off and on for a couple of weeks before the shooting. She was ultimately on life support for six days before she died. 
Perkins then did not have parents at just five years old, which led to him ultimately moving in with his grandparents. 
His grandparents raised him after his mother's death
His grandparents, Raymond and Mary Lewis, ultimately raised Perkins.
"Grew up in a very poor household," Perkins said, according to The Oklahoman. "We ended up making it work."
Perkins then made it his life goal to put his family in a better position than they had been in. 
"I grew up and my whole goal … was not only to make it to the NBA but I just had it on my mind to get my grandparents out of this situation," Perkins said, according to The Oklahoman. "If you see the house I grew up in, I was like, 'I've just got to make it better for my family.'"
Perkins did just that, not only becoming a basketball star but now starring on TV on ESPN.
Kendrick Perkins is a well-known personality around the NBA. The road to get to where he is now, though, wasn't always easy.
Stats courtesy of Basketball Reference