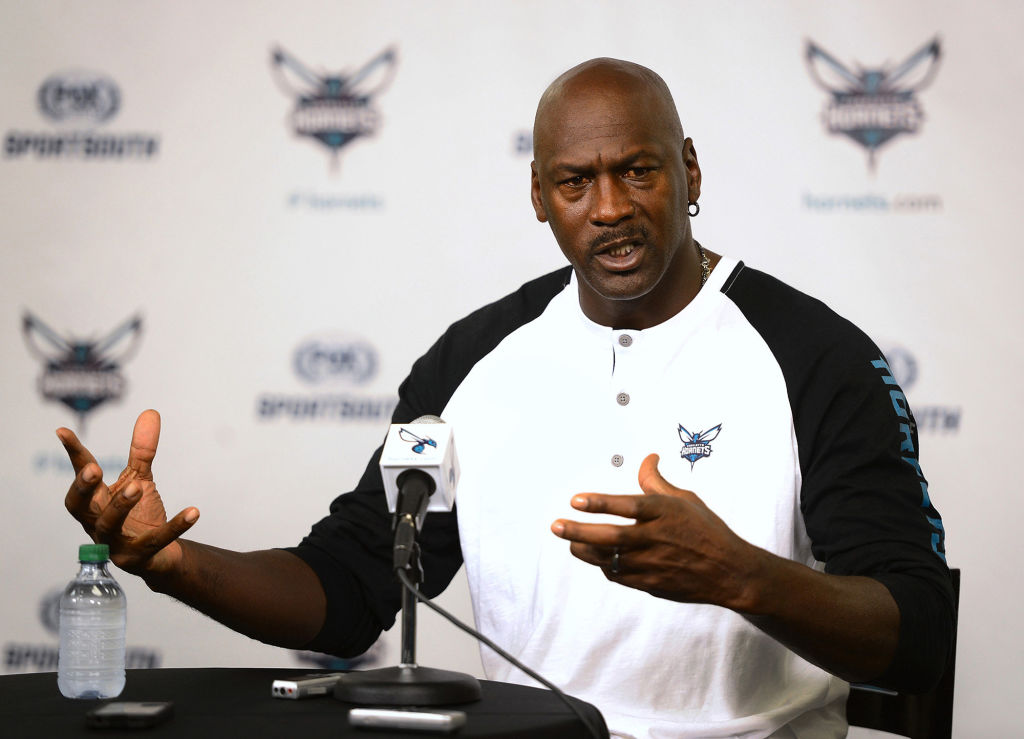 Kendrick Perkins Blasts Michael Jordan for Breaking 'Every Player Code' in 'The Last Dance'
While most viewers loved 'The Last Dance,' Kendrick Perkins took issue with Michael Jordan and his on-screen violations of 'player code.'
While Michael Jordan hasn't played a professional basketball game in almost 20 years, His Airness still towers over the sport. We saw that reality first hand during The Last Dance; without live sports, the series became appointment viewing. Most fans enjoyed the walk down memory lane, but not everyone was thrilled with what they saw.
One of those critics is Kendrick Perkins. As a former NBA player, the big man took issue with one particular aspect of the series: The Last Dance and, in turn, Michel Jordan broke "every player code" imaginable.
'The Last Dance' wasn't perfect, but Michael Jordan is still dominant
In the best of times, basketball fans would have loved a 10-hour-long series about Michael Jordan. With most live sports suspended, though, The Last Dance became appointment viewing. Sunday nights and Monday mornings became a collective time to reminisce about His Airness' greatness.
Unsurprisingly, that reality was reflected in the numbers. According to CNN Business, The Last Dance immediately became ESPN's most-watched documentary series ever, accumulating an average of 5.6 million viewers per episode. Beyond that commercial success, however, there were a few issues.
In order to get Jordan to cooperate, he needed to have some editorial control over the project. While that relationship is understandable—you couldn't make The Last Dance without Jordan and his blessing to dip into behind the scenes videos from the seasons in question—it tainted the accuracy of the series. As Ken Burns noted, the finished product ended up veering more toward entertainment than proper journalism or history.
Kendrick Perkins took issue Micheal Jordan violating 'player code'
RELATED: Lakers Fans Should Thank Kendrick Perkins for the LeBron James-Anthony Davis Union
Concerns about The Last Dance, however, weren't limited to Ken Burns. Former NBA center Kendrick Perkins took issue with the series and Michael Jordan's flagrant disregard for "player code."
"When you look at The Last Dance, the whole documentary, it made Michael Jordan look like a superhero, and it made everybody else look like a villain," Perkins explained on ESPN's The Jump, according to NBC Sports. "Michael Jordan broke every player code imaginable.
"Some of the things he was saying with Scott Burrell, saying that he was in the club every night. Talking about what Horace Grant said about guys doing drugs, everyone except for him," Perkins continued. "And then, The Last Dance hurt Scottie Pippen. People today are looking at Scottie Pippen like a selfish individual.
Some Chicago Bulls aren't thrilled 'The Last Dance,' either
As Kendrick Perkins noted, The Last Dance didn't paint the rest of the Chicago Bulls in the best light. We know that at least two of Michael Jordan's teammates weren't thrilled with the series.
After The Last Dance aired, Horace Grant wasn't shy about airing his grievances. While the forward has been complimentary of MJ in the past, he didn't appreciate being labeled a locker room snitch. Grant also didn't like how the series portrayed Scottie Pippen; while Pippen himself reportedly isn't thrilled, either, we haven't heard from him firsthand.
Craig Hodges, who spent four seasons with the Bulls, also shared his impressions of The Last Dance. He noted that Jordan was a prisoner of capitalism and his own success, in effect saying that His Airness wouldn't tell his story without painting himself as the heroic protagonist.
In a way, The Last Dance solidified the two sides of Michael Jordan. While he was an incredible talent and an unstoppable winner, that success came at a cost. While MJ got the rings and awards he wanted, he won't go down in history as a great teammate or an especially nice guy.
"At the end of the day, 'The Last Dance' was to praise Mike — which it should have been — but you didn't have to tear down other people to praise your greatness," Kendrick Perkins concluded, "because your greatness alone speaks volumes for itself."