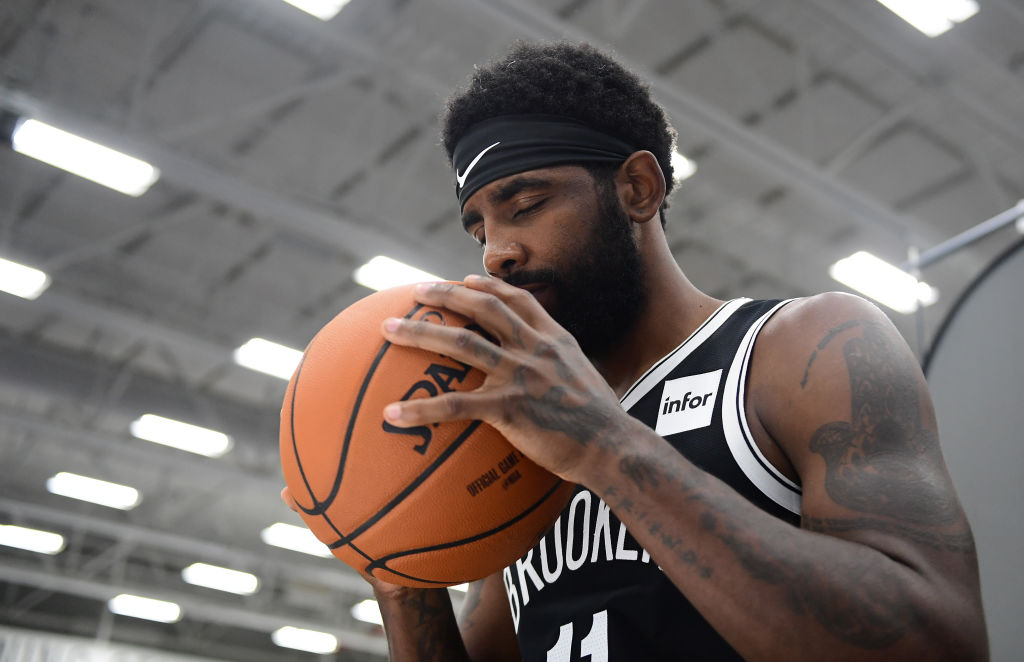 For Kyrie Irving, Father's Day Has Always Had a Special Meaning
For six time NBA All-Star and current Brooklyn Nets guard Kyrie Irving, Father's Day has always had a special meaning.
Kyrie Irving has been making a lot of noise in the NBA recently. Irving, who was out for the season because of shoulder surgery when the season was put on hold on March 11, has said he doesn't believe the league should resume its season. He believes all focus should be on social reform and basketball would take some of the attention of addressing the issue. Irving is a veteran NBA player, having been in the league for nine years. He can thank his father Drederick for helping him get to where he is today.
Kyrie Irving's NBA career
After playing just one year of college basketball at Duke, Kyrie Irving became the first pick in the 2011 NBA draft by the Cleveland Cavaliers. In his first season, Irving played 51 games and averaged 18.1 points and 5.4 assists per game. He was named the NBA Rookie of the Year.
Irving played his first six seasons with the Cavaliers, winning a championship in 2016. During that season, Irving played 53 games and averaged 19.6 points per game. After his six years in Cleveland, Irving was traded to the Boston Celtics and had two statistically good seasons, but team chemistry was in question. Irving, expected to be the leader of a young team in Boston, took the brunt of the criticism and lasted two years. He signed a free-agent deal with the Brooklyn Nets this year.
Irving has been injury-prone for most of his career. He's played in more than 70 games just three times in his nine seasons and took part in 20 games this season before dealing with his shoulder injury. For his career, Irving has averaged 22.4 points and 5.7 assists per game. He is a six-time NBA All-Star.

Irving opposing the return of the NBA this year
Kyrie Irving's leadership skills have always been in question. That reached its peak during his time in Boston when he was supposed to come in and provide veteran leadership to a young team led by Jayson Tatum and Jaylen Brown. Irving had played in the shadow of LeBron James in Cleveland and when he broke away, it was time for his leadership skills to come into play. It never happened.
His leadership skills are being questioned once again by his recent comments about opposing the league's return this year. NBA Insider Shams Charania tweeted about Irving's stance on the proposed NBA return to Orlando in late July. "I don't support going into Orlando," Irving said. "I'm not with the systematic racism and the bull**it. Something smells a little fishy."
Irving also said he was "willing to give up everything I have" for social justice reform, according to Charania. It was even reported Tuesday that Irvin had proposed that players could start their own league, according to the New York Daily News.
Irving's strong relationship with his father
When Kyrie Irving was 4, his mother Elizabeth died and his father Drederick Irving took over as a single parent. Drederick played professional basketball overseas and has always had a strong influence on his son. "Every single Father's Day means so much to me," Irving told Yahoo! just before he was drafted in the NBA in 2011. I'm so close to him. He's my big brother, but also my father."
Drederick said he knew Kyrie would be something special, especially after son beat father 15-0 in back-to-back games of one-on-one when Kyrie was 16. "He thought I was going to give him this lecture," Drederick said. "I said, 'Ky, the way you beat me is the way you should beat a 42-year-old. He killed me, beat me 15-0 and it wasn't even a game. I felt good because he got me. He wasn't nice to me because I was his dad. He destroyed me and was talking smack the whole game. To me, it was validation that Kyrie was ready to move on to make the next step."
When Kyrie was in the fourth grade, his youth team played on the New Jersey Nets court and at that point, he knew he wanted to play in the NBA. That, combined with the fact his father never got the chance to reach that level, fueled him. "I will play in the NBA, I promise," he told his father then. He then thanked the man who helped put him and keep him on the right path. "I wouldn't be where I am as a young man without him," Kyrie said.