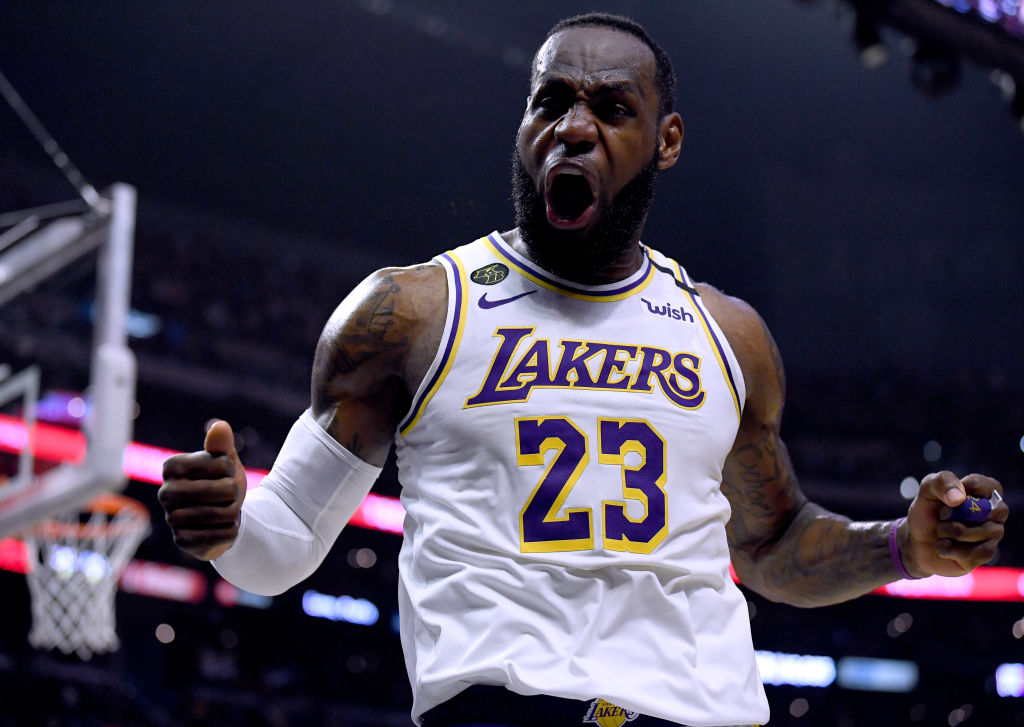 The 5 Players That Made More Money Than LeBron James This NBA Season
A look at the five players who made more than Los Angeles Lakers superstar LeBron James during the 2019-2020 NBA season.
If and when the NBA returns this season, LeBron James will have the Los Angeles Lakers in a great position to win a 17th NBA championship. Alongside fellow All-Star Anthony Davis, James is having yet another MVP-caliber season and could walk away with the trophy for the fifth time.
Before the NBA shut down in March due to COVID-19, James was having one of the best all-around seasons of his career, averaging 25.7 points, a league-high 10.6 assists, and 7.9 rebounds. Not bad for a guy in his 17th year. However, while he could end the season with his fourth NBA title and fifth MVP, we do know at least one list he won't top this season: the NBA salary list. Making $37,436,858 this season, LeBron was sixth on this season's earnings list, at least on the court.
While still arguably the best player in the NBA, five players had higher salaries than LeBron James this season, one of whom played just five games and another who didn't play at all.
Stephen Curry: $40,231,758
Stephen Curry has bested LeBron James in three out of four matchups in the NBA Finals and came out ahead yet again in 2019-2020, at least in terms of salary. Despite playing just five games this season due to injury, Curry earned more than $40.2 million, the highest salary in the league.
Chris Paul: $38,506,482
Chris Paul made more than $38.5 million in 2019-2020, his first season with the Oklahoma City Thunder after two seasons with the Houston Rockets. The 10-time NBA All-Star was traded to OKC for the player just below him on this year's salary list, Russell Westbrook, and is scheduled to make more than $85 million over the next two seasons. Paul was averaging 17.7 points and 6.8 assists before the league suspended play.
Russell Westbrook: $38,178,000
Like LeBron James, Russell Westbrook is one of the best all-around players in the league, three times averaging a triple-double over the course of an entire season, and has also won an NBA MVP, doing so in 2017. In his first year with the Houston Rockets, Westbrook was averaging 27.5 points, eight rebounds, and seven assists, earning more than $38.1 million.
John Wall: $37,800,000
In 2016-2017, John Wall had a career year for the Washington Wizards, averaging 23.1 points and 10.7 assists, which earned him a four-year extension worth more than $171 million. Since then, he's played just 73 games, none of which have come this season due to an Achilles injury. And he still made more money than LeBron James.
James Harden: $37,800,000
When play was suspended, James Harden was leading the NBA in scoring at 34.4 points per game. If that holds up, it will be his third consecutive scoring title. Harden brought in the exact same amount of money that John Wall did at $37.8 million, just a few hundred thousand ahead of LeBron James.
Naturally, these figures came before the salary reductions due to COVID-19 and it remains to be seen how the final numbers will play out. But we're just trying to have a little fun here until play resumes.
*All stats and salaries courtesy of Basketball-Reference