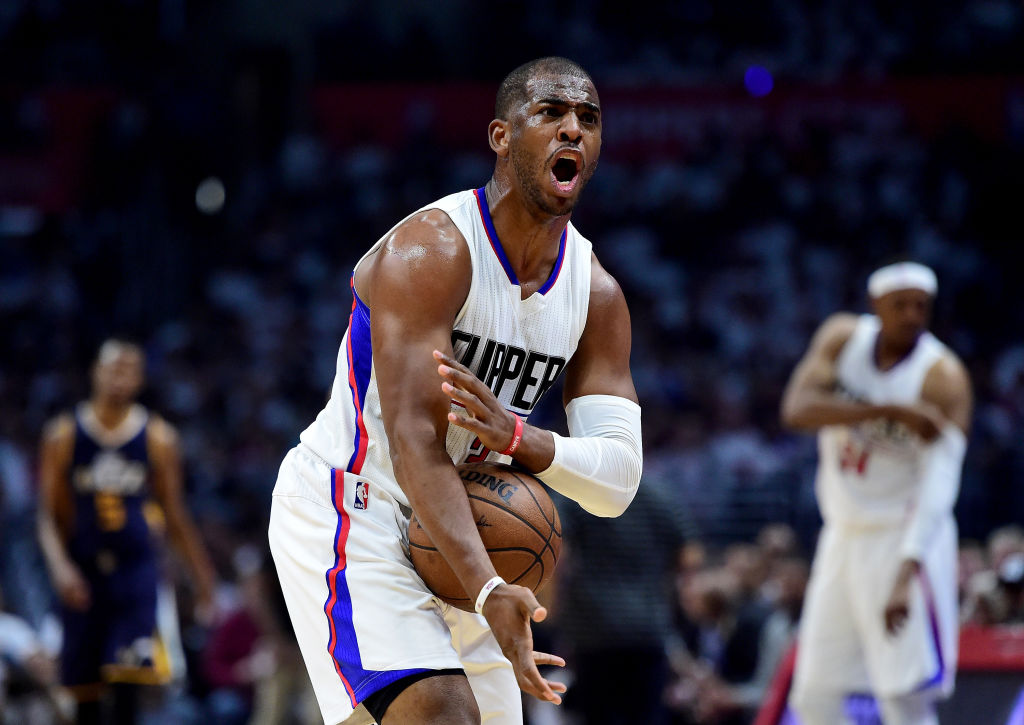 Chris Paul Once Purposely Tossed an Airball From the Foul Line and Walked off the Court
Oklahoma City Thunder point guard Chris Paul once deliberately threw up an airball from the foul line and then walked off the court.
Back in his high school days, Chris Paul was a highly regarded player who was heavily recruited to play basketball at the next level. On the day after he accepted a scholarship to play at Wake Forest University, he was playing for his high school and was in a scoring groove. He was six points away from the state record of 67 points in a game. He had just gone hard to the basket and scored his 61st point and was at the line to try and complete the three-point play. Instead, he purposely shot an airball and then walked back to the bench.
Chris Paul's career at Wake Forest
Chris Paul only spent two years at Wake Forest but made an impression from the very beginning. In his first season with the Demon Deacons, Paul helped guide his team to the Sweet Sixteen in the NCAA Tournament. Paul averaged 14.8 points and 5.9 assists per game as a freshman. He was named ACC Rookie of the Year.
Early into his sophomore season, Paul and the Demon Deacons were ranked No. 1 in the country.  Paul had an outstanding second season, averaging 15.3 points and 6.6 assists and was one of the top players in the country. His Demon Deacons were a No. 2 seed in the NCAA  tourney. In the final game before the league tournament, Paul punched North Carolina State's Julius Hodge and received a one-game suspension from the school.

"I would like to apologize to Julius Hodge, the NC State team, Wake Forest fans and my teammates for an incident that I truly regret. Sunday night was emotional for me for many reasons and I let my emotions get the best of me."

Chris Paul in 2005
Wake Forest was upset in the second round of the NCAA tourney and Paul elected to forego his final two seasons of college to play in the NBA.
Chris Paul's NBA career
Chris Paul's collegiate success carried over to the NBA where he has gone on to become a 10-time NBA All-Star.
Paul was selected by the New Orleans Hornets with the fourth overall selection in the 2005 NBA draft. He went on to have a stellar first season as he fell one vote shy of unanimously winning the Rookie of the Year Award. Paul averaged 16.1 points and 7.8 assists per game and collected 21 double-doubles. He also led the league in steals with 175.
Paul has gone on to play 15 NBA seasons and has averaged 18.5 points and 9.5 assists per game throughout his career. Six times in his career, he has averaged better than 10 assists per game. Three times he has led the league in total assists and Paul has been the league's leader in steals in five seasons.
In 2017, Paul was traded from the Los Angeles Clippers to the Houston Rockets for seven players, a first-round pick and cash. In July of 2019, Paul was traded to the Oklahoma City Thunder as part of a deal for Russell Westbrook.
The blatant free-throw airball
During high school days, Chris Paul's grandfather was beaten and left for dead at the age of 61. Five juveniles were charged with his murder.
In the game immediately following his grandfather's death, an emotional Paul was well on his way to setting the state's record for points in a game (67). After scoring his 61st point, Paul was at the free-throw line and deliberately threw up an airball and headed for the bench.
Before that game, Paul didn't know if he could even play. "How can I go out there on that court knowing my grandfather's not there?" he asked. "And my aunt mentioned before I went to the Parkland game, she said, 'How about 61 points for your granddad?' And I just thought to myself, 'That would be lovely. There is no way I can do that.'"
So when he reached the 61-point mark, the airball happened.
"I walked to the free-throw line, he gave me the ball and I shot an airball right out of bounds," Paul said. "And my coach took me out. I just looked at my dad and started crying."