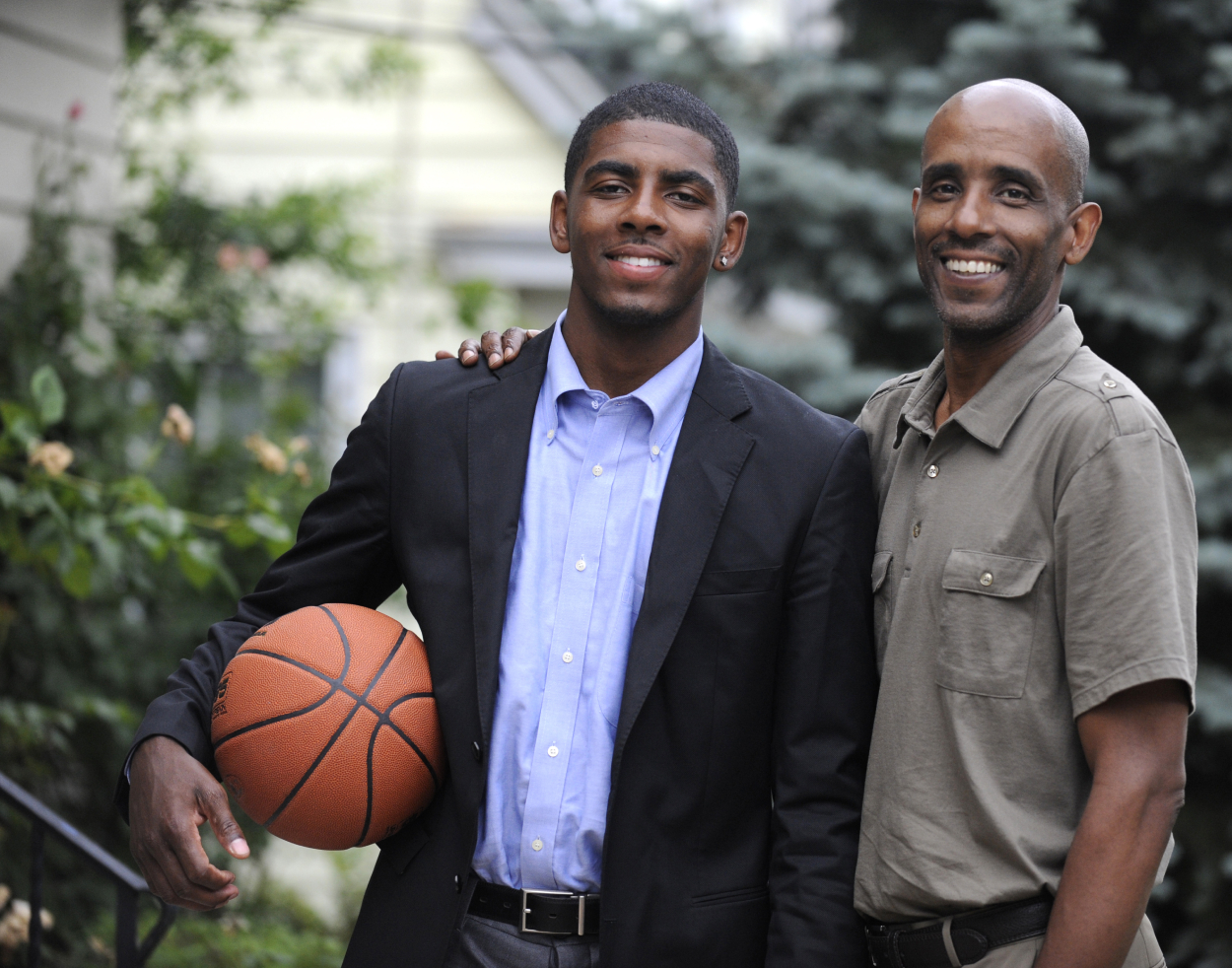 Kyrie Irving Lost His Mother at a Devastatingly Young Age
Kyrie Irving's life has never really been normal. The death of Irving's mother was a defining moment in his young life.
Few of today's star NBA players are as polarizing as Kyrie Irving. On the one hand, Irving is as supremely talented a ball-handler as the league has ever seen. He also played a critical role in the Cleveland Cavaliers 2016 NBA Finals win. Yet Irving also has a history of dividing locker rooms, upsetting teammates, and putting his foot in his mouth publicly.
Regardless of your opinion of him as a basketball player, Irving has an undeniably complex personality. To a large extent, that personality has been shaped by tough losses in his personal life — particularly the loss of his mother.
Kyrie Irving's NBA career to date
The Cavaliers selected Irving with the first pick of the 2011 NBA Draft. His rookie year was a phenomenal one, despite the Cavs going just 21-45 in the lockout-shortened season.
Irving averaged 18.5 points and 5.4 assists, while shooting 46.9% from the floor and 39.9% from the three-point line. Those numbers earned him All-Rookie First Team honors and the NBA Rookie of the Year Award.
Irving's numbers improved across the board during his second season, when he averaged 22.5 points per game. He earned his first All-Star selection that year­ — a feat he would repeat in each of the following seasons.
The Cavs' prospects changed significantly when LeBron James decided to return to the team prior to the 2014-15 season, with deep postseason runs becoming the new norm.
Irving soon proved himself as good — if not better — in terms of postseason play. His clutch three-point shot with less than a minute left in Game 7 of the 2016 Finals against the Golden State Warriors was one of the series' most crucial moments. Yet Irving, chafing at playing second fiddle to James, forced his way out of Cleveland after just one more season.
He ended up spending two underwhelming seasons in Boston. While his individual numbers remained strong, his abilities as a leader and team player came under new fire.
He signed with the Brooklyn Nets prior to the 2019-20 season, only to find himself sitting out most of the season with injuries. How he meshes with now-teammate Kevin Durant remains one of the most anticipated questions for the 2020-21 season.
The tragic death of Kyrie Irving's mother
Irving never got a chance to have much of a relationship with his mother, Elizabeth Irving, who died when the Nets star was four years old. Irving's mother was just 29 at the time of her death, which came as the result of sepsis — a common side-effect of infection. Both Elizabeth and Irving's father Drederick were talented basketball players in their own right.
Elizabeth excelled at basketball growing up in Puyallup, Washington. She played a key role on the two highest-placing teams of all time at Rogers High School, according to The News Tribune.
Elizabeth attended college at Boston University, where she switched from basketball to volleyball. BU was also where Elizabeth met the man who would become her husband, and the father of a perennial NBA All-Star.
Exploring his mother's heritage
Losing a mother as young as Irving did doesn't just mean you miss out on the kinds of childhood memories most of us take for granted. It also means you miss out on getting to know more about your mother's heritage. In Irving's case, his mother had an especially interesting background, being half black and half Native American.
It wasn't until many years later that Irving finally started to explore his Sioux heritage. He reached out to the Standing Rock Sioux back when he was a member of the Cavaliers.
In 2017, he donated $100,000 to the tribe. The following year, both Irving and his older sister went to North Dakota to have their tribal heritage officially acknowledged by the tribe, according to the LA Times. Irving was also given the Lakota name of Hela, meaning Little Mountain.
All stats courtesy of Basketball Reference