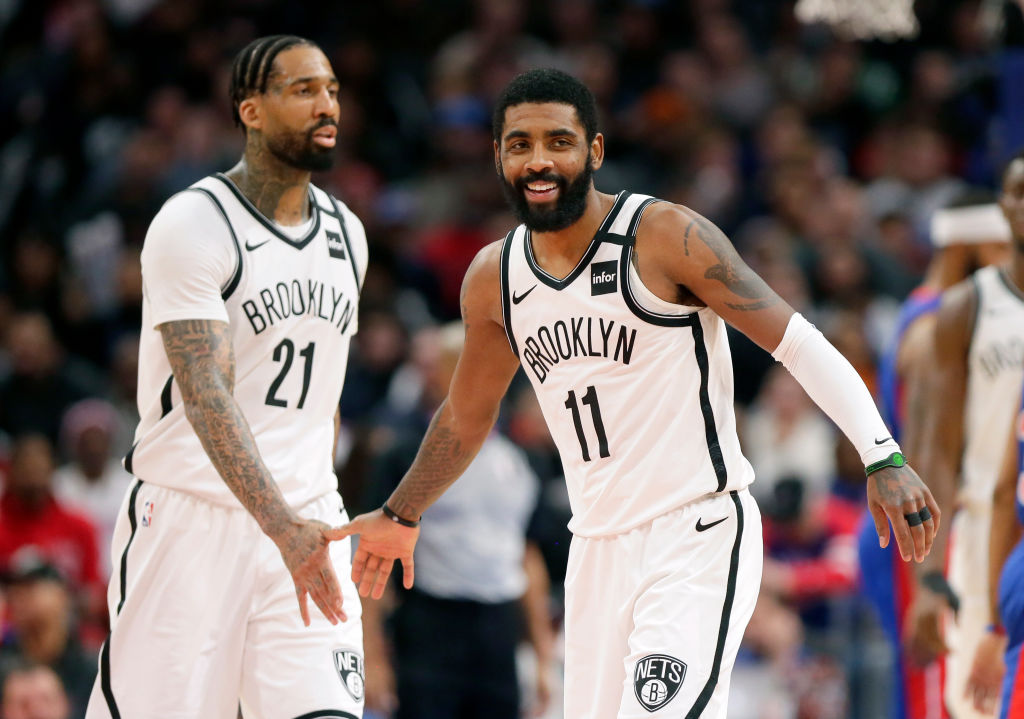 Kyrie Irving Made More Than $1.5 Million Per Game For the Nets This Season
Kyrie Irving played in just 20 games for the Brooklyn Nets this season, but he still netted over $30 million in earnings.
Kyrie Irving battled a shoulder injury all season long for the Brooklyn Nets. The superstar point guard played in just 20 of a possible 64 games throughout the year, but he still earned a ton of money despite his minimal playing time. Irving made more than $1.5 million for every game he played in 2019-20.
Kyrie Irving played just 20 games for the Nets this season
Kyrie Irving came into the 2019-20 season fully healthy and excited for a fresh start. It was his first season in Brooklyn with a revamped roster and all the drama in Boston behind him. The Nets were Irving's team with Kevin Durant sidelined for the year, but the fairytale didn't last very long.
Irving came out of the gate firing on all cylinders. He scored 50 points in his debut with the Nets in October, and he never looked back. Irving scored over 30 points in three of the next seven games, cementing him as one of the most lethal scorers to start the 2019-20 campaign.
However, Irving's scoring prowess didn't translate to winning. The Nets went just 4-7 through their first 11 games of the season. That's when Irving suffered a shoulder injury and missed two months due to a shoulder impingement.
Irving returned to the court in January, and he picked up right where he left off. The shifty guard scored 45 and 54 points in the span of three games, but his shoulder impingement returned shortly after his return. Irving had surgery in March that ended his 2019-20 season.
Kyrie Irving is due $31.7 million this season
Despite playing in just 20 of the Nets' 64 games this season, Irving is still owed the full amount in his contract. For the 2019-20 season, that would be $31.7 million.
Irving signed a four-year, $136.5 million contract with the Nets ahead of this season. Many contracts include clauses that change the pay structure if injuries happen, but Irving's has nothing of the sort. His contract is 100 percent guaranteed over four years.
So, even though Irving missed a majority of the season due to a shoulder ailment, he will still receive the full $31.7 million.
His 2019-20 contract is by far the largest of his NBA career. Irving's previous high earning was just over $20 million with the Celtics last season.
Irving earned over $1.5 million per game this season
Kyrie Irving completed one of the most efficient financial seasons in the NBA this year. The Nets' point guard earned $31.7 million for playing 20 games. That means Irving made $1.59 million per game this season.
Digging deeper, Irving made nearly $50,000 per minute on the court in 2019-20. That's $800 per second on the job. Not too shabby. Does anyone know of another job paying $800 per second of work? It's safe to say many of us would be interested.
Irving was one of the highest-paid players in the NBA this season based amount earned per game. His teammate, Kevin Durant beat him out handily with a whopping $37.1 million over zero games played.
All stats courtesy of Basketball Reference, all contract stats courtesy of Spotrac