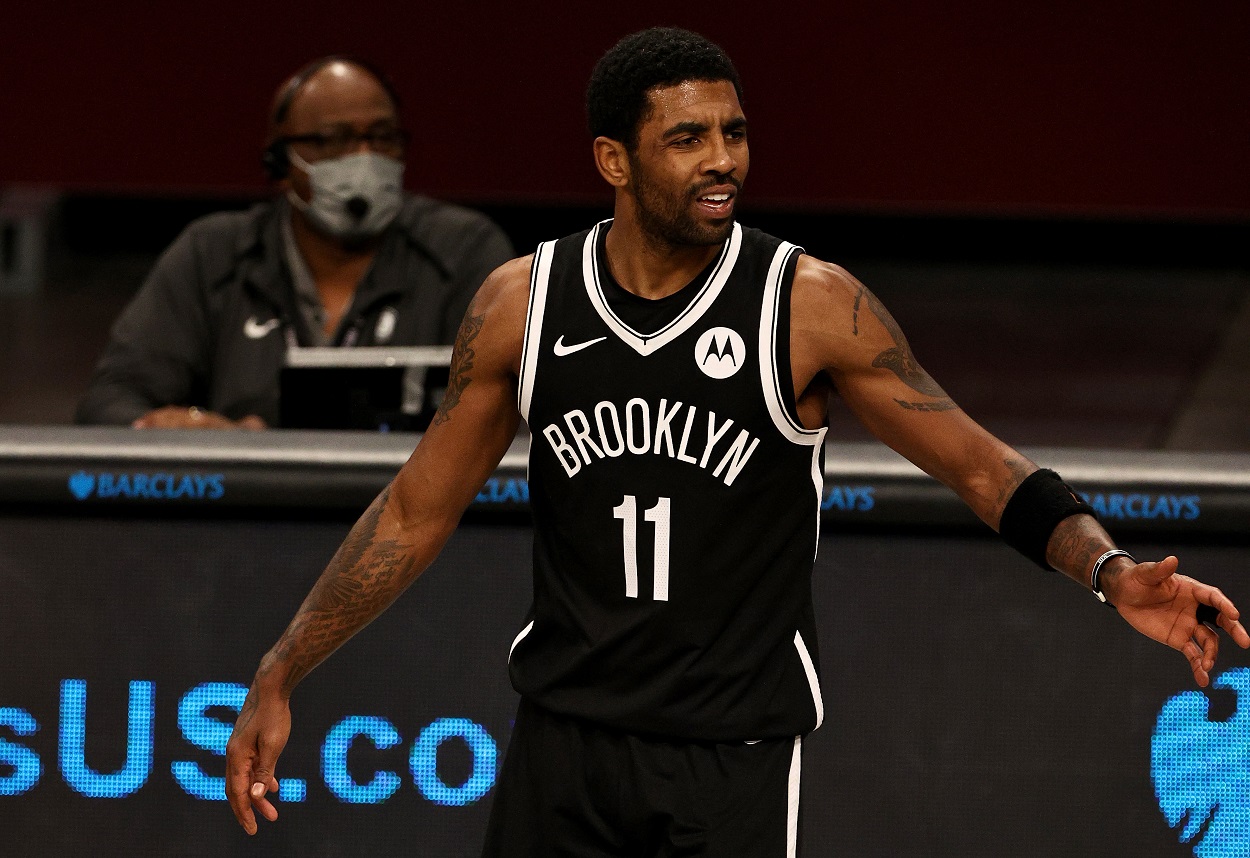 Kyrie Irving Could Have Missed More Time With the Brooklyn Nets and Lost More Money if Not for a Security Guard
How a Miami Heat security guard helped Brooklyn Nets superstar Kyrie Irving from committing another NBA COVID-19 protocol violation.
Kyrie Irving has already missed quite a bit of time for the Brooklyn Nets and paid quite a bit of money in fines this season. And had it not been for the actions of a Miami Heat security guard this past weekend, he could have found himself in even more trouble.
Allow us to explain.
Kyrie Irving has already missed eight games for the Brooklyn Nets this season and lost close to a million bucks
Kyrie Irving's 2020-2021 season with the Brooklyn Nets, his first alongside Kevin Durant, got off to a blazing start as he averaged 27.1 points, 6.1 assists, and 5.3 rebounds in his first seven games, shooting 50.4% from the floor, 42.6% from beyond the arc, and an incredible 100% from the foul line. But then Irving just disappeared.
Some thought his absence might be due to the attack on the U.S. Capitol on January 6. It was believed that he might be staging some sort of protest, which certainly would have been understandable, but he was then spotted maskless at a family birthday party, a clear violation of the NBA's COVID-19 protocols. He was ordered to quarantine for five days and was later given a $50,000 fine. For the two games he was forced to miss during that time, Irving also lost close to $870,000 in salary.
He missed an additional five games for "personal reasons," for which he later apologized, bringing his total number of missed games to eight as he also sat out a December 28 matchup with the Grizzles to rest his surgically-repaired shoulder.
Kyrie Irving returned to the Nets lineup on January 20, marking the first time that he, Durant, and newly-acquired James Harden were on the floor together.
Bam Adebayo dropped a career-high 41 points against the Brooklyn Nets over the weekend
In Kyrie Irving's third game since returning to the lineup, the Brooklyn Nets squared off with the Miami Heat this past Saturday night. The Nets picked up the win, 128-124, and Irving put on a solid performance, scoring 28 points, dishing out seven assists, and grabbing six rebounds.
However, the overall individual star of the night was Miami Heat forward Bam Adebayo, who scored a career-high 41 points in the loss. And why is this information important to the story, you ask?
Well, as it turns out, Irving and Adebayo have been close friends for quite some time as both grew up in Essex County, New Jersey. Kyrie wanted to commemorate the occasion by swapping jerseys with his buddy, which we've seen countless times from countless players over the years, but these are obviously different times and that's a big no-no in the league right now..
A Miami Heat security guard stepped in to stop Kyrie Irving and Bam Adebayo from swapping jerseys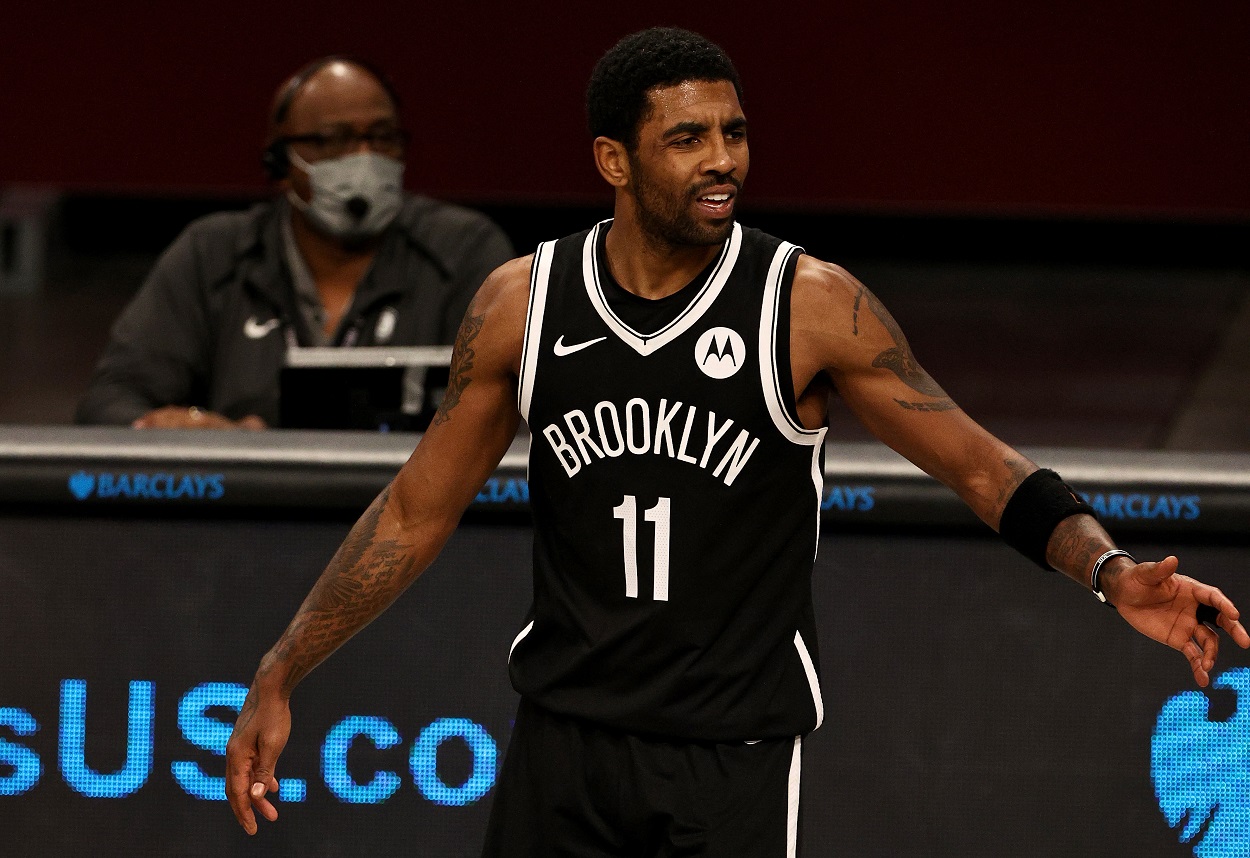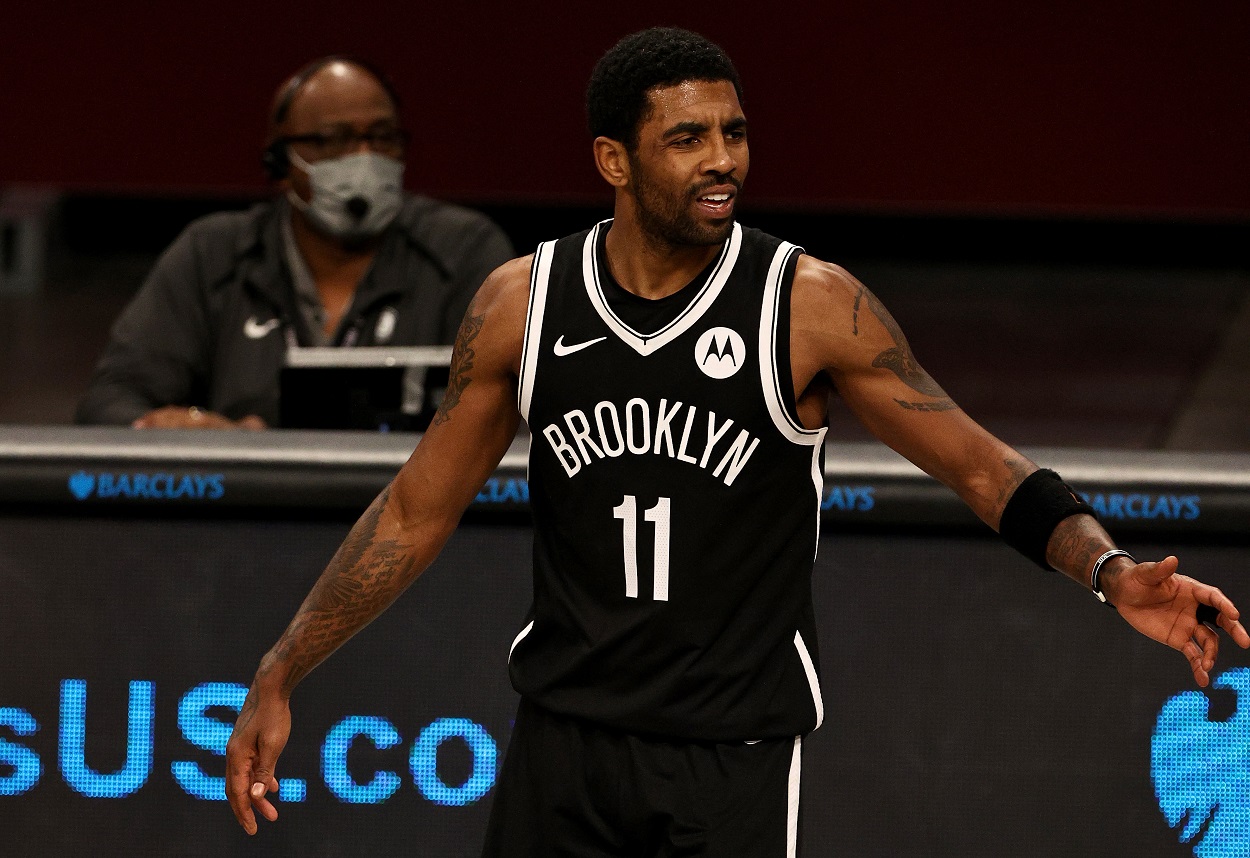 As the NBA has had to postpone numerous games in recent weeks, the league recently implemented even stricter COVID-19 policies in an attempt to slow the spread of the coronavirus, which include, among other things, limiting hugs and handshakes between opposing players pregame and postgame. Certain violations could result in fines and suspensions for quarantining and jersey swapping is apparently included as well as a Miami Heat security guard jumped in quickly as Kyrie Irving and Bam Adebayo were attempting to do just that. Take a look.
Well, it doesn't quite seem clear how jersey swapping would be such a big deal given the fact that Adebayo clearly hugged both Durant and Irving before attempting to take off his shirt. After the security guard pulled Adebayo away, he made a fist-bumping gesture to Kyrie, indicating that's what they're supposed to be doing.
But Kyrie Irving apparently got the jersey anyway. At least that's what he told reporters following the game while making light of his previous violation.
"I just want to follow NBA protocols. I have the jersey, by the way."

Kyrie Irving
When Bam Adebayo, who could have obviously faced a fine and/or suspension as well, was asked about it, he threw his hands up in the air and just started laughing, indicating that the swap probably did take place. The Nets and Heat went at it again on Monday night with Brooklyn again coming out on top. Adebayo had another solid game, scoring 26 points in the loss, while Irving scored 16 in the victory.
And Kyrie tried to get a little sneaky that time.
We'll see if anything comes of it.
Stats courtesy of Basketball Reference