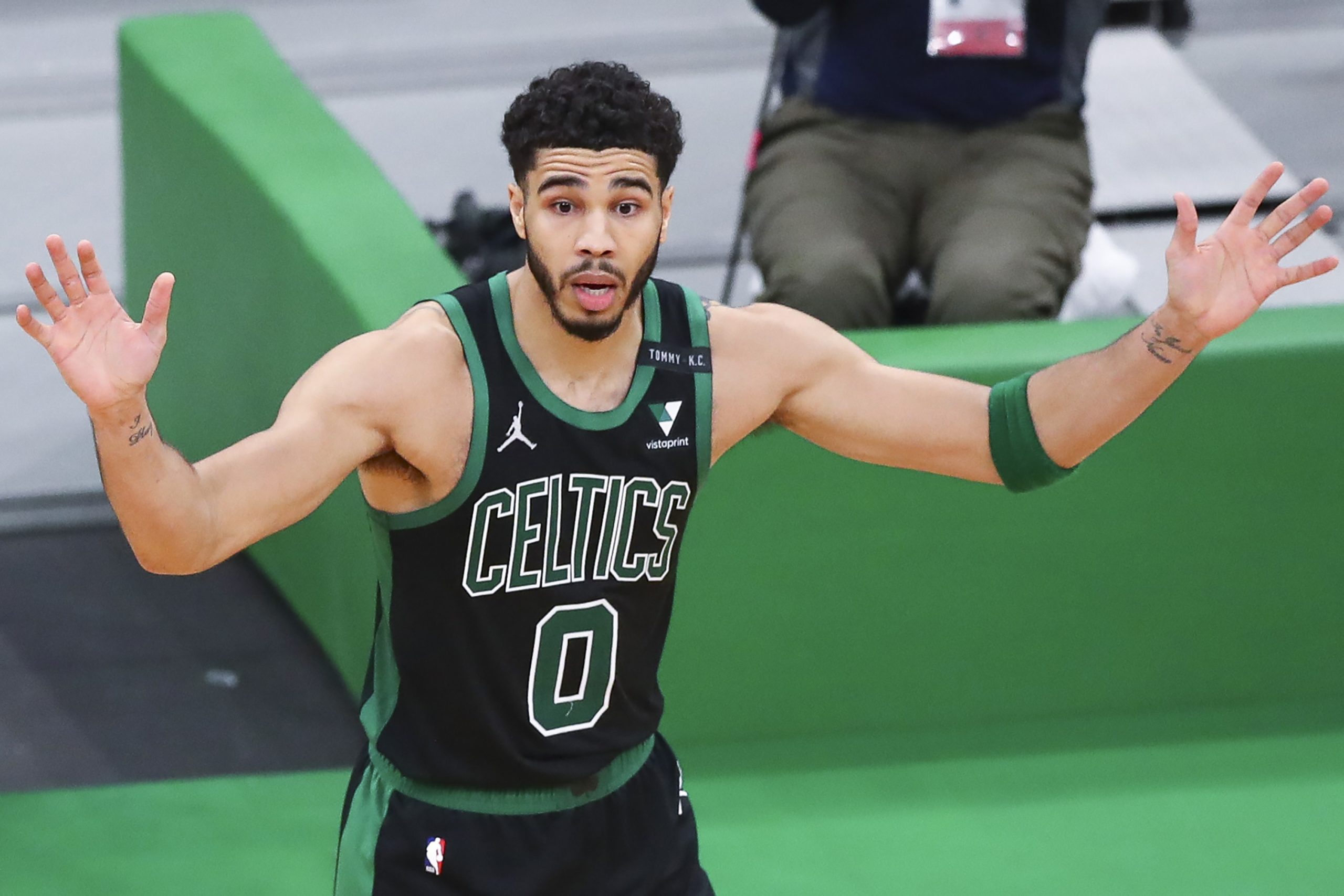 Frustrated Jayson Tatum Reacts to Missing out on $33 Million Bonus
For Jayson Tatum, it wasn't about the money when he didn't make an All-NBA team, but he admitted to being frustrated.
While the Boston Celtics had one of their most disappointing seasons in years, Jayson Tatum had his best. The Celtics swingman had his best year statistically, finishing with career bests in points, rebounds, and assists. While he was rewarded with his second straight NBA All-Star appearance, he missed out on an extra $33 million in salary that left him quite frustrated.
Jayson Tatum shined in an otherwise ugly season for the Boston Celtics but missed out on $33M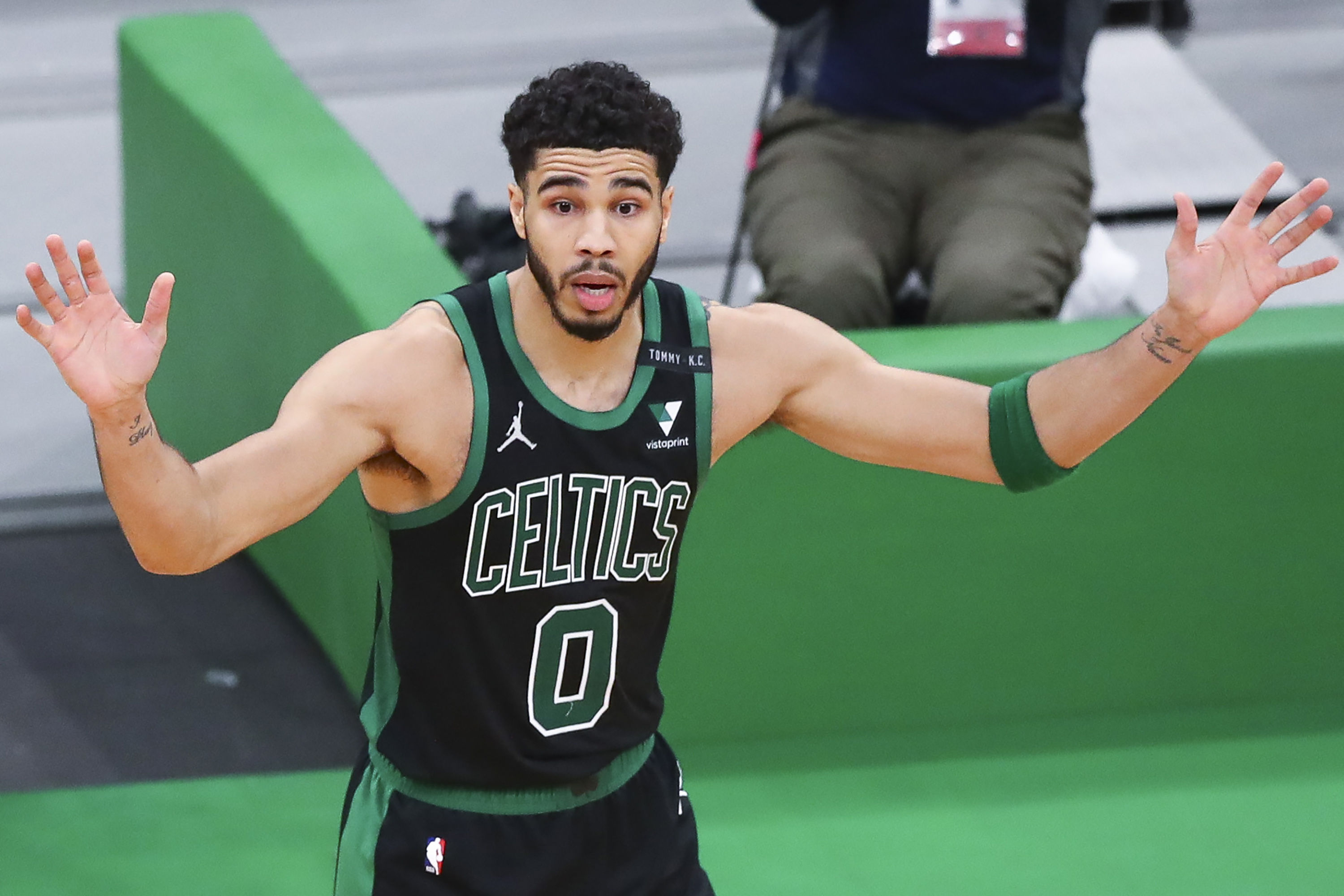 In his fourth season in the NBA, Tatum put up 26.4 points, 7.4 rebounds, and 4.3 assists per game. Although those were career-bests, his team finished the regular season a disappointing 36-36. Boston finished as the seventh seed. The Brooklyn Nets made quick work of them in the playoffs, winning their first-round series in five games.
 Tatum signed a five-year max deal with the team last summer. According to The Athletic, the NBA created a designated rookie extension rule to allow teams to exceed the 25% max with award-based incentives all the way up to 30% of the max. Tatum's agent negotiated his deal to get 30% if he earned any All-NBA selection. All he had to do was get named to the All-NBA Third Team, as he did last year, and he would make an extra $33 million in salary.
Despite the career-best season, he failed to make any of the three teams. Tatum was eligible at either guard or forward, but because he received more votes as a forward, that's where he was slotted. He wound up having more votes than Kyrie Irving, who made All-NBA Third Team. He also had better overall numbers than Jimmy Butler and Paul George, who both made the All-NBA Third Team as forwards.
Jayson Tatum admitted to being frustrated after failing to make an All-NBA team
During a recent episode on the Beyond the Press podcast, Tatum discussed being left off the All-NBA teams. He said he was "frustrated" and felt it was a "no-brainer" that he should have made it. He made those feelings known to podcast host Ashley Nevel.
"I know I should've made it," Tatum said. "Just, I guess, with the season I had. I mean, $33 million is a lot. Obviously, that would make anybody feel some type of way. I wasn't necessarily upset about losing the money. I just felt like the way I was playing, everything I did, I thought it should've been a no-brainer. Just think I was more frustrated with that."
Tatum also seemed frustrated with the voting process and said he wouldn't mind seeing that change.
"I think what they do need to change is, it's kind of opinion-based," Tatum said. "A bunch of media members get to vote. What's the criteria? Is there a certain amount of games you need to play? Should you be in playoff contention? Is there a certain amount of points you should average depending on your position? I think there should be something like that in place because I think if you just allow people to just vote and there's nothing set in place like, 'You gotta play this many games,' or whatever it may be, I think that would help it out a lot."
The Celtics All-Star knows there isn't anyone out there feeling sorry for him
Tatum wasn't the only player who appeared to get snubbed in the voting. Donovan Mitchell of the Utah Jazz and Devin Booker of the Phoenix Suns were also left off. All three have legitimate gripes, but Tatum knows with the money they make, people won't feel sorry for them.
"But I know nobody's necessarily gonna feel bad for me and Donovan because we still get paid a lot of money," Tatum said. "But I think it's more that I just felt like I deserved to make it, not necessarily money."
Tatum should be frustrated. He had a better year than he did a year ago when he was a Third-Team selection. He also had a better statistical season than Butler, who played in just 52 games. Although he feels slighted, Tatum certainly can feel better knowing that even a $33 million hit won't impact him financially.