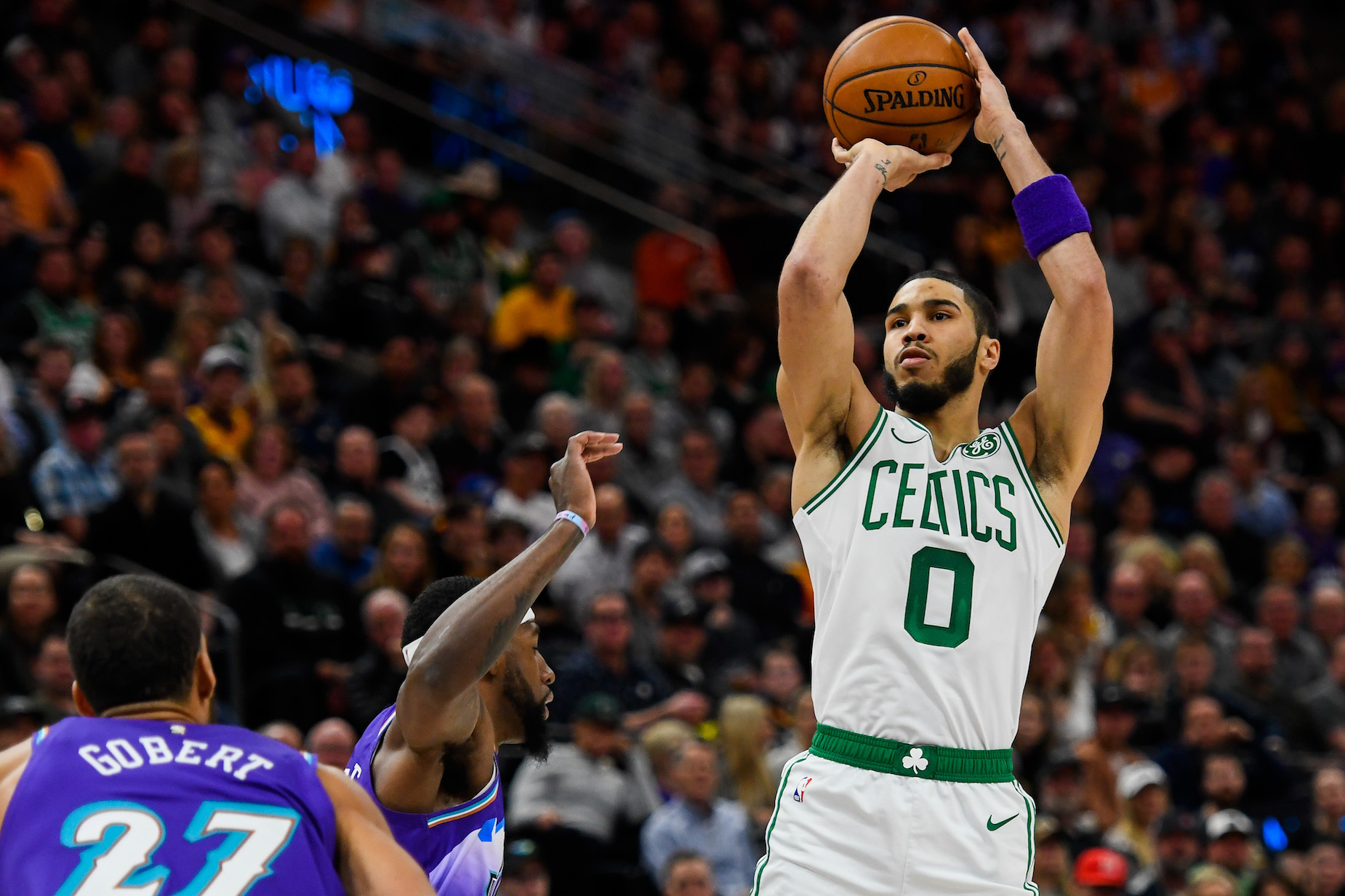 Jayson Tatum Has Made $20 Million in the NBA But Won't Spend a Dime of It
While Boston Celtics forward Jayson Tatum has made more than $20 million in the NBA, he hasn't spend a cent of that salary.
If you're a starter on an NBA roster, you're going to be taking home a nice salary. While Jayson Tatum's paycheck may be a bit smaller than some of his peers, he's no exception to the rule. That doesn't mean that the Boston Celtics forward spends money without thinking twice, though.
During his young NBA career, Tatum has taken home roughly $20 million in salary. Despite that reality, he never spends a dime of his game checks.
Jayson Tatum's rise to NBA stardom
For years, there was a stereotype that Duke University alumni couldn't cut it in the NBA. Jayson Tatum, however, is doing his part to reverse that trend.
After bursting onto the basketball scene just outside of St. Louis, Tatum took his talents to Durham and suited up for Coach K's Blue Devils. While his only season on campus wasn't perfect—the forward missed some time with a foot injury, and Duke crashed out of the NCAA Tournament in the second round—it was an individual success. Tatum averaged 16.8 points and 7.3 rebounds per outing and entered into the 2017 NBA draft.
When draft day rolled around, the Celtics held the first-overall pick but traded back; they ended up selecting Tatum in the third spot. While that move could have blown up in Danny Ainge's face, everything seems to have worked out for Boston.
Tatum posted solid numbers during his first two professional seasons, but took his game to the next level in 2019-20. Through the first 60 games of the campaign, he's averaged 23.3 points, seven rebounds, and three assists per game. Prior to the coronavirus pandemic, the forward made his first career NBA All-Star game; he seems to be growing into a legitimate two-way star, despite Duke's questionable track record at the professional level.
$20 million in salary and a $7 million net worth
By NBA standards, Jayson Tatum doesn't make an exorbitant salary. That hasn't stopped the young forward from building a sizable net worth, though.
According to Spotrac, Tatum has earned just over $20 million during his three years in the association. $5.6 million of that came during his rookie seasons; the forward's salary rose to $6.7 million as an NBA sophomore and sits at $7.8 million for 2019-20.
Based on that salary and his endorsement deals—we'll discuss those shortly—CelebrityNetWorth estimates Tatum's fortune at $7 million. That might not be massive by professional sports standards, but it's still a solid number for a young pro who's still playing on his first NBA contract.
Jayson Tatum doesn't spend a dime of his NBA salary
Even though Jayson Tatum's NBA salary might not be as large as some of his peers', the forward still takes home plenty of money each year. While that might be true, don't expect to see him splashing the cash anytime soon.
On an episode of Uninterrupted's Kneading Dough, Tatum explained that his mother helped him plan his financial future. Together, they came up with a plan to ensure that his fortune lasts long after his playing career ends.
"Our biggest thing was to save all of my NBA money," he told Maverick Carter. "All of the money I get from the Celtics, I put it in a savings account, eventually invest in it, let it grow over time, and just try to live solely on what I make off the court in endorsements."
As noted by CNBC, Tatum's endorsement deals "have included Gatorade, Imo's Pizza and Honey Dew Donuts." He's also signed to the Jordan brand, which presumably carries plenty of financial upside, too.
That strategy, of course, isn't unique to Tatum; Rob Gronkowski and Joe Burrow both follow the same financial plan.
During the early stages of his NBA career, Jayson Tatum has made a smart financial decision to save all of his salary. If he sticks to the plan after signing his eventual contract extension, he should be in good shape for years to come.
Stats courtesy of Sports-Reference and Basketball-Reference