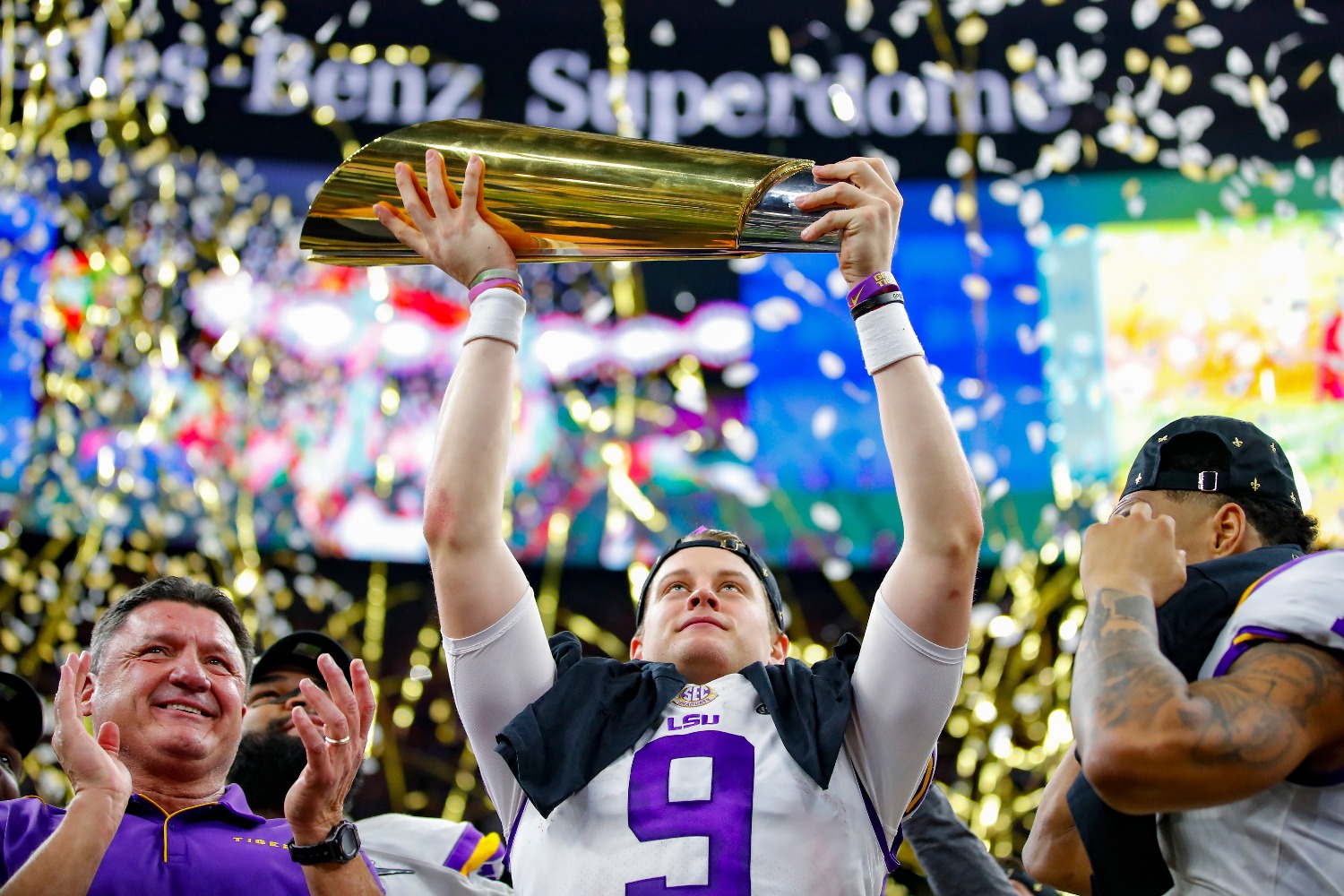 Joe Burrow is Copying Rob Gronkowski With His $36 Million Contract
Joe Burrow just signed a $36 million contract with the Bengals, and he plans on copying a strategy Rob Gronkowski employed to save money.
A year ago, Joe Burrow would have been lucky to get drafted at all. But after a historic senior season at LSU, the Ohio State transfer became the No. 1 overall pick. The Cincinnati Bengals just locked up the new face of their franchise to a $36 million contract. Yet, despite scoring a massive payday, Burrow will copy a savvy financial strategy Rob Gronkowski utilized for years.
From LSU to Cincinnati
Not even Joe Burrow himself could have predicted his meteoric rise over the last year. Entering the 2019 season, NFL scouts viewed the LSU quarterback as a late-round possibility. After all, Burrow didn't exactly impress as a junior.
However, with Joe Brady transforming an archaic offense, the Tigers became the most exciting offense to watch in college football. Burrow went from being an afterthought to the most widely discussed player in the sport. Along the way, he smashed records, torched SEC defenses, and led LSU to a national championship.
The Heisman Trophy winner pushed ahead of Alabama's Tua Tagovailoa to become the odds-on favorite to go No. 1 overall. Cincinnati smartly selected college football's biggest breakout star and moved on from Andy Dalton. However, even after taking Burrow first overall in April, the Bengals had yet to sign their franchise quarterback to a contract well into July.
Joe Burrow will copy Rob Gronkowski after signing $36 million contract
Many NFL teams worked quickly to sign their 2020 NFL draft picks. However, the Bengals and Burrow hadn't put pen to paper heading into the final days of July. On Friday, though, the two sides finally made it official. By signing on the dotted line, Burrow locked himself into a $36.1 million contract that includes a whopping $23.88 million signing bonus.
Interestingly, the NFL's newest millionaire revealed a surprising plan for how he will spend his Bengals paychecks (H/T Joe Danneman). During Friday's news conference, Burrow said, "I don't plan on spending any contract money. I'll live off my marketing money. I'll let the contract money accrue in the bank."
While the strategy may seem unique, it's actually one that Rob Gronkowski employed before retiring. The former New England Patriots star refused to spend any of his NFL paychecks. Instead, he has lived off the money he makes from endorsement deals and other marketing endeavors.
By copying Rob Gronkowski, Burrow can set himself up for long-term financial success. The allure of buying cars, jewelry, and other material items may be alluring, but ultimately, many NFL players have watched their fortunes dissipate through poor financial management.
But no matter how much money Joe Burrow saves, the real question is whether he can save the Bengals from years of playoff misery.
Can Burrow transform the Bengals into a playoff contender?
As he starts his NFL career, the kid with a $36 million contract faces tremendous pressure to turn around a franchise that hasn't won a playoff game since the 1990 season.
Andy Dalton, Burrow's predecessor, led the Bengals to five consecutive postseason berths to start his career. Cincinnati lost in the first round on all five trips.
Bengals fans do have a reason for optimism. Burrow inherits a group of skill players that has a chance to outperform expectations. Joe Mixon possesses dynamic physical skills and has flashed star potential in the past. A.J. Green has to prove he's put his injuries behind him, but we know what he's capable of when operating at 100%.
Cincinnati also added another weapon for Burrow in the form of Tee Higgins. The second-round pick made a ton of big plays in college and should fit in nicely next to Green and Tyler Body.
While the Baltimore Ravens enter the season as the prohibitive favorites to win the AFC North, don't be surprised if Joe Burrow has the Bengals in contention for a postseason berth. With an extra wild card spot available, Cincinnati could sneak into the playoffs if their $36 million quarterback picks up where he left off the last time he stepped foot on the field.