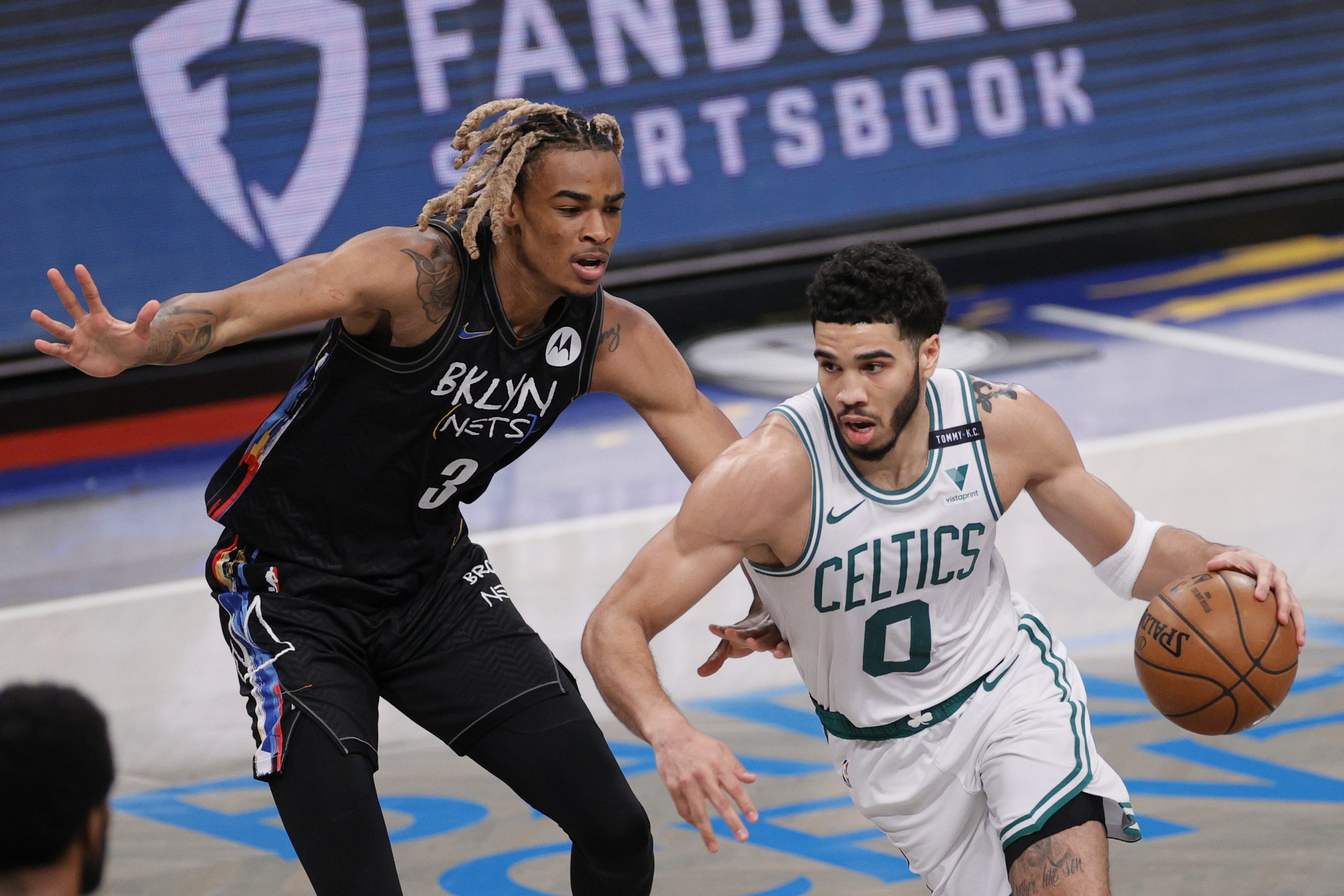 Jayson Tatum out $32 Million Because of a Technicality Involving Kyrie Irving
Jayson Tatum's wallet is a little bit lighter because he wasn't named to an All-NBA team.
Although he's not directly involved, Kyrie Irving is still affecting the Boston Celtics. The 2020-21 All-NBA teams were announced Tuesday, and Jayson Tatum was not selected for any of the three teams. That cost Tatum $32 million in future salary, and it boiled down to a technicality involving Irving.
Jayson Tatum had one heck of a season for the Boston Celtics
There weren't a whole lot of bright spots for the Celtics this year, but one they did have was Tatum.
The Celtics struggled throughout the season, finishing 36-36 one year after reaching the Eastern Conference Finals. The team is undergoing a significant overhaul, and it's already started as team president Danny Ainge resigned and head coach Brad Stevens joined the front office to replace him.
While Boston was disappointing as a whole, Tatum was not. The fourth-year player out of Duke had his best season, improving in nearly every category. He was an NBA All-Star for the second straight year and was one of two All-Stars on the Celtics, teaming with Jaylen Brown.
Tatum finished with career highs in points (26.4), rebounds (7.4), and assists per game (4.3). In April against the San Antonio Spurs, he tied Larry Bird's team record for points in a game with 60. Since April 9, Tatum hit the 50-point mark four times. One of those games came in the playoffs during Boston's lone win over the Brooklyn Nets. He finished with 50 points in that Game 3 victory.
Jayson Tatum misses out on $32 million and somehow Kyrie Irving is involved
One year ago, Tatum was named to the All-NBA Third Team after a stellar season that saw both personal and team success. He put up 23.4 points and 7.0 rebounds per game, guiding the Celtics to the Eastern Conference Finals. Last summer, Tatum signed a five-year max deal with the team. For max players such as Tatum who are about to enter their rookie extension deals, earning an All-NBA honor could be worth some serious cash.
In Tatum's case, $32 million was on the line if he made any one of the three All-NBA teams. According to The Athletic, the NBA created the designated rookie extension rule to allow teams to exceed the 25% max with award-based incentives all the way up to 30% of the max. Tatum's agent negotiated his deal to get 30% if he earned any All-NBA selection. That meant if Tatum repeated last year's All-NBA Third Team selection, he would pocket the extra $32 million.
Tatum wasn't selected for any team. The catch here is that he was eligible as either a guard or forward, according to Boston Globe Celtics writer Adam Himmelsbach. Irving, who had an ugly two-year stint with the Celtics before joining the Brooklyn Nets, made All-NBA Third Team and had fewer votes than Tatum.
When all was said and done, the NBA considered Tatum a forward because that was the position at which he received the most votes.
Did the Boston Celtics star get stiffed?
Even if Tatum was strictly considered a forward, he got a raw deal.
The two forwards on the All-NBA Third Team are Paul George and Jimmy Butler. Tatum outscored Butler 26.4 to 21.5 per game. He had more rebounds (7.4 to 6.9), while Butler had better assist numbers (7.1 to 4.3). Both teams were bounced in the first round, so team success doesn't play a role. Butler also played in just 52 games.
Tatum also outscored and outrebounded George, who played in 54 games compared to Tatum's 64. A case can certainly be made for Tatum being a third-teamer.
Nobody is going to feel sorry for a guy who signed an extension worth nearly $200 million, but a $32 million hit is still tough to swallow.