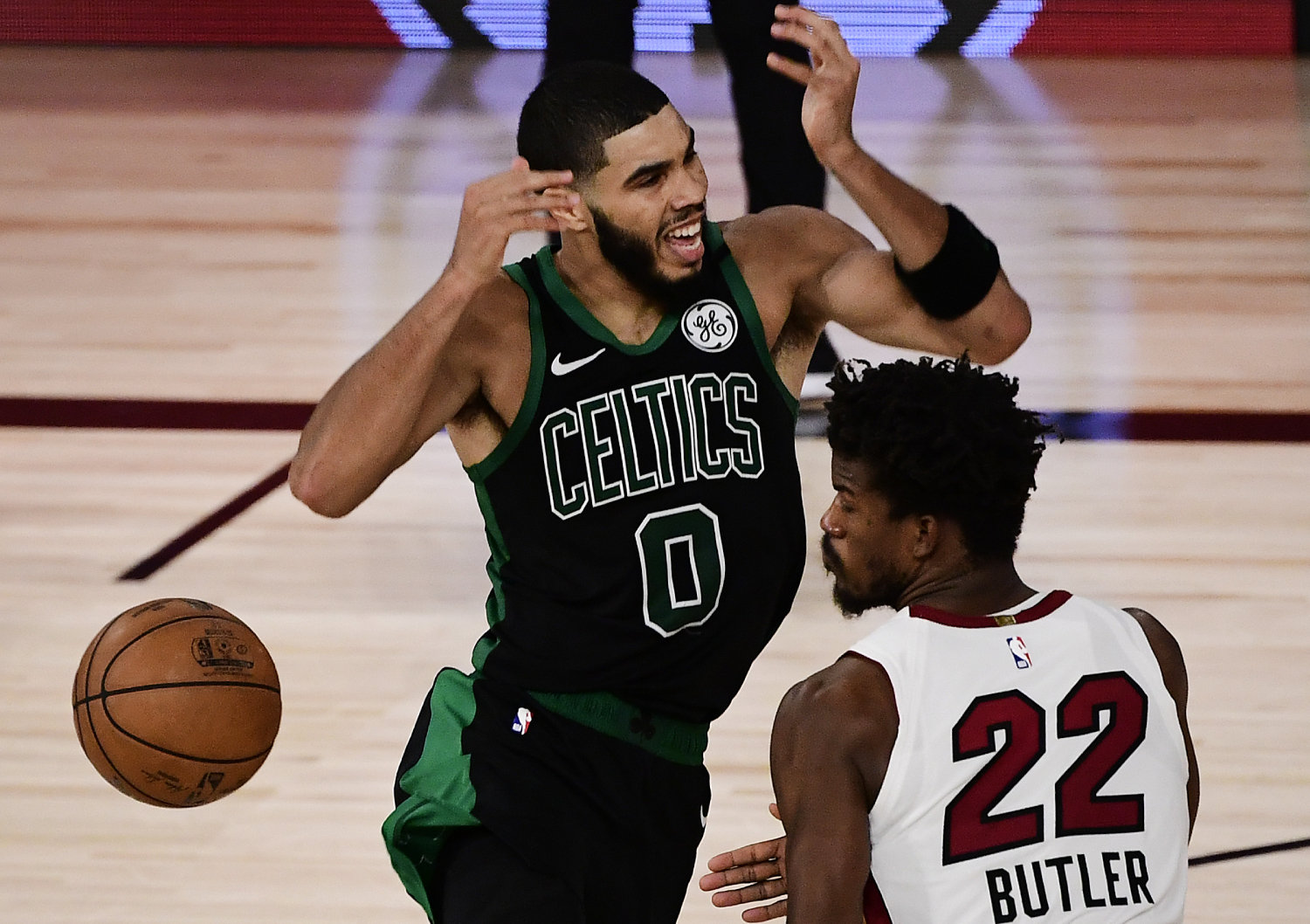 Did Jayson Tatum Really Grow Two Inches Since Last Season?
Did Boston Celtics star Jayson Tatum really grow two inches since last season? Celtics coach Brad Stevens said Tatum is now 6-foot-10.
Boston Celtics star Jayson Tatum came into the NBA as a 6-foot-8 forward from Duke. Each year, Tatum has improved and earned his first NBA All-Star appearance last season. On Saturday, Celtics coach Brad Stevens delivered some news that should put the rest of the league on alert. Stevens said Tatum is now 6-foot-10.
Jayson Tatum is an emerging star
Danny Ainge worked some magic to get Jayson Tatum on the Boston Celtics. The Celtics had the No. 1 pick in the 2017 NBA draft and Ainge swung a beautiful deal that benefitted the Celtics in the present and the future. With Washington guard Markelle Fultz labeled as the top prospect, Ainge dealt the top pick to the Philadelphia 76ers (who selected Fultz) in exchange for the third pick in the draft and a future first-round pick.
After the Los Angeles Lakers took Lonzo Ball with the second overall pick, the Celtics landed Tatum, who has proven to be, by far, the best of the three. In Tatum's rookie season as a 19-year-old, he averaged 13.9 points and five rebounds per game. He started all 80 of the games he played. Neither Fultz nor Ball are with the team that drafted them.
In Tatum's second year in the league, he averaged 15.7 points and six rebounds per game. He started all 79 games he played. Last year, Tatum made his first NBA All-Star appearance after bumping up his scoring average to 23.4 points. He also averaged seven rebounds.
The Celtics rewarded Tatum with huge extension
Last month, the Boston Celtics signed Jayson Tatum to a max contract extension that is expected to keep him in Boston for an additional five years. The deal is reportedly worth close to $200 million. Per team policy, terms of the deal weren't disclosed.
"Jayson has emerged as one of the best two-way players in the NBA through his first three seasons, and will continue to get better and better as a player and a leader," said Celtics President of Basketball Operations Danny Ainge, according to NBA.com. "He possesses unique scoring and playmaking abilities, and has displayed exceptional poise and maturity in how he approaches the game. He's someone who, at 22 years of age, will be a central figure to this organization's championship aspirations for many years to come."
The deal pairs him with Jaylen Brown to form one of the league's youngest and most dynamic duos. "I am incredibly grateful to the Celtics organization, and the city of Boston for this opportunity," said Tatum. "I love this city, this organization, and the best fans in the NBA and I plan on being here for a very long time."
Is Tatum now 6-foot-10?
In a meeting with reporters Saturday, Boston Celtics coach Brad Stevens announced that Celtics star Jayson Tatum is now 6-foot-10. Ever since joining the NBA in 2017, Tatum has been listed at 6-foot-8. Even now, Tatum is still listed at 6-foot-8, but Stevens told everyone at the press conference Saturday that Tatum is now 6-foot-10.
It's possible Tatum grew a couple of inches. The words came directly from Stevens. Now everybody, however, believed the Celtics coach. Donovan Mitchell, drafted by the Utah Jazz in the same year as Tatum, joked about the growth spurt.
On Twitter, Mitchell tagged Jayson Tatum and asked, "Bruh, why are we lying like this?" At 6-foot-8, Tatum is already a tough two-way player who's very difficult to guard. Add a couple of more inches to him, and he just may be unstoppable.