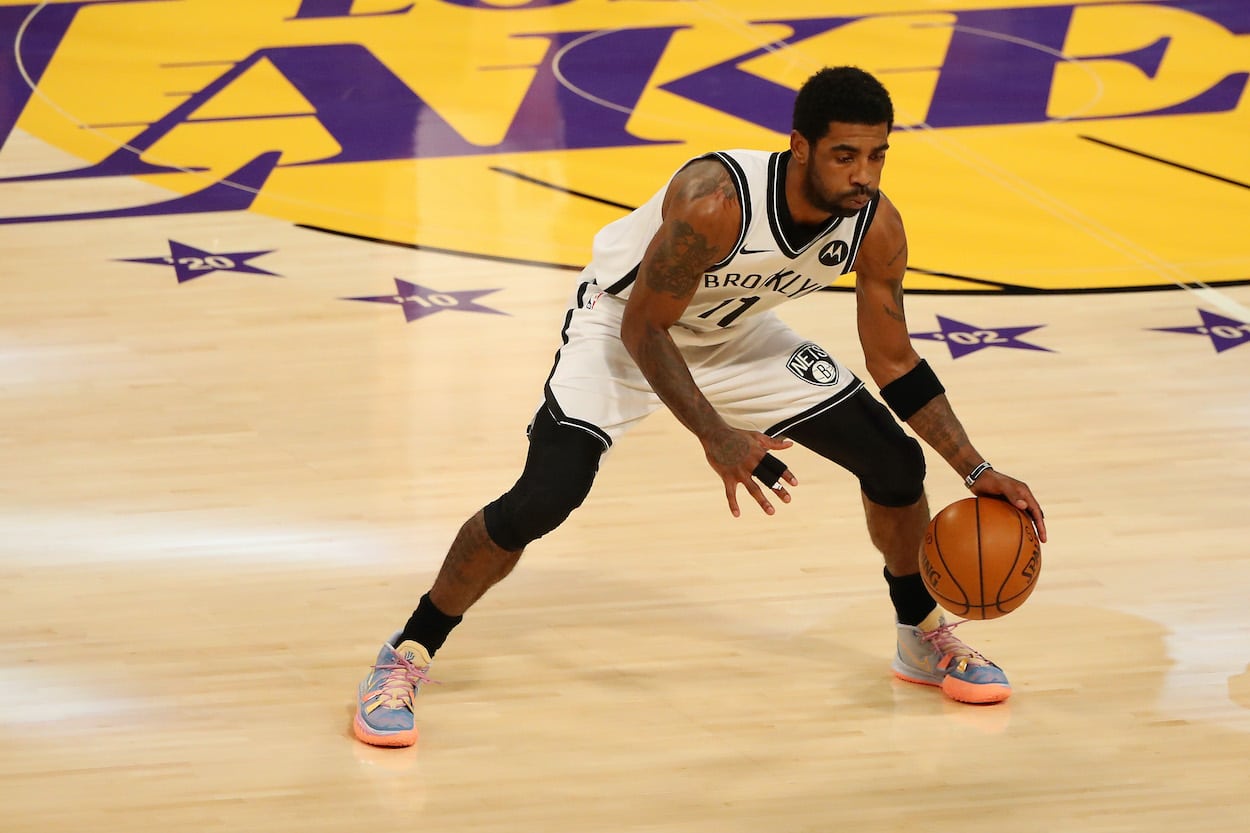 Kyrie Irving Is Now Delusionally 'Focused on Forcing Himself to the LA Lakers,' According to Brian Windhorst
While the Kevin Durant trade is getting all the headlines, Brooklyn Nets star Kyrie Irving wants out, too, and he wants to go to the LA Lakers.
Polarizing point guard Kyrie Irving may have opted into the final year of his contract with the Brooklyn Nets this offseason, but that doesn't mean he's interested in playing for the team in 2022-23. ESPN NBA insider Brian Windhorst says that after Kevin Durant's trade request, Irving is trying to hand-pick his next team, preferably the Los Angeles Lakers. However, the once-great star has nowhere near the leverage or value he used to.
Kyrie Irving wants to reunite with LeBron James on the LA Lakers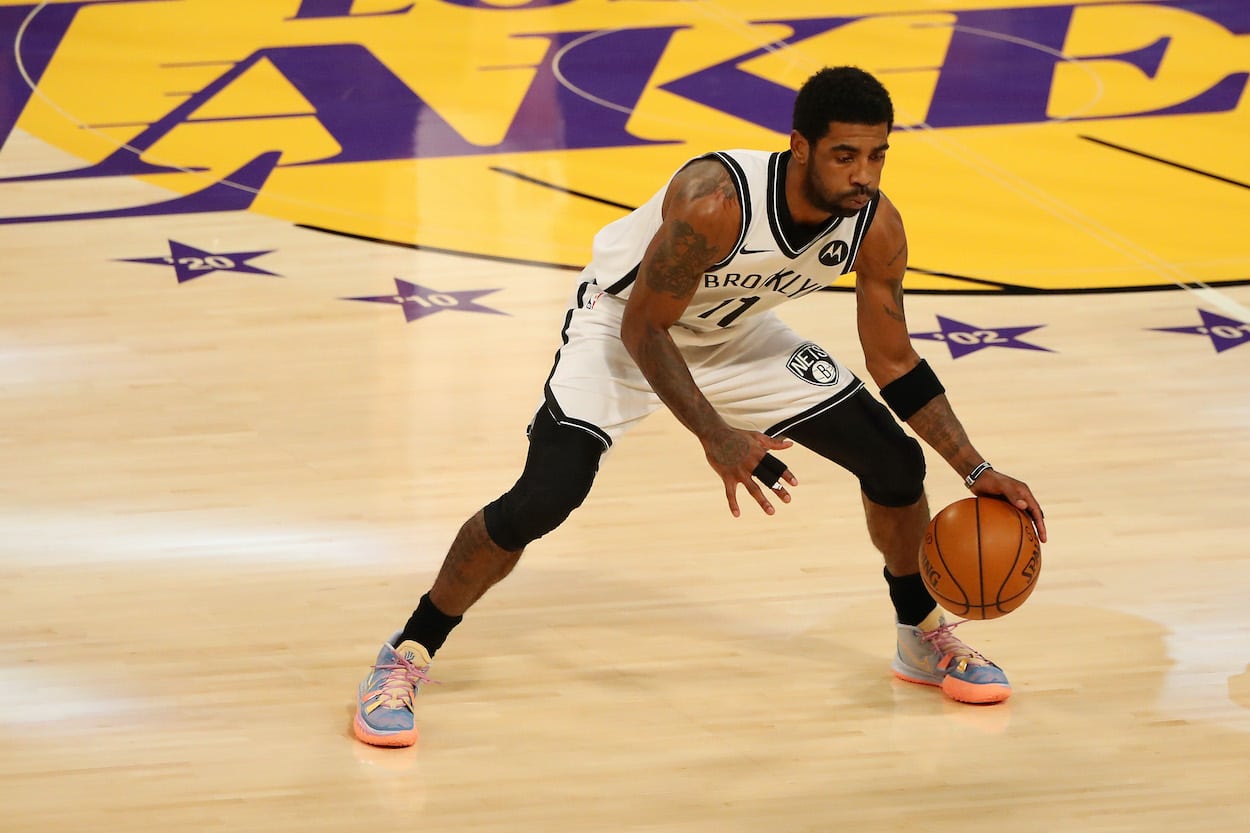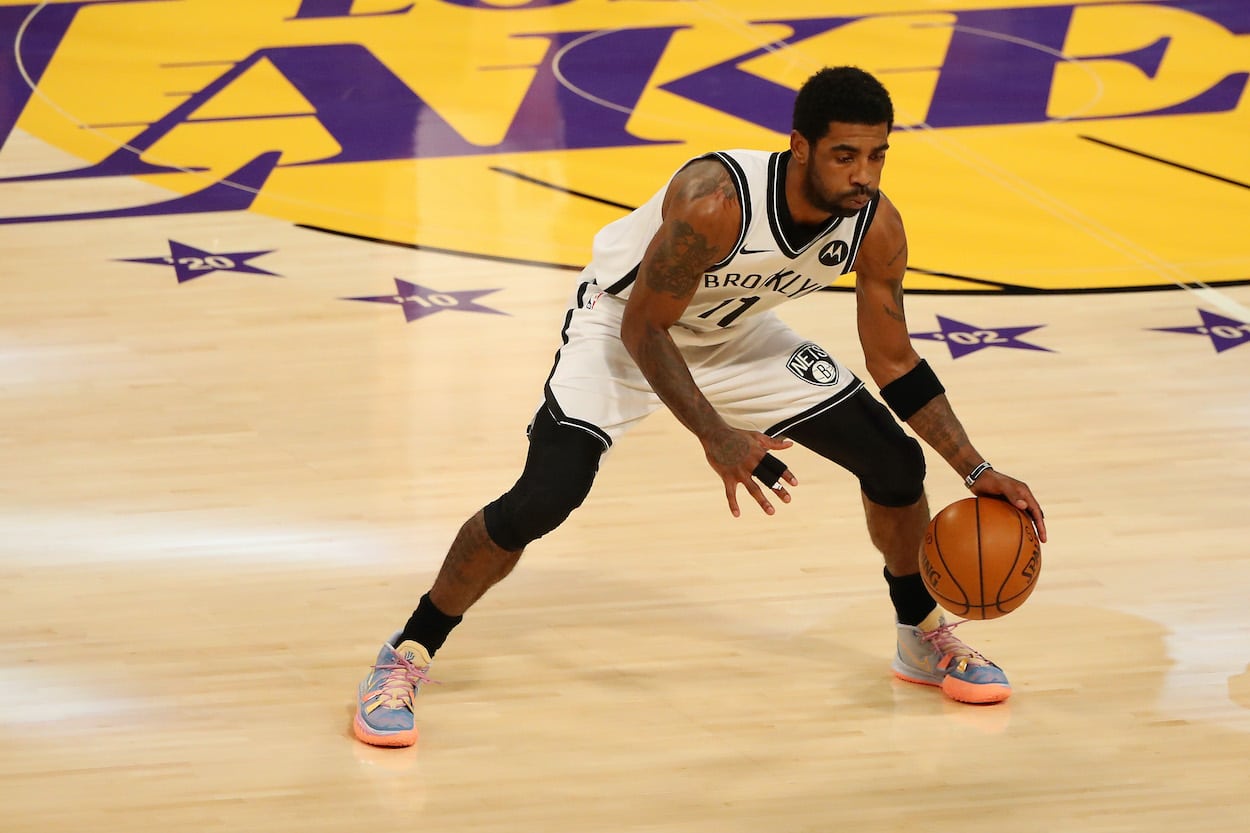 After playing just 44 games together in three seasons, it looks as though the Kevin Durant/Kyrie Irving era with the Brooklyn Nets is over.
Despite having just signed a four-year, $194 million extension, Durant has handed in a trade request to the Nets. And after threatening to opt-out of his $36.9 million player option for next season, Irving opted in. That doesn't mean he wants to play another season in New York's biggest borough, though.
NBA insider Brian Windhorst explained that, with the Durant saga taking over the headlines, Irving is working on his own exit plan, and it focuses on reuniting with his old friend, LeBron James:
Kyrie Irving is out of town as fast as he possibly can, and he is focused on forcing himself to the LA Lakers. Talking with executives over the last couple hours, the value of Kyrie Irving in a trade has absolutely plummeted. They know that he's going to be a pure rental. If he doesn't want to go to the situation he's been going to, it's unclear what he will do.

Brian Windhorst on Kyrie Irving
The Nets seem dedicated to making the best deal they can find for both Durant and Irving. The fact that Irving now has little to no trade value, though, is problematic.
At this point, the (seemingly washed) 33-year-old Russell Westbrook and his one-year, $47 million contract might be the best the Nets can get back for Irving. That's not ideal, but is it better next season than an unhappy, sulking Irving?
That's the question the Brooklyn Nets front office will have to answer in the next few weeks. If the answer is yes, Irving might get his wish and end up back with LeBron in LA.
All contract figures courtesy of Spotrac