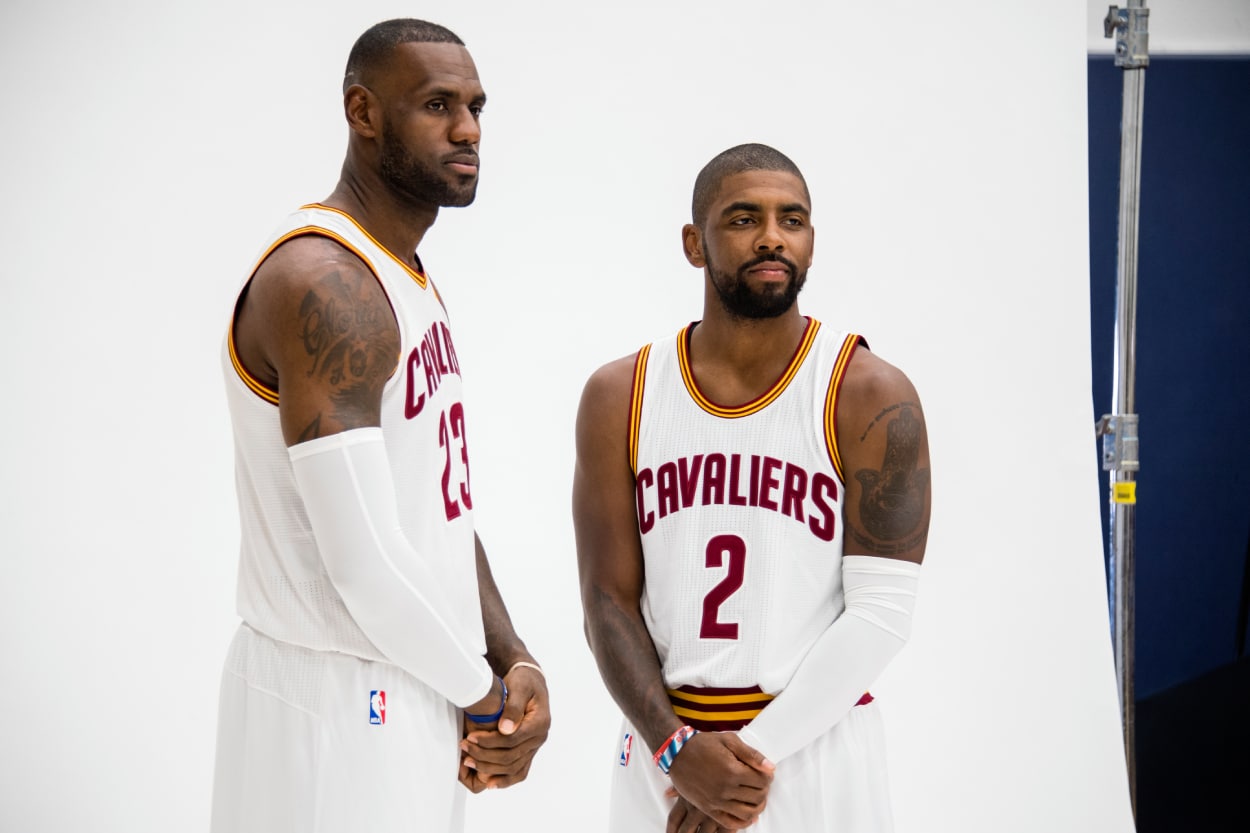 Why Did Kyrie Irving Leave LeBron James and the Cleveland Cavaliers? Looking Back at Their 2017 Breakup
Kyrie Irving and LeBron James made up one of the most talented duos in NBA history, winning a championship with the Cleveland Cavaliers. We looked back at their 2017 breakup.
LeBron James and Kyrie Irving made up one of the most talented duos in NBA history. Together, they reached three straight NBA Finals on the Cleveland Cavaliers and won a championship in 2016.
However, Irving's departure in 2017 kept them from accomplishing as much as they could have in Cleveland. So, why did Kyrie leave LeBron and the Cavs? 
Here's a look at the breakup of one of the league's most dangerous tandems ever.
Looking at why Kyrie Irving left LeBron James and the Cleveland Cavaliers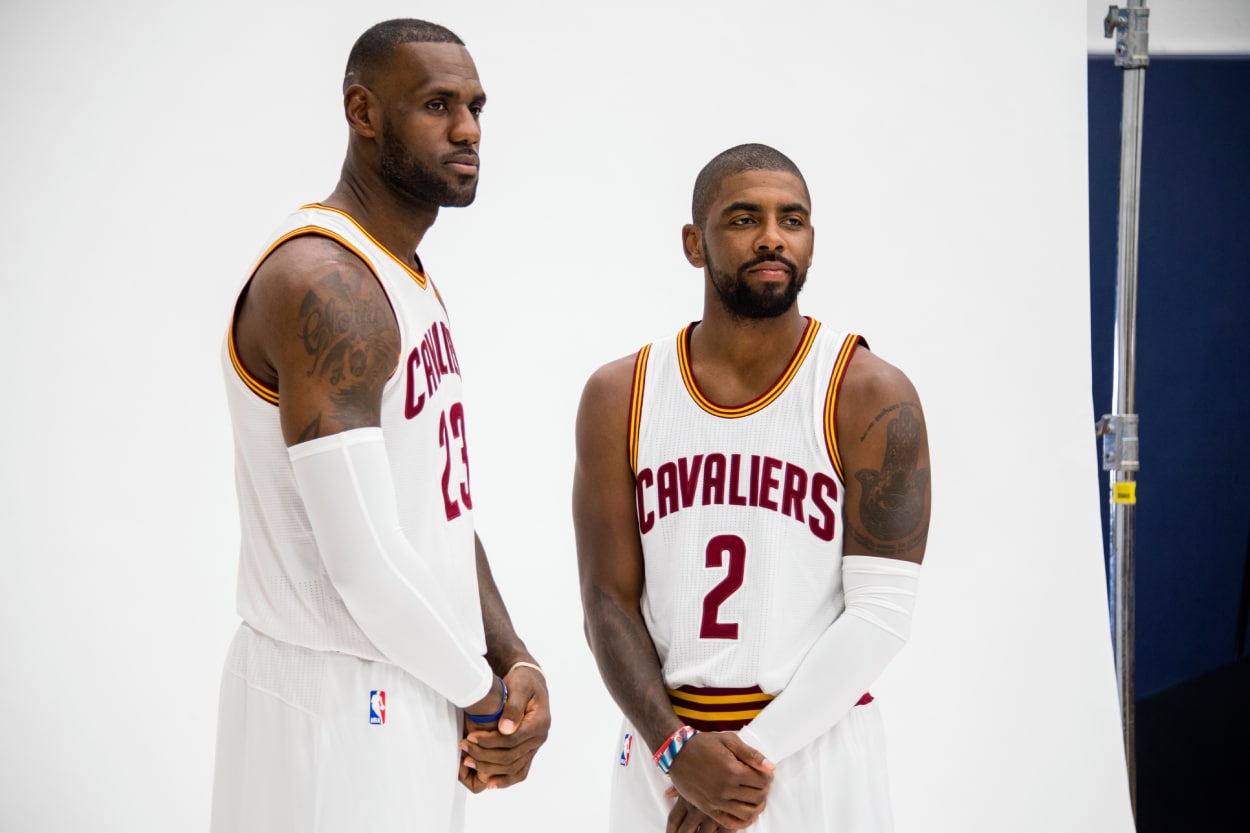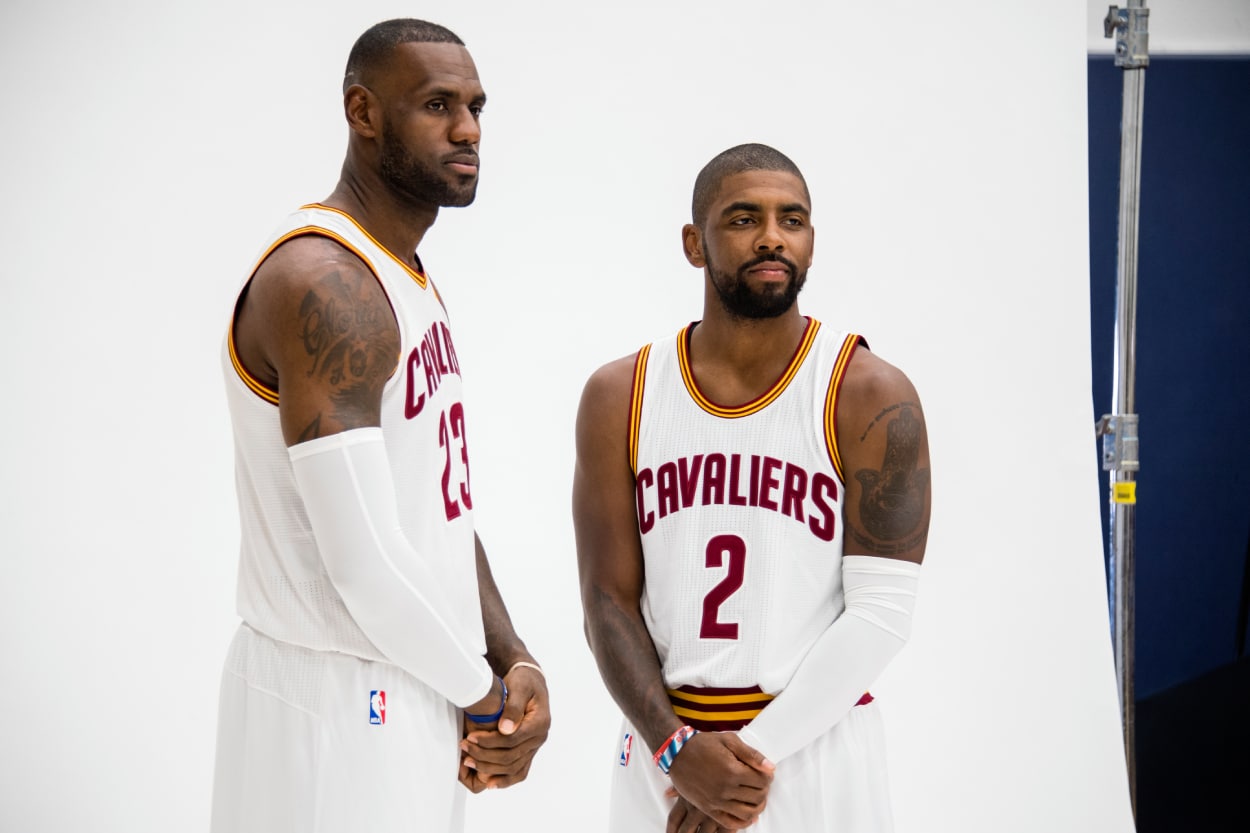 Kyrie Irving's Cavs teams were trash in his first three NBA seasons before LeBron James' return to Cleveland in 2014-15. So, when the two stars reached three straight Finals between 2015 and 2017, a lot of the credit went to James.
Following their 2017 NBA Finals loss to the Golden State Warriors, who had added Kevin Durant that previous offseason, Irving decided to leave The King. He requested a trade, and Cleveland granted him his wish by sending him to the Boston Celtics.
Following the deal, Irving went on First Take and discussed his reasoning for wanting out. He also revealed that he didn't talk to James before speaking to the Cavs' front office.
"I'm not here to go at any particular person or the organization because I have nothing but love for Cleveland," Irving said. "…It comes a time where you mature as an individual; it's time to make that decision. There is no looking back from that standpoint. There is no time to figure out how to save someone's feelings, when ultimately, you have to be selfish in that in figuring out what you want to do. … I want to be extremely, extremely happy in perfecting my craft, and that was the only intent that I have in all of this."
It sounded like Irving just wanted to be happy on his own, and his 2019 comments further proved that. He wanted to be the No. 1 star.
"I had to call 'Bron and tell him I apologize for being that young player that wanted everything at his fingertips," Irving said after a game with Boston, per NBA.com. "I wanted to be the guy that led us to a championship. I wanted to be the leader. I wanted to be all that."
And in 2022, Irving stated he never had beef with James. He just wasn't interested in the Cavs' future plans.
"I asked for a trade because I was looking for something different; I was a man of my word when I went to the organization, I sat the higher-ups down and said, 'Look, I know y'all have future plans; tell me right now,'" Irving said on the I Am Athlete podcast, (h/t Sports Illustrated). "They told me their future plans. I said, 'Look, this isn't for me.' Shared that with them, didn't get a chance to talk to 'Bron before the media ended up coming out and saying that I asked for a trade. … I had the conversation that needed to be had with the organization, and then I was going to have it with 'Bron. But as soon as I got over to China, boom. Now it's, ''Bron's tempted to do this, and Kyrie's saying this about this.' That's not the image I want to create. Me and him never had beef like that."
The breakup essentially came down to Irving wanting a change of scenery. He also had hopes of building his own legacy. The two stars won a title together, but Irving was Robin while James was Batman. It was time for Kyrie to become the No. 1 option.
With all that in mind, is there a chance of Kyrie and LeBron ever reuniting? It's unclear, but it's not unlikely since, as Irving said, the Cavaliers legends "never had beef."